This has been a crazy last two weeks! Between physical therapy, the announcement of the compilation and a storm that wiped out my internet for two days, I've been working like crazy to keep everything in line. So, alas, last week's Frozen In Time had to be merged into the one you are now reading, for my sanity. As just mentioned, the first order of business is going to be introducing you all to this massive compilation I've been working on. 67 exclusive tracks from a range of dark ambient artists. Pre-order is now available at $5 and on 18 September the full album will be unlocked as "name your price". If you have been looking for a time to show some support for This Is Darkness, here's your chance! In conjunction with the release, we've been working on some music videos. The first video to be released is Druhá Smrt – "Contemplate Darkness" with video production by Tim VDS. We've also introduced a new section, Artist Spotlights. This new section will at first be used to highlight the careers of many of the artists that took part in the compilation,  but the section will continue after that list is exausted (if that is even possible with 67 artists…). Thank you all for making last week the most trafficked week we've seen yet on This Is Darkness! We'll keep doing all we can to introduce new content, new artists and new features to this quickly growing zine!
The Compilation
Music Videos
Druhá Smrt – Contemplate Darkness
Video by: Tim Van der Schraelen

Altarmang – Salamander
"Salamander is one of the two new Altarmang tracks that will be released through Cyclic Law on the Void CD digipak which is currently available for pre-order!

Carbon Based Lifeforms – Accede
This is track number 1 on Carbon Based Lifeforms's highly-awaited fifth album, "Derelicts." The album will be released on October 6th, 2017 through Finland/USA label Blood Music (physical) and Swedish label Leftfield Records.

Jarl – Dyatlov Colours
Live at KKP VIII – Paris – 05/04/2015. Not new, but just posted!

Sum of R – New Music Video

Artist Spotlights
Altarmang – Artist Spotlight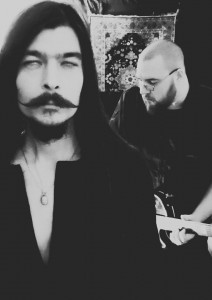 A detailed look at the dark ambient project Altarmang. Check out their track contributed to the new compilation This Is Darkness Presents Vol.1 Dark Ambient and also find out some more information about their debut album and some insight into the recording process behind it!
Read the article here.
Aseptic Void – Artist Spotlight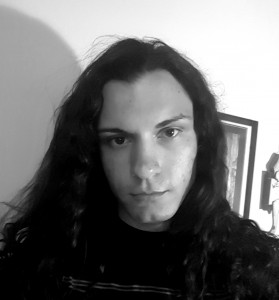 Aseptic Void contributed the opening track to This Is Darkness Presents Vol.1 Dark Ambient. Check out this brand new exclusive track, and also find out some more information about the various release by Aseptic Void over the years and find some insights by the artist into what makes him tick.
Read the article here.
New Releases & Pre-orders
All Signs of Those Who Left – New Album Released (Throne of Bael – Digital Only)
"name your price" experimental combination of harsh dark ambient nad field recordings of a girl possessed. Anneliese Michel (21 September 1952 – 1 July 1976) was a German woman who underwent Catholic exorcism rites during the year before her death. Later investigation determined that she was malnourished and dehydrated; her parents and the priests responsible were charged with negligent homicide. She was diagnosed with epileptic psychosis (temporal lobe epilepsy) and had a history of psychiatric treatment, which was overall not effective. Her condition worsened with her displaying various other symptoms which she took medication for as well. Michel and her family became convinced she was possessed by demons. The case attracted media and public attention because of the priests' unusual decision to employ a 400-year-old ritual of exorcism. The film The Exorcism of Emily Rose is loosely based on her story.

Altarmang – New Extended Album Announced (Cyclic Law – CD Digipak)
The debut album of a new musical entity by Pär Boström (KAMMARHEIT) and Kenneth Hansson. An expanded version of the limited edition cassette released by Hypnagoga Press in late 2016, this new version features two previously unreleased tracks and has been remastered by Frederic Arbour. ALTARMANG offers uniquely intuitive and hypnotic atmospherics through reel-to-reel tape loops and analog tonalities. All infused with herbal alchemy and ceremonial surrendering. Releases 22 September.

Cicely Irvine – New Album Released (eilean rec. – CD/Digital)
Cicely Irvine (b. 1990) is a musician and sound artist based in Stockholm, Sweden. She is making music and sound design for film, radio and performance art. The release on Eilean rec is her very first and a collection of music made between 2007 and 2017.

Common Eider, King Eider – Pre-order Available (Cold Spring – CD/Digital)
The triumphant reawakening of San Francisco's masters of behemoth ritualistic darkness…
Within "Shrines For The Unwanted, Respite For The Cast Aside", bone, antler and voice produce connective threads between the worlds, as guitar and percussion punctuate shifts in mood. Voices call to the spirits, and the spirits call back in return. Recorded in 2016 during four private, collective only rituals, the pieces pull the listener through the darkest and most overgrown trails of the blackest forest. Monumental and horizonless ritualistic black ambience. Vocal visitations by A.C. Way of Sutekh Hexen. Releases 25 September.

Daniel James Dolby – New Album Released (Throne of Bael – Digital Only)
Grimojo is an experimental ambient album with strong elements of jazz noire / dark jazz. Highly recommended for fans of Bohrnen und der Club of Gore!

Dean Hurley – New Album Released
Although Twin Peaks: The Return has hosted an array of Roadhouse performers and spotlighted music throughout its new season, a large part of the show's sonic identity has been defined by the space between sound effects and music. Sound and music supervisor Dean Hurley's first installment of the library-style Anthology Resource series showcases his original ambient music contributions featured in the show's very distinctive-sounding third season. (You might also remember Hurley as the drummer from the fictitious band Trouble, alongside Alex Zhang Hungtai of Dirty Beaches, and David Lynch's son Riley, who performed at the Roadhouse in "Part 5" of The Return.)

Dirty Knobs – Pre-order Available (Xero Music – Digital Only)
"I often have a quote from Warren Ellis' Morning Computer in mind while working, a mental image of "places that were only ever designed to be passed through." Maybe that's what this music is. Music for places that were only ever designed to be passed through. Infinite anechoic chambers absorbing all vibration. Massive underground neutrino detectors catching a glimpse of the universe as it passes through their clear waters. Galaxies of dark matter and voids. Mental spaces where time stutters and anxiety flexes.
Music to be lost and forgotten. Music from a vantablack heart."

Enearth – Last Days (Digital Only)
"name your price' apocalyptic dark ambient music by V. Sycatrhope of the Sycatrhope Project.

Ghost Empty – Album Released (Noctivagant – CD/Digital)

Hecq – New Album Released (Hymen Records – Vinyl/Digital)
with 'chansons de geste' ben lukas boysen a.k.a. hecq presents a very personal release, conceived as a memorial and dedication to bygone events and individuals. the basic sources for the eleven haunting tracks were original tape recordings boysen and his family members made decades ago for private use, ranging from piano etudes to classical works by composers like j.s. bach and johannes brahms. it was hecq's intention to restore, to revive and to re-arrange these basic sources for the existing release in a condensed and unusual way. each tape was digitized to hard disc, loops and patches were extracted from this sound pool, and the collection was recorded on a reel-to-reel tape recorder. the tapes were taken and played back inside a church where the natural reverb of the location was added and used as the master recording.

Las Paccariscas & Coven – New Album Released (Noctivagant – CD/Digital)

Michael Bonaventure – New Album Released (Unexplained Sounds Group – Digital Only)
Curating an anthology of Michael Bonaventure's works over the last decade was not only a superb pleasure, but a privilege too. Bonaventure is one of the rare examples of a classically trained composer who, starting from his early instrumental musical education at the organ (the first synthesizer, as he loves to say), has been able to explore the most innovative paths in terms of avant-garde music, working with solo organ compositions, vocal processing, contemporary electro-acoustic techniques as well as with industrial noise improvisations. His sensitivity to different kinds of musical languages builds a natural bridge between apparently distant lands, and even the most experimental pieces possess an inner elegance that is a distinctive sign of his artistic mastery.

raison d'être & Troum – Pre-order For New Album (Transgradient – CD/Digital/forthcoming on Vinyl)
This is the second part of the collaboration that started with 'De Aeris In Sublunaria Influxu', released 2015. Based on a notion of the fascinating Amazonian Piraha tribe, this is an excursion into nine different micro-worlds of perception and consciousness. Music that reaches for the eternal, but it only exists in the very moment. Releases 18 September.

Sum of R – New Album Announced (Cyclic Law – CD/Digital/Vinyl)
Switzerland's Sum Of R led by Reto Mäder (RM74) and accompanied by Fabio Costa create slow moving instrumental sonics with a sensibility for hypnotic and complex song structures. "Orga" is an immersive voyage into a shapeshifting mist of raw-boned melodies and repetitive mantras. The album is a hybrid of ritual drums and eerie percussions, atmospheric analog electronics and epic drones forming a drifting orchestral wall of sound. Darkness, light and its reflections is what emerges from this mysterious aural mist. Cover photography by Milena Kancheva. Releases 15 September.

Sumatran Black – New Album Released (Sumatran Black – Digital Only)
Minimalist Dark Ambient Blackness – Necro Chill "name your price"

Troum – Teaser for upcoming album on Black Mara

Twin Peaks (Limited Event Series Soundtrack)(Score)
features the moody instrumental material that kept you on the edge of your seat throughout the course of the 18 episodes, which means you get lots of Angelo Badalamenti, of course, along with contributions from Muddy Magnolias, Grady Tate, Johnny Jewel, Warsaw National Philharmonic Orchestra / Witold Rowicki, David Lynch & Dean Hurley, Chromatics, and Thought Gang, which – spoiler alert – is actually the aforementioned Mr. Badalamenti teamed with the equally-aforementioned Mr. Lynch. Available for purchase here.
Various Artists – Visions of Darkness (Cold Spring/Unexplained Sounds Group – CD/Digital)
A gathering of majestic, heavy, dark ambient, ritual, drone and noise music from Iran. Highly original and monolithic, with stunning production, Visions Of Darkness stands shoulder to shoulder with the giants of the Dark Ambient scene.
In a country where youth culture has been heavily restricted for so long, it's significant when a cultural form such as this has an opportunity to reach a wider audience – aided by the abstract nature of dark ambient, drone and noise. In comparison, the dance music scene has a harder time taking root in Iran due to the illegality of men and women dancing in public together. However, the growth of the experimental electronic scene is going to be about more than a mere novelty reaction to a political paradigm shift. The darkness here is a consequence of the mood of the artists – darker after the country was put on a black list and more restrictions were applied to many things, including monetary transactions to and from Iran. As a consequence, Iranian artists have a great difficulty getting the resources to better develop their projects. Despite this, the enthusiasm and will for Iranian musicians to promote their music shines through.
Releases 25 September.

Weress – New Album Released (Digital Only)
Demo of dark drone space ambient by Weress.
Weress is a experimental one-man-band project by P. Since 2012 on space univers. With many influences like Dungeon Synth, Dark Ambient, Drone, Space Ambient, Black Ambient, Post-Rock ..

Sales
DeepAudio – End of Summer Sale
DeepAudio are closing in on the finish of their summer sales. You can find a ton of great physical releases discounted here.
Pär Boström – Birthday Sale!
It's Pär's birthday on Wednesday and we're celebrating with a 50% sale, all week on all releases from Hypnagoga Press, and on albums by Kammarheit and Cities Last Broadcast:
Hypnagoga Press: hypnagogapress.bandcamp.com
Kammarheit: kammarheit.bandcamp.com
Cities Last Broadcast: citieslastbroadcast.bandcamp.com/releases
Use the code: BIRTHDAYCAKE.
This Is Darkness Week In Review
Rafael Anton Irisarri – The Shameless Years – Review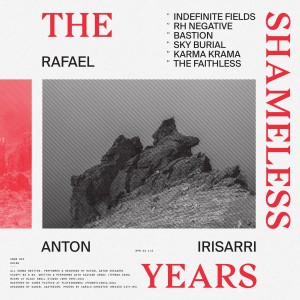 Multiple listens and a continuous internal dialogue about the subject matter are required to fully appreciate the calamitous odyssey this album harbors within its sprawling sound collages. Its exploration of mankind's frailty and failures compasses astride a conciliate raft of abstract sublimity. The Shameless Years is not only a bulwark of post-minimalist music, but a stunning account of the deepest insecurities of Rafael Anton Irisarri and his most lofty appraisals of stricken generations.
Read full review here.
Hoor-Paar-Kraat – The Place of Crossing – Review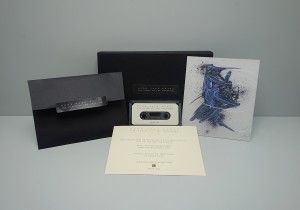 As my first foray into the works of the Chthonic Stream label, I find this release to be a pleasant listen. It has enough diversity of sounds to keep the listener thoroughly entertained on an active listen, while simultaneously never pushing the boundaries so far as to be a complete disruption on a more passive listening session. The physical release is well thought-out and seems to be masterfully prepared. I would certainly recommend this to listeners who dabble in experimental music. The album is just experimental enough to be a novel experience, without ever going so far as to sound chaotic, a balance which is often missed on these sorts of endeavors.
Read full review here.
Please consider making a donation!
This Is Darkness has gone live with the help of friends and supporters. I have been disabled since 2015, due to a spinal injury. Any support that can be given is greatly appreciated. Donations will go toward the maintenance of this site as well as additional promotion to increase its reach and influence. You can help through the donate button below,  or follow this link to the This Is Darkness Patreon page here.