Artist: Anima Nostra
Album: Atraments
Release date: 16 June 2017
Label: Malignant Records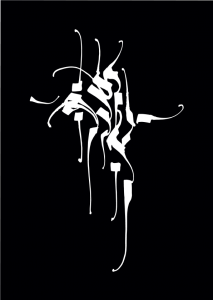 Tracklist:
01. Composition for the Shadow Self
02. Naamah
03. Blameless
04. Tabula Smaragdina
05. Solemn Majesty
06. Anima Nostra
07. Intermezzo for the Double-Wanded One
08. Doxologia Yaldabaoth
09. The Seal
Henrik Nordvargr Björkk is one of the most active and relevant members of the post-industrial scene. His project Mz.412 put him on that map as far back as the late 1980s. Since then he has taken part in a staggering number of projects. His albums have been released by such labels as Cold Meat Industry, Cold Spring, Cyclic Law and Malignant Records to name just a few. In recent years, we've seen a some great output by a few of his "side-projects" if they can be called that, as most of his work these days, in one way or another, consists of a side-project to some other previous greatness, be it Mz.412, Pouppée Fabrikk, Nordvargr, etc.
In early 2016 Nordvargr teamed up with Margaux Renaudin to release an album entitled Anima Nostra on Cold Spring. The album consisted of music that was hard to accurately label. There were elements of death industrial, doom metal, neo-classical and dark ambient. The duo were so happy with the final product that they quickly began to work on a follow-up album, this time they named their project/band Anima Nostra. He recently released several well received albums on Malignant Records including The Secret Barbarous Names as Nordvargr and Avatars of Rape and Rage as Körperwelten, a collaboration with Lee Bartow of Theologian/Navicon Torture Technologies. So it followed that Anima Nostra would return to Malignant Records with their newest creation, Atraments.
As was the case with their debut the year before, Anima Nostra bring together an amalgamation of styles/genres that seem like they would clash, but for Anima Nostra the combination works perfectly. Atrament, a word many may not be familiar with, is defined as black fluid. A look over the beautifully crafted digi-pak gives us a literal example of this word in use. Much of the album art consists of a matte black background with a glossy black lettering. The characters are unfamiliar to me, but seem to have similarities to Urdu, ancient Sumerian and ancient Akkadian alphabets. The digi-pak comes with an 8-page booklet containing even more of these beautifully antiquated scripts.
Atraments glides between the territory of multiple genres effortlessly. The opening track, "Composition for the Shadow Self" has an ambient start, which evolves into some glacially paced doom metal style music. The guitar is distorted and only uses several chords repeatedly over industrial metallic drums which give the track an almost religious, tribal feel. Nordvargr's vocals are deep and guttural screams. "Naamah", the following track, consists of a screeching guitar feedback which drones over a plethora of drums, whispers and screams, which all provide a backdrop to Nordvargr's spoken words which are highly ritualistic. Then there are tracks like "Tabula Smaragdina" and "Solemn Majesty" which incorporate Gregorian style chants and other beautiful religious stylized sounds, such as a cathedralic organ section, which provide the perfect opposition to the other more gritty and chaotic tracks.
Atraments is far from my usual musical interests. In general, I'm not always a fan of the many varied works of Nordvargr. but I greatly enjoyed the aforementioned Körperwelten and obviously some of the works of Mz.412, so I gave this latest release an honest chance. My first impressions were a bit negative, again I'm not a huge fan of doom metal in particular. But, after the second and third playthroughs I started to really understand the project and slowly but surely fell in love with each track and the nuances and progressions that take place throughout the album. This is why I would never review an album without giving it numerous listens, first impressions can be misleading, some things, especially those that fall outside the usual genre boundaries, need time to make sense to the listener. At this point, I could say that I highly recommend Atraments to any fans of the varied output of Malignant Records. It seems that the variety of releases from the Malignant label all find their way of making sense within the frame-work of this one single album. There is the dark, the brooding, the beautiful, and the ugly, all making appearances on Atraments.
Written by: Michael Barnett