Authors: Martin Bladh / Karolina Urbaniak
Title: On the New Revelations of Being
Release date: December 2018
Publisher: Infinity Land Press
Libretto & voice – Martin Bladh
Sound, visuals & production – Karolina Urbaniak​
On The New Revelations of Being is a multimedia work based on Antonin Artaud's apocalyptic manifesto from 1937. It envisions the end of the world and the death of God through a series of cataclysmic occurrences of Artaudian cruelty. The piece was originally performed as a part of Artaud & Sound: To Have Done with the Judgment of God, at the Visconti Studio, London, on 15th September 2018. This final event in a series of events marking the 70th anniversary of Artaud's death, after previous events at Cabinet and Whitechapel Gallery, focused on Artaud's experiments with sound and noise, and on contemporary responses to them. This CD/DVD set contains the full audio recording, the backdrop film and the full libretto from the performance.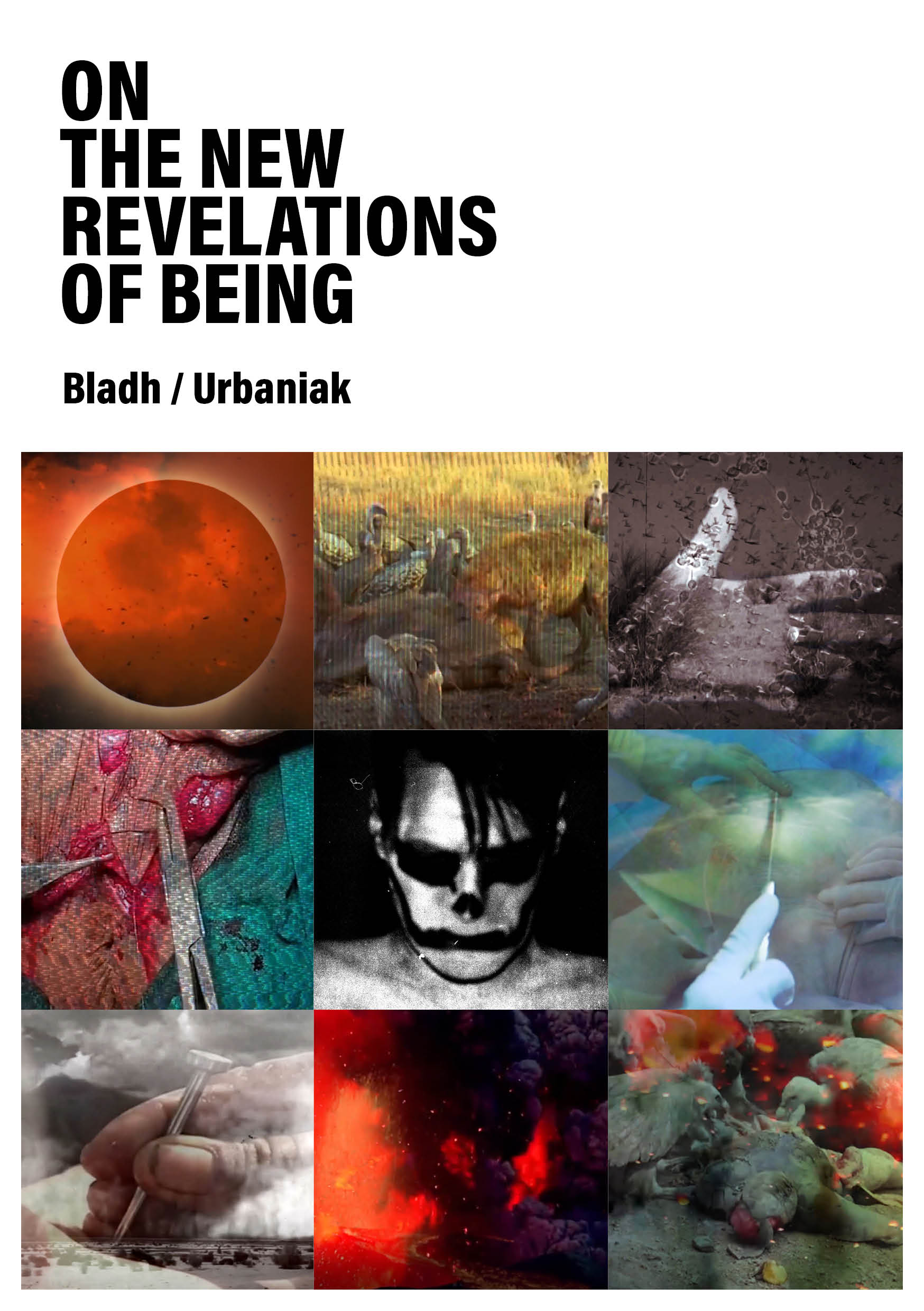 On The New Revelations Of Being is quite a bit different from the usual products that we've come to expect from Infinity Land Press. However, the quality and attention to detail are no less spectacular than the rest. Infinity Land Press, the publishing house run by Martin Bladh and Karolina Urbaniak has come to be known for its books focused on topics that are often outside the comfort zone of most publishers. Transgressive to say the least. But, unlike some other companies working in this transgressive environment, Infinity Land Press doesn't ignore the artistic for the sake of the shocking.
Thatcher's Tomb by Stephen Barber and Three Nails, Four Wounds by Hector Meinhof (read our interview with Meinhof here) are both examples of this dynamic. Often horrifying and demented stories stand equally with the high levels of writing capabilities of their authors. So often the more transgressive a book, the more juvenile sounding the author. Which for me totally ruins the experience, and has stopped me in my tracks from writing several reviews of books which I went into reading with too high of high expectations. That has yet to be the case for a book from Infinity Land Press. Nor, has it been the case for the majority of the books I've read by their friends over at Amphetamine Sulphate. Though I would say Infinity Land Press definitely seeks a higher standard and manages to achieve it time after time.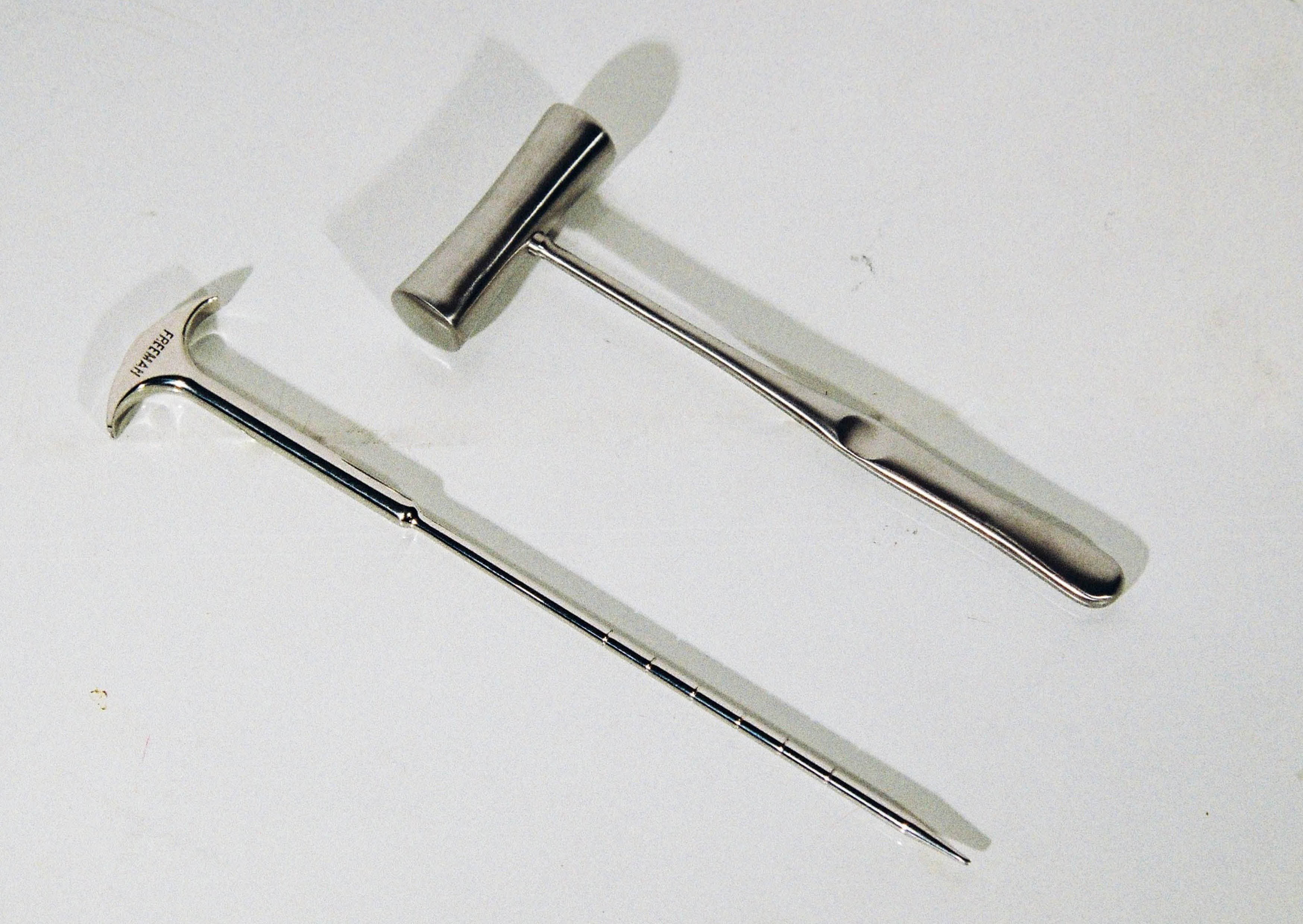 On The New Revelations Of Being breaks from the standard formats usually incorporated by Infinity Land Press in several ways. It is a truly multi-media work. The content spans a brief but still impressive booklet, an audio CD and a DVD. As one might imagine, it's impossible to consume all three of these at the same time. However, they are all different versions of the same thing. This at first might seem a bit counter intuitive. But, it ends up working out very nicely.
The first thing that must be understood about On The New Revelations Of Being is that it is a sort of quasi-play. Performed via vocals, visuals, and soundscapes. Karolina Urbaniak contributes the backing music and sound-effects, as well as the creation and/or compilation of all the visuals. The booklet works in the way that a programme from a play would. It includes some information about each of the artists as well as the transcripts of Bladh's words. So the booklet/programme should be used alongside either the CD or the DVD. Both CD and DVD contain the same piece, but one can be taken along with you in the car and the other can be viewed on your television. Of course, I recommend the DVD for the full experience, but I've also quite enjoyed listening to the CD version on long drives.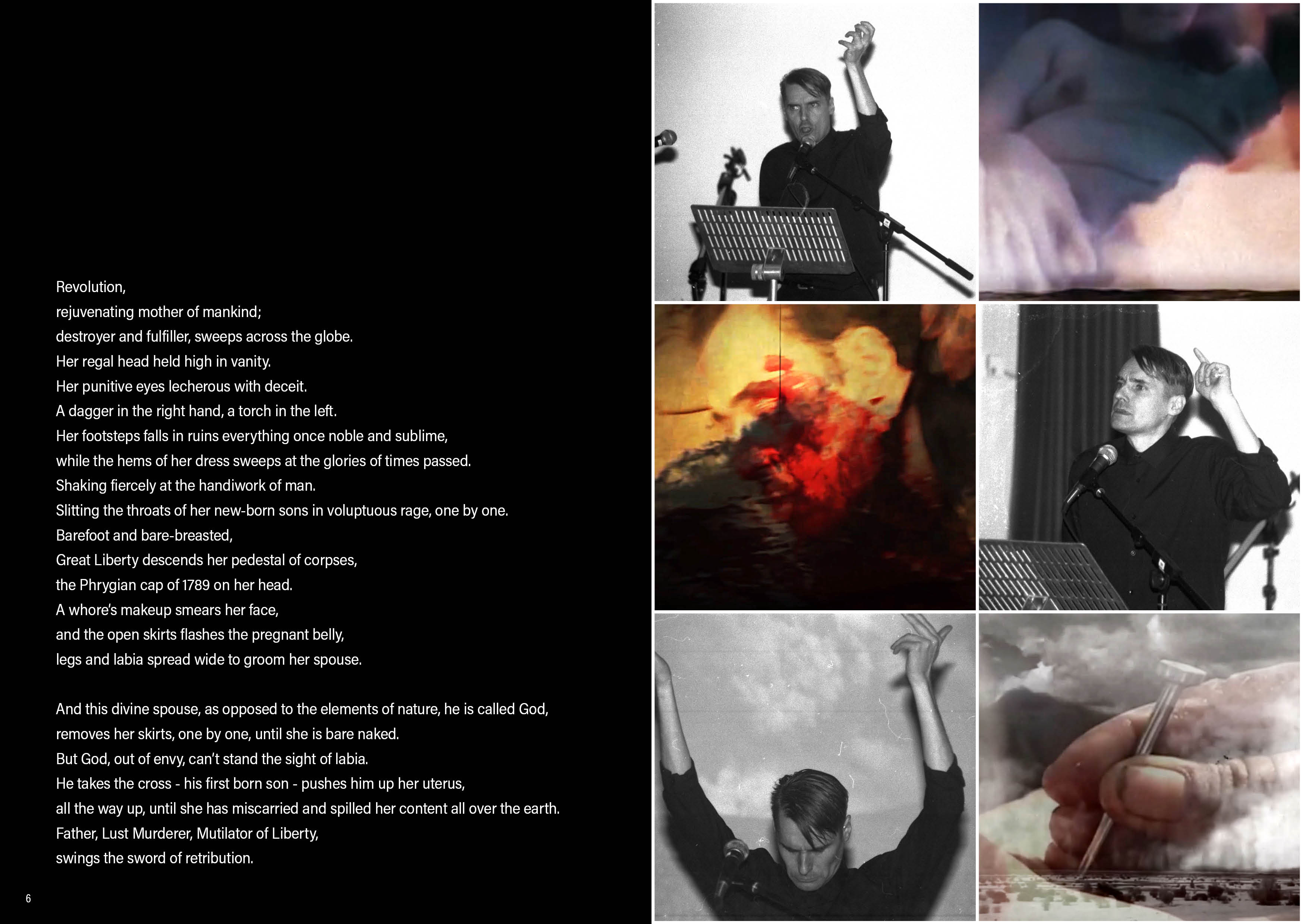 It must be said, though at this point shouldn't be surprising, that this piece is going to contain visuals and topics which the average person might find quite upsetting, even traumatic. I won't go into detail on the topics covered nor the footage shown within, because that would take the fun away for those of you willing to take the journey. I realize more and more that my reviews are not a place to summarize a product, they are a place for readers to find recommendations and technical specifications of a release. I personally don't read or watch previews of shows/films because they insist on ruining the surprise. I will try to never do that to you guys.
The literary content of this project, as well as it's execution by Martin Bladh, are both the expected evolutions of Bladh's repertoire. He covers the apocalyptic, the literary, and the victim/executioner in increasingly sophisticated and honed ways. His writing is becoming increasingly poetic, not meaning that it is showy for the sake of looking refined, but that it is becoming sharper, more potent, more vicious, while simultaneously holding a beauty that is all distinctly Bladhian.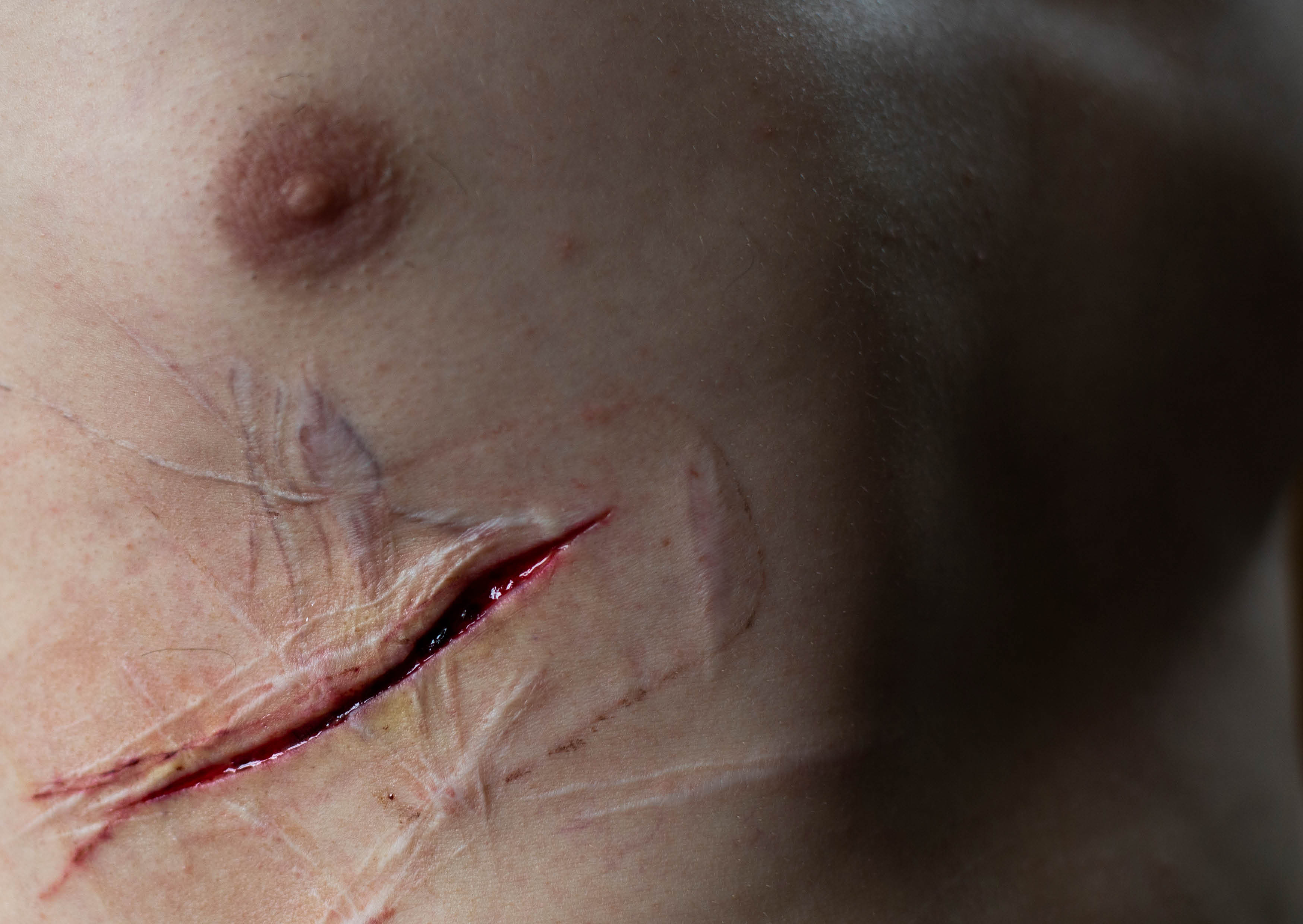 We are lucky to have the transcript of his words in the programme, it is very helpful because at times his voice can fall to a very light whisper and at other times a thundering roar, worthy and occasionally reminiscent of his IRM legacy. While the whispers can fall to an almost inaudible level, he gives each word its due attention. There is no sense of it being muffled. Even at the lowest of volumes his vocal performance is potent. And kudos to their recording/production skills for managing to capture those whispered words so clearly. It really adds to the feel of the performance.
I'm quite impressed with the continued honing of Karolina Urbaniak's musical capabilities. She has likely learned some of these tricks of the trade in her many years covering the post-industrial / power-electronics scenes and also possibly from Martin Bladh more specifically, and he may or may not have learned some of them from Jarl, or more likely Bladh and Jarl learned these things side-by-side through their many years together as the lauded IRM. Regardless of where, why, or how Urbaniak came into the role of music/soundscape creator, she is showing serious signs of professionalism, this doesn't sound like the haphazard early works of a noise artist, it sounds like the proper score to the apocalyptic events being describe therein. Urbaniak's talents in audio/visual combination are the most evident during the section of the piece where Martin is screaming "Shit. God." repeatedly. Urbaniak splices together a collage of video footage of various disastrous events: volcanoes erupting, lions tearing at the flesh of their prey, waves crashing upon rocks, building demolitions, and so on. At first we are able to discern the sounds from each other, as they match up with the video footage of similar events, but as the video footage moves faster the sounds begin to melt into each other and we are cast into a totally enthralling cacophony of post-industrial noise.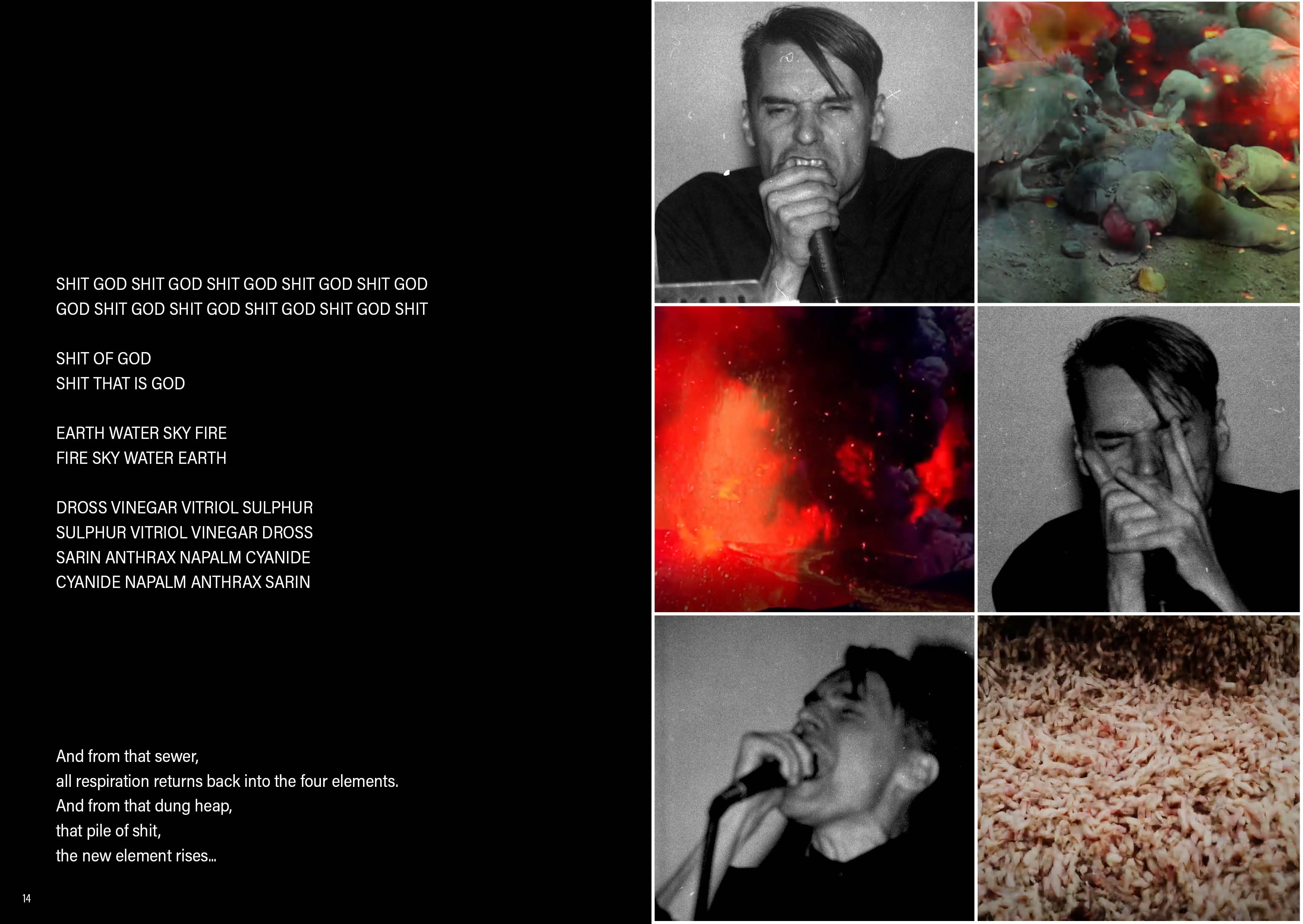 On The New Revelations Of Being is certainly not the normal or expected fare of Infinity Land Press. But in subject matter and quality of execution, it is right on par with the rest of their catalog of releases. As with every release I've held by them thus far, I would highly recommend On The New Revelations Of Being to those willing to step outside the box and experience a unique journey through the twisted but beautiful minds of its creators.
Written by: Michael Barnett
All photos taken from On The New Revelations Of Being and are used exclusively by permission of Karolina Urbaniak. All rights reserved by Infinity Land Press.