Artist: New Risen Throne
Album: The Outside
Release date: 7 February 2020
Label: Cyclic Law / Old Europa Cafe
Reviewer: Rich Dodgin
Tracklist:
01. The Outside (I)
02. What We Have Seen
03. The Outside (II)
04. Corrosion Of Pillars
05. The Outside (III)
06. The Outside (IV)
07. Birth Of A New Disciple (II)
08. A Vision Of The Hidden (Sysselmann Remix)
09. Echoes From The Loss (Visions Remix)
10. Breath Of Growing Structures (Taphephobia Remix)
11. Humani Nihil (Phantom Ship Remix)
12. Sad Silent Prostrations Before The Monolith (Vestigial Remix)
13. Sigh Of The Soul (Apocryphos Remix)
14. Signs Of The Approaching Wastefulness (II) (New Risen Throne Remix)
15. Withered Regions (TeHÔM Remix)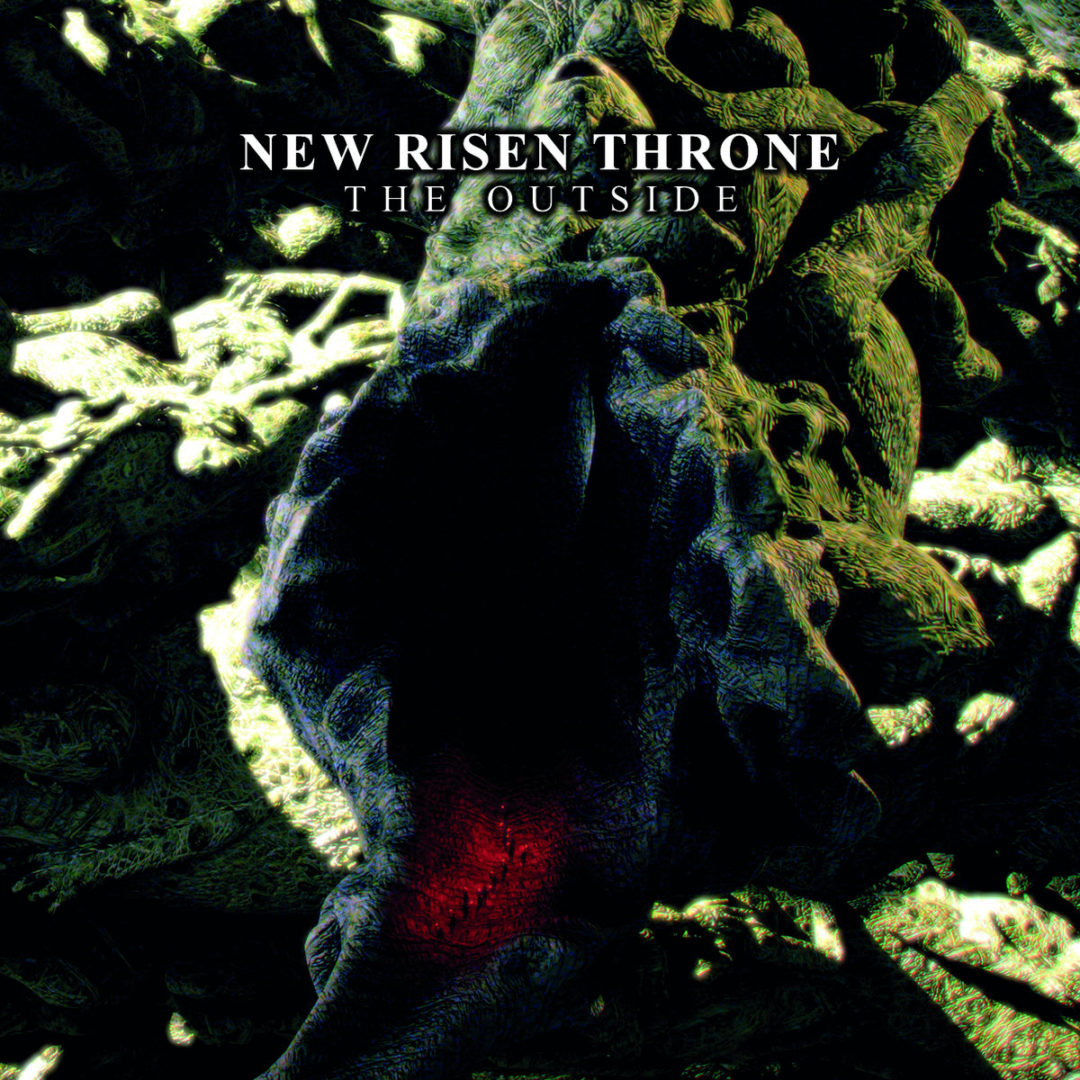 With New Risen Throne's previous releases, project founder Stiehl (Gabriele Panci) established himself as one of the masters of the dark ambient genre, and we've been eagerly awaiting a full album of new material since 2011's Loneliness Of Hidden Structures.
Well, New Risen Throne has rewarded us for our patience, because The Outside is a double album that clocks in at almost 2 hours!
The first part of the album contains 7 cinematic dark ambient / post-industrial tracks, continuing the conceptual soundtrack series that began with 2007's Whispers Of The Approaching Wastefulness:
After centuries of isolation the human race begins a journey in search of the causes that led to the end of its world, and for the first time it approaches the Structures, new life forms that have developed and evolved in the emptiness of "The Outside".
Opening track, "The Outside (I)", is a claustrophobic number, with underlying deep drone sounds accompanied by the echoing of clanging machinery, and distant chanting and sounds of distress. It's an unnerving start to things, and it lets you know what to expect for the rest of the album. Stiehl describes New Risen Throne as "…cold and desolate soundscapes that will leave you feeling utterly scared and alone…", and listening to this first track it's easy to see why.
"What We Have Seen" is less abrasive, but no less unsettling, with hypnotic, repeated soundscapes that wash over you in heavy waves. "The Outside (II)" begins in a similar vein, albeit at a slower, more brooding pace… before things ramp up significantly and all hell breaks loose – as the cacophony increases and becomes downright threatening – and then, mercifully, the noise ebbs away, leaving the listener with a temporary feeling of relief.
Fourth track, "Corrosion Of Pillars", starts off quietly, but soon morphs into a brutally caustic sonic assault. It's impressive stuff, and perfectly demonstrates Gabriele Panci's talents, as he seamlessly blends dark ambient and post-industrial soundscapes together to create something special.
"The Outside (III)" and "The Outside (IV)" are more measured, with less variation in tone and pace. Yet the sense of dread and other-worldliness is as prevalent here as on earlier parts of the album.
The final track of the first part of the album, "Birth Of A New Disciple (II)", finishes things off beautifully – the post-industrial elements gradually fade away, leaving us with more soothing ambient textures… and yet, there is a real sense that this is just the beginning of something…
The second part of the album features 8 older New Risen Throne tracks, revised and remixed by close friends and collaborators: Sysselmann, Visions, Taphephobia, Phantom Ship, Vestigial, Apocryphos and TeHÔM.
Each track has been revisited and re-interpreted, while retaining the underlying essence of the original version. And though these tracks originally appeared on four different albums (see end of this review, for more details),  Stiehl has ensured that they all perfectly compliment each other, as well as the first 7 tracks – meaning that The Outside feels like one whole complete album, rather than one of two halves.
"A Vision Of The Hidden (Sysselmann Remix)" is a slow, almost meditative piece, with chanting and the echo of industrial machinery providing an – almost – calming feel to things. "Echoes From The Loss (Visions Remix)" begins in a similarly mellow vibe, with subtle drone sounds and crashing waves… before the droning becomes increasingly harsher and urgent.
"Breath Of Growing Structures (Taphephobia Remix)" is a wonderful, if disquieting listen, like trying to make sense of shadows on the wall when you're half asleep… more haunting nightmare than pleasant dream. Fortunately, the next track, "Humani Nihil (Phantom Ship Remix)" is a brighter ambient piece, with the sounds of waves breaking on the shore and uplifting soothing drone and synth sounds.
The next couple of tracks, "Sad Silent Prostrations Before The Monolith (Vestigial Remix)" and "Sigh Of The Soul (Apocryphos Remix)", are both dark, brooding numbers, with a sense of underlying threat, and melancholy and sadness respectively. "Signs Of The Approaching Wastefulness (II) (New Risen Throne Remix)" is an eerie, minimalist down-tempo piece, that somehow manages to be both chilling and chilled-out at the same time.
Final track, "Withered Regions (TeHÔM Remix)" finishes things off nicely. A bleak tone underscores a number of disturbing elements – including drones, strings, echoes, and mutterings. It starts off relatively gently, but as as the track nears its end, things build to a climactic finale of anguished sub-human roars.
New Risen Throne has released another incredible album with The Outside – its dark, cinematic soundscapes providing an audio experience that is simply breathtaking.
If you're a fan of intelligent, multi-layered dark ambient / post-industrial music, then you absolutely have to own a copy of this album.
Written by Rich Dodgin
Additional album information
A Vision Of The Hidden (Sysselmann Remix) – original version on 2011's Loneliness Of Hidden Structures
Echoes From The Loss (Visions Remix) – original version on 2011's Loneliness Of Hidden Structures
Breath Of Growing Structures (Taphephobia Remix) – original version on 2011's Loneliness Of Hidden Structures
Humani Nihil (Phantom Ship Remix) – original version on 2009's Crossing The Withered Regions
Sad Silent Prostrations Before The Monolith (Vestigial Remix) – original version on 2016's New Risen Throne compilation album
Sigh Of The Soul (Apocryphos Remix) – original version on 2009's Crossing The Withered Regions
Signs Of The Approaching Wastefulness (II) (New Risen Throne Remix) – original version on 2007's Whispers Of The Approaching Wastefulness
Withered Regions (TeHÔM Remix) – original version on 2009's Crossing The Withered Regions
Links