Artist: Salò Salon
Album: The Scent of Voluntarism
Release date: 11 February 2018
Label: White Ashes
Tracklist:
01. Mind-Body-Problem
02. Primat des Willens
03. Kampf ums Dasein
04. Decadenza
05. Beyond Affirmation and Negation
06. La Volonté Aveugle
07. Alienated Vitalism
08. Urnichtung
09 Emptiness is Form, Form is Emptiness
"Beauty is but the cloak of happiness. Where joy tarries, there also is beauty." Ludwig Klages
You maybe know the feeling : an immense wave of joy captures you, but at the very same time, that voice on the radio, those people on the TV screen, the charming, fascinating attraction that is submerging you, despite it all, an inner voice is telling you that what is going on is probably wrong – nonetheless you can't help but drowning in the collective enthusiasm. This is exactly what the instantly grabbing "Mind-Body-Problem" is likely to arise. With such intro and opening track, Salò Salon immediately sets a very high standard. The rest of the album, The Scent Of Voluntarism keeps up to the promises and never diminishes in strength. Crushing death industrial, wide amplitudes of frequencies, with no place to hide – any little corner will be invaded by the forceful atmospheric noise. My initial reaction at first listen has been: "A diamond".
Not a newcomer at all – prior to The Scent Of Voluntarism, Salò Salon has issued Execution Tourism (The Dialectic Of Violence) (CDR album limited to 120 copies) on the British label 412Recordings (that released stuff by Slut Kull, Bagman, Steel Hook Prostheses, among other delicacies) in December 2015, followed by Agonal Pessimism (cassette mini album limited to 50 copies) on German Obsessive Fundamental Realism (a label maintaining a "crude DIY approach, (with) no interest in humanistic values and unauthentic artists, (…)rooted in the idea of Post-Industrial being a means of transportation for brutal and antisocial world-views, urges and mindsets"). The rather limited editions should not at all be a measure of disregarding these releases, as they are milestones in an ongoing rise of one of the most promising projects in this field of musical expression, likely to reach cult status in a not too distant future – and all these recordings are available as digital downloads at Salò Salon's Bandcamp anyway.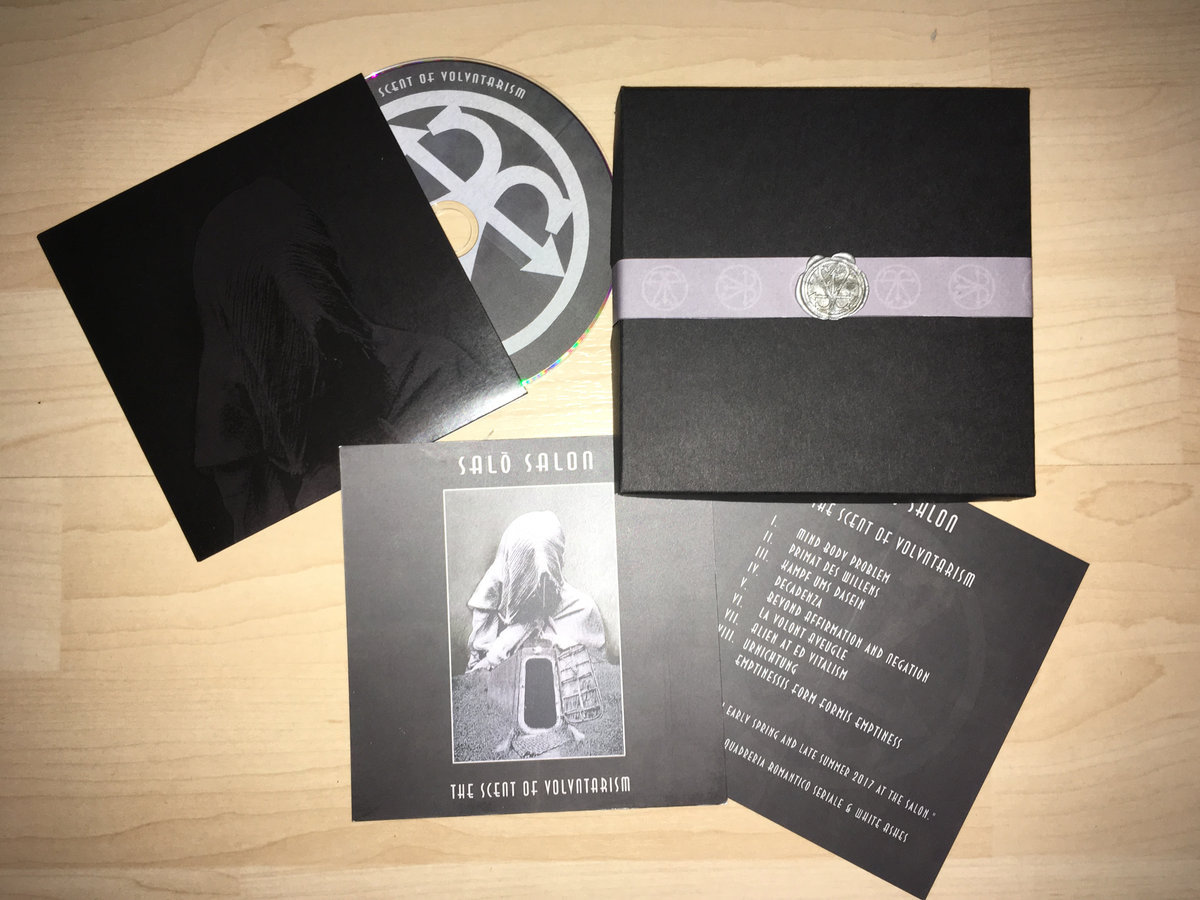 This new release is a factory pressed CD limited to 100 copies on the German label White Ashes, mastered by Sven Bussler (White Ashes' owner, and mastermind behind the martial industrial almighty Wappenbund, also a collaborator with Anna Gardeck and Wiener Aktivisten). Handmade box sealed and wax-closed with the logo of Salò Salon. Inner cover artwork by Quadreria Romantico Seriale from Italy, introducing themselves as "ethics, esthetics, genetics – esthetical and political deviance – autonomous and radical action – a mise en scene – an entity that acts among eugenics forms and terminal beauties – a misanthropic showgirl and disciplined daughter of the disaster ruling in the void, enemy of the Five M Order : Multiculturalism, Mundialism, Modernity, Mundanity, Materialism – an antinomian in the Great Civilizing Persuasion : here and now the verities are only moments of the fake, where every destiny succumbs to dissolution and every concept is subjected to oblivion – a cardiac wave, its organs are vital where others would die". Needless to say, Salò Salon has gathered a bunch of allies of caliber for this album, which should be re-released as vinyl LP later on this year. And in the pipeline is a collaboration with UK legend Satori.
That has been the formal section. Going further: a very prominent aspect of the work of Salò Salon is cultural pessimism, as envisioned and investigated by German thinkers such as Arthur Schopenhauer, Ludwig Klages, Friedrich Wilhelm Nietzsche, Johann Caspar Schmidt aka 'Max Stirner', and the impact that such psychic explorers have had on the historical march of humanity. Delusional rationality… and indeed, not to be confused with any ideological positioning. Question everything – no restriction – no taboo – never take anything for granted. For the sake of the reviewer's credibility, if I would have to propose some sort of a comparison, then I would maybe succumb to citing Anenzephalia. No less. But to the extent of the mindset / attitude context, not the sound. Salò Salon doesn't have the very prominent use of speech that is a distinctive trait of Anenzephalia. Rather drowning the listener in a forceful exhilaration, than submitting to the crowds. Somewhere between death industrial and heavy electronics, between contemplation and brute force, blending hypnotic sample loops, fanfare tones, massive atmospheric, rash textures and noisy backgrounds. An album that is impossible not to play one track after the other in succession : once the wine is pulled, it must be drunk, drink the chalice until the dregs. An instant classic.
Written by: Nicolas Dupont