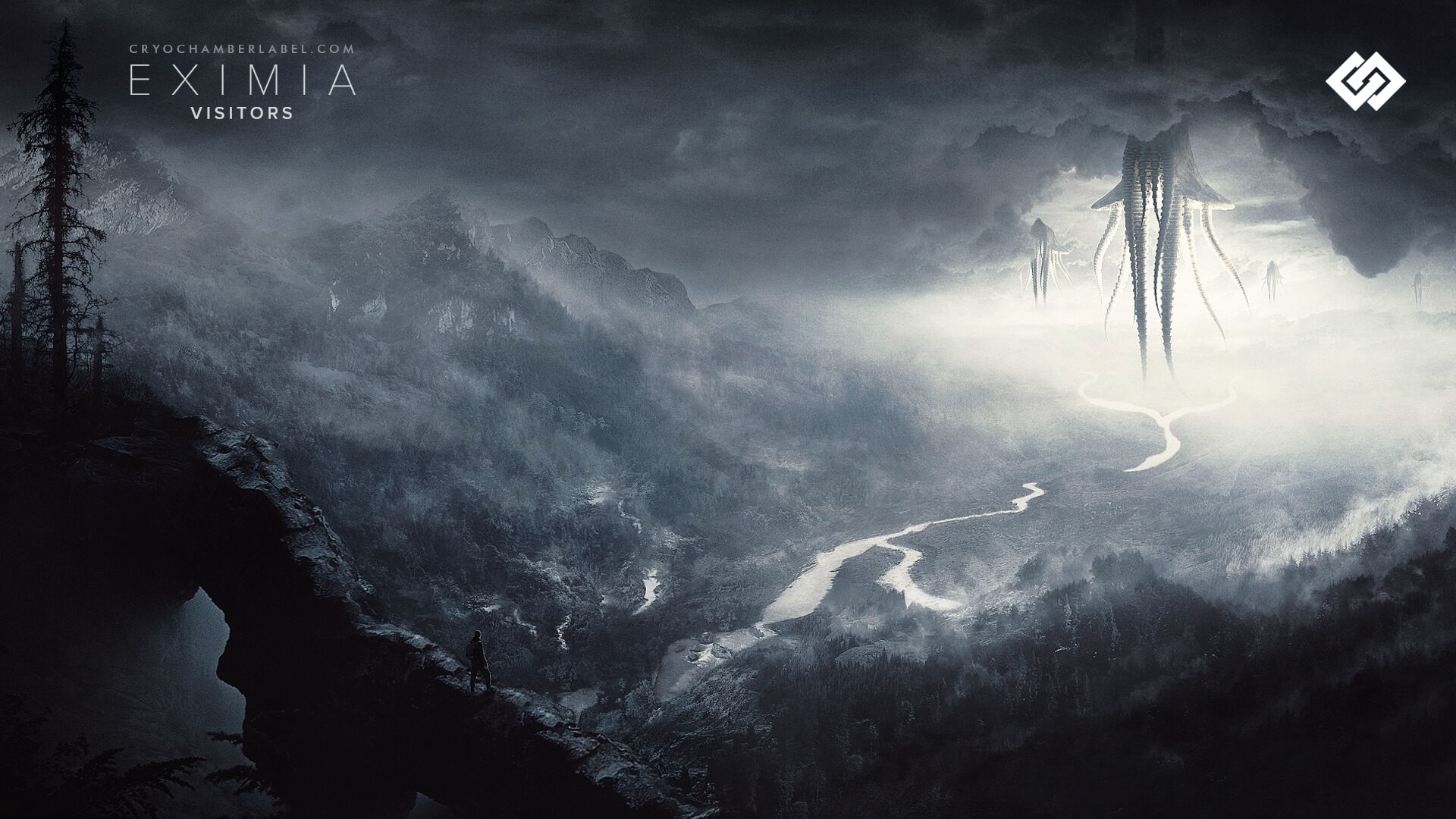 Artist: Eximia
Album: Visitors
Release date: 3 April 2018
Label: Cryo Chamber
Tracklist:
01. Day One
02. First Contact
03. Prepare
04. Abyss (feat. Lukas Tvrdon)
05. Extinction
06. World Without Man
Eximia is an album by sound design engineer Dominik Ragančík of Slovakia. While this is his first release as Eximia, Ragančík has done sound work on Mass Effect and Call of Duty trailers, as well as Lamborghini and Mercedes commercials. In 2015 he won in the category of "Best Sound" award at FAMU festival for his sound design in the movie Leshy [Lesapán – 2017]. So, we are looking at a musician that has a bit more thorough an understanding of sound design than many that enter the dark ambient genre. His talents in this sphere become glaringly evident within seconds of beginning Visitors.
Visitors is an album that follows the reasonably worn sci-fi theme of aliens contacting/attacking Earth. While this is far from a new theme, Eximia manages to conjure one of the most vivid and awe-inducing reactions from me, every time I listen to Visitors. The main point of attraction, for me, is the atmosphere itself. As the album progresses, various other sound sources come into play, but those moments when nothing is actually happening, the soundscapes shine as much or more than any other example I could show someone. It's this atmosphere that makes the album so incredibly alluring.
As the album begins with "Day One", listeners will get a sense of what I mean about this atmosphere. Well into the second minute of the track, basically nothing has happened yet, but I'm nonetheless enthralled. Gentle winds blow in the distance. We start to feel that deep rumbling bass creep up on us, before we hear these alien beings for the first time. Whether it is the creatures themselves, their spaceships, or some other technology making these unearthly sounds, the effect is the same, especially with a good set of headphones, one can close their eyes and fall into this world/scenario, can look around this landscape as the visitors begin to make their entrance into our atmosphere. One can imagine black clouds parting, as we hear a blisteringly potent crack of thunder, lightning crisscrosses the sky, tearing the atmosphere itself open, the visitors have arrived.
"First Contact" is, again, cinematic dark ambient bliss. The winds continue howling, the visitors continue making their futuristic noises, then we hear an air-raid siren, presumably warning residents of the area that the shit has official hit the fan. The thunderstorm becomes more intense as the creatures continue to make their arrival known. I'd like to mention here, that I immediately noticed a stylistic connection between the sound design of this album and that of the movie Arrival (2016). This is high praise, as I found the sound in that film to be one of the most compelling representations in film of alien technology at work. Near the 5:30 minute mark, in "First Contact" something happens. There is a sound as if something has teleported or shifted, as if the laws of nature themselves were being broken. I can't help but think what comes next is the sounds of these visitors laughing. It should be noted that there are no more "Earth-based sounds" present in the track after this occurrence.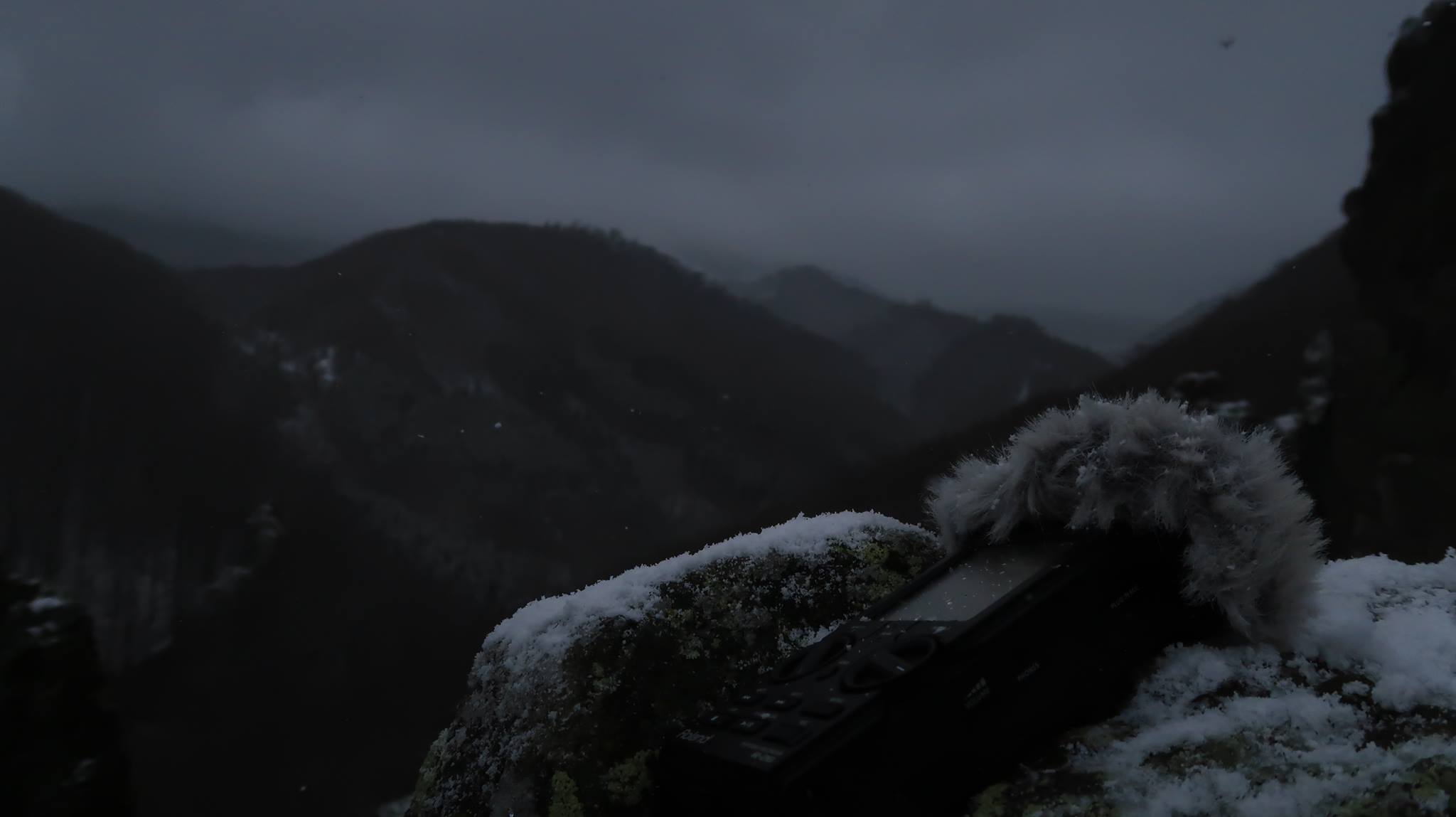 "Prepare" begins with more strange noises, which presumably are emanating from the visitors themselves, not necessarily their technology this time. Shortly into this track we can hear human footsteps, among other earthly sounds, though they are consistently mixed with those of the aliens. Following the track titles is incredibly helpful to supplement the soundscapes themselves. There is most certainly a story being told here, and I'm not one to go flailing around grasping for explanations, so I'll say that the main plot, as the album progresses forward seems be an attempt by the humans to stop this force, and their immediate failure, and ultimately the collapse and extinction of the human race.
For those that love cinematic dark ambient, this album is a must-have. Cryo Chamber is the label fans most often turn to when searching for a fully immersing cinematic experience, and I can say Visitors by Eximia may well be at the very top of this list. While there may not be as many minute details as with projects like Sabled Sun or Atrium Carceri, the ability to visualize these sounds is certainly on par. Eximia is part of a phenomenon that hasn't happened as much as I would expect, where movie sound design artists will find their way into the dark ambient genre, and the dark ambient genre will find its way into movie sound design. I would like to see a good bit more of both happening, personally. Visitors is a glaring example of why this recipe for success is so attractive. I will be patiently waiting for their next release!
Written by: Michael Barnett