It's been another turbulent year for humanity. Yet, luckily art perseveres and even flourishes in the most trying of times. Here is a list, in no particular order, of my favorite musical releases of 2021, with an obvious focus on dark ambient. There were many other great releases, so if an album you were hoping to see doesn't fall on this list, don't take it too hard. I also included a shorter list of my favorite books from the year. Rich Dodgin has been sharing his favorite releases throughout the year in our monthly Frozen in Time posts, so to find a whole plethora of other recommendations, I encourage you to look back through those posts! Also expect another similar list from other writers in the days following this article. I already have one to publish from Dorian Williamson of Northumbria, and maybe there will be more! (Reach out if you'd like me to include yours!) Also, I would like to ask that you stop by our new YouTube and Twitch channels and give them a follow, as I've been incredibly active in those two places this year! If you like what we've been doing this year, you can help support the cause at this link. Without further ado, here's my top 21 albums of 2021 and a few excellent books!
P.S. Some of the below images, videos, and links are NSFW, proceed with caution!
Michael
Top 21 albums of 2021
1. Aindulmedir – The Winter Scriptures

Aindulmedir is a winter-synth project by Pär Boström, which was released through the label Hypnagoga Press, which he runs along with his sister, Åsa Boström. Aindulmedir always transports me to a cold winter castle, in the far north of Sweden. A crackling fire warming the cold stone floor, as wind whistles in the windowpanes. One might feel lonely in a place like this, without a wall of ancient tomes, at least enough to last through the dark winter…
The Winter Scriptures is the second album by Aindulmedir. A collection of melodic improvisations and night-time recordings, intended as winter music for bibliophiles and hermits.
2. Undirheimar – Angrboda

Undirheimar has made quite an impact these last 2 years, with major releases on Zazen Sounds, Black Mara, and Cyclic Law. He has also had his artwork included in several books on Anathema Publishing, and his meditative Rune Cards are close to selling out. While all his releases have a true ritualistic magic to them, this one resonated with me the most in 2021.
Angrboda is a devotional, chanted sonic-talisman in honour of the thrice burnt and thrice risen. Consort of Loki and dark mother of the Thursian death trinity. She who's terrible shadow walks behind the trees in the billowing myst of Jarnvidr. Most ancient and powerful crone who's magic and wisdom was envied by the gods. The oldest manifestation of the dark feminine principle.
3. Cave Mouth – Daughters of the North

Cave Mouth is a musical project one as haunting as it is beautiful, minimalist as it is epic. Where literary musings meet a visceral soundscape invoking mythic visions and heartfelt fables. Cave Mouth is a transatlantic band and is the brainchild of Meghan Wood (Crown of Asteria) and writer Katie Metcalfe (whose writings will be featured later in this article).
https://www.instagram.com/p/CWFrDNvoYvS/?utm_source=ig_web_copy_link
https://www.instagram.com/p/CXTWuoVI7pY/?utm_source=ig_web_copy_link
Meghan first came to my attention as half of the project Sun Through Eyelids along with Tom Necklan, while Katie has been making waves with her poetry and incredible photography. Meghan tends to most of the dark/ritual ambient elements, while Katie uses a combination of singing/spoken-word to convey often nightmarish narratives, with a distinctly northern-vibe.
Daughters of the North is a homage to and a celebration of some of the most formidable and feared, revered and respected darkly inclined female figures within the mythologies, folklore and legends of the Far North.
4. Himukalt – Dreaming of a Dead Girl

I hereby dub Himukalt the 'Queen of Death Industrial'. With a taste for the perverse and a catalog of albums which are transgressive to say the least, she stands alongside her male counterparts with album after album to prove that she is not to be taken lightly. As with an increasing number of her releases 'Dreaming of a Dead Girl' was released on vinyl and quickly sold-out, which isn't surprising considering the aural assault she consistently delivers.
Himukalt was born from the obsession, addiction, and the impure thoughts of American noise artist Ester Kärkkäinen. Her impulse for self-destruction, co-mingles with self-discovery, as she confesses broken tales about sex work, manic-depression, social anxiety, dysphoria and psychic parasites. All finally leaving us to languor in her suicidal ideation and conflicted desire to be very, very alone. She swaddles those appropriations from her life and those around her in the aestheticized violence of power electronics and a death-industrial negativity, similar to that of Lille Roger, Atrax Morgue, and master/slave relationship.
5. Ajna & Onasander – Canidia

The Netherlands-based Winter-Light label has been firmly on my radar throughout the year. They have been pushing themselves ever closer to the forefront of the dark ambient genre for the last few years, and 2021 seems to have solidified their position as one of the top-tier dark ambient labels in the world. The choices of artists to grace their roster is only matched by the consistency of their cover-art and physical editions. This Ajna & Onasander album is brand new, as I type this, but I've already listened to it numerous times since its arrival at TiD HQ. The subject matter of ancient Roman witchcraft is also right up my alley!
Canidia is considered Rome's first witch and had perpetrated acts of grave desecration, kidnapping, murder, black magic, and poisoning to name but a few. She is most known for being mentioned in the poems of Horace, where she has a prominent role of a demon-like figure. There is much mystery and speculation as to whether Canidia may be a myth or an actual historical figure.
6. Ungaikyō – Old Tale

This release really caught me off guard. Something totally unexpected to the dark ambient scene, and a welcome reason to return my attention to the oft-overlooked, yet consistently solid label Noctivagant. This is some strange amalgamation of traditional Japanese music with dark ambient. It caught my attention and over the weeks after its release, kept drawing me back to it. Thankfully the creator of the album took the momentum of this release to start a label of the same name as the project, Ungaikyō Productions, which has been releasing a handful of solid releases in a similar vein throughout 2021. While this is the only related release in my list, I highly recommend following the above link to Ungaikyō Productions and checking out their catalog!
7. raison d'être – Daemonum + Daemoniacum

Any time a new raison d'être album releases, is always a time to rejoice. However, this year's release seems like one of his best in years. While the main album Daemonum is truly spectacular, things really seem to become even darker and more brooding on the special edition extra release Daemoniacum. Even if the special editions are sold out, make sure to at least grab a digital copy of this second disc, you won't regret it! The splendid cover-art by NIHIL doesn't hurt either…
Daemonum marks the 30-years anniversary of raison d'être. With Daemonum raison d'être scrutinizes the secrets of the Shadow; the Anima/Animus archetypes and the manifestation of them as a Soul image. By learning to listen for the voice of our subconscious self, we can call that voice our Daemon, our internal genius that provide guidance, we can find hidden potential within ourselves. Daemonum is the album of the daemons.
Hunting in the shadows, for the hidden and the opposite, Daemonum is another crossing, deep down to the shaded domains of the inner world. Struggling in blindness and oblivion, guidance and protectors are needed to unfold the obscure matters of our unconsciousness.
8. Pierre-Yves Martel – Weird Studies: Music from the Podcast Vol.1

Weird Studies is a podcast in which Professor Phil Ford and writer/filmmaker J. F. Martel host a series of conversations on art, philosophy and the weird, dwelling on ideas that are hard to think and art that opens up rifts in what we are pleased to call "reality." This soundtrack was created by J.F. Martel's sibbling Pierre-Yves. It really caught me off guard. An absolutely incredible work of noir/dark jazz, a delight from beginning to end. I highly recommend getting it on vinyl, as there is just something about dark jazz which begs to be played on a turntable. I also recommend browsing the rest of his discography on Bandcamp as there are many great releases there!
9. Gydja – Ár var alda (In ancient times)

Gydja has been a top dark ambient artist of mine since I first encountered her music on the very early Cryo Chamber compilation 'Behind the Canvas of Time'. She collaborated with Svartsinn on the track "Terrenum Corpus" and since then her music has been in constant rotation here. Yet, this is without a doubt her best album yet, for me. I have listened to it innumerable times this year; during waking-hours, sleep, reading, meditation and ritual, it fits perfectly to all these activities. A truly versatile and detailed release. Thick, expansive drones, woven through with intricate percussive elements, unearthly vocals and atmospheric field recordings. An album of deep, primordial dark ambient comprising of 9 tracks, across four movements.
10. Charles Manson – AKA Abraxas

While Charlie recorded these tracks all the way back in the early '80s, this year is actually the first time they've been properly presented to the public. These tracks were part of the legendary lost Vacaville tape sessions, which Charlie recorded at the peak of his musical talent, at least during the years of his incarceration. As Nikolas Schreck explained in my recent interview with him (embeded below), Charlie was actually encouraged to create music during his years at the Vacaville Mental Hospital, which would never be the case again, after he was transferred to other higher security facilities for the final three decades of his life. His work on AKA Abraxas (released by ATWAR) and The Lost Vacaville Tapes (released by Ben Gurecki's Manson Underworld Productions) are two of my very favorite releases of his lifetime, rivalling the original sessions we all know from the period of '67-'69.
11. Mother of Sighs – Mother of Sighs

If I were to give an 'album-cover of the year award' it would go to Mother of Sighs. I really love this release, and its exquisite cover-art is just the icing on the skeleton, …I mean cake… Mother of Sighs is the musical project of Terrence Hannum of Locrian fame, along with his wife Erica. It has a strong John Carpeneter-esque horror soundtrack vibe (but possibly even better…), of which I can't get enough. The digital release is available at the above Bandcamp from Deathbomb Arc, while you can grab a copy of the beautifully manufactured cassette from Hannum's own Anathemata Editions. I also had to grab a t-shirt with the cover-art which also comes from Deathbomb Arc and can be purchased here.
12. Væv – Drømmenes Spejl

Winter-Light graces the list for the third time with Drømmenes Spejl by Væv. Væv is a brilliant new dark ambient project with elusive dark-jazz sensibilities. As with the aforementioned Winter-Light release by Gydja, Drømmenes Spejl is an incredibly versatile release, which I've listened to on repeat many nights in the second half of 2021.
Væv, which means "web" in Danish, explores the interconnectedness in our lives, perhaps chief among them the connection between our day to day reality and our spiritual development. These threads were woven before we entered this world; they are our world.
"Drømmenes Spejl was produced during a very turbulent time in my life. It reflects my personal journey through a depression which culminated in my family falling apart. But crisis is the mother of change. From the ashes of the World Tree, new seeds can grow." – Væv
13. Wordclock – A Greater Bliss

"Religious visions and apparitions form some of the most universal and striking stories and myths. The desire for breakthrough and grasp of bliss through direct experiences has given way to incredibly imaginative visual and intellectual descriptions of sights of gods in both blissful and hellish states . A Greater Bliss draws upon these stories and writings to create a world of sounds that seeks to mimic the various facets of these myths, from the heaviest and most desperate to the blissful and dreamlike.
The album brought together an international collaboration of musicians during its development time. Portuguese composer and project lead Pedro Pimentel on electronics, synths and various traditional instruments of European and Middle Eastern origin, American saxophonist Travis Laplante, Norwegian cellist Amund Ulvestad also on voice, Portuguese percussionist Luis Neto and Georgian trumpeter George Shamanauri (Phonotek).
The resulting album breaks apart and merges together a diverse amount of genres and musical backgrounds in wide swelling motions and dreamlike musical fragments in both free form and mantra like compositions, crashing acoustic instrumentation with tape fragments and digital spectral synthesis. From contemporary and dark jazz to traditional music, neoclassical, ambient, ritual religious music and electronic experimental. Spiritual and Touching."
14. Underwater Sleep Orchestra – The Night and Other Sunken Dreams

"Underwater Sleep Orchestra is a new project by Pär Boström of Cities Last Broadcast/Kammarheit, and Bruce Moallem of God Body Disconnect. Music for lost dreamers and admirers of solemn underwater music, previously only heard in dreams.
The album is presented as two different dreams from the same night. One a nightmarish trip within blurry worlds and one a nostalgic journey about things real and unreal, both carefully expressed through synthesizers and pedals, cassette experiments and field recordings. All music finally processed through VHS tape."
15. Cities Last Broadcast – The Umbra Report

Is it a depression, a séance, or an exorcism? Whatever it is, every nuance of it is thoroughly recorded and the result is terrifying yet oddly soothing. The tape machine is constantly hissing, every piece of machinery is making ominous noises, and something sings along. Pär Boström shows us again that he is a unique creator of sound design and paranormal electronics.
This is the third Cities Last Broadcast album, what started as a side-project of Pär Boström's, but it's debut The Cancelled Earth is oft-considered one of the best albums in the genre; proving once and for all that Pär Boström can't have any "side-projects", each project is a tour-de-force in its own right! A lovely vinyl edition seals the deal on this beautiful yet terrifying release.
16. Sabled Sun – 2149

The 5th album from the Sabled Suns 21xx series, about a man in Hibernation waking up to a world in ruins, takes us through the fifth year 2149.
On this album we gain access to one of the autonomous underground cities in Sector 33. A dark electronic ambient album ripe with robotics, quarantine zones, and the endless chasms underneath the surface.
Sabled Sun is one of the very best in cinematic dark ambient. Few other projects build such a rich and vibrant world, using only soundscapes. Sabled Sun along with Atrium Carceri, proves Simon Heath to be one of the most gifted and revolutionary artists in the dark ambient genre, and the absolute king of cinematic soundscapes.
17. Theologian – Nonextant

Theologian has been one of my favorite artists, blurring the boundaries between dark ambient and death industrial, since I got into this scene. Once again, he delivers an immaculate work, setting the standard for his peers. The above video is linked to his Annihilvs Power Electronix page, where you can find the original version, here is a link to the new cassette edition (or click the cassette), which is released through Danvers State Recordings by Andy Grant (The Vomit Arsonist).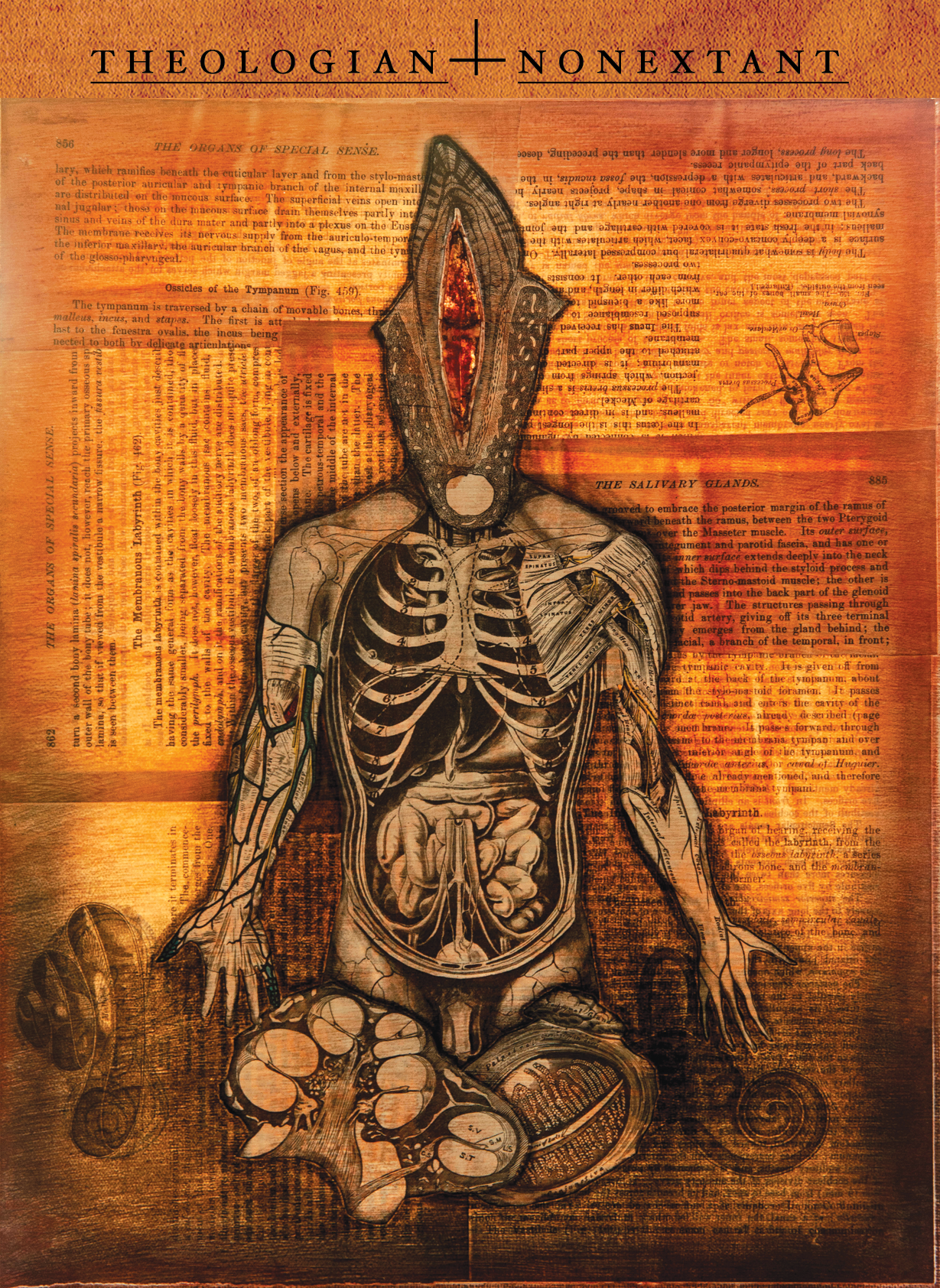 We recently premiered the music video, which was released on the same day as this extended-edition of Nonextant. The video is for the track Tears "Dada Drum Mix" by MUDO (Iggor Cavalera).
18. Desiderii Marginis – Bathe in Black Light

An ode to the night, the darkness that is not blindness, the intense tranquility and boundless inner wilderness. Watch the sparkles glisten in the night, bathe in black light.
Desiderii Marginis has been at the forefront of the dark ambient genre since the early days of Cold Meat Industry. Johan of DM and Peter of raison d'etre helped shape the face of what we think of as dark ambient to this day. Years later, his new releases are still top-notch and innovative. This one is one of my favorites yet! Still awaiting an official release on Cyclic Law, this is currently available as digital-only through Johan's Bandcamp.
19. Alone in the Hollow Garden – Desert of Set

Released at the Magick Portal of the Winter Solstice, the 21st of December MMXXI, Desert of Set is the newest album by the ritual ambient project Alone in the Hollow Garden. While they often fly under the radar with their impressive collection of self-released albums, one should not assume that this has anything to say about the level of quality in their project. A.I.T.H.G. is one of my very favorite ritual ambient projects out there right now, each album bringing something new and unique into the fold. Desert of Set is incredibly dynamic in its presetation, moving through three long-form tracks which take us into the depths of Sethian religious devotion. The final track, Aeon of Set (which was first featured on our friend Przemyslaw Murzyn's compilation album Blissful Nightmares & Mechanical Dreams) is an aural feast, including lyrics from "The Hymn to Set" (Eternal Egypt: Ancient Rituals for the Modern World by Richard J. Reidy).
20. Nikolas Schreck – O, A Weird Flower

Nikolas Schreck, one of the founding members of Radio Werewolf and a household name for those interested in the Charles Manson case, has been releasing a number of outstanding new albums over the last several years. All should be seeing proper physical releases in the coming year. But, for now, you can enjoy his latest O, A Weird Flower, on Bandcamp.
I also urge you to give my interview with him, from earlier this week, a listen. We discuss all sorts of incredibly interesting topics. Nikolas is one of my favorite people to just sit back and listen to what they have to say, and it was an ABSOLUTE HONOR to have the opportunity to interview him for This Is Darkness. Dare I say, this was my 'interview of the year'.
21. Corona Barathri – Lapis Sacrificialis

2021 has been a year of extreme highs and lows for Corona Barathri… Unfortunately, earlier this year, one of their core members Andrey Kein passed away, leaving Ilya Affectvs as the sole core member, once again. This crushing blow to the project was somewhat offset by the massive achievement of releasing their latest album Lapis Sacrificialis by one of the top labels in the dark/ritual ambient scene, Cyclic Law. This album includes daemonic collaborations with Martyria and Nam-khar, as well as haunting vocal sections by Chthonia, Darkarma, and Hekte Zaren. While Andrey Kein will be sorely missed in the ritual ambient scene, there are no signs of Corona Barathri slowing down, they are poised to be one of the top names in ritual ambient, if they haven't already achieved that feat.
Top Books of 2021
For those closely following This Is Darkness, you will know that I (Michael) have been getting much more active in coverage of books in 2021. This element is certain to become even more crucial to me in 2022. I had the pleasure of discovering the titan of a book publisher, Anathema Publishing, in 2021. Since then, I have been ravenously reading through their catalog, finding treasure upon treasure along the way. Yet, there have also been some other books this year, by authors which should be familiar to our readers/viewers by now, which have impressed me beyond words. So here is a list of my favorite reads of the year. Why they are organized by publisher for the sake of organization, they are not ranked. I give the highest recommendation to everything included in today's article!
Katie Metcalfe – People of the Sea Ice: Poetic Reflections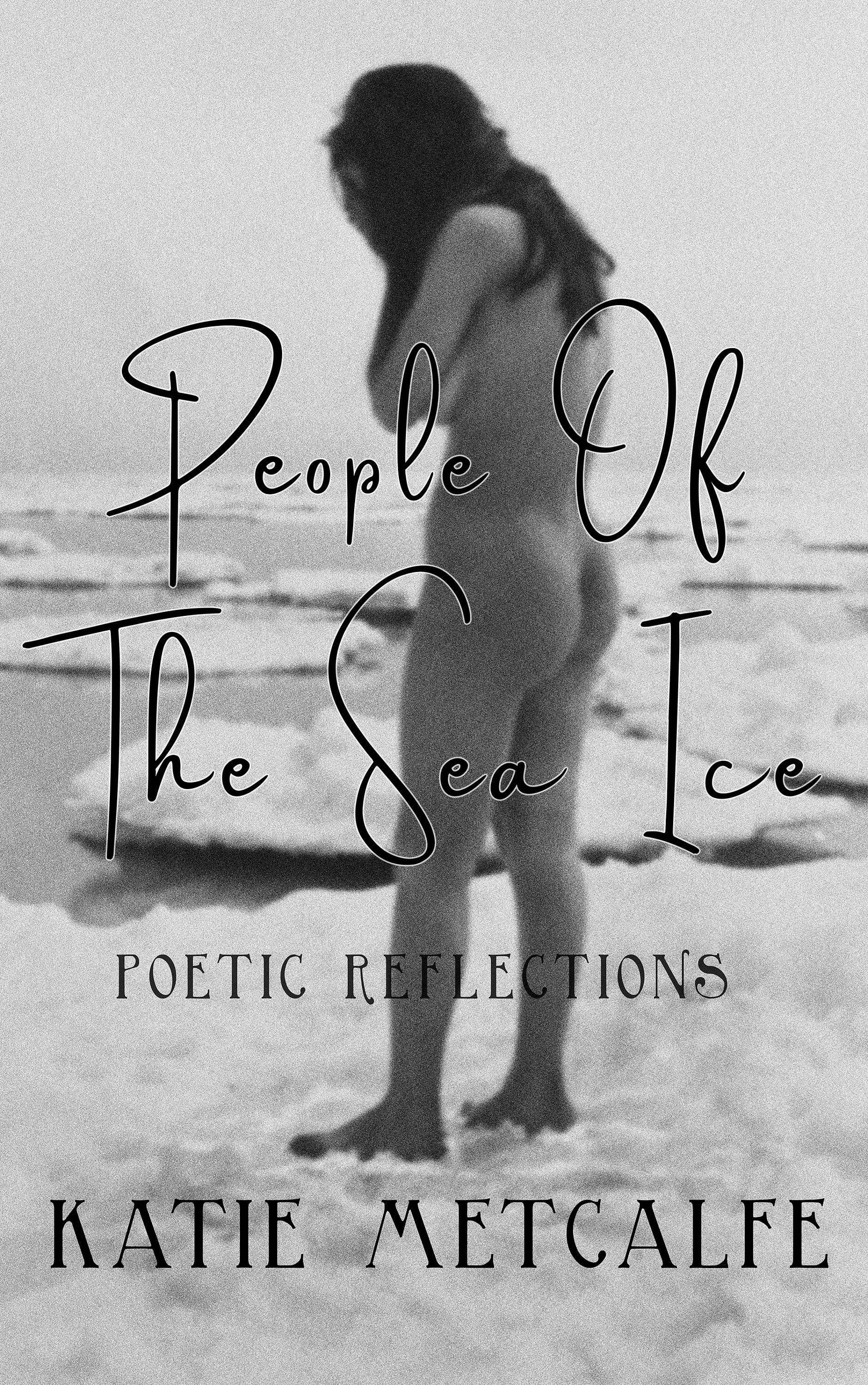 Katie Metcalfe is a multi-medium artist, focusing her works on peoples, cultures, landscapes, religions and sounds of the far north. She is part of the ritual-ambient project Cave Mouth, which was featured in my favorite albums above. She creates evocative and often provocative photography, of which she is often the model, photographer, and editor. And she writes books of poetry of the highest order.
https://www.instagram.com/p/CVqv7Wkoskd/?utm_source=ig_web_copy_link
In this latest book People of the Sea Ice: Poetic Reflections, Katie delivers some pieces which are beautiful, some which are horrifying, and some which oscillate between both extremes. The works within the book are her own words, yet they are informed by a high degree of research on her topic, which is made obvious by the extensive source-list at the conclusion of the book. People of the Sea Ice can be purchased through her Etsy page for an incredibly reasonable $14 USD, so I highly recommend grabbing a copy for yourself, and maybe a few more for loved-ones, while they are still available! AWyrdOfHerOwn | Etsy
Anathema Publishing
As mentioned above I have spent the second half of 2021 reading as many Anathema books as I can get my hands on. I even had an interview with their founder, Gabriel McCaughry, which I'll start this section off by including. After our interview, Gabriel sent me a list of his favorite dark-ambient-related albums, and I put that together in an article which you can read at this link.
Craig Williams – Tantric Physics
This slideshow requires JavaScript.
Craig Williams was the first author I read on Anathema Publishing. His book Entering the Desert blew my mind, and I eagerly continued with the follow-ups Cult of Golgotha and Tantric Physics. Since then I've done three Twitch streams with him: one interview and two Bhagavad Gita discussions. I highly recommend all of his books as well as viewing these three streams, Craig is a wealth of knowledge and an absolute pleasure to interview.
Veronica Rivas – Kurukulla: Goddess of Bewitchment
This slideshow requires JavaScript.
Kurukulla: Goddess of Bewitchment takes us through the history of this fascinating deity, through the context of Buddhism as well as Hinduism. Then we are given a section of practical everyday ways of connecting to this goddess. The now sold-out collector's edition was absolutely gorgeous, and I was lucky to get my hands on a copy while they were still available. But there are still copies of the standard edition, which does not appear to be lacking in beauty, in its own right! While their store is currently closed for the holidays, check back for this and many other amazing books in the coming weeks! Anathema Publishing Ltd. | Quality Occult Books & Contemporary Esoterica
Audrey Szasz – Tears of a Komsomol Girl


This slideshow requires JavaScript.
This year brings us, once again, a number of incredibly well-crafted texts from Infinity Land Press. As usual, they push the boundaries of what is acceptable, reaching deeper into the depths of extremity and depravity with each book that is conceived. Audrey Szasz is quickly becoming one of my favorite fiction authors. Her tales are twisted delights of the highest quality. In Tears of a Komsomol Girl, she delivers a disturbing account of the murders of the infamous Russian serial-killer Andrei Chikatilo, through the eyes of one of his victims. The book moves between writing styles which are everything from whimsical to almost incoherent ramblings to top-tier historical prose fiction. It is an experience better felt than described, and if you haven't yet had the pleasure of delving into one of Audrey's books, you should remedy that asap! Tears of a Komsomol Girl | Infinity Land Press
Martin Bladh – Braquemard: The Clavicle of Gilles de Rais
This slideshow requires JavaScript.
Martin Bladh's latest release comes to us through his U.S. friends at Amphetamine Sulphate. Braquemard: The Clavicle of Gilles de Rais is an incredibly interesting new piece which seems to fit Bladh's stylistic sentiments perfectly. We are given a blurred narrative, coming in different writing styles from different places and times, which all tell tales of magick, trials, tortures, and debauchery during the witch trials of medieval France. To add to the horror of this already extreme book, Bladh has opted to don the pages with illustrations created using his own blood as ink. A must-read, or must-avoid (much like the above book by Audrey Szasz), depending on the strength of your stomach for the extreme! <b>Braquemard: The Clavicle of Gilles de Rais</b><br>Martin Bladh | Amphetamine Sulphate (bigcartel.com)
Kristina Feldhammer – Werden
This slideshow requires JavaScript.
I'm so excited that I received my copy of Werden in time for this article! I immediately pre-ordered this beautiful book directly from Kristina Feldhammer on her Etsy page. But the book was released by none other than Cyclic Law Press! Long time followers of Cyclic Law will be aware of her previous books released through their publishing wing, under the moniker of Krist Mort. Now older and wiser, Kristina Feldhammer has opted to use her birth name for future projects, however the beauty of her work has not diminished in any way. This book is a feast for the eyes. Filled to the brim with her gorgeous photo-manipulations. In Werden, Kristina is the judge, jury and executioner of her works (in other words she is the model, photographer, and editor). Unlike most modern photo-manipulations. Kristina doesn't use a digital image for her manipulations. She works directly with the physical film itself, cutting, burning and defacing the film in order to create these otherworldly works we have come to know and love. To have such a huge number of her pieces in such a large format is worth far more than the price of this volume. So, grab a copy before they are gone! I'm sure they will sell-out in no time! Cyclic Law
David Chaim Smith – Fountain of Wisdom
This slideshow requires JavaScript.
David Chaim Smith is an author and esoteric cartographer. He has an enigmatic personality and his views on the truths of reality itself are mind-expanding to say the least. Fountain of Wisdom is one of his latest releases in his gorgeously crafted and brilliantly realized series 'Lightning Flash of Alef'. In a nutshell he looks at the laws of reality through the lense of Kabbalah. However, he is a devout atheist! I highly recommend his books to anyone willing to second guess everything they think they know. His works are not an easy read, but they are highly rewarding, if one takes the time to properly absorb them. And his esoteric cartography (illustrative mapping of his ideas) is a feast for the eyes, regardless of your religious leanings or level of understanding of his words. DAVID CHAIM SMITH