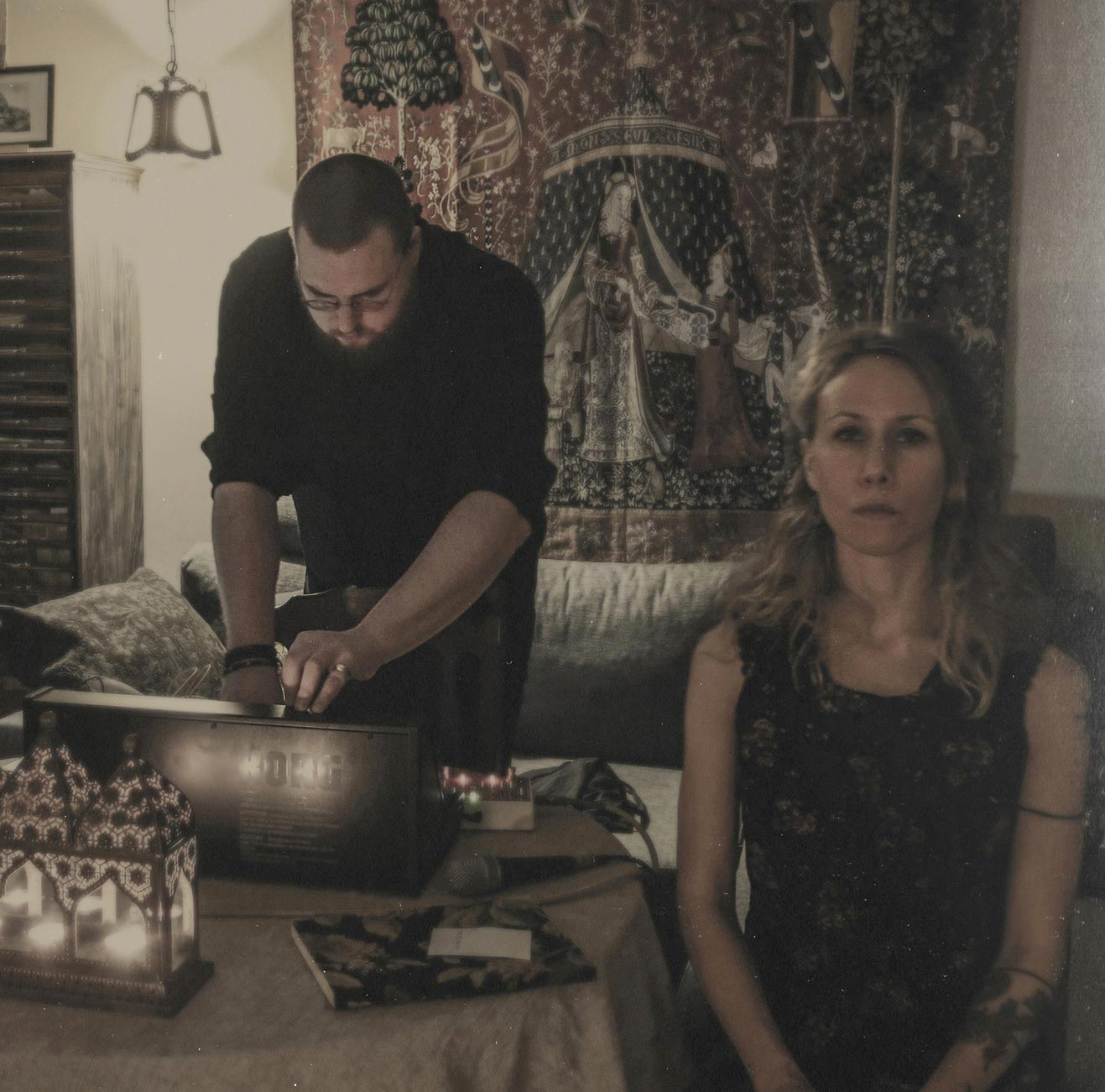 Over the last few years we've seen a huge increase in the output of Pär Boström. Once known only for his oldest (main?) project, Kammarheit, Pär Boström has since created a multitude of wonderful albums, always more or less focused on dark ambient, as Cities Last Broadcast, Altarmang, Bonini Bulga, and now his latest project Teahouse Radio. Near the beginning of this recent bloom in releases, he partnered up with his sister, Åsa Boström, to start the publishing house/record label Hypnagoga Press, as well as collaborate on their first release as Hymnambulae. After my previous interview with them in 2016, not long before I started This Is Darkness, I thought it was time to catch up with the siblings and find out from Pär about the new Teahouse Radio album, and to get some general clairvoyance on the label and future releases from Åsa. Enjoy with a cup of your favorite tea and be sure to check out the new Teahouse Radio album, which you can stream in full below.
Interview with: Pär & Åsa Boström
Conducted by: Michael Barnett

You can also read our review of the Teahouse Radio debut here.
Michael: Teahouse Radio is your latest project to be released through Hypnagoga Press. Since, over the last few years you have been working on a growing number of projects, I wonder if you could tell readers what makes Teahouse Radio unique for you? How does it stand apart from your other endeavors?
Pär: One intention we have with Hypnagoga Press, is creating a house encompassing all our projects. Even the ones that have been or are still brewing in the background. For one and a half decades, Teahouse Radio has served as a counter-point during a difficult psychiatric evaluation and treatment. It took me this long to decide to finally share the music. What makes it unique, for me, is how it managed to keep its roots in the children's books I read, as a kid. A sort of honesty and naïveté that resonates well with me. Things like Narnia, Winnie the Pooh and the Moomin books have been a big inspiration for this project. There is something in those books that connects to my own early encounters with melancholia and existential questions. I don't really have the words for it, only the music. Some would say it's not as dark sounding as my other projects, but I would say it has some of that as well. But more than anything, it has a different form of melancholia and dreaminess.
Michael: How long have you had the idea to work on a Teahouse Radio album?
Pär: The oldest songs on this album are from 2004, maybe a bit earlier than that. But, I can't recall exactly when and how it started. One day it was there. A new friend you feel like you've known forever. I don't know if I had the intention, initially, to publish an album. All my projects start this way. Something personal, a place to visit for as long as I need. Somewhere along the way, I invite people to take part in it. Then, the music sets out on an adventure of its own, becoming a part of other peoples lives, as well.
Michael: Can you tell us a bit about the process behind creating the Teahouse Radio debut, Her Quiet Garden?
Pär: In 2016, I stayed in my sister Åsa's old summer house and guest studio. My intention was to make an album, using a semi-acoustic guitar and a few effect pedals. I often do this, bring equipment with me somewhere secluded. It was supposed to be a singer-songwriter thing. Early on, I noticed that what I was making was similar to what I had already been recording as Teahouse Radio, years before. I had a notebook with me to jot down technical details about chord progression, lyrics, etc. Instead, immediately it turned into a studio diary, with reflections on what I was making. I wrote about my cat Kosmos who had passed away three years earlier, picturing her in this peaceful, dreamy garden. As I was sitting in the rocking chair listening to the new recordings, I wrote about the weather, the bumblebees and about loss, in general. About mental illness. Somewhere in those notes, the album began to emerge. Half of the songs had been recorded sporadically since 2004. The rest were created during a few days late that summer, in that idyllic countryside setting.
Michael: Hypnagoga Press, the label run by Åsa and yourself, has focused on releasing music by your various projects. Of course, some of these projects are your solo efforts, but others have been collaborations, for example: the Hymnambulae or Altarmang debuts are collaborations with Åsa Boström and Kenneth Hansson, respectively. The new Teahouse Radio album looks to be more of a solo project, in line with Bonini Bulga or Kammarheit. Was this, in fact, a solo project, or did you collaborate with any other artists on this one?
Pär: Teahouse Radio is initially a solo project, but I would like to select a few collaborators further down the road. The songs on Her Quiet Garden were sent to Simon Heath, who added a few extra touches on some of the songs and mastered the whole album. I am very grateful for the way he made the old and new material blend together.
Michael: Is there any specific importance behind the names Teahouse Radio and Her Quiet Garden?
Pär: There was a tiny wooden house, an elk tower, in a field outside the city where I lived during high school. Due to my insomnia at the time, I sometimes bicycled there, and had a cup of tea while trying to find radio stations on a small radio I insisted on carrying with me. When deciding on names for this project, that memory came back and Teahouse Radio felt like a suitable name. As the first album is centered around loss, my deceased cat Kosmos became the main symbol. To imagine a garden for her. A calm, quiet garden.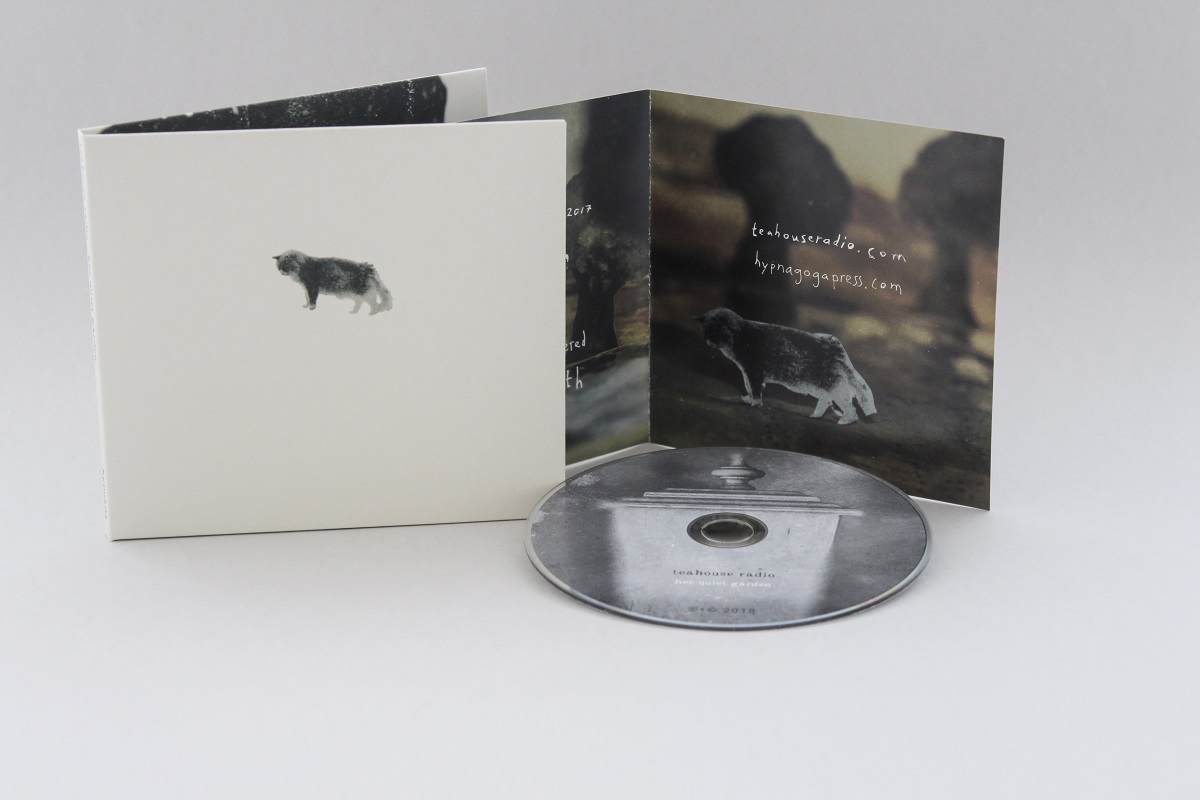 Michael: You've given followers some hints about this release, over the last year or so. Was the process behind its creation similar to other albums? Meaning, do you usually use journals in this way, capturing your ideas for later translation into music?
Pär: I don't think I've shared anything from my journal entries before. Not translated and shared almost in full like we did in The Solar Zine Vol.3. I often write about my music, looking closely for clues on how to best proceed with what I'm working on. Most studio notes are about changes I want to make and title ideas. But, this notebook went further. I will experiment with this on future albums, as well. To my defense I want to add, that when combining a rocking chair, a loop pedal and a summer house with a beautiful lake and garden view, there will be some thoughts running through your head. Dramatic weather only further added to the mood.
Michael: The album art for this release has an incredibly unique and surreal feel. What is the importance of this image and how was it created to have such a unique look?
Pär: I am constantly drawing. Strange animals, trees, figures interacting with each other or dealing with sleep in different ways. It has been like this for almost two decades. I decided early on, that Teahouse Radio should try to fill a gap between my music and these drawings. So, for Her Quiet Garden I made a lot of different paper landscapes with trees and a pond. I tried all kinds of papers to make it look like water and other transparent papers to get a fog like effect. Not many of the photos I took were used for the final artwork, but I will continue with these kinds of images in the future.
Michael: Will Teahouse Radio remain an active project after this release?
Pär: That's my intention. The illness, the need to take a break from the world, to dream and drift, will likely never change. And there will always be the need to make music for weather and cats. Aural tales.
Michael: What does the future hold for Teahouse Radio? Do you intend to do any live performances as this project, or will it remain a studio entity.
Pär: For now, I wish to remain in my studio for quite some time, before doing live performances again, with any project. I'm happy to be able to create now. I've had long periods of inactivity before, or have felt a big need for distance and avoidance, so I want to make sure I'm making the most of this moment. As I said earlier, I hope to collaborate with different musicians in the future. Hopefully animators and paper landscape artists, as well. Her Quiet Garden is merely the introduction.
Michael: Is there any interesting news happening with any of your other projects, currently? I'm sure you have a lot going on, but anything you are willing to share?
Pär: A new Kammarheit album is completed, but it might still be some time before it can be released, as it is a soundtrack and must be synchronised with a product that isn't finished yet. I have yet another unknown project I will share soon, and then it is hopefully time for new material from Altarmang, Hymnambulae, Cities Last Broadcast and Bonini Bulga. It moves in cycles. Even with Hypnagoga Press, I feel like we've barely started yet.
Michael: Transitioning to label matters, Åsa, would you like to tell us what has been happening lately around Hypnagoga Press? Any new plans, projects or developments that you would like to speak about?
Åsa Boström: We'll open the publishing house part of Hypnagoga Press soon, and to begin with, publish some of my books. Going forward, the music label and publishing house will overlap. Literary texts, voice, spoken word will be embedded in our music publications, and our literary publications will include music components.
Onward, we'll also be focusing more on collaborations. Recently, we made a remix for Carl Abrahamsson, featuring on an album set for release at the end of May. It also contains both music and spoken word, with Carl's and my voice overlapping.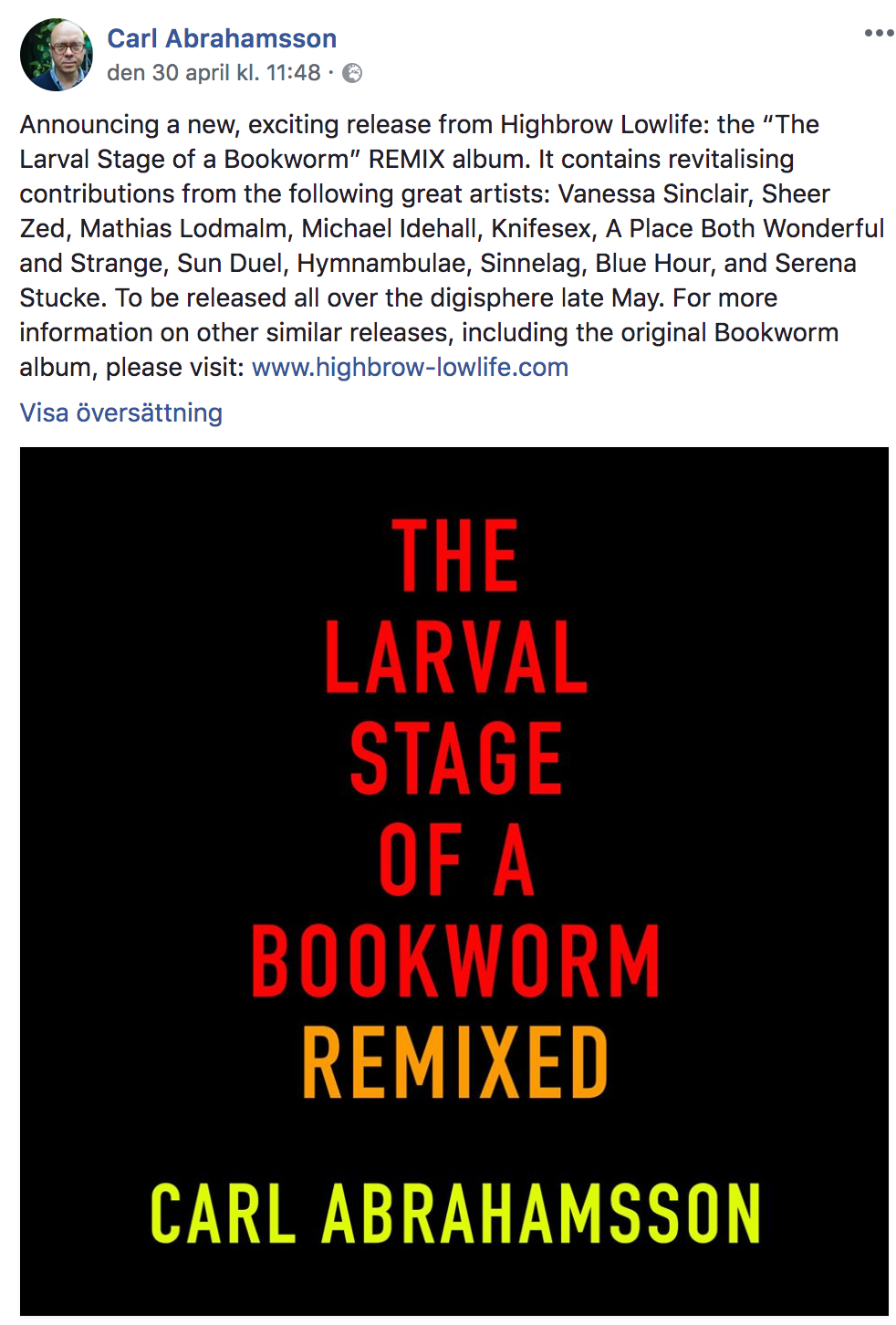 Michael: Hypnagoga Press has already done releases in several formats: CD, Cassette, Zine, will you continue expanding into different forms of media?
Åsa: Yes, we'll continue expanding into different media formats. Explore multimedia products – music, literature, art – as well as various packaging formats. Boxes. Hybrid products. Possibly include objects as a part of the packaging. In my art-making, one medium I work with are sculptural objects, a form of ritual objects, made from materials collected on travels. Some of this might also turn up in our packaging. We'll also introduce vinyl and more types of fine art prints. We intend to keep the physical editions very limited.
Michael: So far, Hypnagoga Press has been a conduit for you and Pär's creative output. Will there be plans to search out talent from other individuals, or are you happy to keep this a close-knit sort of personal operation?
Åsa: Hypnagoga Press is mainly a space for realising our own projects. But we're planning an outlet for collaborations with others, an imprint or a series of publications, in the future.
Michael: Hypnagoga Press is still quite a new label, with your first release being Orgelhuset in 2016, by yourself and Pär as Hymnambulae. What has the startup been like? Are you happy with the current position of things, or have there been any setbacks?
Åsa: I'm very pleased with our first music releases – the debut albums by Hymnambule, Altarmang, Bonini Bulga, and now Teahouse Radio. Projects with narrative depth, supported by interesting creative processes, and I look forward to their progression.
Hypnagoga Press will be built long-term. It's intended as a life's work, with our creative and spiritual practices interwoven with creating experiences in which others may take part. Our publications serve as a form of tools, also for others to utilise, forming their own path and journey. To step in closer, reach further, manifest more.
Life also interfered in our startup. I got ill, due to mold in the countryside house where I was living, in the woods in northern Sweden. A house we'd made our Hypnagoga Press headquarter, where I had also set up my own studio space and a guest studio. All of that had to be taken apart and some of our publications got delayed. Now I live in Umeå, where Pär also lives, which makes running Hypnagoga Press together easier. Forces more joined and space freed up for what's ahead.
Michael: Are there any topics you would like to tell readers about, which I haven't mentioned?
Åsa: I'd like to add a few words about our new release by Teahouse Radio. I've followed the development of the project for almost 15 years now. It's a good example of how our individual projects often influence each other. I've been listening a lot to Teahouse Radio while writing my novel The Seafarer, which we'll be publishing soon. And Pär has read The Seafarer while working on Teahouse Radio. Initially, we had planned to release them simultaneously.
Michael: Thank you so much for your time, it is always a pleasure!
Pär/Åsa Boström: Thank you Michael, likewise!
Links:
Hypnagoga Press: Website, Facebook, Bandcamp, Youtube
Teahouse Radio: Website, Facebook, Bandcamp
Hymnambulae: Facebook, Bandcamp
Pär's projects reviewed on This Is Darkness:
Altarmang – Void (2017)
Atrium Carceri & Cities Last Broadcast – Black Corner Den (2017)
Atrium Carceri, Cities Last Broadcast & God Body Disconnect – Miles To Midnight (2018)
Bonini Bulga – Sealed (2017)
Kammarheit – The Starwheel (2005)