The end of 2018 is upon us. This has been a trying year, world-wide. [Insert endless political rants.] However, it's been a pretty great year for new releases in the dark ambient genre. We are so proud to have spent another year with the dark ambient community. We really can't thank you all enough for riding along on this journey, which started a few years ago as little more than a side-project. We hope to have another productive year ahead of us in 2019 for the dark ambient community.
It's not all been great this year though. As the world gets more troubling, more and more people find themselves in dire straits. The wage gaps between rich and poor have never been greater, on a global scale. As we further divide, people are finding less and less "entertainment money", instead focusing on the essentials of life and family. While this is absolutely understandable, I'd like for people to reflect, going into this new year, on what aspects of our underground community are absolutely essential to you. If, say, your favorite label closed up shop tomorrow, how would you feel? As we spend less on music, the labels in turn have less to work with for future releases. They begin digging into their personal savings to make a release happen, or close up shop for good, seeing that they are no longer able to keep the business afloat. Decide what is important to you, and instead of that Starbucks coffee, or new movie on Amazon, maybe think about directing that money toward buying a new release from your favorite label/mailorder. I am positive that every single one of them that I cover will appreciate this more than you could imagine! 
As usual, I have let this edition build up for a few months. So there is a ton of news here for you to absorb. Don't try it all at once!  Bookmark the page and come back over the coming weeks as you have time to absorb/discover more new releases. Every single album I've covered in this list is, in my opinion, absolutely worth hearing/buying! Without further ado, here's the news!
Michael Barnett
New Publications On This Is Darkness
Sodom & Chimera – Interview with film director James Quinn
Arktau Eos – Interview
Lars von Trier – The House That Jack Built – Movie Review
Hector Meinhof – Interview
Martin Bladh – Marty Page – Book Review
The Inner Sanctum – Dark Ambient Vlog: Episode 6 & Episode 7
Arthur Machen – The Recluse of Bayswater (1895) Full Novella Text
Algernon Blackwood – The Willows (1907) Full Novella Text
Cadabra Records – The Call of Cthulhu – Review
Senketsu No Night Club – Shikkoku – Review
VelgeNaturlig – Kundalini कुण्डलिनी – Review
Shinkiro – Archive: Volumes I-III – Review
Manifesto – Hive – Review
Atrium Carceri – Codex – Review
False Mirror – SIGINT – Review
Sysselmann – Live At Mir – Review
Arktau Eos – Erēmos – Review
Dahlia's Tear – Through The Nightfall Grandeur – Review
Endless Chasm – Saṃsāra Eternal – Review
Dark Indie Films
Sodom & Chimera Productions
I discovered Sodom & Chimera a while back when they were working on Flesh of the Void (2017). They are currently preparing Tears of Apollo for its premiere, and meanwhile, Daughter of Dismay is going into post-production.
We have just published an interview with James Quinn, auteur behind these productions. Check out the interview here.
Tears of Apollo – Teaser (2018 Horror Short)
The story of Tears of Apollo, a throwback flick to low budget horror films from the 70s, revolves around a suicidal woman, who, during the apocalypse, meets just the person in what are supposed to be her last minutes on earth that no one should ever meet in a situation like such, let alone at all. Morbid doom ensues.
Shot on 16mm.
Find out more at sodomchimera.com.
The Quantum Terror – 1st Trailer Unveiled
The twin sister and ex-boyfriend of a missing grad student lead their friends down a labyrinth of dark tunnels inhabited by an alien entity, in search of her. A story of terror and madness, in the tradition of H.P. Lovecraft, David Lynch, and old school practical effects.
Directed by Christopher Cooksey (Total Moonlight Productions)

Music Videos
Apoptose – time-lapse city
Released over the summer, "time-lapse city" is a music video for a track from their latest album Die Zukunft.

Ashtoreth & No One – Redemption (Teaser)
"Redemption is a remarkable collaborative effort between Belgian artists No One and Ashtoreth. Ashtoreth improvised a track and then No One worked his magic. He took the track, decomposed it, and recomposed it, with soundscape, drones, field recordings and arrangements added. "Redemption" grew organically out of the ashes of the Ashtoreth improv into a thrilling and utterly gripping work of art, making the one hour trip a truly enthralling, yet galling redemption."

Ashtoreth & Grey Malkin – Pilgrim
This video is for the track "Pilgrim" from the new release of the same name on Cursed Monk.

Black Mara Records – Palaces of Darkness (Video Teaser)
Black Mara presents the dark ambient / folk compilation "Palaces Of Darkness". Featuring:
Corona Barathri, Ad Lux Tenebrae, Nubiferous, Sol Mortuus, Mrako-Su.

Empty Chalice – Treblinka's Snow
From the forthcoming album, title and release date TBA, the first official video of the track called "Treblinka's Snow"!

Gamardah Fungus – Crossing the Wasteland (Album Teaser)
Gamardah Fungus – Immortality
This is by no means a new track or album. This released back in 2013, but Gamardah Fungus found a few extra physical copies and I revisted the album. This music video, I think, is quite impressive. I had never seen it before and assume most of you haven't either, so I thought I should share it! Screenplay and lead actor are Igor Yalivec (Gamardah Fungus). He shared editing and directing duties with Antoine Miroshnichenko, who also operated and edited the short.

Iluiteq – A Prayer for the Departed

Ivan Kamaldinov – Inreversed
Bonus track from "Unrest".
M. Kardinal & Monocube – Apparitions: III. Substratum
"III. Substratum: An inner garden, a sacrament place for the one who yearns and seeks the place to restore themselves from the shattered cosmos. Slowly emerging into the light – one's nature reveals itself exposing the beauty of a human mind's substratum. Imagine a Hortus Amoris, which provides bewildering path into inner life and having a cryptic dialogue with themselves.
APPARITIONS: III. Substratum, the performance of M. Kardinal & Monocube is the third part of APPARITIONS series to reflect and embody elusive happenings beyond human's perception using analog technique. With progression APPARITIONS becomes ominous and bleak, the collaboration of M. Kardinal and Monocube is an immersive and compelling work, seamlessly bound together in an embrace of beautiful darkness."
Mebitek – Chi No Torrat & What I Have Lost

Moral Order – Dead Bodies
The new album Krypteia by Moral Order is due for release on Malignant Records soon!

MZ.412 – Svartmyrkr – (Album Teaser)
MZ.412 'Svartmyrkr' CD/LP (CSR257CD/LP) Out 8th February 2019 on Cold Spring

Shibalba – Stars Al-Med Hum (Album Trailer)
Ritual ambient powerhouse Shibalba are back with a new album on Algonia Records.

Tim32 – [5[T]Н[I]3[M]2]

Listen / Download here: https://pantheophania.bandcamp.com/album/5-t-i-3-m-2
Vanessa Sinclair & Carl Abrahamsson – Live @ Fylkingen – 14 Sept 2018
Vanessa Sinclair & Carl Abrahamsson, live at Fylkingen, Stockholm, September 14th 2018. Live mix by Kali Malone and Per Åhlund. For more information, please visit: patreon.com/vanessa23carl and highbrow-lowlife.com
Misc. News

Endarkenment – Dark Ambient Newsletter
Danica Swanson has started a subscription-based dark ambient newsletter. She will be focused on specific themes and artists, instead of a standard news website like This Is Darkness. Her first exclusive edition included an in-depth interview with Ulf Söderberg of Sephiroth. Danica's enthusiasm for his work, as well as the rarity of an interview with him, makes this an essential read for fans of this artist and other CMI era musicians!
Last month's edition featured another in-depth interview, this time with Pär and Åsa Boström of Hypnagoga Press, and this month Swanson speaks with Northumbria!
Sign up for her newsletter at: https://endarkenment.substack.com
Noise Receptor Journal – Issue No.6 Pre-orders Available!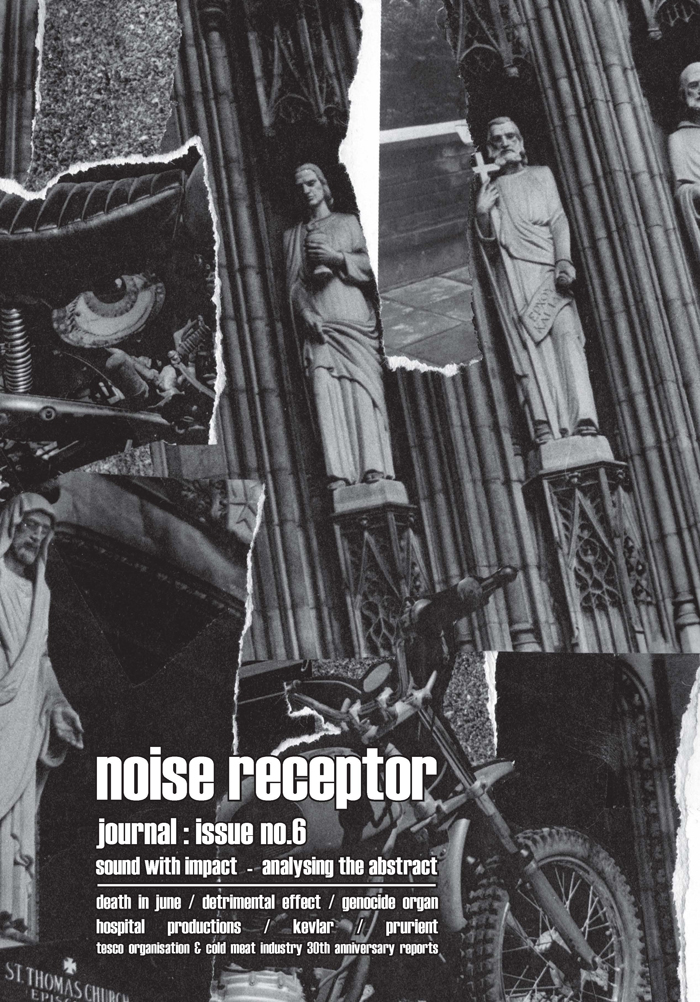 A highly respected and long-standing journalist in the post-industrial world for over two decades, Richard Stevenson first ran the Spectrum Magazine and later would change name and format to Noise Receptor Journal. Stevenson, as I said, is highly respected in the community and I have gathered a decent bit of my knowledge from the pages of his zines. Also, keep a look out for a Spectrum Compendium, all issues of Spectrum compiled into a single book.
"Noise receptor journal is a specialist micro print endeavour which constitutes the physical manifestation of the noise receptor website, but contains new interview and art content to differentiate it from the already published web-based reviews."
https://noisereceptor.bigcartel.com
Events
Phobos X – An Evening of Dark Ambient Music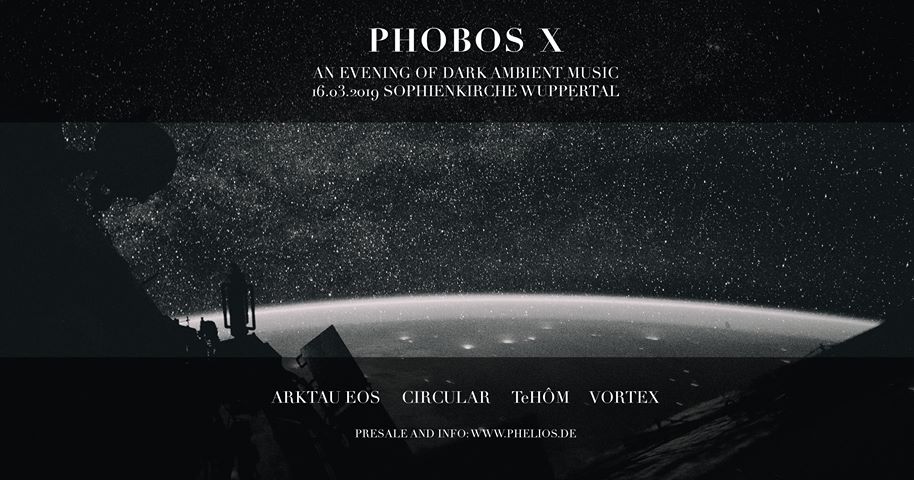 On 16 March 2019 in Sophienkirche Wuppertal, the Phobos Festival will have its tenth event. This year's line-up looks to be glorious with performances from: Arktau Eos, Circular, TeHOM and Vortex. Martin Stürtzer, the organizer behind Phobos, asked me to mention that the event this year will be held in the old church, not the same place as last year's event!
Pre-sale tickets and info are available at www.phelios.de
New Dark Ambient Releases
A Cryo Chamber Collaboration – New Album Released (Cryo Chamber – CD/Digital)
"A 2 hour dark soundscape album recorded by 20 ambient artists to pay tribute to H.P. Lovecraft.
Dark sounds from dreamy dimensions to never ending cursed forests. Join us in the ritual of lust for the Black Goat of the Woods.
Shub-Niggurath is an Outer God (or Outer Goddess) in the pantheon. She is a perverse fertility deity.
An enormous mass which extrudes black tentacles, slime-dripping mouths, and short, writhing goat legs. Small creatures are continually spat forth by the monstrosity, which are either consumed into the miasmatic form or escape to some monstrous life elsewhere."

Alphaxone & Xerxes the Dark – New Album Released (Cryo Chamber – CD/Digital)
"Alphaxone & Xerxes the Dark brings an unsettling space collaboration to Cryo Chamber with Aftermath.
Dark swells, pulsating shimmers and endless reverberations greets you on this dark space exploration album."

Alone in the Hollow Garden – New Album Released (Digital Only)
"Septem Spectris Metallum" was channeled as an incursion into the alchemic realm of the Seven Noble Metals and their esoteric correspondences found in every manifestation emerged from the all encompassing Fabric of the Stars.
All rituals were recorded live, only with the aid of a modular synth system and of a few metal piezo devices self made by A.I.T.H.G., with no overdubbing and other unnecessary embellishments and with the clear intention of keeping the alchemical flame of creation and dissolution in the purest, natural and spontaneous possible form."

Ambiguous – New Album Released (aliensproduction – CD/Digital)
"One of the darkest Aliens production releases is momentarily actual thanks to this gentleman. Igor aka Ish and his devious side returns after a longer silence under the wings of Aliens Production. Once again Ambiguous is opening the gates of the mystery where is no boredom to dig and the remains of dead souls over which the sacred dust is decomposing will alive. Movies atmospheres are a strong source of energy and pulsating percussions shifts this piece into industrially tuned proportions. Atmospheric backdrop is wrapped in scary areas in which on the places embrace ancient testaments and abstract images. Painful but beautiful beginning of the end where various testaments and undiscovered corners meet."

Apoptose – New Album Released (Tesco – CD/Digital)
"In the four years of production Apoptose selected a wide range of different singers for this album. Most outstanding is classical trained tenor Daniel Sans. He sings "What Power Art Thou" – a song that was composed by Henry Purcell in the late 17th century. Apoptose and Sans preserve the complex harmonic structure of the original translating it into a breathtaking five minute ride in apoptotic soundspheres. They succeed in conjuring up Purcell's "cold genius" that had already fascinated legendary countertenor Klaus Nomi in the 1980s. Other voices on "Die Zukunft" include the gloomy spoken words of the advance single "Time-lapse City", the lost girl's voice on the title track and two female singers on "Dornen". Consistent with the album title Apoptose does not look back, but is heading for novel territories within the dark ambient music genre."

Argyre Planitia – New Album Released (Essentia Mundi – CD/Digital)
"Dystopian dark ambient – unplug from the network while still possible. The version of our future connecting strong AI, IoT and cyberhumans and a dark outcome…thou shall escape!"

Arktau Eos – New Album Released (Aural Hypnox – CD only)
Check out our review here! Highly recommended!
Arktau Eos unveil a new album, Eremos, one of their most involved and intense creations. While intentionally minimal on the surface, layer upon layer of subtle, haunting, and evocative sounds are slowly revealed to the attentive listener. Eremos aims at nothing less than the total transition of the listener to the desert realms implied by the title. Old synthesizers and ritualistic acoustic elements are seamlessly blended with even more obscure aural phenomena, including field recordings done in Northern Finland and the untamed steppes of Mongolia.
As has been the testimony of wise men and women of all faiths, solitude bestows its own distinct gifts upon the seeker, a process here treated in less intimate terms than on the voice-led Catacomb Resonator. Eremos is more expansive; the desert that opens before the listener is not a locus of temptations or simple retreat, but a vivid inner mindscape of dramatic confrontations and transformations between flora, fauna, stellar matter, earth, and stone. Gradually they shed away the humanness in its most banal sense, until man identifies with the scorpionic voice of power that carries to the ends of the earth – and cosmos."
Order here.

Ashtoreth & No One – New Album Released (Consouling Sounds – CD/Digital)
"Redemption" is a remarkable collaborative effort between Belgian artists No One and Ashtoreth. Ashtoreth improvised a track and then No One worked his magic. He took the track, decomposed it, and recomposed it, with soundscape, drones, field recordings and arrangements added. "Redemption" grew organically out of the ashes of the Ashtoreth improv into a thrilling and utterly gripping work of art, making the one hour trip a truly enthralling, yet galling redemption."

Ashtoreth & Grey Malkin – Preorders Available (Cursed Monk – CD/Digital)
Pilgrim is the first in a series of collaborative works between ASHTORETH and Grey Malkin, that was initially released as a limited (50 ex.) CD by UK based house of wyrd Reverb Worship in June 2018.
The album sold out within a week and got much acclaimed in the music press.

Cober Ord – New Album Released (Cyclic Law – CD/Digital)
"3rd album, and first for Cyclic Law, by the enigmatic French Pyrenean ritual ambient act created by Yann Hagimont (Habsyll, « O », Ecce Homo) and Yann Arexis (La Breiche, Stille Volk, Ihan). Recorded in various natural locations throughout the mystical Pyrenean landscape, in ancient temple caves, sacred mounds and ruins using an array of acoustic and electronic sources and local field recordings. Cover Ord functions as an ode to lost ruins and mineral elements, chants summoning the rising of nature, a post-modern ritual for times of ecocide. They've weaved and channeled an exceptional soundtrack exploring the confines of matter, spirit, time and space."

Dahlia's Tear – New Album Released (Cryo Chamber – CD/Digital)
Read our review here.
After 6 years of silence this veteran dark ambient producer is finally back with a new album. Through the Nightfall Grandeur is a dreamy and multi-layered melancholic journey through worlds both inner and outer.
The album revolves around a spiritual awakening where the shattering loneliness of the protagonist fuels the search for meaning. We follow through moonbathed nights on a journey through dark abysses, snowy mountains and desolate moors.
A detailed and layered album that takes many repeat listens to fully explore all the complexities, one mystery at a time unto enlightenment.

Daina Dieva – New Album Released (Digital Only)
"At the moment Daina Dieva aims at creating sounds that would become a shared experience between her and the listener. Based in Lithuania, she is interested in dystopia, non-human futures, dehumanising technologies, postindustrial landscapes, capitalocene, catastrophe, (green) activism and alternatives to the current state of affairs."
'hibou' was created for Kaunas Magazine and consists of a plethora of sounds collected in the second half of 2018. Collected sounds include: bridge, under the bridge, freedom avenue, castle roundabout, night busses, sea st., street piano, sliced piano, construction site, mindaugas ave., cranes, night, keeping watch, silenceless spaces.

Dead Melodies – Preorder Available (Cryo Chamber – CD/Digital)
Dead Melodies presents us a dark cinematic space album with Primal Destination.
Deep drones, sweeping atmospheres and a mysterious setting creates an immersive setting for this sci-fi journey.

Desiderii Marginis – New Album Released (Cyclic Law – LP/CD/Digital)
"Long awaited new material by one of Sweden's most revered Dark Ambient acts.?"Vita Arkivet" translates from Swedish as "The White Archive" and is an official document detailing ones funeral arrangements. In death our existence is whitewashed, the slate wiped clean. We start all over and we bring nothing with us were we go. We lose the agency of our own memory and leave it for those left behind to attend to, to continue our story, to write our eulogy. Vita is also the latin word for Life, so the meaning could also be "The Life Archive". White is the colour of the casket lining, the plaster death masks and the walls of the chapel, it is the colour of the first and last pages. What is kept in between the covers of our life archives? This record is a personal reflection and manifestation of that process, the loss and the great detachment from life, from others, and from ourselves."

Distorted Void – New Compilation Released (Distored Void – Digital Only)
This latest compilation on Distorted Void is a nice combination of some of my personal favorite under-rated dark ambient artists, as well as others I've not yet discovered. Definitely worth checking out to find some new talent!

Dronny Darko & Apollonius – New Album Released (ΠΑΝΘΕΟΝ – CDr/Digital)
"In the darkest places, there's always a light. Hidden, untouched yet always omnipresent since it is its nature. The deepest sea levels, the vastness of space, the darkest corners of the human soul. It's always there, waiting for the call, eager to unfold and to show an unexpectedly wide horizon of possibilities. On the fundamental level, it's not even light as we know it – just feasibility of action, of motion and creation. We all have it. It's a boundless sea and we are always on its shores."

Embers Below Zero – New Album Released (Sombre Soniks – Digital)
"Urban Witchcraft tells the stories written on the walls of abandoned buildings. The tales of strange rituals performed on the last floors of glass skyscrapers. The stories of digital sorcery and of the nightsky that looks just as beautiful as it did centuries ago. While making this album, I had in my mind the image of a XXI century Jonathan Strange taking a mescaline trip on a summer night in Tangier. Just like the debut, "The Oblivion Sea", released by Shimmering Moods Records, with atmospheric ambient as a foundation, this release derives from various types of experimental electronic music – from noise to dub – to build a passage between alchemy and technology."

Endless Melancholy – New Album Released (Dronarivm – Vinyl/CD/Digital)
"'Fragments of Scattered Whispers' is a collection of soft piano melodies and transparent ambient textures, gently flowing one into another. On this album Endless Melancholy continues with the tape sound explorations, started on his previous album 'The Vacation', but in a new, more distinctive way. On this occasion, Oleksiy teamed up with Krzysztof Sujata (known for his musical outfit Valiska), who did some outstanding job on processing the tracks through different kinds of tape recorders and mastering them afterwards. Accompanied by a stunning artwork by an acclaimed artist Gregory Euclide, 'Fragments of Scattered Whispers' is meant to evoke hazy reminiscences from the deepest corners of listener's mind, like a blurry photograph suddenly falling out of an old book."

Experiment#508 – New Album Released (attenuation circuit – Digital)
The Hollow Ward is a dark ambient that lies firmly on the more experimental side of the genre. Staticy washes of sound and synthetic noises merge forming a post-apocalyptic sort of feel. 'Name your price', so check it out!

Foudre! – New Album Released (Gizeh – Vinyl/Digital)
"Improvised and recorded live at Le Rex de Toulouse supporting the 10th anniversary of French doom metal band Monarch!, KAMI神 extends the cosmogony and the sound of the band by taking excursions into the invisible and ambiguous side of nature. In this orgiastic and surprising mix of sonic textures and rhythms, you may hear strange phenomena, summoning of animistic spirits, shamanic calls, siren yellings and growls. The original chemigram artwork was created by French artist Fanny Béguély by painting with chemicals on light-sensitive paper.
Following the sold-out EARTH soundtrack (GZH71, 2015), KAMI 神 delivers an immersive soundscape for abstract clubbers, where kosmiche electronic, power ambient and industrial punk music are freely invited to commune. This pagan ceremonial is an ode to the ever-changing vortex of life – a sonic dream machine for the occurring now."

Gamardah Fungus – New Album Released (Flaming Pines – CD/Digital)
"After a trip across the India, we decided to dedicate our new album to the Thar Desert, a large, arid region in the northwestern part of the Indian subcontinent that forms a natural boundary between India and Pakistan.
This album is our vision of modern and sacral Asian culture – rich, mysterious and insufficiently explored. And this is probably our most minimalistic album to date. We deliberately refused the multiple layers of sound forms and methods that were used on previous records. We wanted to concentrate on sound repetitions and pauses, like in Indian mantras and folk music, trying to achieve a deep trance with minimal arsenal – only guitar, modular synthesizer and tanpura."

Hiemal – New Album Released (Digital Only)
"Five Drone Ambient tracks over a single field recording. Three hours under the northern lights, soothed by the cold tapestry of sound whispering softly among the mountains."

Hilyard – New Album Released (Cryo Chamber – CD/Digital)
"Hilyard brings his first solo album to Cryo Chamber with Furthermore. A deep space adventure that lets you float in zero-G and gaze upon the anomalies of the universe.
Escape from a tired and dying world into the realms beyond quasars. Journey in isolation through thick dark matter in search of answers. Drift in quiet melancholy, past the failed floating structures, gas giants and furthermore, into an endless horizon.
Sweeping electronic drones combine with analogue bass to create a multilayered space ambient album that is emotionally captivating and enlightening."

Holotrop & Vrna – New Split Released (Qualia – CD/Tape/Digital)
"Welcome to the Sleep Temple! Holotrop and Vrna, two of the best kept secrets of the contemporary dark ambient and ritual music scene, immersing into the profound mystery of dream incubation.
The religious practice, of sleeping with the intention of experiencing a divinely inspired dream, was practised by many ancient cultures all over the world.
Both projects reflecting and interpreting in four so called Onirokons their own practical dream work.
ENKOIMESIS works on the highest sensory level of perception. Typical ritual instruments like bells, gongs, chimes and drums mixed with drone and ambient soundscapes leading, accompanied by cryptic and mysteriously whispers, deep into the land of dreaming and opening the way to sacred gates."

Ivan Kamaldinov – New Album Released (Digital Only)
Edgeless pulsating tones, vocals submerged below waves of droning static, completely sanded smooth output that strikes an excellent counterbalance between golden noise and sustained tones.
Full of neo-classical elements but taken into a proper electronic droney space through the held tones and electronic haze that permeates the tracks. Chords are held forever as if trapped in amber. The sounds vibrate in a wavey haze.
Surrender yourself now.

La Santa – New Album Released (Wannamarchi.club – Cassette/Digital)
"Calabria, Southern Italy — a landscape of unmarked graves hidden by abandoned construction sites left as monuments to a corrupt state; a code of silence masking a culture of extreme cruelty; age-old folk traditions and occulted religious rites which refuse to acknowledge the passing of time; the secret brotherhoods; the holy bloodline and birthplace of the 'Ndrangheta – part business, part religious order and part ancient military, now one of the most powerful organised crime groups in the world.
Broken Britain Cassettes inaugurates its World Service imprint with Pax Mafiosa, the first dispatch from La Santa, a native Calabrese, who delivers a concoction of ceremonial death chants, phone tappings and initiation rituals. Based around collaged samples from an inherited record collection, Pax Mafiosa invokes visceral fear and spiritual ecstasy with biting electronics and harrowing field recordings.
In Calabria the sacred and the profane are not mutually exclusive. The name 'La Santa' refers to both the Virgin Mary and the highest, most secretive level of The 'Ndrangheta, a secret society within a secret society which links the top bosses with freemasons and extremist terror organisations. Pax Mafiosa is a sonic mapping of this dysfunctional marriage of mafia and religion."

La Tredicesima Luna – New Album Released (Lighten Up Sounds – Cassette/Digital)
"Italian solo artist Matteo Brusa (otherwise known as Medhelan) returns to the imprint with his remarkable project LA TREDICESIMA LUNA. This second full length from the project brings focused illumination to dark waters with a singular form of celestial luminescence.
The debut album from October 2017 brought shadowy tones and other-wordly fog, but with this newest work Oltre L'ultima Onda Del Mare (Beyond The Last Sea Wave), our Mother Moon guides us upon a grand ancestral voyage. A shard of guiding light breaks through blackened sky, the prismatic spectrum reflected across infinite sea."

Lunar Abyss Deus Organum – new Album Released (ΠΑΝΘΕΟΝ – Cassette/Digital)
"Endless steppe, dry and cold air, the grass is everywhere… It lasted almost an eternity, no changes. Day after day, season after season… But someday the wind turned to ice blades. It wounded the sky and the snow started to fall. Sun was still bright, but the snow was falling more and more. The snow was so soft, that he started to feel sleepy. He stopped his life-long walk. He closed his eyes. It seemed that the glaciers were moving, melting, freezing, moving again… He saw how winds crafted some amazing figures off them. He saw the rains, the trees, the moss… And ice again, the wind. Birds were getting smaller in the sky. Then vanished. Then metal ones replaced them, leaving long trails behind. He saw the distant lights, heard sirens and rumble when metal things pierced the sky once again, leaving the fire behind. The rumble went still, the lights faded. It was silent again and the ice was bright when it started to melt. He opened his eyes. It was dry and cold again. He tried the grass – it was juicy and fresh. "What a wonderful dream", he thought. And continued his walk."

Mordançage – New Album Released (Facture – CD/Digital)
"Mordançage: an alternative photographic process that alters silver gelatin prints to give them a degraded effect. The mordançage solution works in two ways: it chemically bleaches the print so that it can be redeveloped, and it lifts the black areas of the emulsion away from the paper giving the appearance of veils.
Mordançage creates a degraded appearance by physically altering the film. The excellent new collaboration from Andrew Tasselmyer and Tobias Hellkvist has experienced the same process of slow alteration, its grey-washed ambient emerging from the recesses of a dark room. Standing in a rectangle of light, its music is a new being that's experienced its own process of development."

Med Gen – New Album Released (ΠΑΝΘΕΟΝ – CDr/Digital)
"The quiet humming of the earth and high-pitched bird calls, reflections of the autumn sun in the bog puddles… Silent steps on the path well-hidden in the thickets. No winds here. Just mesmerizing swaying of branches. Maybe they're giving you signs not to partake in this journey, maybe better turn back and go home while you can… Yet this smell, these colors, those mysterious rustles in the deepness of the woods. One step after another and the story begins to unfold. What lies beneath these murky waters, between the layers of peat and on these oddly colored tussocks? Sun is approaching the horizon, so don't hesitate, breathe in this night."

Mortaur – New Album Released (Digital Only)
After a very long silence, Mortaur has returned with another horror ambient offering. This album takes him into more dynamic territory than he's previous works, but keeps the deep darkness we've come to expect.

MZ.412 – Svartmyrkr available for preorder and streaming (Cold Spring – CD/Vinyl/Digital)
"Swedish behemoths MZ. 412 return with their first full-length album in 12 years, once again asserting their dominion as the true Kings of Black Industrial. "Svartmyrkr" is a massive tour de force that reinvents the classic sound of MZ. 412 whilst retaining their trademark malevolent harshness.
This album is dedicated to the true hell of the north – Helheim – and the giant goddess that rules it, Hel. From blackened ritual incantations, to bleak yet beautiful dark ambient arrangements, to harsh bombastic orchestrations, this album exceeds all expectations.
MZ. 412 blur the lines between music, magick and reality. The earth trembles… the mountains quake… all light is vanquished. The Swedish overlords darken the hearts and extinguish the souls of all who bear witness to "Svartmyrkr"."

Northumbria – New Album Released (Cryo Chamber – CD/Digital)
"Vinland is the third and last album in Northumbria's trilogy inspired by the Norse discovery of Canada.
The journey was long and hard, you lost good men sailing across the never ending sea, but now you stand on foreign land. The father of gods watches over you as his ravens circle the funeral pyre to bring his warriors home.
Using guitar and bass, and recording their improvised compositions live, Jim Field and Dorian Williamson create a deep textured sound world. Evoking the ancient wonder that the Norse explorers must have felt discovering Vinland, the Windswept Land."

Oestergaards – New Album Released (Digital Only)
"You do not quench the sun with a jug of water" is an expression that no-one has said before but can match the dark ambient artist Oestergaards. Step by step, his dark-lied world receives attention internationally in that slightly shadowy genre. After the debut album Rötterna and the subsequent remix album Rötterna Decomposed, he is now back with a 4-track EP that goes deeper into the dark ambient genre. The titles of the songs are extracted from his acclaimed dialect Ovanåkersmål. A flashback in the past among one's childhood home dreams, with the memory of time becoming increasingly foggy.

O Saala Sakraal – New Album Released (Cyclic Law – CD/Digital)
"A new collective led by former Hadewych member Peter Johan Nÿland. Etmaal ("natural day") is the first in a series of explorations that aim to serve as a channel between the ethereal and chthonic, sacred and profane, the innermost black well and the outermost white sun. The album follows the circadian path as an analogue to the revelation of the actual self, with the sun as the inverted eye that unveils all things in their temporality, opposite the eternal inner black of night. Sudden transitions between coercive percussive hammering and sharp boreal drone pieces seek to mirror cosmic events; from glacial movements to throbbing punctuation and sudden death and with each end resolved arises a new tension and an attempt at cleansing and delving deeper with the intent of finally arriving at the inner clearing. In the recording process for Etmaal, the group effectively alternated between states of extreme focus and hiati in which subconscious impulses were allowed to arise and the result is an album that skilfully wanders an essential pathway between two planes in its own distinctive way.

Otovan Veret – New Album Released (Cyclic Law – CD/Digital)
"Syvys is the second demonstration of how Finland's OTAVAN VERET decipher the pulse of the great cosmic filaments. The radiation from the distant otherness takes audible form in four pieces of ethereal, pulsating atmospherics, where the multitude of transmissions is implemented via a curious amalgam of electronic and acoustic sources operated by Kaarna & XVL. As a result "Syvys" reflects the many phases of a stellar journey in a dreamlike state, encountering both enchantment and anxiousness."

Phragments – New Album Released (Malignant – CD/Digital)
"New full length from Phragments based on collaborative works done with Atranenia, Mindspawn, Rasalhague, Shock Frontier, and Terra Sancta. 40 minutes of sweeping textural doom, cinematic drift-scapes, and smog covered drones. Forlorn and dramatic music for the end of days, from the master of apocalyptic electronics. Limited to 300, released in collaboration with Construct.Destroy.Collective. Mastered by John Stillings, Steel Hook Audio."

Rafaael Anton Irisarri – New Album Released (Umor Rex – Cassette/Digital)
"Rafael Anton Irisarri continues his string of post-minimalist releases with his third for Umor Rex: El Ferrocarril Desvaneciente. While composed as an ode to an overnight train journey through Spain he took many years ago, the music picks up sonically where his previous album Sirimiri left off. Irisarri focuses on deploying sonic cycles throughout these four shorter pieces, basing much of this sweeping ambience around looped sounds and distant pulses. The sound is however kept in a state of forward motion and constant evolution, invoking the slowly rumbling night train that inspired it —not to mention its cargo of misfits and travelers. Irisarri's skill, set as a manipulator of minimal sound input, is at full strength here, imbuing even shorter pieces such as "El Espectro Electromagnético," with chasms slowly cresting drama. The phantasmagoria of "Un Saltador" was even composed as a departure for him, toying with synths and pedals in a "modular kind of way," letting an experiment unfold with minimal interaction."

Randal Collier-Ford – New EP Released (Digital Only)
"Inspired by the musical work of Akira Yamaoka
This record is a dedication to the millions of individuals who have, will, and still do suffer from the effects of crippling depression, anxiety, and what comes of these inner conflicts. Written during a state of depression, Cyclic is a cathartic messages of acceptance of this void that never fades away, but can only be subdued for a time. To be a reminder of what this state of mind brings about, from the lies we tell ourselves to the realities we must face and overcome, this EP is an ode to this age long conflict
Please, don't go it alone. Seek help, seek strength, seek open arms."

RNGMNN – New Album Released (Reverse Alignment – CD/Digital)
"RNGMNN is Ronny Engmann, a multidisciplinary musician working from his base Berlin, Germany.Combining his minimal dark ambient with contemporary horror music making an own experimental style he's now entering the Reverse Alignment territory with the new album "On Darker trails". Releasing several contributions on various net labels since 1999, "On Darker Trails" is the first official physical release on CD. The album takes a dive into the skies above and phenomena that, for humans unreachable, space and there after."

Sacra Fern – New Album Released (Black Mara – CD/Digital)
"Protected by forest spirits, shining in the rays of magic fern, this stone has absorbed all the power of the Sun. It will open doors to a world of magic in the shortest night of the year for who follows his own willpower."

Senketsu No Night Club – New Album Released (Aquarellist – CD/Digital)
Check out our review here.
"As in the most successful outcomes, the artistic alchemy of Vincenti, Leonardi, and the british saxophonist Ian Ferguson, generated a feverish and endless activity. Only a year ago the trium was busy laying the foundations of its debut album, recently pressed by Old Europa Cafè.
The sonic product of Senketsu No Night Club, floating between jazzy movements, dark ambient soundscapes, and power noise ruptures, celebrated then the far east extreme cinema whilst the Furachi Life's fetish imaginary – if you are familiar with the perturbing japanese artist – was the band concept's perfect incarnation.
Stunning yet sensual, as in the best representation of the sex/death duplicity. Today, with
a different approach, "Shikkoku" represents the nocturnal spleen and its melancholy, the erotic lyricism of Mishima's novel "Nikutai No Gakko, ????", and the eternal clash of Eros and Thanatos by G. Bataille. The beauty, the crime, the violence, the anguish.
100% Doom-Noir Jazz in a dark connection between Rome and Tokyo."

S.E.T.I. – New Album Released (Loki-Found – CD/Digital)
"Right in time for the long nights Andrew Lagowski is back with his probably most ambitious project to date! A deep ambient space soundtrack of nothing less than eight hours on eight CDs presented in a beautiful cardboard box. These recordings have been composed, sequenced and mastered in such a way as to allow for periods of hazy dreams, deep sleep, time displacement and finally, awakening. Please use them as you see fit – perhaps as a toolbox for your own sleep travels and dream experimentation."

Shibalba – New Album Released (Agonia – CD/LP/Digital)
"Shibalba is an otherworldly, meditative project from the members of Greek and Swedish black metal bands, Acherontas and Nåstrond. It differs greatly from the aforementioned acts, with main focus set on expressing shamanic, trance-like states, by the use of ethnic instruments and musical technics peculiar to religious rituals. In doing so, the band also incorporates contemporary synthesizers and guitar drones. Some of the more traditional instruments they use include Tibetan horns & singing bowls, bone & horne trumpets, darbukas, ceremonial bells & gongs as well as percussion instruments made of bones and skulls. The music is richly detailed and multidimensional, while its outcome is deep, unsettling and subconscious. As a whole, it offers an otherworldly voyage."

Shinkiro – Preorders Available (Limited CDr and Digital)
Shinkiro continues with the release of his archives through this fourth edition in the series. Find out more about Shinkiro and the first three archives in our recent review here on This Is Darkness.

Shrine – New Album Released (Cyclic Law – CD/Digital)
"Based on the fictional story for Tomb Raider III, created by the British game studio CORE in 1998, the story begins in Antarctica millions of years ago, where a meteorite has crashed into the landmass and when the continent was still located in the tropics. Millennials later it was discovered by the ancient Polynesians who had reached the Antarctic coast and they soon realised that strange otherworldly powers surround the celestial rock and so the people began to worship it as a deity. After severe mutations started to occur among their newborn, the settlers fled in terror and never came back but before they left, they sealed the meteorite into a deep underground chamber, locked by four "keys", four unique objects crafted from the same alien material as the meteorite itself. In the 19th century, a group of sailors travelling with Charles Darwin came to Antarctica and rediscovered the artefacts. The story follows the search for the four artefacts and the rediscovering of the meteorite, hypothesised to contain the most important findings in genetics and evolution since Darwin. We are aurally taken through this unique world through 6 singular chapters of pristine sonic grandeur."

Slowlodger – New Album Released (Outside Noises – Cassette/Digital)
Slowlodger presents "A violent soundtrack for a non sense life" as the second reference of Outside Noises. This album is in the opposite concept side from the previous work by Blovk: AVSFANSL is a record located in the field of drone, dark ambient, noise or avant-garde music.
Thinked as a soundtrack that sonorize the moments in which a human can thinks that life make no sense, in this modern times and the coming future. Composed during the darkest moments of 2018.

Snowbeasts – New Album Released (Chthonic Streams – CDr/Digital)
Combining their knowledge and skills from previous releases, Snowbeasts deliver a new album which is as likely to linger in dark ambient despair as it is to erupt into post-industrial ferocity. These is another brilliant release from a project that has been delighting listeners since their 2014 debut. The highly limited (only 25!) and quite beautiful CD release, comes in a archival box with 3 art prints, by Noah G. Hirka, mounted on black boards and a pouch of talismans. This one is another tour-de-force in presentation by the Chthonic Streams label, run by Derek Rush (COMPACTOR, . Highly recommended.

Sun Through Eyelids (ΠΑΝΘΕΟΝ – CDr/Digital)
Liminal states and unexpected discoveries they bring – means of the evolution, a constant call inside some weird ones. Travelers, visionaries, tricksters, magicians, artists… Explorers of the Earth, of Cosmos and, hence – the deepness of the human possibilities. Which land will lull them in their last sleep? Will be it under tall trees or in the midst of iced tundra? Radiowaves and bird calls, forgotten rituals and enigmatic fossils – no one knows where and when this mystery will give some keys to its essence. But there is always someone ready to follow this path, no matter where it ends.

Syrinx – New Album Released (Sombre Soniks – Digital)
"Thee first album from Syrinx since their 'Speaking Alone' was released on Sombre Soniks in 2011! They return with just under an hour of material taken from an improvised session rekorded earlier this year…
Syrinx is thee kollaborative work of members from several Projekts inkluding Ghoul Detail, Pink Venom and Glowing Pixie."

Valanx – New Album Released (Reverse Alignment – CD/Digital)
Water is flooding. Land is obsolete. Scattered tribes rule their part of the world. Struggling. Adapting. "Tidelands" is Valanx soundtrack to a post-apocalyptic future where water is abundant and the circumstances of living has changed radically.
This is the final album by Valanx and Reverse Alignment is very happy to release it. We've been fortunate to work with such great artist.
Arne Weinberg says:
"This album is the swansong of my long musical journey and I would like to dedicate it to the most important person in my life, my wife Petra. Without her I'd be lost in nothingness. Eternal love.
I'd also like to thank Kristian Widqvist for his continued belief in Valanx and his dedication to the project.
Last but not least, a big thank you to all the listeners over all these years."

VelgeNaturlig – New Album Released (Winter-Light – CD/Digital)
On 'Kundalini', Ivo Santos presents us with an album, layered with a rich tapestry of dense drones, reverberating sub-bass and circulating processed sounds, cleverly woven together with field recordings.
As with most, if not all of VelgeNaturlig's work, on 'Kundalini' the tracks flow together as one, creating vast musical landscapes to traverse within the minds eye. The music weaves an infinite pathway between the light and the dark, sometimes isolating but always keeping the listener engaged.
'Kundalini' is an album of true awakening, invoking a clash of primordial sounds and energies. Let the currents flow…..
Check out our review here.

Winterblood – New Album Released (Digital Only)
Self-released & 'name your price' new album by Winterblood.
"Musica di Mezzanotte', is a concept focused on the rêverie, the contemplation of the fire, specially a candlelight; a journey through the rooms where the reader dreams, stares at the window, waiting for nothing. A dreamscape worth to be reached, to never come back.
Most of the music performed on Analog Paraphonic Synthesizer 'Nyx'. Nyx is also the Greek goddess (or personification) of the night…"

Wolves and Horses – New Album Released (Digital Only)
"This album is about Earth, our Earth.
Each track name is based on a place or an interesting phenomenon around us.
I encourage you to check where and what these are.
We all have to change our attitude if we don't want to lose all of this, if we want to have a place to leave to the next generations.
This is my tiny little brick in the wall…..and I hope you'll enjoy the music."

Zoloft Evra – New Album Released (Signora Ward – CD/Digital)
"Wounds of No Return ", the third album from ZOLOFT EVRA is a fierce merciless ritual, blood soaking void. Pure murderous sonic intercourse where death cult, self destruction, sexual fetish obsessions, antichristianity cross the fields of eerie negative industrial ambiences."