Artist: Endless Chasm
Album: Saṃsāra Eternal
Release date: 12 July 2018
Label: Chthonic Streams
Tracklist:
01. An Outline of a Memory
02. Just Below the Hot Surface
Endless Chasm is a dark/ritual/noise ambient artist out of Lawrence, Kansas. Since their first release in 2015, Endless Chasm is keeping a pretty steady release schedule, with roughly two full-lengths dropping per year. Previous releases have been hosted by labels including: Big Pharma Records, Lurker Bias and Endless Landscapes of Decay. Saṃsāra Eternal is brought to us by Chthonic Streams, a label which predominately releases works by it's label head Derek Rush (COMPACTOR, Dream Into Dust, A Murder of Angels). Though, Rush will occasionally find an album which fits the framework of his aesthetic goals. Saṃsāra Eternal is one such release, in which the artist, much like Rush himself, uses a combination of techniques to conjure a plethora of abstract soundscapes from his electronics, while adding a unique touch to the project, through the addition of field recordings. [We've also previously reviewed another excellent release from Chthonic Streams by Hoor-Paar-Kraat which you can read here.]
"An Outline of a Memory" follows a dark drone ambient framework which borders on harsh noise at times. It successfully blends these harsher sounds which remind of artists like Jarl and many of the artists featured on labels such as Endless Landscapes of Decay, with something more meditative. What this combination creates is something I could compare with the recent Altarmang – Void or many of the harsher works on Aural Hypnox. There are great peaks of intense walls of sound, as this pulsating drone shifts from its piercing high pitched register to a calmer more contemplative soundscape, and back again.
"Just Below the Hot Surface" is more in line with the sort of dark ambient I often enjoy. Endless Chasm uses a balanced combination of pulsating analog synth and industrialized field recordings to create a complex atmosphere. We get the feeling of a sort of post-apocalyptic ritual taking place in the catacombs beneath some smoky rusted factory. The depths and complexities of this atmosphere slowly evolve, and likewise slowly reveal their subtle textures over time. The sounds which begin as lifeless mechanical workings evolve into this dark ritual with otherworldly/underworldly voices seeming to be channeled from the metallic clanging.
As the album progresses, and so too as it is replayed, the listener will be forgiven for beginning to second guess their initial intuitions on the sounds and their individual musical elements. Simple drones can morph into monstrous voices, mechanical hammering turns into ritual drumming and back again as the mind is slowly made aware of its surroundings, only to be deceived once again moments later.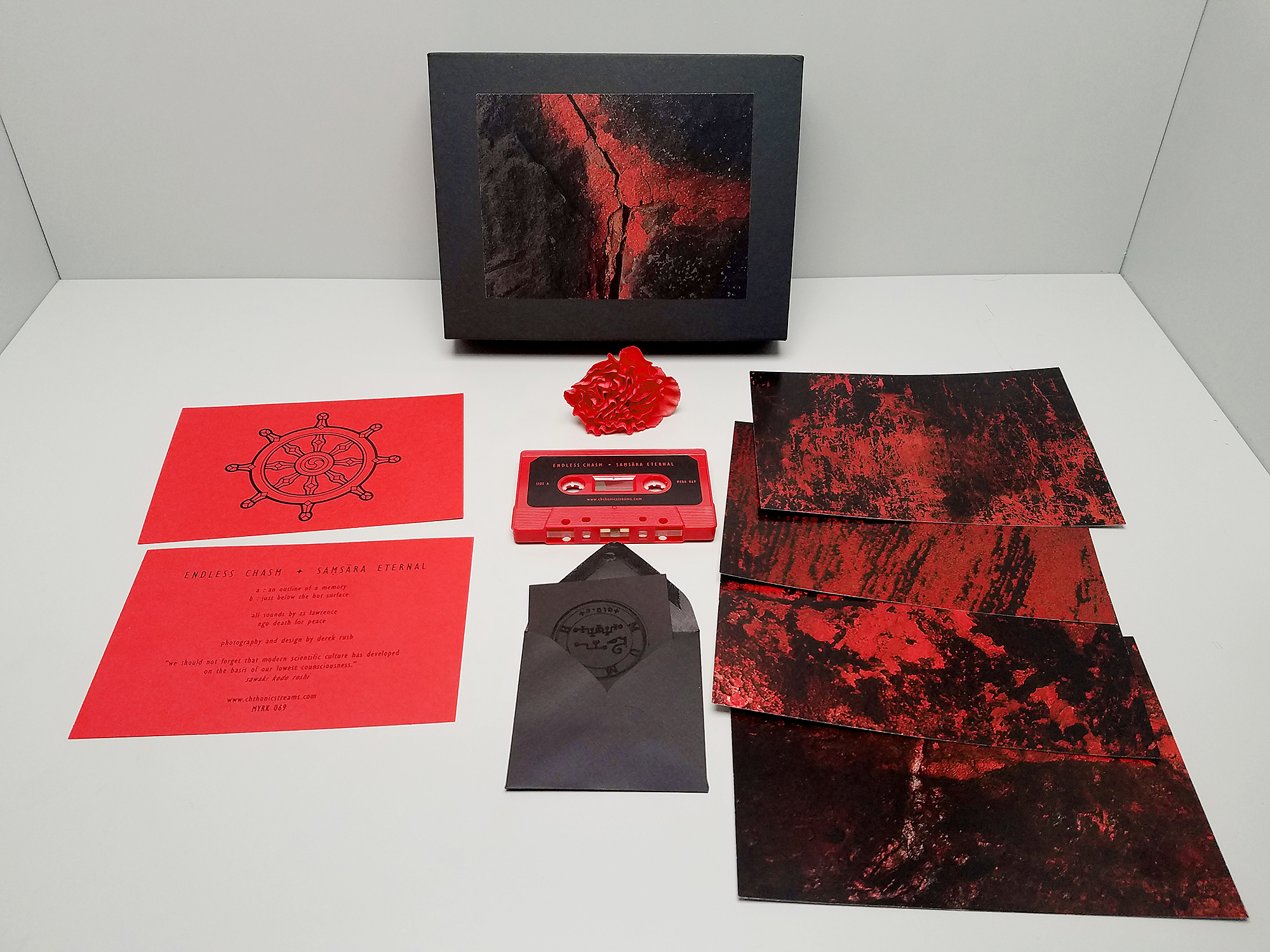 Saṃsāra Eternal is released digitally and also in a limited art edition cassette box set. The matte black box includes a red C-30 cassette, 4 art prints which feature photography by Derek Rush (as well as a 5th on the cover of the box), an info card with album credits, a black-on-black sigil, and a red carnation. This presentation again brings to mind the depth and care that we expect from D.I.Y. labels such as Aural Hypnox.
Fans of more digitally-focused, subtle, cinematic dark ambient releases might find Saṃsāra Eternal a little over-bearing at times. But for those that are accustomed to the moments of climactic harshness, you will find an album which is masterfully prepared and worthy of the comparisons made to works on more internationally recognized labels. Endless Chasm has crafted an album I would highly recommend to those that prefer something contemplative/meditative, but also challenging in its delivery. Like any good release in these genres, the depth of these soundscapes will only slowly reveal itself over time, making for an album worth revisiting numerous times.
Written by: Michael Barnett