On this week's edition of Frozen In Time we have a good number of releases and pre-orders to mention. There is a bit of news for the fans of David Lynch's films and we have the first review on This Is Darkness by Przemyslaw Murzyn known for his work at Santa Sangre.
New Releases and Pre-orders
Anemone Tube – New Album Released
In the Vortex of Dionysian Reality is the first release by nascent label Blossoming Fern, which is run by Andrzej of Monocube. This latest Anemone Tube is available in a 6-panel digifile and is limited to 200 copies. The LP version will release in roughly 6 weeks.
Order here.

Araphel – New EP Released
The latest release by horror ambient artist Araphel is the EP Void. Araphel says about the EP, "An unknown cult of infidels sacrifices the scribes. Those who practice the teachings of the magick of old are now offered to the void. On the altar, the infidel descend.. To make communion with the void, seeking eternal life, no matter how grave the cost. The void will devour and provide.. This EP interconnects with the latest album Altar Of Voidance shedding light on some of the mystery within the altar. What is it exactly.. Why do the infidels seek to gain its truth.. Why do the Scribes keep it's secrets hidden.. Listen well to find clues.

Comadescent – New Album Released
Comadescent has been showing increasing signs of maturity in his releases over the last two years. He says about his latest album, "Revelations is a short conceptual EP set before the events of Existence. These were the events seen within Revelation Chamber, a glimpse into the planet's past through a protagonist's eyes."

hermit – New Album Released
Hierophant is the latest by experimental artist hermit on the Grey Matter Noise label. He says about the album, "Hierophant is an experiment with the intention of reaching the deepest and most violent aspects of myself and using sound as a form of outlet or release from them. This entire experiment was created alongside a time of personal growth and my ultimate intent was to demonstrate the power that lies within the shadows of the self. This album is an example of pure creation from what some might call "dark" or "evil" aspects of the mind. This experiment has given me extreme joy while also bringing out demons I thought I had exorcised long ago. Experiments conducted primarily throughout October, November and December of 2016. Effects of the experiment have placed me somewhere I am unfamiliar and uncomfortable with.

Montren – New Album Pre-orders Available
On Some Sounds, Montren displays a lush landscape of atmospheres, in that grey area between light and dark ambient music. The field recordings really add a special feel to this release, bringing these soundscapes to life for listeners. Some Sounds will release 27 May on the Russian label, Endless Quest Media.

Sadistic Cult – New Album Released
Sadistic Cult again takes is deep into the darkness. With a combination of hypnotic drones and eerie field recording samples, Mal.Saint is sure to be quite the horrifying experience, something that we should begin to expect from this musical entity.

S.E.T.I. – New Album Released
On Beyond Black: Project 'Preserve Destiny', S.E.T.I. delivers what is described as, "…a reworking of the 'Above Black' album, imagined as data recovered after millennia locked on magnetic media. Partially corrupted; only some of the original data remains, so interpolation has been used to reconstruct the messages left for any sentient beings who discover them. Created using the source files taken from the original improvised performance, which was direct to DAT."

Tegh – New Album Released
Downfall is the latest album by Tegh, released on Midira Records. They say about the album, "Tegh alias Shahin Entezami is an Iranian sound artist from Tehran, a modern city in the north of Iran with a population of about 16 million people in the whole area. Tehran is also the home of a very interesting and very active scene around electronic and ambient music. The scene is so active, that the involved people founded an organization called SET, bringing all kinds of artists and fans together to celebrate experimental music. You might know one of the more famous artists and curators Siavash Amini, so it´s time to introduce you to one more chief character: Shahin Entezami under his moniker Tegh. Tegh already released a digital album via Inner Ocean Records and contributed some tracks to some great compilations including the awesome Futuresequence Compilations. Downfall is a masterpiece, which caught our hearts and minds after listening to the first sounds. The album is divided into five tracks based on electronic sounds with a perfectly executed balance between noise and melodic elements. There is an approach to the sound that is comparable to that of Tim Hecker, but with a more melancholic expression. Tegh establishes his very own space in the world of noisy ambient music and leaves a trail that is worth to be followed.
Tegh started working on Downfall after he saw a photograph of a boy falling out of a flying airplane. It´s a true story published by the evening independent in the year 1970 after the amateur photographer John Gilpin was shooting airplanes and caught the image of a stowaway boy falling out of the wheel housing. A horrible way to leave life. It´s not imaginable what this little boy must have felt during the downfall. Tegh tried to catch his feelings about that by writing the five tracks of Downfall.

The Star Pillow – New Album Released
Invisible Summer is the latest album by The Star Pillow, released on Midira Records. They say about the album, "You may not be familiar with this act, but Paolo Monti alias The Star Pillow is celebrating his 10 years anniversary this year. Last year he released his highly acclaimed album Above via Time Released Sound, now he returns with Invisible Summer and it´s a pleasure for us to release his album in occasion of his anniversary. Invisible Summer is a very introverted, intense and melancholic piece of guitar-ambient-drone-work with a core of three epic tracks from 15 to 26 minutes, dedicated to the summer months, which were recorded during a hot summer in north Italy, where Paolo Monti lives. Uncommon for an Italian, Monti prefers the colder weather instead of the sunny days and that´s what you can also hear in his music. Invisible Summer has a clear sound, which mostly reminds you of colder places instead of shiny warm Toscana. The Star Pillow builds up his own weather with his shimmering ambient sounds, building up slowly but steady walls of fragile guitar drones. Breathtaking and monumentally beautiful. The album ends with the supplemental track "the end is a beginning" that catches up the mood of the first three tracks and transforms it into a warm and concrete sound. A pretty contrast, which shows the polarity in the sound of The Star Pillow.
Similarly to the opposites of the warm summer and the winterly sounds of the album, the artwork comes up with an imagery that also shows up opposite worlds. On the one hand there is wild nature and on the other side there is civilization in a very strange but beautiful liaison."

Unexplained Sounds Group – New Compilation Released
The latest compilation by Unexplained Sounds Group is Visions of Darkness in Iranian Contemporary Music. Unexplained Sounds Group says about the album, "The simurgh is depicted in Iranian art as a winged creature in the shape of a bird, gigantic enough to carry off an elephant or a whale. It appears as a peacock with the head of a dog and the claws of a lion, sometimes however, also with a human face. Iranian legends consider the bird so old that it had seen the destruction of the world three times over. The simurgh learned so much by living so long that it is thought to possess the knowledge of all the ages. We hope this mythological benevolent creature could be a hope and a a guide in our dark times. "

Other News
David Lynch
David Lynch speaks with the Sydney Morning Herald about Twin Peaks and the end of his film career. You can read the entirety of that article here. There are some interesting take-aways in this article. Many of us may have already realized that Inland Empire may well be the last film by David Lynch. But, something unmentioned in this article which seems of particular importance to me is Lynch's feelings about television in its current state. When Twin Peaks was first announced, Lynch talked about how the world of television series has matured so much in recent history. Citing shows like True Detective as being able to break the mold of normalcy and create a truly memorable experience should give us some possible hope that Twin Peaks may not be the last foray into television. We can only hope that with a little success the Twin Peaks revival could give Lynch enough encouragement to try push some more television pilots. It is worth noting that Mulholland Drive was initially intended as a television series, but back when it was in production, the landscape of television series was nothing like we see today.
Weekly Specials
Deep Audio
This week's €5 special on Deep-Audio is First Law – Terror Forming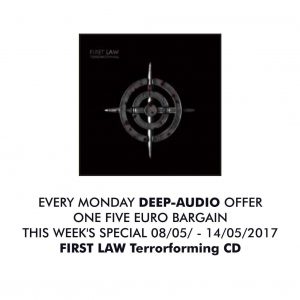 Abracax House
During the month of May get 10% off all Abracax House books. And when you buy 2 books, get a free copy of Infernal Legends. Just add 2 books + Infernal Legends (0997074582) to your cart. Specials reflected at checkout.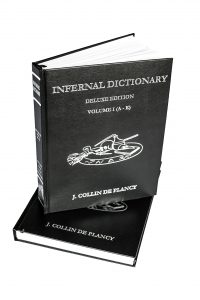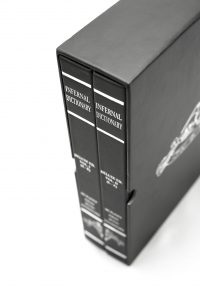 This Is Darkness Week In Review 

bvdub – Epilogues for the End of the Sky
You may need to already have an appreciation for house or trance or some other techno scene to enjoy this album. I've always loved those genres, so it seems natural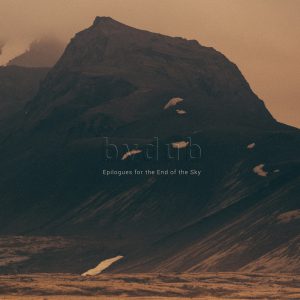 that this depressive take on those styles would feel so perfect for me. Listeners who enjoy taking a step outside the usual formula will find a lot to love here. But if you were never too interested in these mentioned genres or if you prefer your dark ambient to remain orthodox, then this will not be the album for you. But for those of us who do enjoy this stretch, there is a lot here to fall in love with. Epilogues for the End of the Sky feels like a bit of a risk for Glacial Movements, as it moves a little further outside their usual format than one might expect. But the album is truly worthy of attention, and the years of experience behind its creator is obvious from beginning to end.
Read the full review here.
Cadabra Records – Pickman's Model by H.P. Lovecraft
Read by: Andrew Leman
Music by: Theologian
Art by: Alan Brown
The greatest accomplishment on the part of Theologian is in his ability to at once keep the listener enraptured in the atmosphere while simultaneously having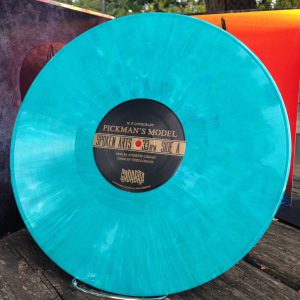 enough subtlety to not distract from the experience provided by Andrew Leman. Listening to the full performance a handful of times over a few short days was by no means a labor. Each listen allowed for the focus to either fixate on the narrative, analyze the musical composition of Theologian, or to allow the full breadth of the release to unfold with no particular focus. No matter the mindset or time of day going into the release, I was met with an overwhelming sense of satisfaction in listening to this story.
If this release of Pickman's Model is any indication of the rest of the Cadabra Records discography, they have an illustrious future ahead of them. With previous releases like Lovecraft's The Lurking Fear, Edgar Allan Poe's The Raven and Bram Stoker's Dracula, they have already paved the path to attracting a wide range of followers from the fan-base of these historical literary geniuses. The future of Cadabra Records does seem bright… in the darkest of senses.
Read the full review here.
Infinity Land Press – DARKLEAKS: The Ripper Genome
For anyone that is already familiar with the works of Infinity Land Press, this purchase should be a no-brainer. As described above, I truly believe DARKLEAKS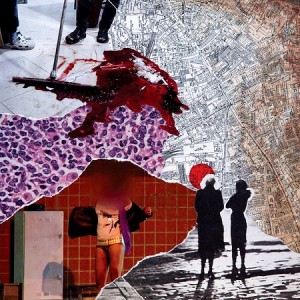 brings together the finest elements of each of its contributors. The years' experience of Reed and Bladh are brought to a pinnacle on DARKLEAKS. While the experimental elements of the accompanying disc prove to be an utter success. This could be the perfect entry point for discovery of the works of Infinity Land Press, giving readers a bit of an introduction to many of the contributors to other works in their catalog of releases. DARKLEAKS is a whirlwind of emotions and contrasting styles which keep it fresh and engaging from introduction to conclusion.
Read the full review here.
Dronny Darko – Abduction
This second album in Dronny Darko's more futuristic sound (second on Cryo Chamber at least) hits the mark on every level. The theme is brilliantly executed.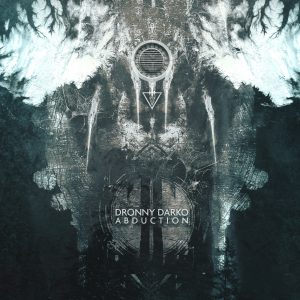 The technical aspects of the sound design are mind boggling. The replay value, given these two elements, is extremely high. This is likely the most accomplished album to date from Dronny Darko, taking dark ambient to such experimental heights that it seems to be in a galaxy of its own. Fans of a more traditional dark ambient style may be scratching their heads in confusion at this release. But anyone with a colorful imagination and a willingness to step outside the ordinary will find a delightful listen. Dronny Darko continues to prove innovative with each release, and this one has taken him leagues further than its predecessors.
Read the full review here.
Kryptogen Rundfunk – Liquid Circuits
This is the first review on This Is Darkness by Przemyslaw Murzyn
I stumbled upon this very cool sounding name quite often, on the occasion of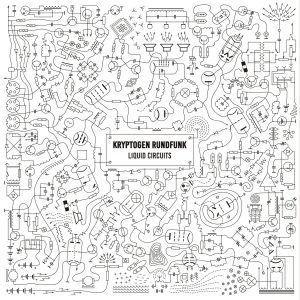 various splits, collaborations, compilations or live show announcements on social media. So I have to admit, I was a bit surprised when I realized that Liquid Circuits is only the second album by this project run by Zhelezobeton label manager. Second album in 12 years – who would've thought?
So I guess we should expect something epic – a creme de la creme of all Artyom's ideas that had been born in his mind during all those years. I'm guessing it might be the essence of his creativity, as the album is quite huge in all possible aspects: its duration, production, atmosphere and the abundance of used sounds and effects. At the same time, it is representative of the Russian industrial scene and their cherishing of analogue synths and the meaty, natural form of the sounds instead of purely digital output. Check the booklet and the technical specification of Liquid Circuits to see in detail what kind of equipment Artyom has used.
Read the full review here.
Valanx – Radiant Orbs of Abzu
In all, Radiant Orbs of Abzu is my favorite release yet by Arne Weinberg, as well as his nascent Cromlech Records. The release is highly entertaining. It has enough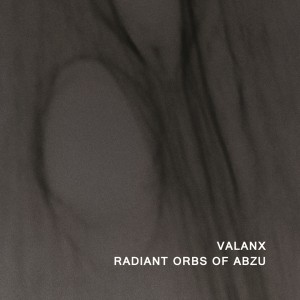 detail to allow the listener to continually find new elements on multiple replays. The tape edition is the perfect fit for a release of two 20 minute tracks. I would recommend this as the first place to delve into the discography of Cromlech Records, as well as Weinberg's music as a whole. Fans of the analog side of dark ambient will find much to love here. Even those who feel a bit pessimistic about fully analog dark ambient are likely to find aspects to love about this release, and to find it a pleasant experience. Cromlech Records seems to be off to a great start, and there will surely be more well produced releases to come in the near future.
Read the full review here.
Please consider making a donation!
This Is Darkness has gone live with the help of friends and supporters. I have been disabled since 2015, due to a spinal injury. Any support that can be given is greatly appreciated. Donations will go toward the maintenance of this site as well as additional promotion to increase its reach and influence. You can help through the donate button below,  or follow this link to the This Is Darkness Patreon page here.