Artist: Visions & Phurpa
Album: Monad
Release date: 25 April 2018
Label: Cyclic Law
Tracklist:
01. Ascendance
02. Fohat
03. Monad
04. Reminiscense
Visions and Phurpa have come together for a project I was not at all expecting! The two veteran producers behind these projects bring together two very different styles for something that sounds perfectly natural to both of them. Monad is a ritual ambient release, with a heavy dose of thick spacious drones. Phurpa provides the throat singing, which is immediately and most obvious at the opening of "Ascendance", as well as incorporating sounds from their large collection of ritual bells, chimes, etc. Visions provides, what I assume to be, the rest of the soundscapes, including drone-work and the final mix and mastering.
Visions is the most active musical project of Frédéric Arbour, the man behind the Cyclic Law record label, one of the most revered labels in the dark ambient genre. Monad is the third release from Visions, who released their debut Lapse on Cyclic Law in 2005. After the 2010 sophomore release, Summoning the Void, Frédéric Arbour put the Visions project on hold indefinitely. During this time, among other things, Arbour moved his studio space and the whole Cyclic Law headquarters from Canada to Berlin, all the while keeping the label moving forward. So, the delay in output is certainly warranted.
Phurpa is a much more enigmatic project. Phurpa was founded and led by Alexei Tegin, but also includes a number of other active members which often vary from performance to performance. Phurpa was founded with the idea of using Tegin's knowledge of and dedication to the spiritual traditions of Bon and Dzogchen as a compass in the creation of their rituals. Phurpa use the Tibetan gyukye style of tantric overtone singing/chanting to create the foundation of their music. They add to this a variety of Tibetan ritual instruments, which again vary from album to album.
I've been following Phurpa for some years now, and heard a good many of their albums. But, I had yet to actually review one. Their music generally falls into a ritual ambient space that, I would say, is quite outside the realms of your usual dark ambient album. Though, the fan-bases of these types of music are so over-lapping that it makes sense to release their music on labels that are predominately dark ambient. I knew immediately on hearing the opening seconds of Monad that this release was different. "Ascendence" starts with the customary throat singing style of Phurpa, but within seconds a wall of dark ambient sound starts to form behind the vocals, and then intertwining with them, forming a dense yet earthly drone. The Tibetan ritual instruments begin to fall into place in the background. All this together evokes a deep primordial connection between the listener and the soundscapes.
"Fohat" takes us further into this hypnotic mélange of the ritual and the electronic. But, the drones here take on a more hollow, airy vibe, and the vocals become more submerged in the dronework. As the track progresses, everything seems to take focus, comes to a sort of crescendo, a moment of elightenment for the listener. At this point, I can't help but feel that this track is going into territory that is similar to some of the very best works by raison d'etre. The technical prowess of Visions matched with the cosmic energy of Phurpa takes this particular sort of sacral/ritual ambient to truly impressive heights. I, also, can't help but feel that their hearts are absolutely behind every second of this.
Starting Side B, "Monad" is a much more reserved and contemplative track than what we saw on either of the opening tracks. The drones and vocals are both calm, soothing, and again blend together impressively well, often leaving me forgetting that I'm hearing two totally different forms of "drone" at play. "Reminiscense" is more dynamic, but still incredibly calm, leaving this whole second half as perfect for background during meditation, study, etc.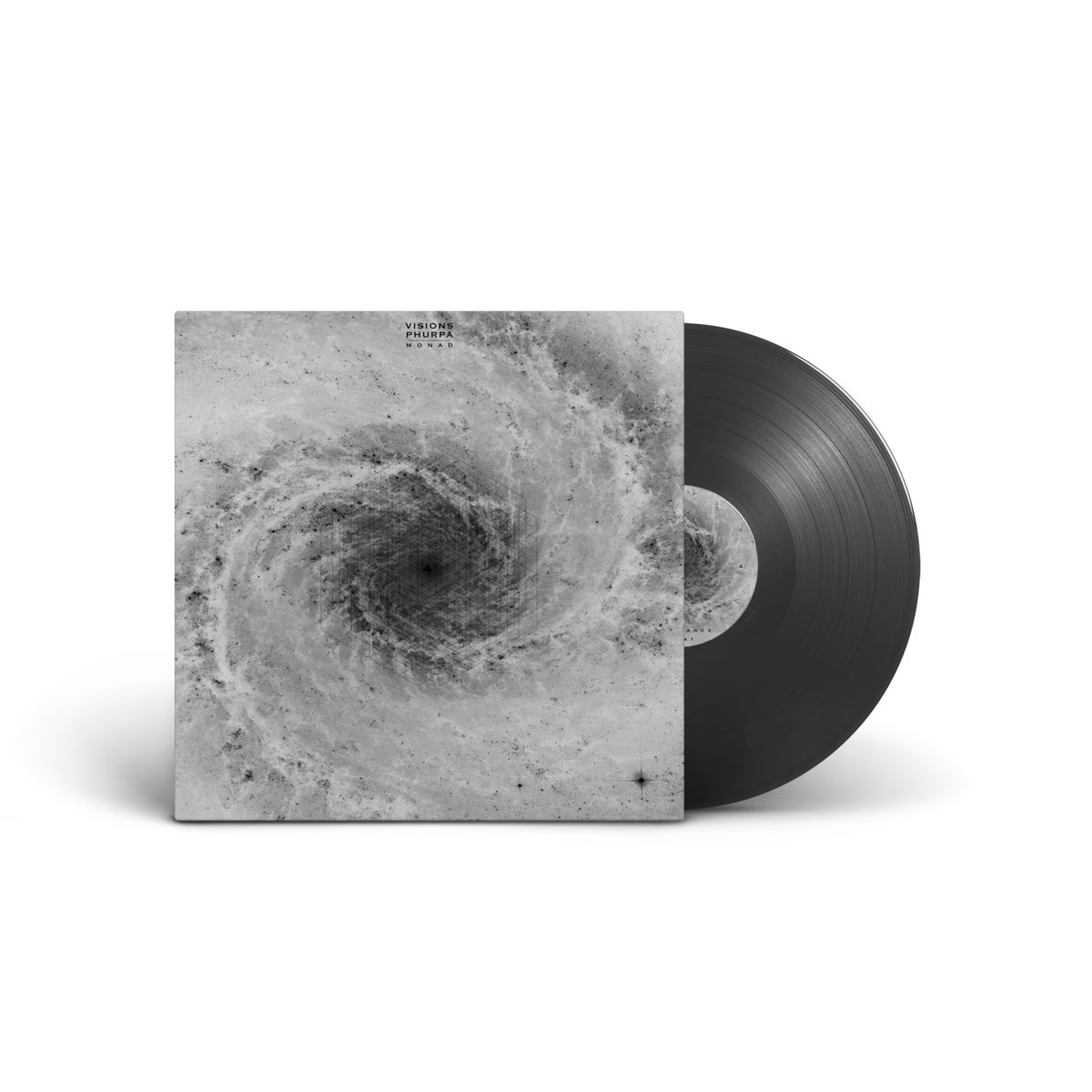 Monad is the 100th Cycle on Cyclic Law. A true milestone for any label. Especially for Cyclic Law, to look back over these releases, there are so many gems of the genre here. Albums that were turning points for sub-sections of the genre, albums that have stood the test of time. If Monad is any indication of what we can expect for the next 100 Cycles, we are in for another great ride! Arbour decided on a vinyl option for this release, which works great, as the cover art is really fantastic and looks even better in the larger size, and the track lengths make for a good fit, not leaving a ton of dead space at the end of both sides. I would highly recommend this release to fans of ritual ambient, but the work by Visions done here totally warrants a listen for fans of the more traditional types of dark ambient. In the end, I could call this as much of a dark ambient release as ritual ambient. A must-hear regardless!
Written by: Michael Barnett