This article covers the last two weeks, as I've been playing catch-up on everything recently. Once the physical therapy ends everything will be back to normal and reviews/articles will be running at their previous pace. Thanks to everyone that has supported This Is Darkness through the compilation, I'm so happy to see how great of a reception its been getting. This is a huge article and there are a lot of great albums to look through. So take your time, listen to as many as you can and have a great week!
Music Videos & Teasers
Atrium Carceri and Herbst9 – Teaser
Teaser for new album 'ur djupan dal' which will be releasing before the end of 2017 on Cryo Chamber.

Budowle Socjalizmu Nasza Duma – Promo Video:

Cryo Chamber – Yog Sothoth Album Art Revealed
Finally finished the artwork for our new Lovecraft tribute album, above is a page from the booklet. The album will be out in a deluxe digibook edition, stay tuned for more news soon!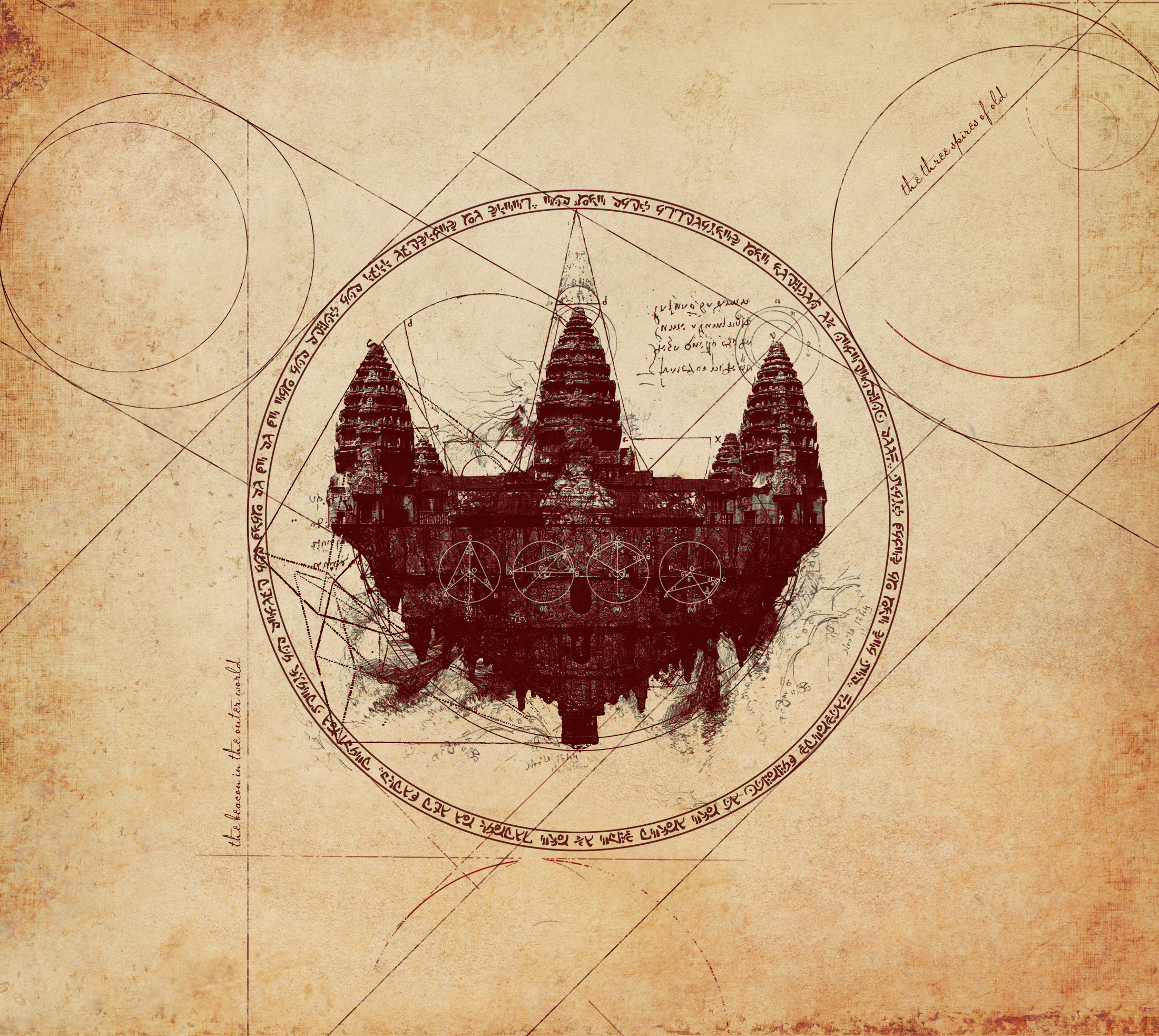 Mebitek – Horror Teaser #3 The End Of Everything (Funeral Movement)

Richard Schattenwald – "Life As Ritual" Promo

Synapsis – "Continuum" promo

The Caretaker – Everywhere at the end of time – Stage 2 (Weirdcore.tv)

New Releases & Pre-orders
A Bleeding Star – New Single Released (Digital Only)
Another "name your price" weekly offering from A Bleeding Star!

Anemone Tube – Three New Albums Released (The Epicurean – CD/Digital)
"Far reaching pleasures will be at hand – Anemone Tube reveals a series of three CDs entitled "The Three Worlds: Allegory of Vanity / Forget Heaven / Vanity of Allegory", referencing a cosmological treatise on the universe from the Theravada Buddhism of the 14th century, the subject matter of which is the description of three levels of existence of all beings and mythical creatures.
This extensive retrospective release contains selected tracks from various tapes released between 1997 and 1999 – mostly rare and unavailable today – as well as yet unreleased tracks recorded between 1997 and 2013, a.o. outtakes from the "Death Over China" recordings, handpicked and recontextualized by Anemone Tube, representing the project's roughest and most atmospheric material up to date, ranging from depressive ritual experimental ambient over dark rhythmic industrial soundscapes to whirlwind noise. Sharply mastered by Hunter Barr for a powerful, contemporary sound, each CD comes in a 6-panel digifile featuring beautiful photography by Dario Lehner and is available as single CD as well as a limited edition 3 CD set in a lavish slipcase with poster, sticker and patch."

Ben Rath – Pre-order Available (eilean rec. – CD/Digital)
"Ben Rath is an amateur musician currently based in Manchester, UK. He makes experimental, ambient music using original recordings of guitar, keyboard and piano, as well as samples and field recordings. He has been recording and releasing music through a variety of labels since 2014 and has also released a short EP of improvised acoustic guitar tracks under the name Slow Heart Music. "

Blackjack Illuminist Records – New Compilation Available (BlackJack Illuminist – CD/Cassette/Digital)
By the end of 2017 Blackjack Illuminist Records will have sold their 1000th item. With 40 records (and one book) in ten years the label has been constantly growing from a bedroom project to … a cellar project. This cellar, however, has become the starting point for the worldwide travels of albums and EPs from eleven different projects. Handmade, hand painted, glued, cut, folded – every copy is personally processed by label boss Alexander Leonard Donat who originally founded BIR to give his first solo project Leonard Las Vegas a home. A decade later you can find his fingerprints on the sleeves of other artists' releases, as well.
Celebrating the 10th birthday of the label this compilation was initiated to comprise exclusive tracks by artists and bands which crossed the path of Blackjack Illuminist in one way or another: friends, acquaintances, label mates, supportive folks, people who had an impact on the label's philosophy.

DeepDark – New Album Released (Digital Only)
"…deep immersion in the depths of space…"

Hoarfrost – ReEdition
Boanerges Diy label has prepared the reedition of Arbeit's album
"Budowle Socjalizmu Nasza Duma", which was well received in 2013. The
secondary project of the creator of dark ambient Hoarfrost takes a listener
to socialist reality of Polish People's Republic. Speaches of
dygnitaries, stertorous sounds of machines and crossed next norms of
production. "Budowle Socjalizmu Nasza Duma" is everyday picture seeing
by the eyes of ordinary worker. Social and political satire smelted in
industrial-noise furnace. Premiere: 08.10.2017r. http://www.boanergesdiy.blogspot.com
Jacek Doroszenko – Pre-orders Available (eilean rec. – CD/Digital)
"Jacek Doroszenko is an audio-visual artist, treating sound phenomena as a legitimate material of visual art and highlighting listening as a practice. The artist engages with the contemporary soundscape to select and rephrase the notion of noise as redundant element. The first artist's release on Eilean Records contains a suite of compositions produced during Artist-in-Residence programs in Norway and Greece. Using field recording as the basis for further musical compositions, artist reveals the power of audible juxtaposition and natural potential of a certain place. Ostensibly unnecessary sound events are treated here as the key components, revealing massive landscape of possible progressions. "

Maha Pralaya – New Album Released (Digital Only)
Experimental Space Ambient, Live improvisations from March 2017, remastered for release.

Moloch Conspiracy – New Album Released (Cephalopagus – Digital Only)
The Burned Temple by Moloch Conspiracy tells of the hidden rites of the old Gods of Persia, through different eras. Despite the burning of the sacred temple, and the murder of most of the sect, the disciples still perform their blasphemous rites to the old gods. The tracks describe the characters, the settings and stories of revenge and conspiracy through time, and the efforts to seize and regain power.

Noctilucant/HollowHecatomb – Tape Release of Latest Split
The cassette version of this split released by Gray Matter Productions. [Note: A self released CDR version will be released in the coming weeks]
Available on Noctilucant's bandcamp for only $2.00!!!

Onasander – New EP Released (Digital Only)

Randal Collier-Ford – New Demo

Richard Schattenwald – New Album Released (Noctivagant – CD/Digital)

Scott Lawlor – New Album Released (Digital Only)
Deep Space Drones

Sea of Åland – New Album Released (Throne of Bael – Digital Only)
Experimental dark ambient. "name your price"

Sonologyst – Album Gets Vinyl Release
The album Silencers – the conspiracy theory dossiers gets a release on vinyl by the nascent NYC label Nocturnal Anomalies you can check out the album below and find links to the vinyl and digital releases within.

sound_00 + lefterna – Pre-order Available (Winter-Light – CD/Digital)
"After a series of collaborative publications on multiple experimental labels, the duo of Toni Dimitrov (Sound_00) & Boban Ristevski (Lefterna) finds its 'Elementals: Collabs 2' conceptual release on Winter-Light. 'Elementals: Collabs 2' is an ambient/experimental release of deep drone contemplations and ambient exploration, good for deep meditative and learning sessions.
'Elementals' gathers together selected collaborative works from the artists Sound_00 + Lefterna. All tracks have previously been released separately on compilations from the labels Fall Into Void, Post Global Recordings, HNM Recordings, AOsmosis and Crna Zemlja. For this release on our Winter-Light label, the tracks have been completely remastered by Cruel Sound Works, adding a richer, more distinctive warm feel to each piece. "

Stuzha – Pre-orders Available (Ksenza – CD/Digital)
"Stuzha returns with the third full-length 'Siberian Sketches Pt. II' album. This is a logical continuation of the first part and the Winter theme dominates throughout the album. Field recordings, as usual with all Stuzha albums, are abundant and bring to a listener sounds of Siberian nature. The journey goes to cold winter forests, rural villages and even the Transsiberian railway. It is a return to original acoustic atmosphere, however the sound is even richer with layers of acoustic, electric and bass guitars."

Svarte Greiner – New Album Available (Miasmah – Vinyl/Digital)
11 years since it´s inception, the surreal and darkly romantic Knive still sounds like a mystery and something that´s hard to pin down. Svarte Greiner´s debut album feels like a trip into the forest at midnight, with all the sounds and impressions that comes with it. Spiritual, horrific and fragile in essence, it´s melancholic core is hard to shake off, and feels as present today as it did back then.
While starting off the sub genre of "Accoustic doom" back in 2006, it´s difficult to say what else to name it now, with it´s inspiration and elements from countless genres. The record flows through the dissonant cello´s and washed out vocals of "Ocean out of Wood" past the introverted church organs of "The Black Dress", distorted guitars and wooden beats of "The Dining Table" to the operatic finalé of "Final Sleep". Everything scattered with field recordings from crows, branches, walking, sleeping, rain, wind and who knows what. Knive stands on many feet, wherever they may be.
Erik K Skodvin´s path as Svarte Greiner have since been dwelling more and more into this world, picking each element apart to focus on them, stretching them out or cutting them down, looping, experimenting and flooding with reverb – trying to make time stop and night fall. But for now a re-visit to where it all started seems appropriate.

Synapsis – New Album Released (Noctivagant – CD/Digital)
The new album Continuum has been released on the Noctivagant label.

Taphephobia – Pre-orders Available (Reverse Alignment – CD/Digital)
"As Reverse Alignment was established in 2007 we also made our first contact with Ketil Søraker. His guitarbased drone project Taphephobia had just a moment ago released it's first opus "House of Memories" through the belgium label Nothingness Records. From there on we've been in touch more or less, (in a more constant period) when putting out "Anomie" and "Black City Skyline", (and more or less) over the years when new production's emerged.
Since Taphephobia's first release in 2007, Ketil's project is now a permanent act under the banner of Cyclic Law and has since it's start released six albums, and a load of collaborative albums and compilation tracks.
Now, 10 years after it's publication, Reverse Alignment release House of Memories again, with new artwork and design from Haerleif Langås and mastered by Frédéric Arbour. As a special treat follows eleven selected compilation tracks put together for this release. All a good way to summarize ten years of Taphephobia, from how the project sounded in the early days to today."

Theologian announces new release.
Theologian – Forced Utopia is a 60 minute cassette coming October from Danvers State Recordings (label run by The Vomit Arsonist ) to coincide with our performance at Into The Aether Fest, Friday the 13th & Saturday the 14th. Mixed and mastered by Derek Rush of Chthonic Streams audio samples at soundcloud.com/annihilvs

Troum – Pre-orders Available (Black Mara – CD/Digital)
"It is a musical labyrinth in which we go from our earliest days, reliving every moment of the immense awe of the sublime. One topic gives way to another like the meandering paths. And revelation comes when seemingly no way out of a confusing puzzle. And if you're a wanderer, your journey is complete. You've found yourself. "

Winterblood – New Album Released (Digital Only)
"A selected, remastered version of the limited self-released edition tapes released between 1996 and 1999. Recorded on elementary equipment, finally back to life from a lost archive. Raw and unclean, and very dangerous."

Sales
Cryo Chamber – Retro Sale
In this weeks sale we are focusing on some of our earliest releases, these albums will always have a special place in Cryo Chamber history. Order these albums here.
Dark Matter – How Cold is the Sun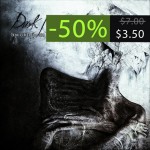 "When I listen to How Cold Is The Sun, I go through a dimensional gate leading to an opposite universe.
I'd arrive on an Earth where the sky is red, the light dark, the ambiance threatening and the sun would never heat me up but just freeze me.
A place of darkness, sadness and hopelessness where humans are erratic empty beings heading to nowhere.
Firm industrial roots completed with gloomy ambiance and flirting with space opera, Dark Matter made a work as enjoyable as it is ominous."
Alt3r3d Stat3 – Dubbed in Black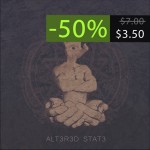 "A great album on the Cryo Chamber label. Created as a tribute to the Silent Hill video game, we get another dark,industrial oriented soundtrack like work that is just stunning. If you like the label or the other artists on Cryo you won't be let down. Doom comes in all kinds of unpredictable ways."
Compilation – Behind the Canvas of Time
"A wonderful compilation made of desperate and ominous soundscapes. A very good introduction to the Cryo Chamber universe for every new visitor."
Halgrath – Out of Time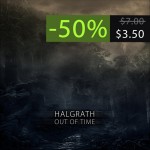 "This is a great first offering from Halgrath. In keeping with Cryo tradition it's a mixture of field recordings and more industrialized ambiance marked with occasional beautiful female vocals. Vastly different from Halgrath's second album showing this artists immense talent and diversity. I love them both but favor this one just because I love it's shifting feel. This is dark ambiance at it's finest! Halgrath takes you into the primordial dreamworld with fire and ice. "
Week(s) in Review on This Is Darkness
Anemone Tube & Post Scriptvm –  Litaniæ Mortuorum Discordantes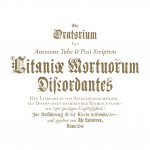 Litaniæ Mortuorum Discordantes is clearly a triumph for these two veteran artists. The album succeeds in its attempts at creating an atmosphere of religious blasphemy, a kind of funeral music for the dark-minded and irreligious. For a veteran listener of dark ambient and other weird and "spooky" music, I'm delighted to say that Litaniæ Mortuorum Discordantes manages to instill an unsettling feeling of dread and anxiety in my soul, a feat that is not often achieved. Listen to Litaniæ Mortuorum Discordantes in the midnight hours, alone in the dark, incense burning and mind open to the dark entities of the night. Or, if it is possible, play this in a cathedralic setting, and witness the utter disgust and terror of some unsuspecting clergy, the effect should be a delight to witness.
Read full review here.
Myrkur – Mareridt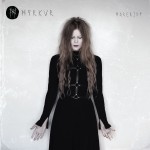 Mareridt sees Myrkur improve sonically, but the room the project has to grow remains. Its distinct atmosphere and instrumentation are a beautiful testament to Brunn's upward tangent, and upping her songwriting will make her an inexorable force in black metal.
Read full review here.
Vacant Stations – Clones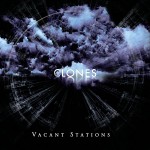 The music doesn't distract you, there are no rhythms, no samples of any kind. It is all based on the layers of deep drones intertwining one with another. They mostly are kept in quite dark shades, but there are a few moments of reflection, like in the composition called "Reprieve". Everything is perfectly mastered by Cruel Sound Works, so you may sleep well.
Read full review here.
Please consider making a donation!
This Is Darkness has gone live with the help of friends and supporters. I have been disabled since 2015, due to a spinal injury. Any support that can be given is greatly appreciated. Donations will go toward the maintenance of this site as well as additional promotion to increase its reach and influence. You can help through the donate button below,  or follow this link to the This Is Darkness Patreon page here.