Any week when I can announce new releases by both Northaunt and Svartsinn is a monumentally good week in my opinion!  There are a ton of great new releases to browse, some interesting announcements and a LOT of new reviews from the previous week. Also there is a new mix from us for you to check out. So take your time with this, there's a light here to absorb! Cheers!
Music Videos, Teasers and Announcements
Blåsvart Evening Vol. 9 Flyer
Dark Ambient Evening of Live Music arranged by Jan Roger of Svartsinn. If only I were in Scandinavia! The line-up for this year looks really impressive! If you haven't yet heard Sysselmann I thoroughly recommend reading my review of their album here and giving it a listen!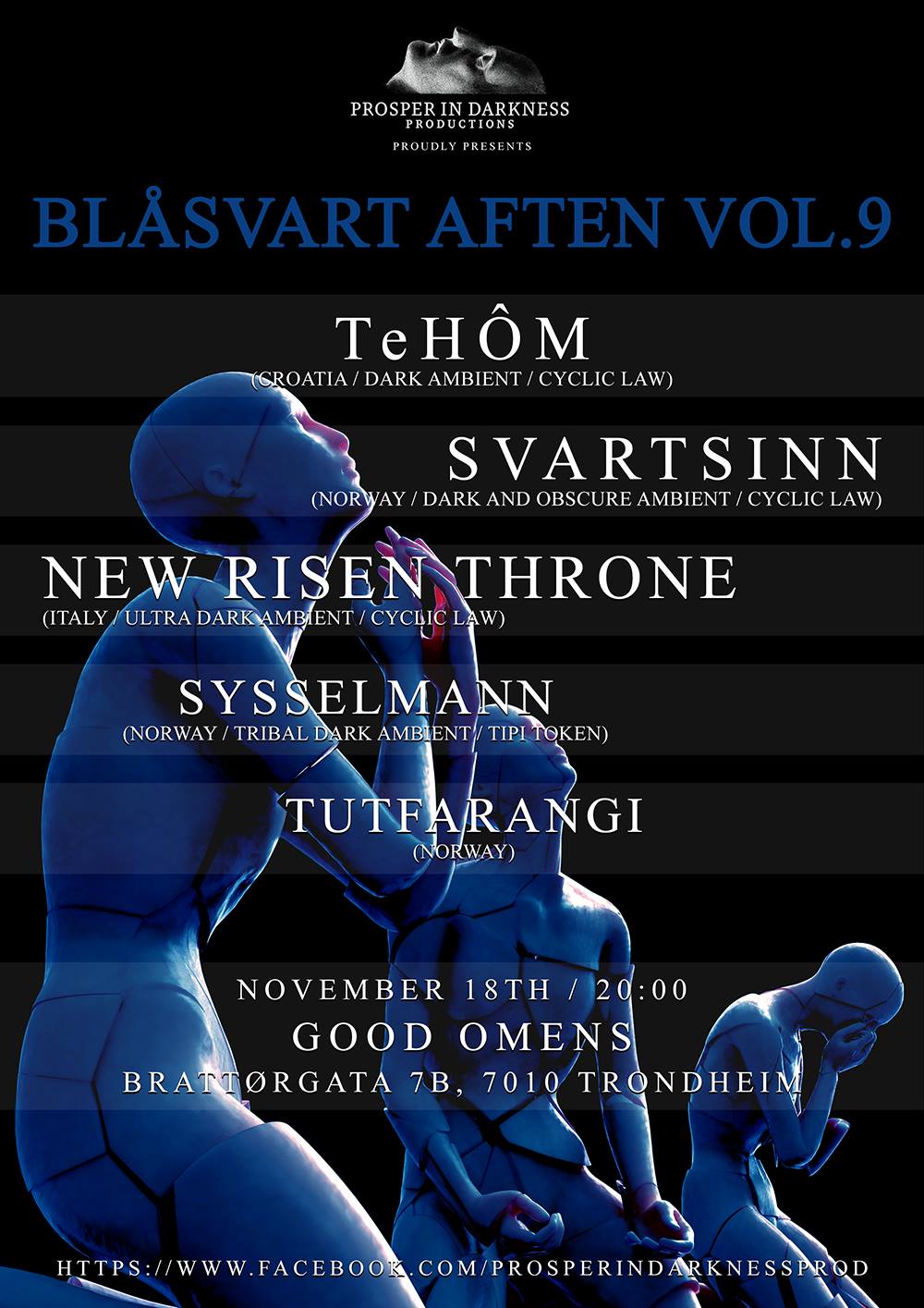 Deivlforst Records – All Murgrid Releases Re-issued
Murgrind is the dungeon synth project of the man behind the Deivlforst Records label, the forerunner in the dungeon synth genre, but not exclusively dungeon synth output. Murgrind's discography as long been sold out and now they have re-released all three albums in beautiful new digipak and A5 digipak formats. Give the Murgrind collection a listen! I personally just ordered a few of these and would definitely recommend them to others.

Endless Melancholy – New Music Video
Endless Melancholy is an ambient group that I've been following for a year or so. They release ambient music that is always right outside the fringes of dark ambient. This video certainly won't be for everyone, but it's a nice song with great video production and is worth watching for those that like some lighter sounds in their lives occasionally.

Theologian – Promo Video for New Album

Shrine – Preview of New Album
Shrine says of this preview: "This is a preview of the new Shrine full length album, which is to be released next spring on Cyclic Law Records. No artwork yet, the one above is a thematic sample. Once the album is out, this preview will be deleted.
"Celestial Fire" is a conceptual album. A synopsis will follow when the release comes closer. Until then you are left with sounds only. And the internet 🙂

New Releases & Pre-Orders
A Cryo Chamber Collaboration – New Album Released
(Cryo Chamber – CD/Digital)
You can read our review of it at this link.
Cryo Chamber says about the album: "Tomb of Druids is the third album in the "Tomb" series, 5 ambient artists join forces to delve deep into druidic history.
The chant of the ceremony swells beyond walls of wet stone. Your bare feet on red sand peak out of cloudy robes.
Figures sway among the pillars of the stone circle. Their song spirals up towards the night sky.
The stars move in pulsating patterns and combine to form the bird of light. It swoops down from it's celestial home to push it's claws into the red soil, it stares into your soul before it put it's head under it's wing and drowns in the sand. A tiny finger cymbal echo between the pillars as the voices die down. The figures are gone, only their empty robes left behind. You stand alone under a night sky drained of stars, pure black.
Druidic chanting and deep walls of sound lends a cavernous atmosphere to Tomb of Druids."

Adeptus Mechanicus – New Album Released
(Throne of Bael – Digital Only)
A 'name your price' horror dark ambient release from the dark experimental label Throne of Bael. Some haunting drone atmospheres here worth a listen!

All Signs of Those Who Left – New Album Released
(Throne of Bael Records – Digital Only) *name your price*
This release is one of the more haunting albums I've heard recently. In fact, the last one this haunting was Anneliese Michel, by this same project! Throne of Bael usually takes their releases in the direction of pure horror darkness and this new one is no exceptions. Their blurb for the album only says this fitting pair of statements: "Switch the lights off and listen loud. WARNING:May Cause Visual Disturbances and Feelings of Unease."

Antelogos – New Album Released
(Grey Matter Productions – CD/Digital)
This is some incredibly dark and crushing ritual ambient/dark ambient/atmospheric black metal/and so-forth. I'll likely be reviewing it in the near future. Grey Matter Productions, 'Musick For Dead Souls', says of the release: "Dark ambient ceremonial rituals and mysteriis, droning on through analog electronics, chanting, throat singing and more.
This album transports you through dark dimensions towards a sonic landscape built with amazing clarity and consistency for a debut album. – A Journey through dark decomposing dimensions."

Blakkr Seidr – New Album Released
(Noctivagant Collective – CD/Digital)
Noctivagant says of this release: "Blakkr Seidr is the amalgam of the knowledge of these two adepts, of the black arts in disposition to the spheres of consciousness beyond the created, those that dwell in the eternal emptiness and chaos. Each copy of Blakkr Seidr has been musically programmed and consecrated energetically in order to establish an acausal connection with the spirits that live beyond the veil.

Eislandschaft – New Album Released
(Lighten Up Sounds – Cassette/Digital)
This cassette was an instapurchase for me. A review will be forthcoming! Highly recommended music from the genre of winter synth which falls somewhere between Mortiis and Northaunt! Lighten Up Sounds says about the album: "Hypnotic minimalism manifests in monochrome, transversing the barren winter wastelands. "Tales of the Frost" delivers a pure vision of frigid polar ambience and melancholic synthesis from F. Curwenius (Goblintropp) of Argentina. Body temperatures plummet as the blood runs cold, wind chill cuts like sharpened blade.
Initially self-released digitally by the artist in August '17, this edition features an exclusive all new track, as of yet unheard. Over 48 minutes of arctic isolationism for navigation through deep sub-zero trance. Behold, frostbitten serenity."

Embers Below Zero – New EP Released
(Digital Only)
Embers Below Zero, the dark ambient project of Przemysaw Murzyn, owner of Santa Sangre, and writer for This Is Darkness, has released a new EP. 'name your price' so you can't go wrong here!

Hoshiko Yamane – Pre-order Available (1631 – Digital Only)
Not dark ambient, but some neo-classical solo violin that sounds incredibly beautiful. I have only heard the preview track, "Into the Dark" but all these track titles indicate that this should be a dark themed release. I'll be keeping an eye on it, and you should too!

Ian Hawgood + Danny Norbury – Pre-orders Available
(Home Normal – CD/Digital)
Not dark ambient, but worth a listen! Faintly Recollected is a beautiful and somber long form neo-classical piece with ambient elements by Danny Norbury and Ian Hawgood.

Las Paccariscas – New Album Released (Kalpamantra – Digital Only)
Some dark drone ambient from a talented project that is often over-looked. I've been following them since about 1 1/2 years ago and they have plenty of quality material. Worth a listen!

La Tredicesima Luna – New Album Released
(Lighten Up Sounds – Cassette/Digital)
Read our review of the album at this link.
Lighten Up Sounds says about the album: "Stunning shadow sound from Italian solo artist Matteo Brusa, known for his powerful Dungeon Synth work as Medhelan. This dark debut from the project (translated as The 13th Moon) offers a flawless form of foreboding night-sky synthesis and ominous drone, a cryptic key to the eternal lunar mysteries. Moonlight as filtered through branch and fog, a pristine transmission of somber atmospherics for seasonal shift.
'Only those who are not afraid to dive into the night can follow the path traced by the stars.'"

Maha Pralaya – New EP Released (Digital Only)
These are a few of their tracks that were outtakes from recent albums. Post-apacalypse raga / ritual dark ambient.

Mike Lazarev – Pre-order Available (1631 – Digital Only)
Not dark ambient, but some neo-classical piano work that sounds incredibly somber and melancholic. Defitely worth checking out for those who enjoy some classical occasionally.

Northaunt – New Album Released (The Last Bleak Days – CD/Digital)
You can read our review of it at this link.
Northaunt says about the album: "For many many years I have hiked into the woods, trying to get away from it all. Precious days offering silence and room for new thoughts. Nights spent in the wild, watching familiar forms transform as darkness fall, feeling it stir something inside, something overlooked in the stress and clutter of everyday life. This is my channelling of these feelings, my tribute if you like, to night, the woods and solitude.
Enjoy."

New Oracle – New Album Released (Digital Only)
New Oracle approached me a few days ago with their two latest releases and I was very impressed. Here's their new album, Orogenesis. I would definitely recommend giving this a listen. The previous album is also available on their bandcamp for 'name your price'. New Oracle says of this release: "Orogenesis is the process of mountain formation. These songs were formed in the same fashion—songs of intense pressure, heat, and fluidity. Hardening over time, steady refinement.
This album was started properly in 2014 in Seattle, but some of the source recordings go back even earlier. It was finished September of 2017 in a cabin in the Appalachian mountains, a fitting journey that coincidentally aligns with the personal meanings and meditations inherent in this song cycle ∞ ."

The Null Spectre – New EP Released (Digital Only)
A 'name your price' release that sounds very haunting and very promising. A nice addition to your collection for the Halloween season! Their album blurb says:
"As darkness spreads to the edge of dusk,
Children at play begin to rush
Back to their homes, to be tucked in bed
With tales of the Darkling filling them with dread…"

Onasander – New EP/Demo Released (Digital Only)

Scott Lawlor – New Album Released (Digital Only)
Two long-form dark and droning tracks by the prolific ambient artist Scott Lawlor. This looks to be one of his darker releases and is definitely worth a try, especially since it's 'name your price'!

Seetyca – New Album Released (Winter-Light – CD/Digital)
Winter-Light says of the release: "'Winterlicht' is Seetyca's third full length album to be released on the Winter-Light label.
As the album title indicates the theme is that of the winter's light and comprises of 12 new tracks, combining deep drones and sparse musical pieces to create a vast wintry landscape. The opening track 'cold morning' invokes images of sunlight playing across fields steeped in deep white snow while your cold breath disappears in to the morning air. The title track 'winterlicht' is a slowly evolving darker, deeper 13 minute drone piece. Here the heavy mantle of winter steadily envelopes the listener, drawing the darkness of the nights ever nearer, as the cold winds howl and the ice begins to form, locking the landscape in to a frozen tundra.
The play between light and dark, the subtle use of environmental sounds and carefully chosen instruments, played by a stellar array of Seetyca's friends, is what makes this album truly engaging."

Spycker – New Album Released (Petroglyph Music – Digital Only)
New 'name your price' dark neo-classical release. Petroglyph says of the album: "As multifarious as what's inside a whale's stomach, Spycker's music can best be defined per album, although even that's not so easily done. After releasing records covering styles ranging from electric guitar drones to experimental downtempo beats, Spycker's contribution to the wonderfully eclectic Petroglyph Music netlabel explores the world of piano-driven soundscapes and gloomy ambient. Or something like that. Containing 10 short instrumental pieces, Øyedråper provides the listener with a temporary escape into an eerie, strangely consoling realm, where the mysterious is common and conformity a curse."

Svartsinn – Pre-order Available for New Album
(Cyclic Law – 2xLP/CD/Digital)
I am extremely excited to see a new one from Svartsinn, one of my favorites! Cyclic Law says of the new album: "Now 8 years since the last full length for Cyclic Law, Norway's SVARTSINN returns with a new opus, reaffirming his place as one of the world's premiere Dark Ambient acts. For this album Jan Roger Pettersen is accompanied on some tracks by fellow Norwegian Amund Ulvestad on Cello, providing new elements to Svartsinn's distinct ominous drones. Mørkets Variabler translates to "Variables Of Darkness" and it is a certain combination of such variables that fuels the urges and need to create the atmospheres translating as Svartsinn. Darkness comes in various shapes and forms and through these new pieces we are plunged into this vast and singular subject, left to our senses to explore it's subtle meanings and impressions left within ourselves. Presented in a unique Limited Edition Hardcover Digibook as well as a Limited Gatefold Double vinyl. The vinyl version includes an exclusive remix of the track "Echoes Of Silent Cries" by Sweden's KAMMARHEIT. Artwork by Dehn Sora. "

Theologian – New Album Released
(Danvers State Recordings – Cassette)
THEOLOGIAN returns from a trek into the deepest internal chasms, after drowning in misery and self-defeat, to the gates of the FORCED UTOPIA, released in time for THEOLOGIAN's appearance at INTO THE AETHER, a two-day festival in Portland, Maine. Apocalyptic industrial for the end times. The album can be ordered here.
http://danversstate.storenvy.com/products/21720773-theologian-forced-utopia-c60

Urs Wild – New EP Released (Digital Only)
Following his recent release on Eighth Tower Records, the sub-label of the Unexplained Sounds Group, Urs Wild self-releases this album of which he says: "Take a journey through space and time with Urs Wild's latest EP of Space Ambient. "

Zos Kia (pre-COIL) – 23 (Infinite Fog – CD/Cassette)
Not dark ambient, but likely of interest to a great number of dark ambient fans, so I'm posting it!
Infinite Fog says about the album: "Now the final and complete anthology of ZOS KIA recordings released under title "23" on 2CDs in Luxor Digibook via INFINITE FOG PRODUCTIONS. 23 tracks, more than 2 hours of exciting material in various styles, was сarefully extracted and prepared for publishing by John Gosling himself, and artwork was done by Cold Graves. Well-known track in different forms, unknown, rare and unreleased composition, and many more for the deep diving into the esoteric underground music from 80th."

This is Darkness Week In Review
A Cryo Chamber Collaboration – Tomb of Druids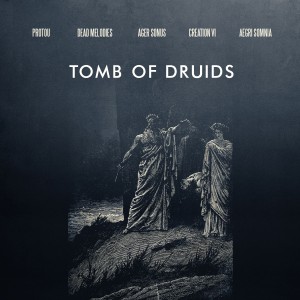 Tomb of Druids is an absolute success. When I saw that it incorporated all new artist that had never participated in the series previously, with one track each, I was hesitant about how well it would work out. But after a number of listens, it's absolutely clear that this album is worthy of the Tombs Series and, as I've previously mentioned, it is likely the most successful at extracting the correct psychological and perceptive responses from listeners. At this point the series could move in any direction. Taking it into these ritual grounds is certainly an interesting path and one that continuing to follow would likely bring about even more levels of success. Highly recommended for the cinematic and ritual ambient listeners.
Read full review here.
Dark Piano Nights Mix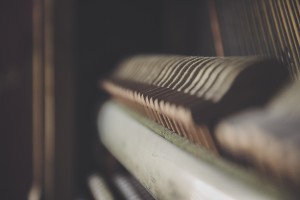 Dark Piano Nights is a combination of dark ambient with some various other styles that all come together to form a peaceful yet melancholic nighttime listening session. This is mostly free of vocals, but there are a few exceptions throughout. The music becomes more active at times than that of a strictly dark ambient set-list, but I think the flow is good and the music, which includes classical, jazz noir, and a mix of others, is all highly enjoyable. I hope you will also enjoy this mix on a lonely dark rainy evening, when you are alone with only your thoughts, a good book, and an internet connection.
Listen to the mix here.
La Tredicesima Luna – Il Sentiero degli Dei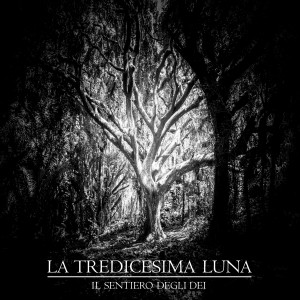 Brusa has done what I've been hoping to see over the last few years since discovering Medhelan. He's severed the tie of Medhelan between his dark ambient and dungeon synth output and created an entity for the sole purpose of dark ambient releases. As he moves further into the depths of this cataclysm it's likely that an already polished sound will be even further refined on future releases. We might be seeing the beginnings here of a big deal within dark ambient circles. Brusa has already proven capable of this feat in the dungeon synth community.
Read the full review here.
Chelsea Wolfe – Hiss Spun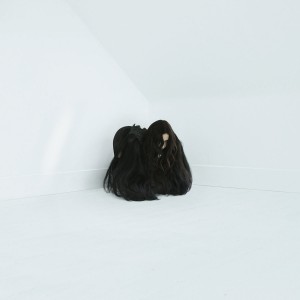 Wolfe's unique delivery translates into goth metal confines incredibly well, packing an emotional punch others could only dream of mustering. That being said, her sound has never sounded this conventionally doom, a byproduct of the less nuanced approach she took. This record sees her wrestle with her identity in the midst of hardship, and ultimately transcends her indignations in steadfast resolve. While Abyss remains her darkest and heaviest record, Hiss Spun stands as Chelsea Wolfe's spiritual manifesto by way of smoky riffs and pitch-black melodies.
Read the full review here.
Nhor – Wildflowers: Autumn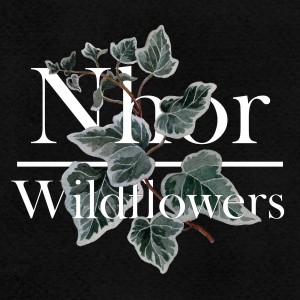 At 23 minutes, this is the longest and most dense Wildflowers EP so far. Using stark minimalism and extreme simplicity, Nhor has again created a cohesive narrative unique to the season in question. Autumn blows with crimson leaves towards a snowy blight, pacifying the maddening race to prepare for winter through its gentle chords.
Read the full review here.
TeHÔM – Live Assault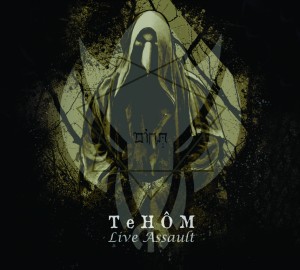 Live Assault is one of the best live recordings I've heard. I really wouldn't be able to notice that it was recorded in a live setting other than a few minor moments. The sounds are full and the music is precisely executed. The change in tempo makes the release have a totally different feel than the original album, which absolutely warrants its release as a separate entity. If you are a fan of TeHÔM, I would highly recommend this release to you. If you have never heard of the project, this is a great place to start!
Read the full review here.
Northaunt – Night Paths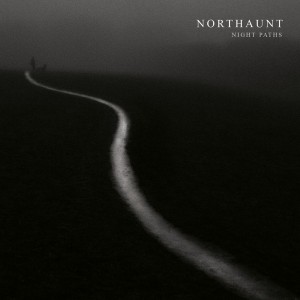 Night Paths is an absolutely worthy album to be added to the Northaunt discography. While it might not have the same stylistic and thematic consistency that we would hear on a proper full length, it's full of great tracks, each one I am very pleased to have a chance to enjoy. We get a little something from all the different periods of the Northaunt sound, giving us a sort of time capsule back in time. For any fans of the older Northaunt music in particular, this is a must have. For newer fans, this is a way to get an idea of what Hærleif Langås has done in the past, a perfect introduction to his previous styles. Knowing that Istid III is right around the corner as well, we should all be quite content this winter, with plenty of fresh Northaunt music to act as a soundtrack to these upcoming cold, dark months.
Read the full review here.
Jarl – Hypnosis Colour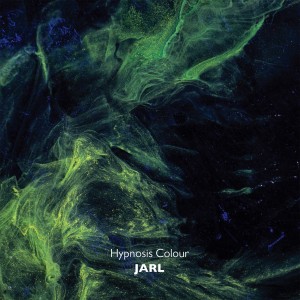 Long-time fans of Jarl will have every reason to love Hypnosis Colour. It takes his sound into a direction that makes the most sense yet in his career, the building of layers in order to create an actual mind-shift in the listener. Readers that are new to the sounds of Jarl should be warned that this isn't light listening. You will have to approach this album in a different way than you would with the usual dark ambient release. It is meant to be an active listening experience and headphones are mandatory. With that said, Hypnosis Colour as well as it's predecessor Amygdala Colours are two of the most technically and thematically successful releases of Erik Jarl's to date, and both should be perfect entry points for beginners. It will be interesting to see if Jarl will continue on this path with his next release or if he has plans to switch gears into a different direction.
Read the full review here.
Please consider making a donation!
This Is Darkness has gone live with the help of friends and supporters. I have been disabled since 2015, due to a spinal injury. Any support that can be given is greatly appreciated. Donations will go toward the maintenance of this site as well as additional promotion to increase its reach and influence. You can help through the donate button below,  or follow this link to the This Is Darkness Patreon page here.