Artist: Wound
Album: Up In The Starry Ether
Release date: 15 June 2018
Label: Self-released
Tracklist:
01. Bright and Cold
02. Oblivious to the Passing Hours and Days
Up In The Starry Ether by Wound is an album that immediately resonated with me. The artist shared the album with me and I initially liked the simple yet emotive cover-art design and then found that the music itself is also quite enjoyable. In his words, "Wound is a musician from Poland who incorporates various elements of ambient, drone and glitch into his music. Bringing together ordinary instruments like strings or piano with otherworldly electronic sounds he creates a soundtrack for the brief moments between unconsciousness and walking life."
This apt description explains a number of the reasons I love this project. Wound combines the aesthetics of glitch, drone and ambient in interesting ways. Listening to Up in the Starry Ether, it is obvious that the release is based upon a drone foundation. The two tracks both run at approximately fifteen minutes a piece, making a nice length for a cassette release, and also allowing plenty of time for each track to slowly evolve. These drones are complemented by subtle field recordings as well as glitchy noises which keep us grounded in the modern realm.
"Bright and Cold" is the more relaxing of the two tracks. The drone elements are a bit less prominent on the opener and it allows us to slowly visualize the scene Wound is painting. Shimmering, yet slightly harsh drones solidify the cold atmosphere. Field recordings of wind blowing and footsteps through snowy terrain paint a picture of a lone traveler, making their way through a subzero white-out. The track gradually becomes more abrasive as it nears its ending, adding to this sense of discomfort and peril for the traveler.
"Oblivious to the Passing Hours and Days" begins with only field recordings. We now seem to be in a darker, more claustrophobic space. We can hear sounds in the distance, which could either be the rushing winds outside, or possibly some large factory off in the distance. The drones slowly intensify as the track progresses and we begin to hear a multitude of unsettling sounds. A high pitched-hissing comes and goes, as if we've passed some nearby pressure-release valve. Meanwhile, a looping musical element is creeping to the forefront. Though this never progresses into something that would be considered "music" outside our genres, it does add an emotional element to the track, and helps the listener descend further into these soundscapes of Wound.
Wound says of Up in the Starry Ether, "…the second release in my Drone Series project where I experiment with techniques to create long-form compositions. In the first one, Man as a Prism, the no-input mixer improvisation has been used, whereas in this I have collected found or discarded sounds to create a dreamy collage of trash." This collage element is one of the things that makes me enjoy the album so much. There are so many sounds coming together. I get a sense here of that complexity which we expect of someone like Jarl, but with more of an ambient focus and less of the noise elements. This plethora of sounds makes for multiple rewarding listens. I have been enjoying this one for a few months in preparation to write about it and new elements are still presenting themselves. This is, of course, one of the best indicators of a great ambient release, for me.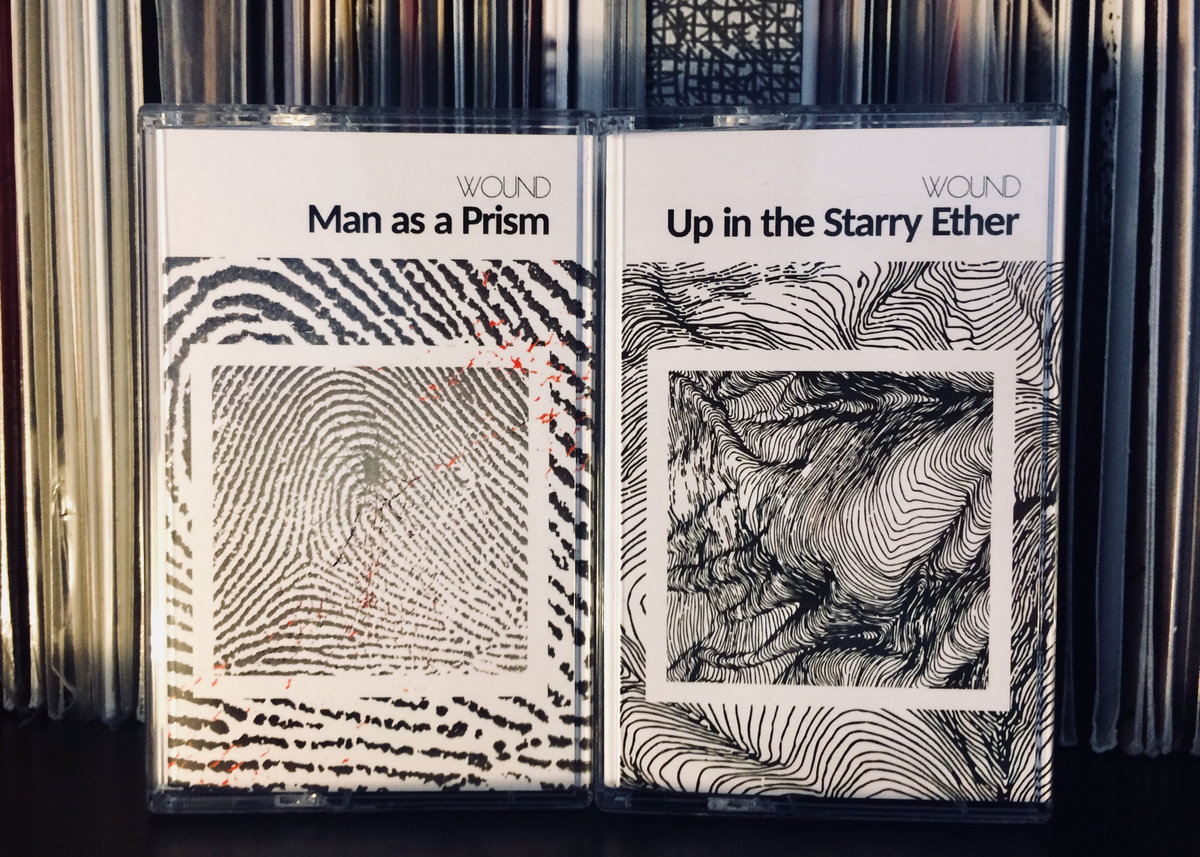 Up in the Starry Ether is available in digital format as well as a handsome cassette edition, with a fitting artwork and a nice frigid, abstract palette. Wound is basically giving these cassettes away, at a five euro price tag. The first drone series release by Wound, Man as a Prism, can also be purchased along with Up in the Starry Ether as a bundle.
I highly recommend this album to those that enjoy drone ambient, but often find it monotonous, or worse, boring. Wound manages to harness the drone ambient slowly evolving format, while simultaneously embedding it with enough extra details that we can truly enjoy every minute of its playtime. It is quite the impressive release for an artist that doesn't yet appear to be working through any record label, instead managing to bring together some memorable physical releases on his own. Readers/followers should be pleased with this one, but labels seeking new talent really should take note.
Written by: Michael Barnett