New Zealander, Abby Helasdottir has been known around the dark ambient and post-industrial scenes for quite some time. She has a well-known dark ambient project, Gydja. But possibly more important to the scene has been her work in visual arts creating cover art for quite a few albums, many of which you'll find on the Cold Spring label.
I follow Abby on Facebook and I noticed recently that she was doing frequent mini-reviews of releases from the ΠANθEON record label. Having also enjoyed and agreed with her sentiments regarding many of these releases I asked her if I could compile them all in this article, once she was finished. Her answer is now obvious!
I will give you the description of the label direct from their Discogs page:
"ΠΑΝΘΕΟΝ (or Pantheophania) is a Russian D.I.Y. label focusing on handmade editions of cassette tapes, CDR's and CD's, as well as digital-only and disc-on-request releases.
Founded in 2014 by Tim Six (Creation VI), the label releases all kinds of ambient music: drone, ritual, meditative, new age, dark ambient, etc. Many of the label's editions are released in bundles with additional inserts."
While each review is "mini" the collection certainly is not! Most (maybe all?) of these are available for "name your price", but many also have beautifully crafted physical editions still available, some only 1-2 left on Bandcamp, so think about showing them some support if you dig these albums!
Michael
ΠANθEON – Discography Overview
Article compiled from posts by Abby Helasdottir.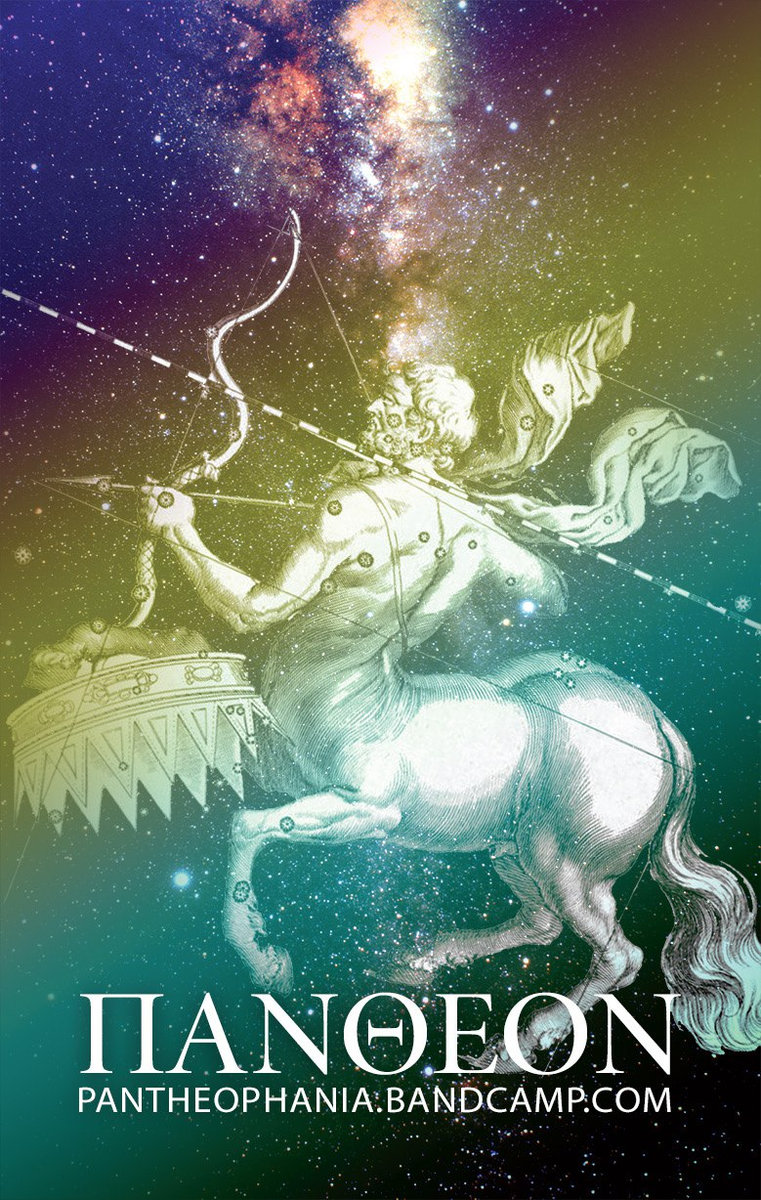 On the ΠANθEON discography:
I don't usually buy entire digital discographies from labels on Bandcamp, especially if they're large, as they tend to overwhelm the carefully curated library page, but how can you say 'no' to 107 releases from ΠANθEON. So many great releases. One of my favourites is the Creation VI's October Rite – just love how it strays into Aural Hypnox type territory with its otherworldly drones. Listened to that one multiple times already.
Now to gradually download, unzip and listen to 107 albums.
Med Gen – Brittleroots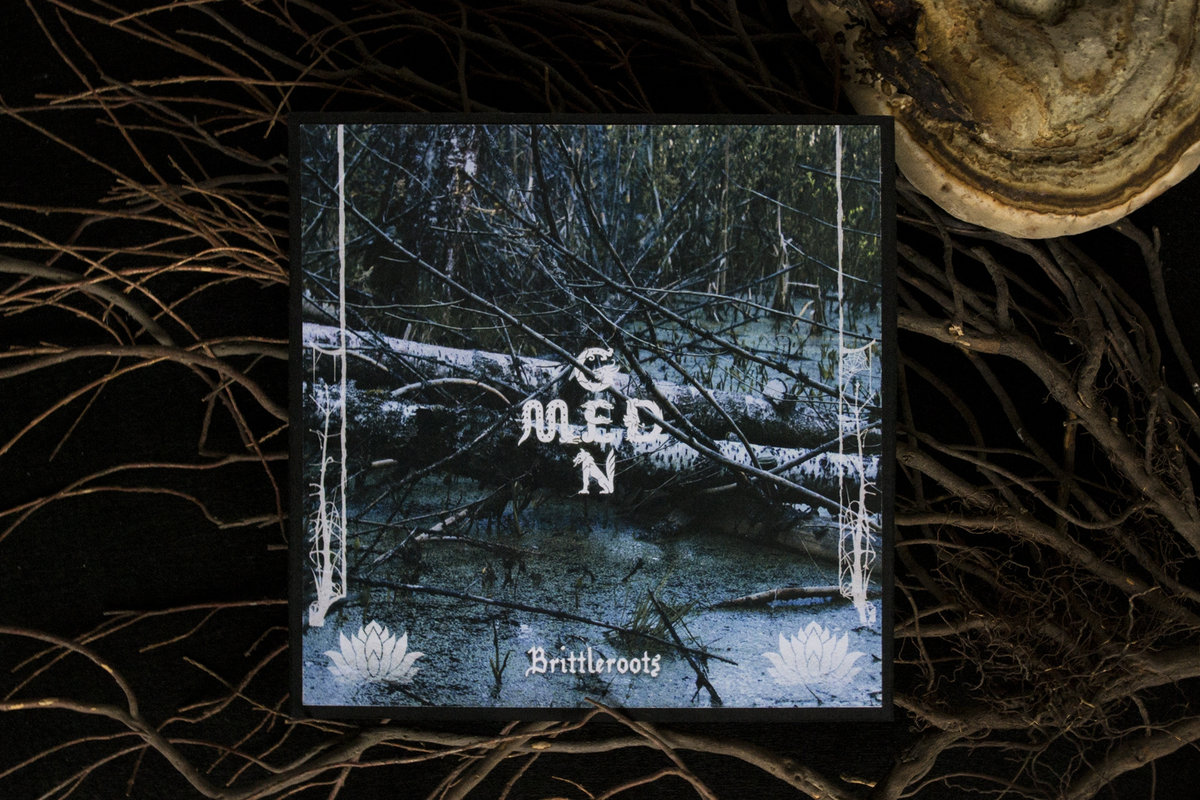 Been making my way through the recently purchased ΠANθEON discography, and while all of it is good, some of it is spectacularly good. So until I forget to do it, I'll highlight a few of the, well, highlights.
The unmemorably-named Med Gen are anything but with their album Brittleroots. Responding to the album's theme of swamps, there's a lovely, dense and deep murky quality to the sound, especially on the opening "Peat Accumulation" which seems custom-made for my ears: part chthonic, part aquatic, more deep texture than musical. Little bits of field recordings add some relevant details to the drones but what really stands out is that dense, dark, slightly drowny palette.
Sergey Filatov – On the Opposite Bank of the River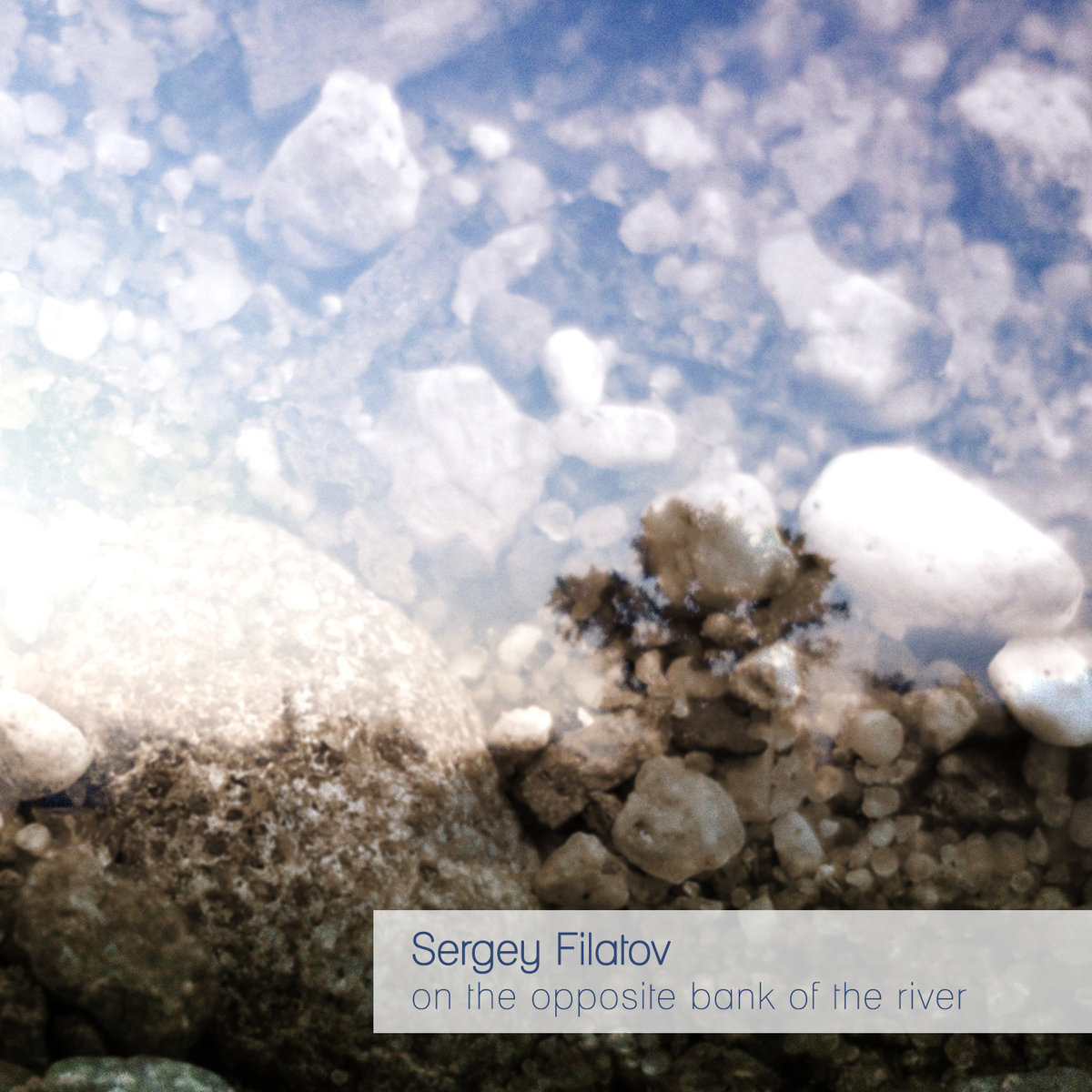 Sergey Filatov is not one of the more familiar names on ΠANθEON (just 71 listeners on last.fm) and this two track album is certainly not one of the label's more jump-out-and-grab-you-by-the-throat releases (if any ambient can do that). Instead of overwhelming you with activity, On the Opposite Bank of the River wins you over with its determination to be indeterminate. Like the river of its title, it just meanders… gloriously. Much like a lot of work by Alio Die, it sort of lingers, hanging in the air, little melodic chimes patiently pulsing pastorally, with no real sense of momentum. Which is all great.
Field recordings are buried in the sound and only sometimes bubble to the surface: a prerequisite stream or brook, some lovely birds clean and clear in the mix. Most of the time, though, the nature it depicts seems to be off in the distance, indeterminate but present.
Mrako-Su – Грани Зимы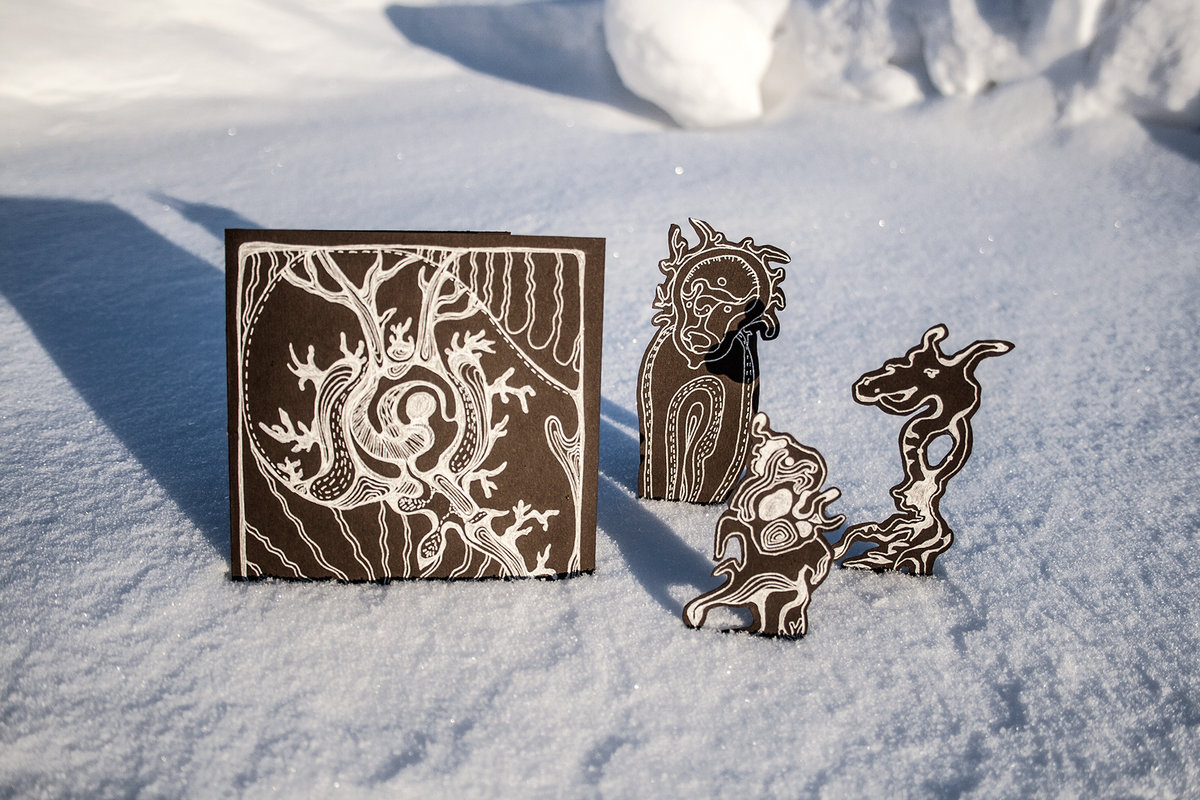 One of two releases from Mrako-Su on ΠANθEON, Грани Зимы consists of six tracks, two under seven minutes and the rest over eleven, with the longest, "Ветер в груди", clocking in at 18:30.
While in my own music I have a tendency to add as many layers into the mix as possible (either to stave off inattention or insert additional esoteric nuance, cross fingers), I have always loved music that strips things back, and that's what Mrako-Su does here. The tracks principally use a flute sound of some type, presumably slowed and processed in places for lower layers, but otherwise quite up front. It's not played melodically, more tonally, and that's something that also appeals; I'm not here for the chunes. There's a patience here, with things taking their time to come and go, rise and fall, often eschewing any need for too much structure. And that's one of the important things, because the music with its flutes and occasional drums and mouth harp, plus a slightly tundral vibe, feels very shamanic – but not in that smooth, processed way that needs to turn these aural elements into catchy, conventional songs.
So yeah, it's slow, it's subdued, it has lots of flute and feels shamanic without needing to break into a Wardruna floorfiller.
EugeneKha – Three Months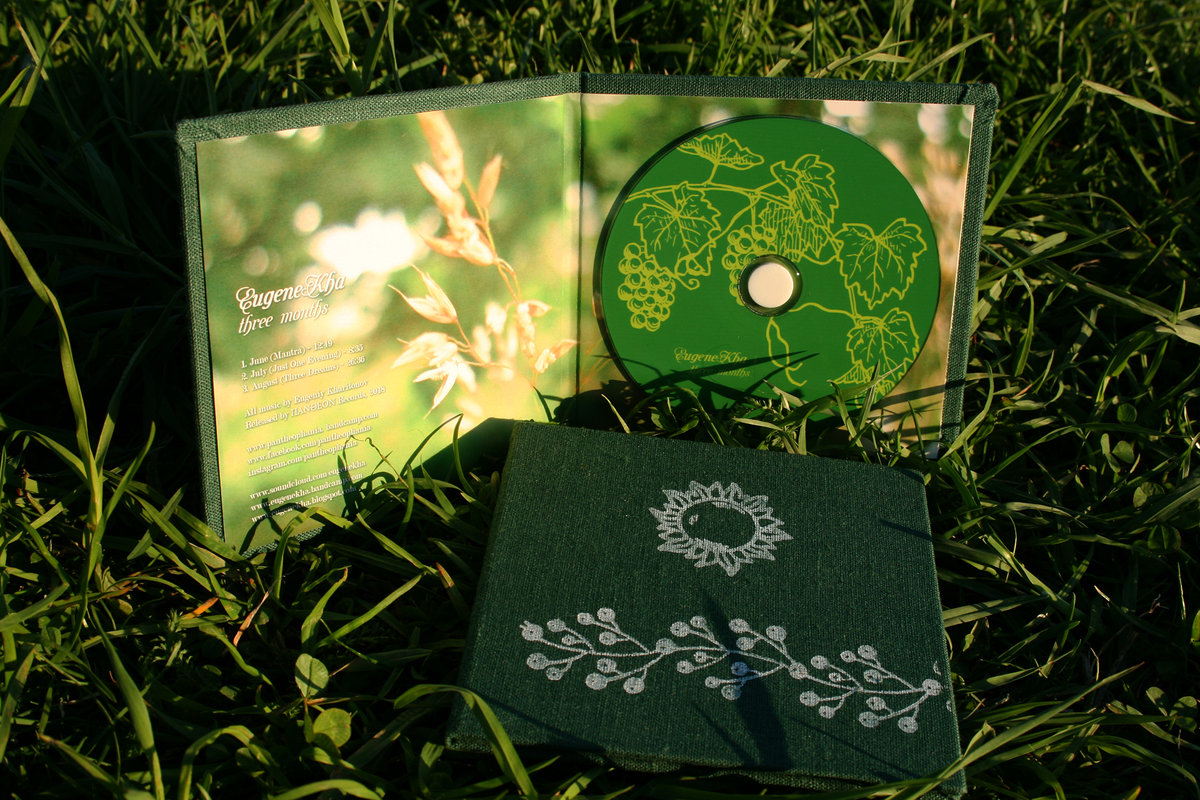 In my summary of Mrako-Su's Грани Зимы, I mentioned how much I like simplicity and minimalism, but the converse is true and that's exactly what you get with Three Months by EugeneKha. In some ways, Evgenij V. Kharitonov uses comparable themes, if not the exact sounds, as Mrako-Su, mining a similar vein of, to use a slightly dreaded nomenclature, ethno-ambient, with hints of shamanism and nods to nature (aesthetics that are somewhat baked into the ΠΑΝΘΕΟΝ label). The sound, though, is completely different, with each of these three tracks, representing the months of June, July and August, using prominent, wide-open drones that fill the space, creating a thick, dense, somewhat all-consuming sonic cocoon.
The twelve minute "June (Mantra)" builds its density slowly, beginning with slightly windswept tundral hums to which rattles (or rainsticks), chimes and whistles (all perfectly reverbed for body without muddiness) are gently added, reaching maximum density with the addition of a pulsing didgeridoo tone, followed by a subtle melodic figure and a concluding hand percussion pattern buried in the mix. While "June (Mantra)" revels in its complexity, with each sound continuing to run once it has been gradually added, "July (Just One Evening)" begins with many of its elements in place, and then drops these out to a core element of a brooding tundral drone, waves of wind and a high pitched wash that is, or at least recalls, the metallic chirp of cicadas; whatever it is, its a tone and a frequency I'm very partial to, and I love the way it builds to take up all the sonic space so gradually that you only really notice when it ends and the silence is so deafening. That "July (Just One Evening)" reminds me of my own track "Wolfszahn" may be why it emerges as my favourite on the album.
"August (Three Dreams)" uses its 26-minute length to play with things at a slower pace, using a drifting, ever so gradually evolving drone that feels more Roachian than obviously dark ambient. This suddenly shifts at fifteen minutes into a clearly demarcated second section where percussion takes over to explore the more rhythmic, Byron Metcalf-esque side of the ethno-ambient sub genre. A few other sounds are briefly introduced and farewelled against the persistent beat, until it loses out to one of these, water sounds, which rise to prominence before the song and album end with a vocal coda (the album's first obvious use of voice).
Сон Чайного Дерева & Sunhiilow – Liquid Silence / A New Beginning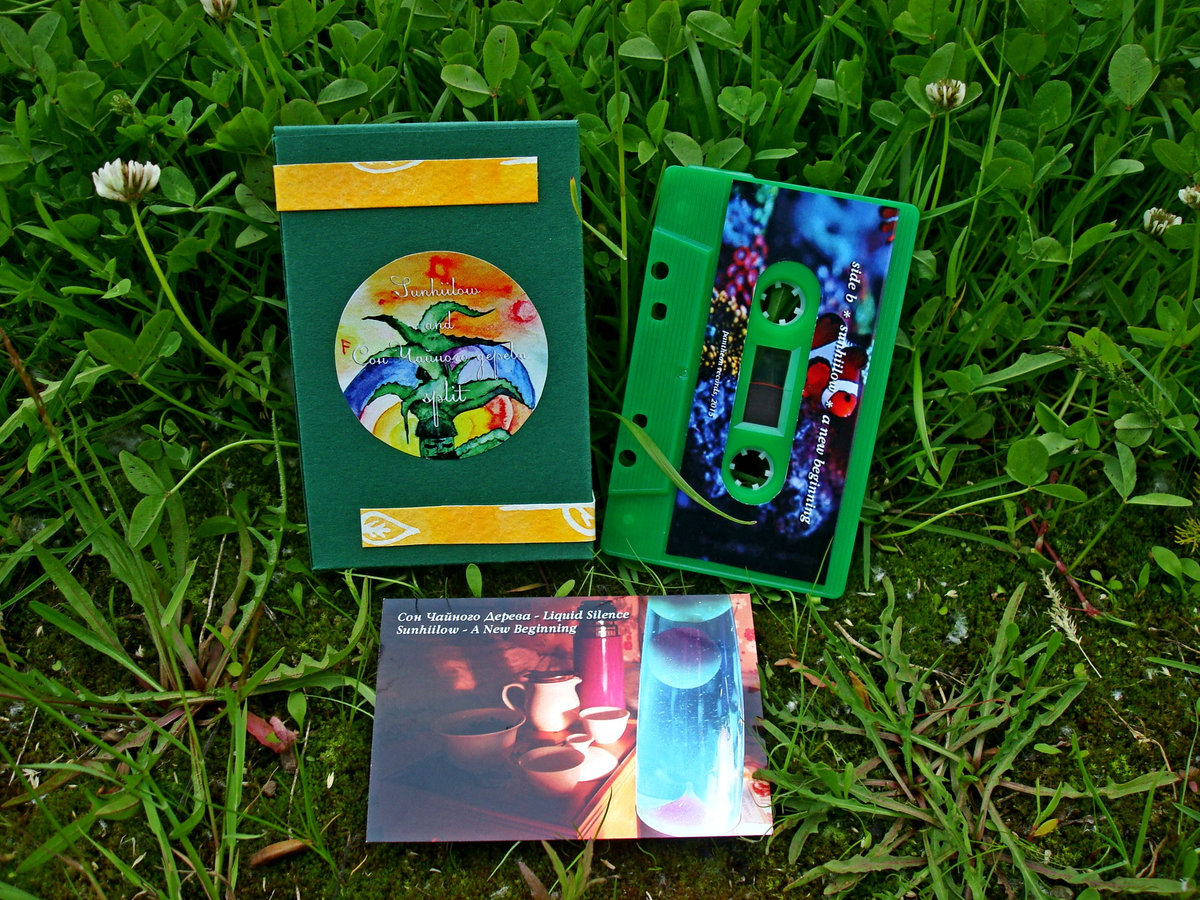 The ambient nature of a label like ΠΑΝΘΕΟΝ lends itself to long-form music, with many releases clocking in at over an hour. That's not that case with Liquid Silence/A New Beginning, a split release from Sunhiilow and Сон Чайного Дерева, with almost all the tracks hovering around the 2-3 minute mark, except for the aberrant 19:44 of "Liquid Silence", one of the two tracks here by the Сон Чайного Дерева duo of Aloe and Tim Six. "Liquid Silence", you may be interested to know, is not silent and is instead a lovely slow-moving drone that hints at Angelo Badalamenti's "Laura Palmer's Theme", while its shorter companion, "Sitar Rain", sounds like exactly that, sitar and rain; well, more of the former than the latter.
Finland-based Sunhiilow takes up only a little more space than Сон Чайного Дерева on this release, but makes more of an impact due to her contributions consisting of nine tracks. Given their sub-three minute length, all of her pieces have little chance to build or go anywhere, and as a result, feel like snapshots or vignettes of sonic environments. Which isn't a bad thing. Maybe I'm taking too many cues from the nom-de-musique, but there's a solar quality to these sounds, a pastoral sunniness, all chimes and light tones. The brevity of each piece means that they're better considered as parts of a whole, three-minute glimpses of a place that can be made from any angle or time, or in any order; kind of a longer-format version of Eluvium's "Shuffle Drones" but with fadeouts.
Astrolabe – Lights Beyond The Mist (cdr-on-request)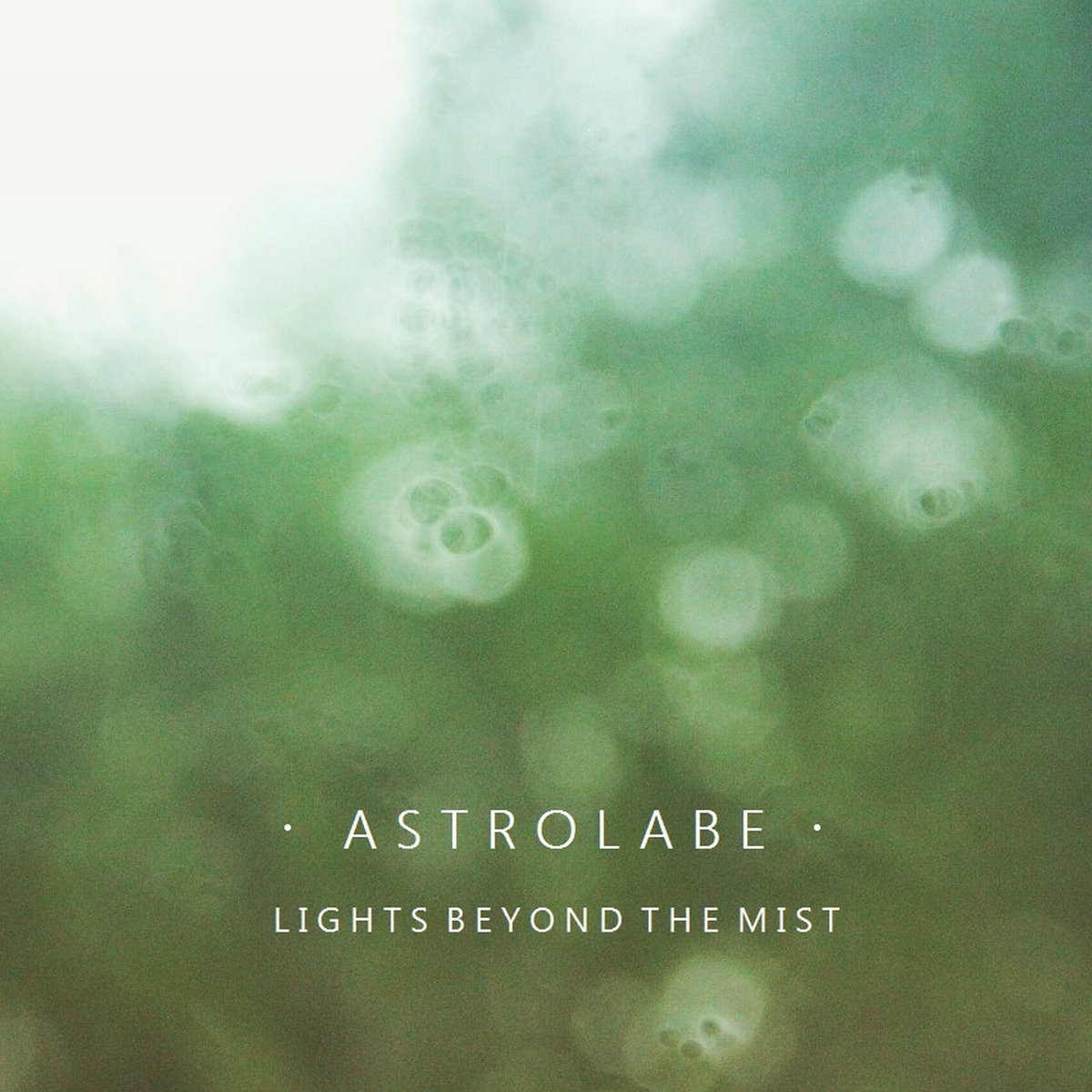 Astrolabe has always been on my "that would make a great project name" list, with its combination of nods to the stars and with those, the future, but still tethered to a dusty, archaic past due to the use of the tool since before the common era. So does this Astrolabe sound like an astrolabe, does it sound like it could be "the one that catches the heavenly bodies"? Not really, there's nothing particularly spacey about the palette used here, and there's no clanging of equipment in an old astronomy tower. Instead, Lights Beyond The Mist traffics in a refined, linear brand of ambience, its tones light and airy, feeling very much like the photonic haze that adorns the cover.
With two supra-twenty minute tracks twinned with two shorter ones at 10:11 and 8:31, the album acts like a concentrated dose of Astrolabe's style. And that style would be drifting. There's never much sense of urgency, never any interruptions, and what there is in the way of perceptible evolution often sneaks up on you. So while "Hideaway" gives way for half its ten-minute length to an aquatic scape of trickles and streams, or the 23 and a half minute "Fragoline" climaxes in an almost space ambient roar, it's often just the gorgeously refined light drones that stick in your mind, set against broader rumbling basses that you can feel are there, but are not in your face, erm ears. As such, track titles and times seem largely arbitrary, and its easy to just get deliciously lost between all four.
Sunmoonstar – Картины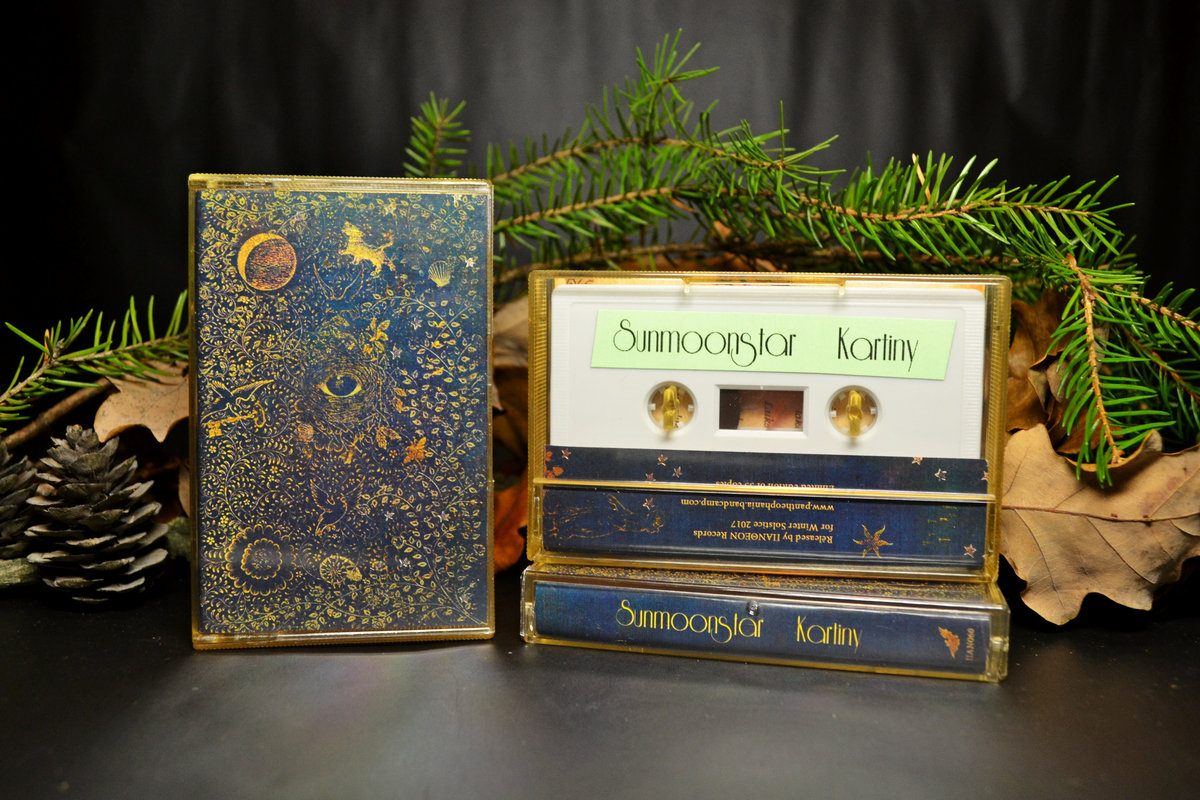 ΠΑΝΘΕΟΝ owner Tim Six has a professed love for that most maligned of genres, new age music, and this release from Floridian Natasha Home's Sunmoonstar is perhaps the most new agey release in the label's body of work. The aural palette should be familiar to anyone who has spent even a little time around that genre, all chiming tinkles, plaintive rhodes-like keys, thin airy pads, and whispy synthetic flutes. There's almost nothing contemporary about what appears here, with even the production keeping things simple and not making use of any of the tricks that may not have been available to producers of yesteryear but are to anyone today. And that's a good thing, in fact, the whole thing is lovely.
Like much new age music, which can have an admirably punk-like amateurish quality to it, the music on Картины often just hangs there, with no conventional song structure, no forward momentum, and no repetition of catchy melodies. With seven tracks rendered interchangeable with their titles in, for me, indecipherable Cyrillic, it's all over too quickly after 30 or so minutes. Plus the cover design by Home herself is gorgeous, if devoid of any of the new ages aesthetics heard in the music.
Mathias Grassow & Closing The Eternity – Untitled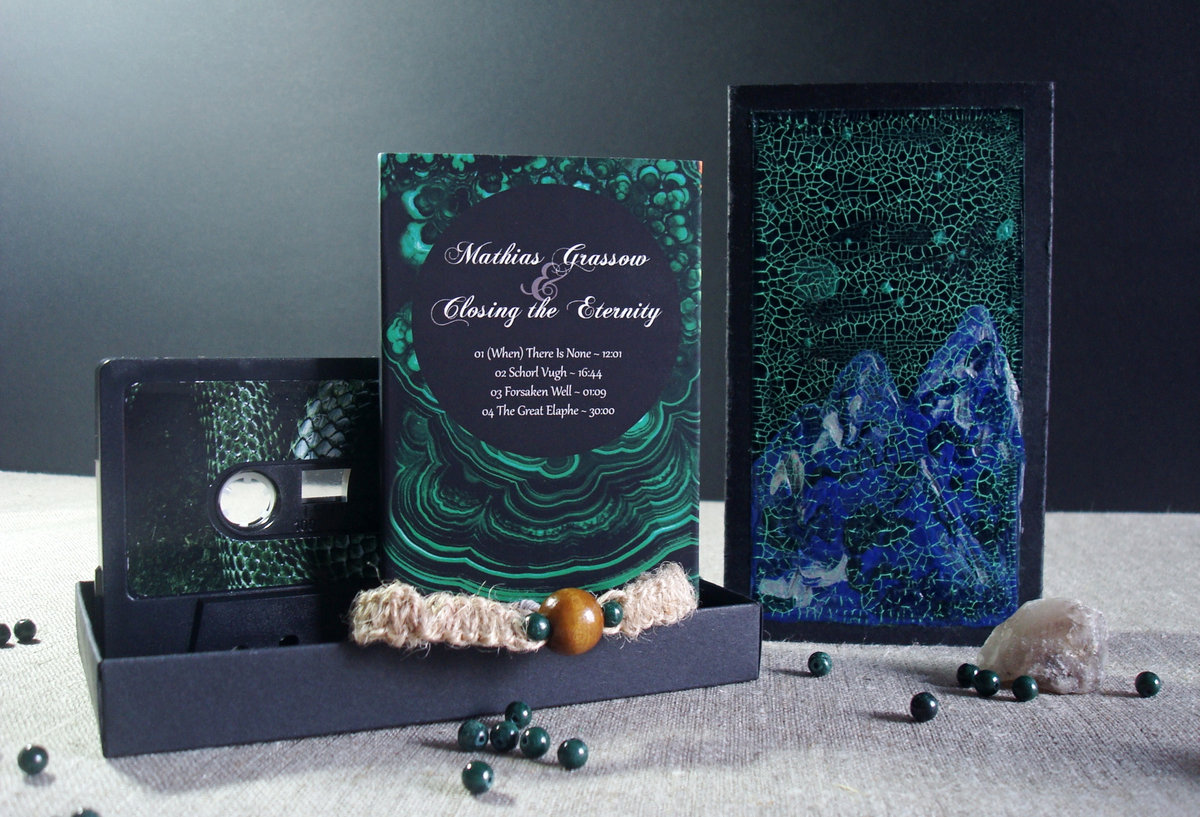 It's kind of cheating to choose to review an album involving Mathias Grassow as you know, no matter what, it's probably going to be decent if not great, and there'll be a certain standard and sound. And yes, that's what you get with this collaboration with Russia's Closing The Eternity. The credits don't say who did what on which track, but the 12 minute opening "(When) There Is None" is very much a typical Grassow piece, all resonant, crystalline drones, whereas the almost 17 minutes of "Schorl Vugh" incorporates various organic elements (squawking discordant flutes and chimes) against a static drone. The brief one minute interlude that is "Forsaken Well" brings the latter part of this approach to the fore with percussive and atonal clangs and bangs that then gives way to the album's longest piece, the 30 minute and majestic "The Great Elaphe".
Somewhat bringing elements from the three previous tracks together, "The Great Elaphe" gets going straight out of the gate with a warm rising drone, overlaid with a mouth-harp-like twanging drone, and a sense of momentum created with a drum beat buried down in the mix and a shake of a rattle above. This evolves into several distinct movements, the pace dropping away to open different locations, the warm drone always present, in which various elements are introduced: a pensive moment into which darker drones are introduced, the return of the subtle drum beat and rattles, a foreboding chthonic sequence at 17 minutes with menacing tones like a dungchen trumpet.
Creation VI – October Rite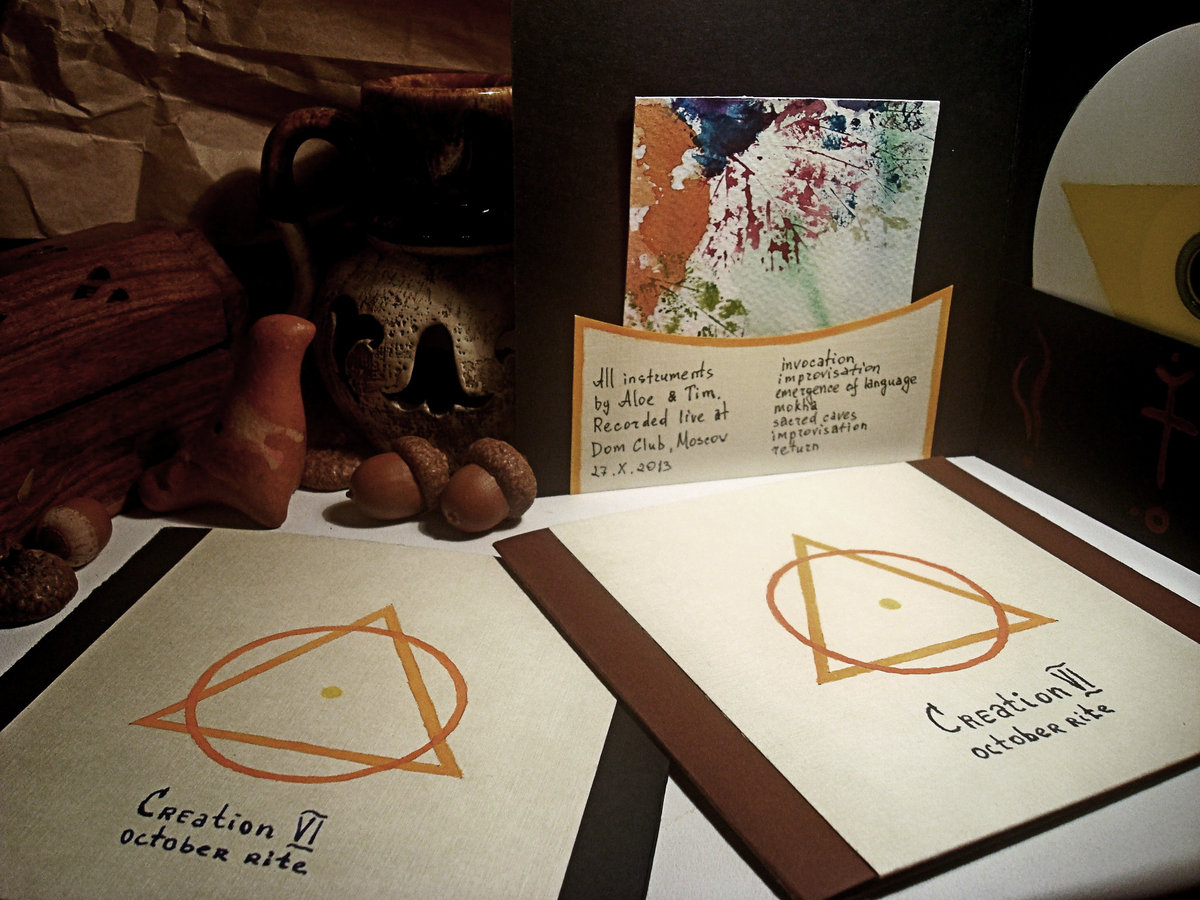 There are a wealth of titles by Creation VI in the ΠΑΝΘΕΟΝ catalogue, which is understandable given that the label is run by the duo's Tim Six. As such, it might be hard to pick out a highlight, but for me, it's October Rite. Recorded live in 2013 at Dom Club, Moscow, it contains improvised versions of some previously released and unreleased tracks, all presented and indexed as a single piece. As such, for the first five minutes, the sounds are accompanied by the slightly distracting mutter of audience sounds (unless that's part of the track), until they are overwhelmed by an unassailable rising organic drone. This drone builds and evolves over the first 39 minutes of the track's 53-minute length, always with a bassy rumble to it, with additional organic elements, percussion and voice, weaving in and out of the bed of sound. This addition of sound and the relentlessness of the drone creates an hallucinatory sensation and at the 30-minute mark you realise you have entered territory worthy of Aural Hypnox acts such as Zoät-Aon and Halo Manash. It's here that the drone and its additional layers have that eldritch alien quality that is so evokative of the sounds of Aural Hypnox, giving the impression of slipping between worlds, or of something waiting in those spaces, about to come through. This section ends with a single audience woop and the rest of October Rite takes a slightly more sedate approach, resonating metallic tones and drones bringing things to a reflective end over 13 minutes.
Dronny Darko & Apollonius – The Sea of Potentials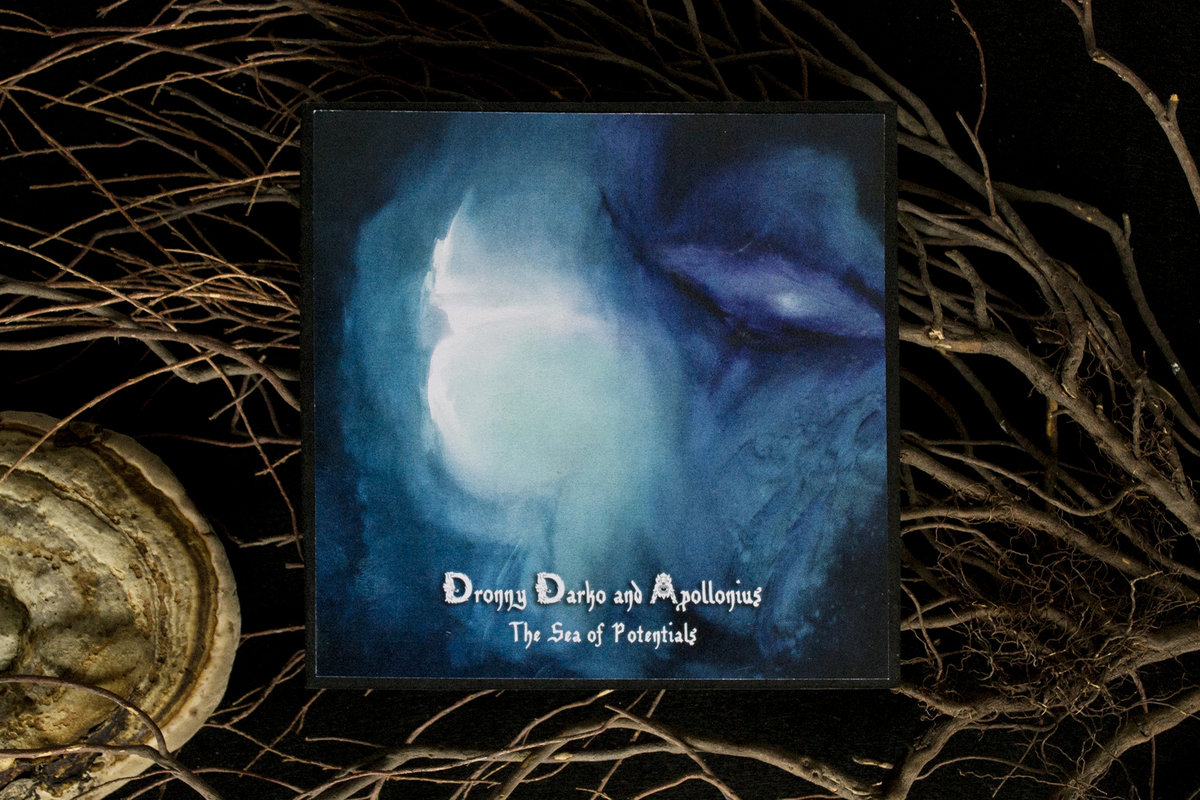 Despite having perhaps one of the cringiest monikers in ambient, Ukrainian Oleg Puzan has made a significant impact as Dronny Darko, most notably with a series of albums on Cryo Chamber. Here he teams up with Eelke van Hoof, AKA Apollonius, of the Netherlands, with four tracks, all neatly coming in between 15 and 20 minutes.
As the cover art implies, there's a glacial quality to the material here, suggesting that the titular sea of potentials is frozen. Washes of icy wind, rising crystalline tones and rattling chimes interweave on "Drift", but things do get warmer on "Lost" where, although there's still a chill in the air, the ice seems to melt, with the mutterings of water rising into the mix and pads becoming rounder and friendlier. Across the two remaining tracks, the feeling of coldness never really abates, but in the final "Realign", thicker ever so slightly warmer pads emerge against an opening bird-like cooing, alluding, perhaps, to a slow autumnal dawn. With a similar palette across all four similarly paced songs, The Sea of Potentials rewards carefully listening, without which this lovely considered slice of arctic ambience can pass by unjustly unnoticed.
Fellirium – Mermaids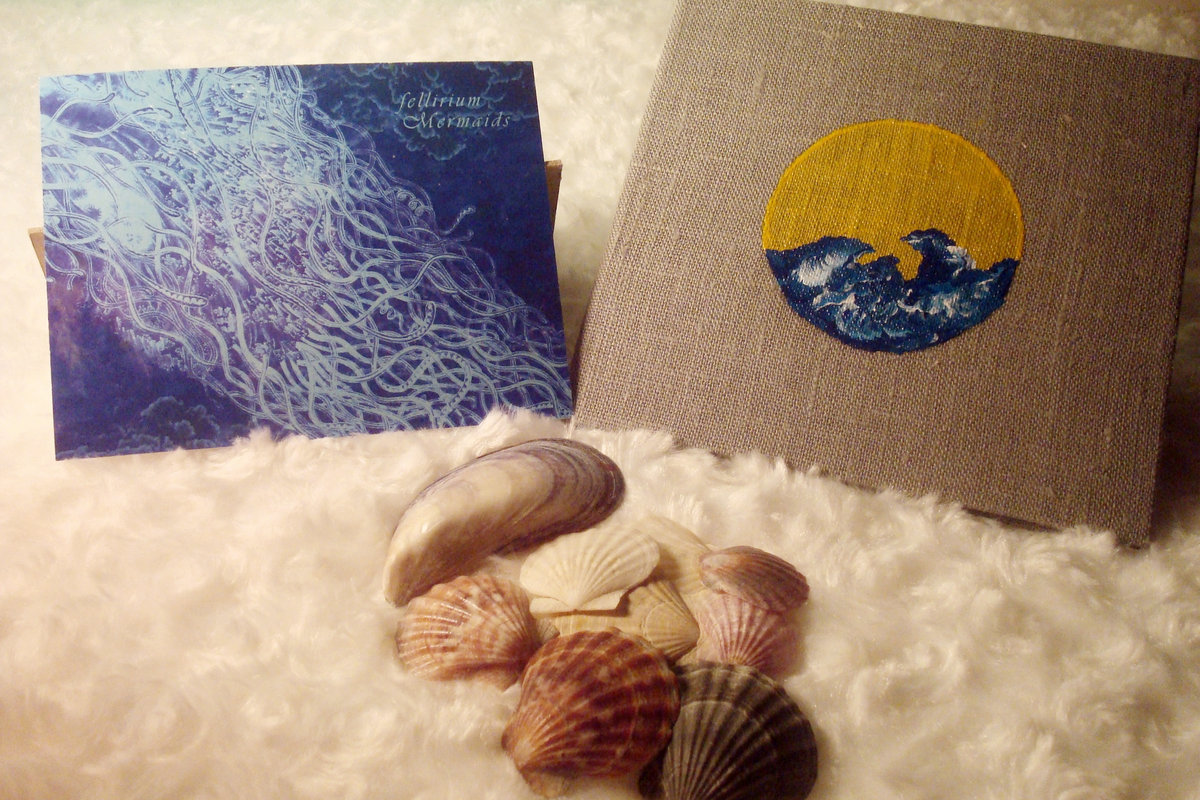 With an instrument list that includes synthesizers, three types of guitars, ebow, digital piano and accordion, in addition to the usual textural sound generators like ocarina, hulusi, wooden flute, shells, rainstick and bells, this album by Andrey Vasilyev's Fellirium has a different, perhaps more 'musical,' sound to many of the releases on ΠΑΝΘΕΟΝ. The use of guitar recalls the work of people like Jeff Pearce, Christopher Short from Ma Ja Le, Eric Kesner's True Colour Of Blood, or Steve Roach's occasional guitar experiments, with Fellirium using similar techniques to create washes and elongated chords of glistening ambience.
While it may mean I'm just easily led by the album and track titles, there's a palpable feeling of the sea and ocean in Vasilyev's aural palette, a hazy sense of light reflecting off vast expanses of water, of swells and ripples and the depth beneath. And that's without any obvious use of water samples. Sometimes these washes and swells are given a little sparkle with the addition of a rattle of bells or shells, but for the most part, it's just the beautiful nubilous ambience.
Угасание and Спираль Времени – В Отзвуках Эха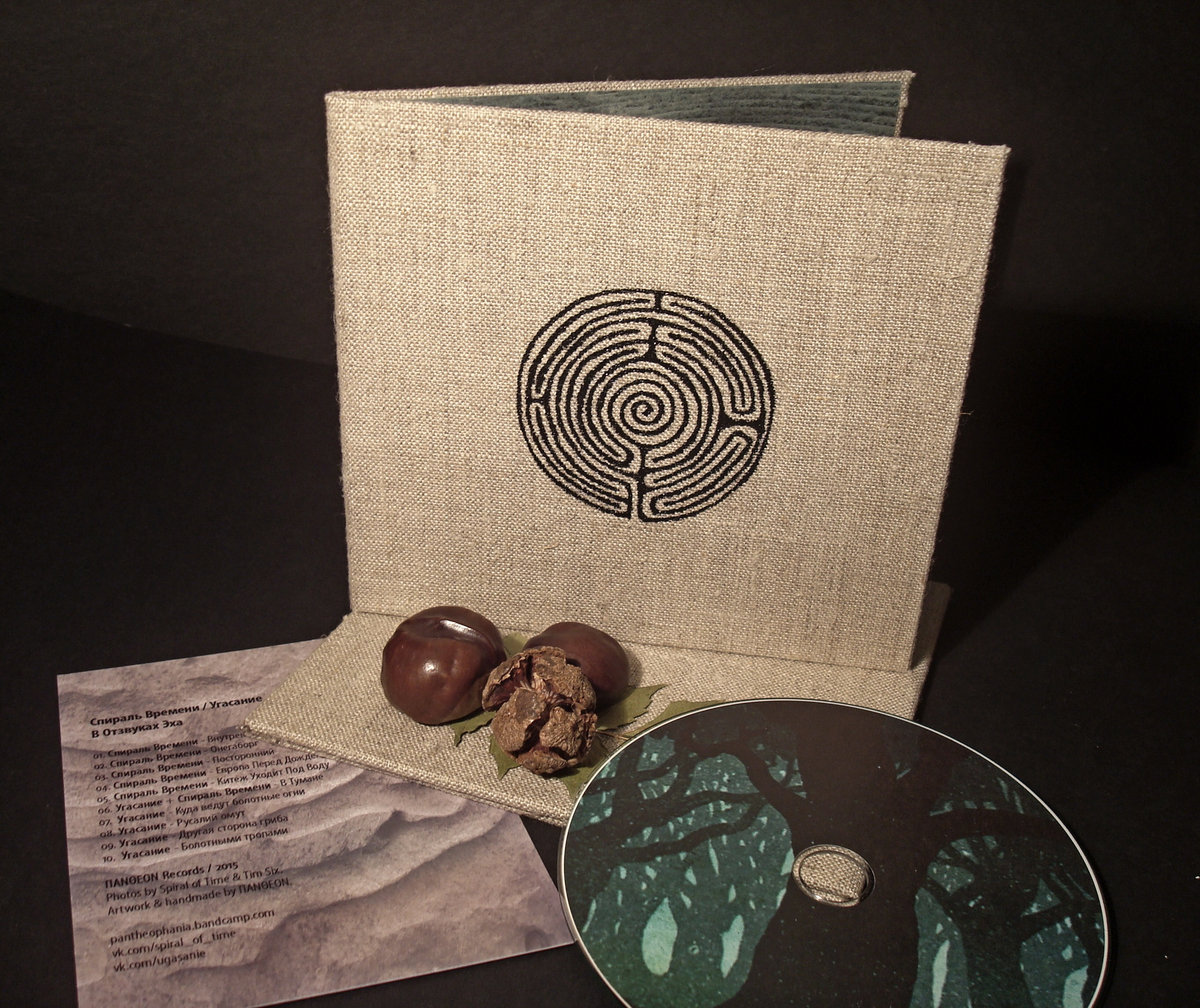 My final mini-review highlight from the ΠANθEON discography; had to end it somewhere or I'd be listening to nothing but for a long while.
In the folder name, this split release is listed as being from Ugasanie and Spiral of Time but the tags give both artists' names in Cyrillic as Угасание and Спираль Времени, so I'm happy for the folder title otherwise I'd never remember who it's by.
В Отзвуках Эха by Угасание and Спираль Времени (I'm already confused) consists of five tracks each from both artists, presented in its physical format in what looks to be a lovely cloth digipak with a labyrinth painted or stamped on the front. The tracks from Спираль Времени (Spiral of Time), who I'm not familiar with, are denser and murkier than those of Угасание, although both artists do seem to share a similar theme of isolation, with titles that reference places like Onegaborg in what is now the Republic of Karelia and Murmansk. With the exception of "Онегаборг", which features a prominent dungeon-synth-style melody for its duration, the Спираль Времени pieces are, for the most part, textured sound paintings that lean towards industrial ambient with their aural choices and treatments. The Угасание quintet of tracks have a more sedate manner, feeling less refined and rarefied than the series of releases on Cryo Chamber, but incorporating the same themes and aural aesthetics, all wind-swept tundra and icy isolation.