Kaya North deliver a dark ambient improvisation
which showcases some of the best elements of The Eagle Stone Collective musically, as well as in the physical release.
Artist: Kaya North
Album: That Comes from the Tree and the Mist
Release date: 3 February 2019
Label: The Eagle Stone Collective
Tracklist:
01. Animal Crown
02. Shamanic Blood Leaf
03. Ancient Conifers Reign
04. Prophetic Dusk
05. Oaks Ceremony
06. Primal Forest

The Eagle Stone Collective is a label out of France, run by Caleb R.K. Williams. A rough translation of his label's mission statement says:
"The Eagle Stone Collective is a musical project/collective on the fringes of ambient Americana, drone and other experiments. Influenced by the desert and natural areas of the wilderness of our world and beyond. A minimalist and emotional vision of a sensory universe."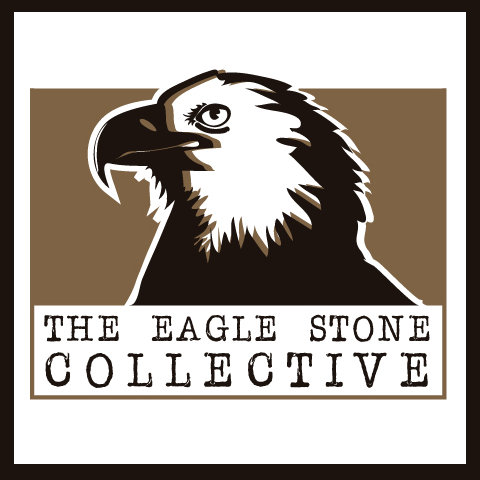 The label released their first digital album, Eagle Stone EP in 2015 and their first physical, Alaska in 2016. The label features a variety of guests including Abigail Lily O'Hara, who released the enchanting Meander late last year. John Scott Gartner has appeared solo, as well as part of Eagle Stone and Old Green Mountain, both of which are duo projects with Caleb R.K. Williams. But the majority of the label's releases are various solo works by Caleb R.K. Williams.
Williams uses various names to denote the different sorts of music he creates on the label, in a similar fashion to the structures Pär Boström (Kammarheit, Cities Last Broadcast, etc.) and Peter Andersson (raison d'être, Atomine Elektrine, etc.) have used over the years to denote their various styles of music. But unlike either of the aforementioned gentlemen, Williams not only uses his label for fully realized albums, it is also a place to release his experimentations and improvisations. The music that falls under this category is released under his real name, while the proper albums are released under one of his monikers (at least this appears to be the pattern from my perspective).
I've taken the time to detail the label itself here because I truly love what they are doing. I've been following The Eagle Stone Collective since about 2016 or early 2017 and I really enjoy everything they release. Some of the improvisations feel rougher than others, but that's fine, Williams is testing his musical boundaries before the eyes of the music community. It is a laudable task to simultaneously release many of one's wanderings while still managing to keep the releases feeling fresh and valuable (in the sense that their listeners' time is valuable and we shouldn't waste it listening to just anything, even an improvisation should leave the listener feeling rewarded, otherwise it shouldn't be released at all). I always feel that my time was well-spent listening to their albums. Be they improvs, solo experimentations of Williams, or a proper album release from one of their "groups/bands" for lack of a better term.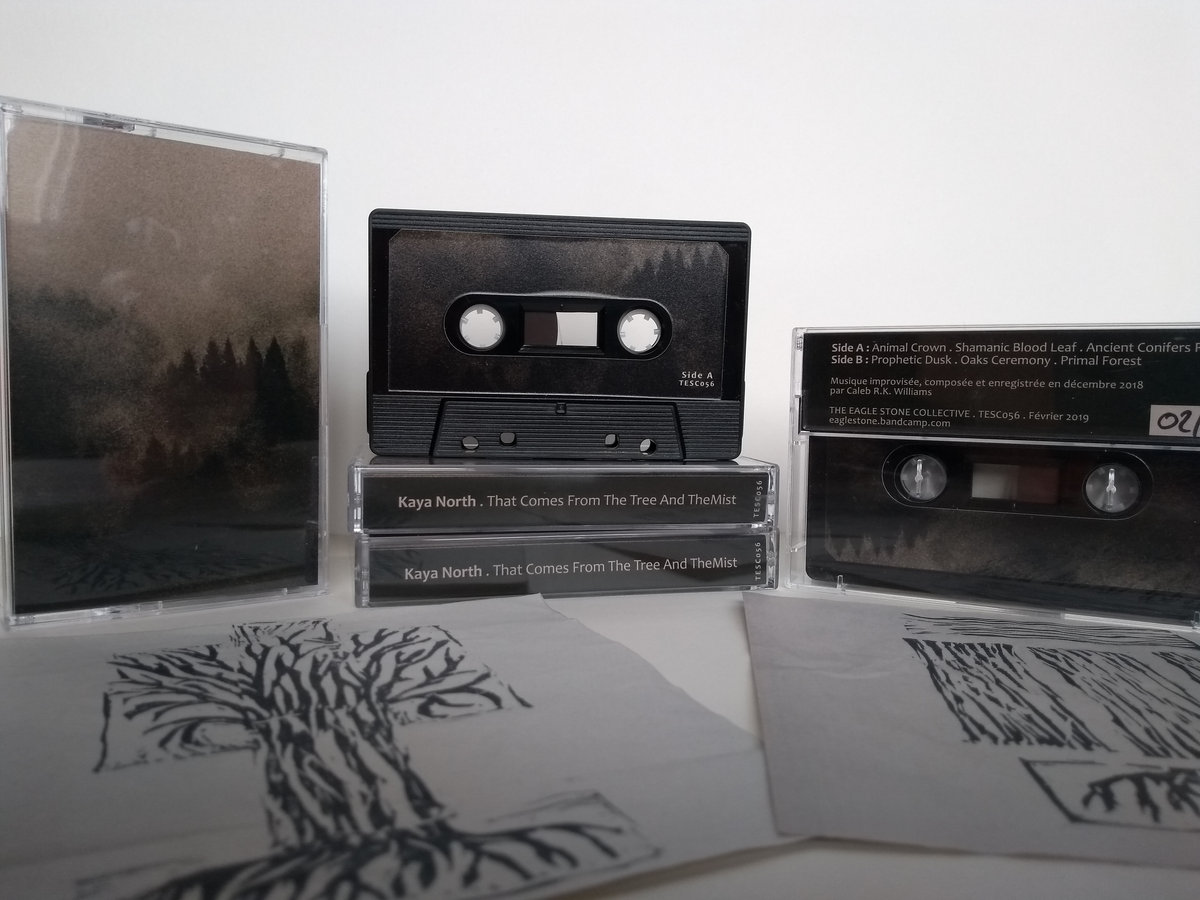 So now I'll get into That Comes from the Tree and the Mist! Kaya North is one of the proper solo projects of Caleb R.K. Williams. This one he describes as his dark ambient side-project. The album was released on cassette and CDr, both in ultra-limited editions. I'm not a huge fan of CDr for obvious reasons. But, when a label is doing an edition of only 15 copies in each format it would be absurd to expect them to be pro-manufactured CDs. Every label can't have the resources to create editions like Cyclic Law and Cold Spring. But, this is not a reason to shy away from the physical medium altogether. I think these ultra-limited editions are certainly a way of bridging that gap. Listeners that want something physical can feel that they have a truly unique piece of work in their hands, even if it isn't 100% professional (think professional = appealing to our 21st century corporate sensibilities. It wasn't created in a massive factory?!?! For shame!!!!).
That Comes from the Tree and the Mist is predominately a drone album. Just as conveyed on the cover-art, the music is like a thick dark fog creeping over hills and through foliage. There is a primal sense of wonder and darkness present here. There is a feeling of deep reverence and fear for/of nature, through an almost ritual lens. The ritual vibe is further evoked through the track titles themselves. Names like "Prophetic Dusk", "Oaks Ceremony" and "Shamanic Blood Leaf" nudge our understanding of the album in the right direction. This is music evoking the old world. Old Gods and old forests, old rituals and old traditions are all subtly evoked.
While the music on That Comes from the Tree and the Mist is improvised, it feels like it moves forward with a purpose. I don't feel that "meh, he did it in 45 minutes" vibe that I get from so many improvised dark/drone ambient projects. There is substance here, and there is music worth listening to more than once (more than 20 times in my case). There also appear to be field recordings present in a few sections of the album. Though, as the album is stated to be improvised, I wonder (and hope) that those field recordings are actually part of the improvisation. I like to imagine a window open in the studio, with a microphone aiming outward capturing nature, while simultaneously capturing his electronic alchemy inside.
While the CDr is long since sold-out (sorry, I'm moving slowly with reviews these days…) there are 2 copies of the cassette left as I type this. I personally purchased the cassette and can certainly recommend it to others (if cassettes are your thing)! It comes in a numbered j-card (I have number 10/15) with sticker labels on the cassette denoting A/B and showing that gorgeously gloomy forest from the cover (so many cassettes aren't being labelled at all these days!). It also came with two folded sheets of paper which appear to be stamped with hand-etched rubber.
I would highly recommend Kaya North's latest album. For those unfamiliar with The Eagle Stone Collective, this is a great place to start, especially so far as readers of This Is Darkness would be concerned, as it is more solidly dark ambient than many of their other releases. I would also recommend following the label in general, some styles of music they release are more to my liking than others, but I truly enjoy hearing each new release from them. It will be time well spent in a market that is becoming quite over-saturated at the moment.
Written by: Michael Barnett