Artist: Flowers for Bodysnatchers
Album: Alive with Scars
Release date: 5 March 2019
Label: Cryo Chamber
Flowers for Bodysnatchers is back with Alive with Scars. Duncan Ritchie's project has quickly become one of the most well-known in the dark ambient genre and a front-runner on the Cryo Chamber label, which he's called home since the masterpiece Aokigahara in 2015.
His first two releases on Cryo Chamber showed a dark and personal side of Duncan Ritchie. Aokigahara took us on a journey into the forest of its namesake in Japan. This forest has become notorious and recognizable to many around the world in recent years, due to the more widespread reach of social media and news websites. It's being featured in movies like A24's The Sea of Trees has only further solidified it in our minds. We knew that this was a sort of "potential suicide voyage" and the fact that Ritchie collected field recordings directly from Tokyo and the forest itself could lead us to believe that he may have taken this journey very seriously.
Love Like Blood, the follow-up to Aokigahara, added more pieces to the puzzle for us. We found out that, at least part of, this trip was due to a lost love and the emotional reverberations felt because of it. The picture was undeniably a personal one for Ritchie at this point. Not just a theme for an album, but a saddening memoir.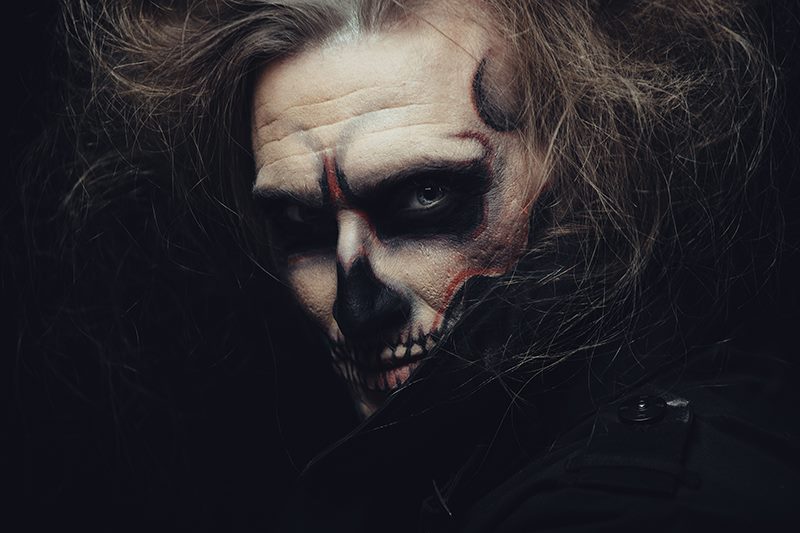 Alive with Scars takes us even deeper into the personal life of Ritchie. We are given a key to one of the underlying causes behind that eerie trip to Aokigahara. We find that the situation was not only one of personal incompatibilities and emotionally charged laments. Ritchie now shows us that a huge part of the puzzle comes from his struggles with MS. Here it is best to allow Ritchie's words to speak for themselves, as he explains MS and his struggles in dealing with it.
(Taken from the album blurb on Cryo Chamber)
Alive With Scars is an album that explores the life long struggle of living with Multiple Sclerosis. MS is an autoimmune disease where the body's own immune system attacks and destroys healthy tissue, in the case of MS, the healthy tissue is myelin, the protein that insulates the nerves in the spinal cord, brain and optic nerve gradually destroying the myelin that coats the central nervous system. Your body slowly beings wasting from the inside out by the subversion of its own central nervous system. A body that with the passing of time will waste and wither to its own unique sonnet of pain and torment.

I personally have lived with MS for almost 10 years and, this album has been an on again, off again affair for almost as long. Did I even want to do this? Will people understand it? It has been a difficult subject to approach and express musically. Yet I found I had been subconsciously doing it all along. From the formidably depressing album Aokigahara to the melancholic spitefulness of Love Like Blood. The narratives represented in these albums were backed by the way my MS affected me and the people around me. It's a long journey and Alive With Scars continues both the physical and emotional process of living life, trying to keep one step ahead of it and, trying to say sorry for the times I got things terribly wrong. – Duncan
This all makes a lot of sense when listening to the album, especially if you are familiar with Ritchie's previous work. There are certain sections, like the piano on the opening track, which harken back to previous works by Ritchie. The fact that he's been working through the material of this album for almost this full ten year period explains how some of the tracks will seem like things unusual to the Flowers For Bodysnatchers repertoire, while others will feel like they were taken directly from the sessions for Aokigahara and Love Like Blood. Some could be older pieces from styles which Ritchie has since distanced himself, while others could be glimmers of the future of the project.
From a technical standpoint, Alive with Scars is very much an active listen, more so than maybe any of his previous releases. This is particularly so because of the vast number of styles incorporated, as well as the several in-your-face uses of electronic percussion. It is also interesting to try to pieces together what elements may be time-capsules from several years ago, and which other ones seemed to be created/recorded over the last year, in preparation for the final album.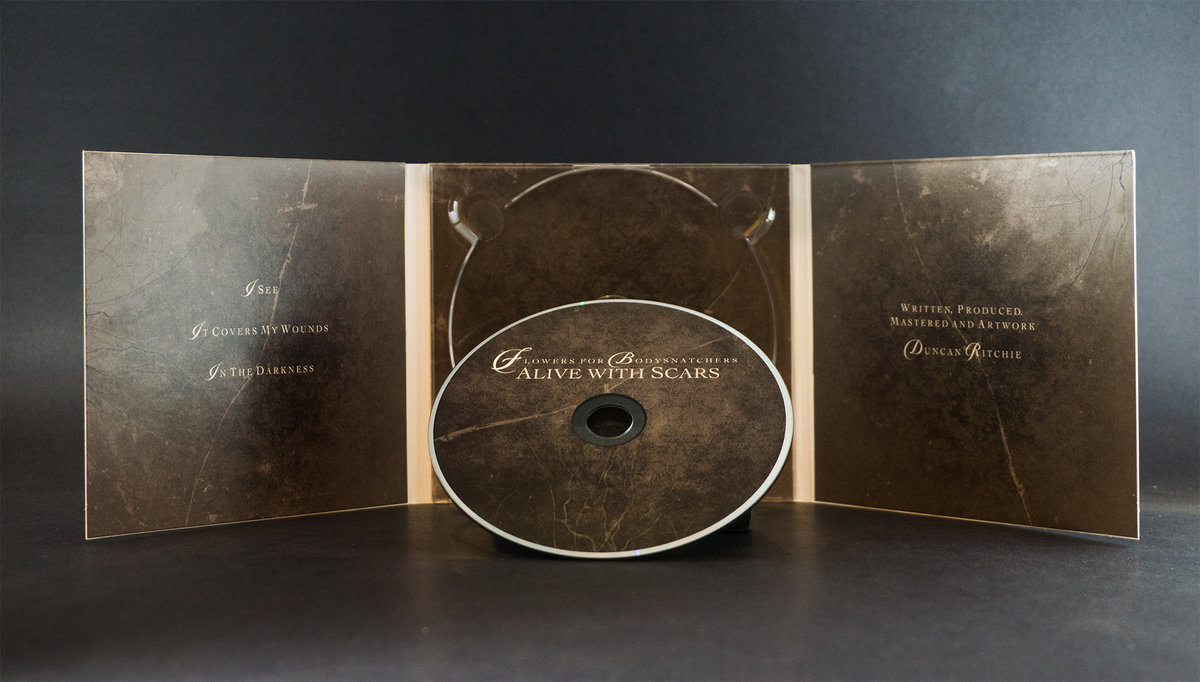 I see no point in going into detail here on a track-by-track analysis. I rarely read them myself when digesting someone else's review. The reviewers feelings about a track aren't what's important, yours (the listener) are. Suffice to say, I highly enjoyed each track on the album, and there is quite a bit of variation present in style, flow and emotion. Which is all to be expected when documenting the journey through physical (and so often as a result, also emotional) pain.
Unlike most releases on Cryo Chamber, but par for the course with Flowers for Bodysnatchers, the album was 100% created and realized by Duncan Ritchie. From field recordings and synths to artwork and mastering, this is from the heart of Ritchie himself. I always consider that a real testament to his talents, when such a skilled person as Simon Heath is usually the one behind the artwork and mastering. Heath is absolutely ruthless when it comes to details and final product, so there is no way he would allow an album to be released on Cryo Chamber that wasn't mastered by himself unless he really trusted and respected the work of Ritchie.
I can highly recommend this release. But, don't expect it to be one that you just put on in the background while reading. It won't do the album justice, and it will likely distract you if you are studying or reading. Give this one an hour in the dark with a nice set of headphones. It will be an hour well spent, and one sure to be followed by many more visits with this episode in the story behind Flowers for Bodysnatchers.
Written by: Michael Barnett