For this article I contacted Gretchen Heinel about her interest in hook suspension. I knew about her recent performance work here in The United States, but I was also aware that she had recently taken a "work" trip with her suspension team to Iceland. I didn't know how she would confront this topic, but I knew it was incredibly interesting to an outsider, and I knew that Gretchen would be the perfect person to convey this lesser known world to our readership. To my utter delight, Gretchen and Joe Carrotta were able to supply me with 80+ images from their 3 days of suspension in Iceland during the summer of 2018, and Gretchen agreed to write her account of the trip and her personal thoughts on hook suspension. I found the combination of these stories and images incredibly moving and inspiring. I hope the same for you all, enjoy!
Michael Barnett
Article text by: Gretchen Heinel
Photos by: Joe Carotta
"Does it hurt?"
My personal experience with hook suspension dates back to May 30th, 2013. My mother blames herself for my interest in suspension, citing a trip during my childhood to the Atlantic City Ripley's Believe It or Not museum as the moment when the seed was planted in my brain. I distinctly remember sitting in awe of a mannequin replica of a young Mandan man suspending as part of an Okipa ceremony. I think my mother gives herself too much credit, as I likely never would've suspended if I hadn't personally encountered folks through my photography work who themselves were involved with the practice. But who can really say specifically what triggered my interest? All I know is that, going into my first experience with suspension, I felt like I had something to prove to myself. I had to prove my toughness, my ability to conquer pain.
My first hook suspension, on May 30th, 2013, was facilitated by the New York chapter of Rites of Passage, which is aptly named. Leading my suspension was a man named Cere Coichetti. That day, that trial, was a college graduation gift to myself. I was joined by my friend Dorothy, who herself was also doing this for the first time. The position I'd chosen for myself was a lotus, which involved two hooks in the back and two hooks in each leg, holding me seated cross-legged in the air. Cere rigged my suspension in such a way that I was free to transition from that lotus position to a more upright position where only my back hooks would be holding me up.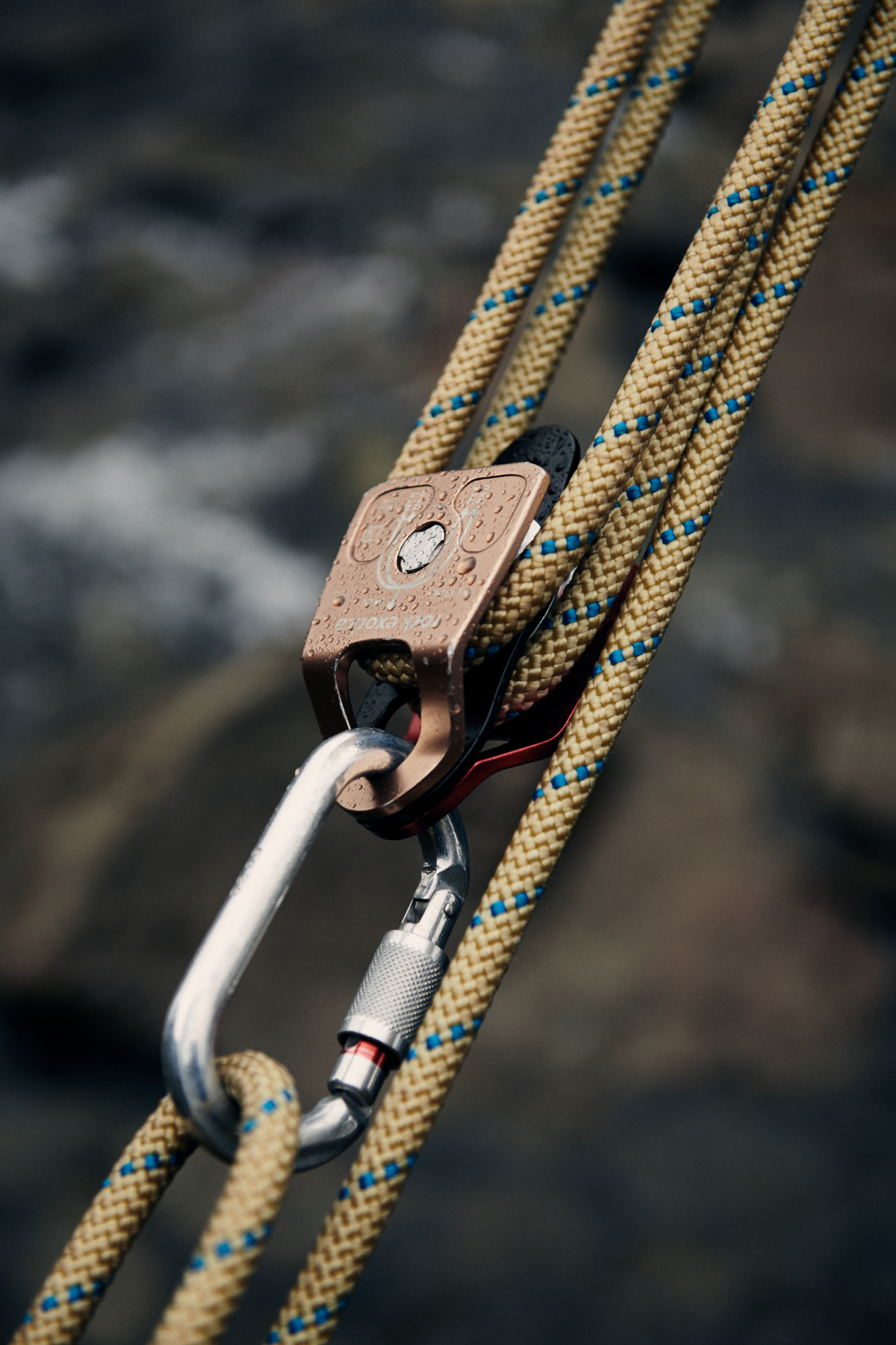 I can't say that my first suspension was a "good" one, I did not achieve enlightenment or feel timeless bliss. It was a struggle, and it was full of sensations I could not comprehend, as there is really no experience quite like it. I did not, that day, "conquer pain". However, for a brief, fleeting moment, I got a taste, a glimpse of what suspension really is all about. I experienced such an immediacy in my own body, such a level of internal focus on the self stripped of the constraints placed by ego. I later described the experience as "like a puppy being picked up by the scruff of the neck", because it was the only way I could find to describe the comfort in discomfort, and the childlike openness to every sensation that the experience brought forth.
I was giddy, even delirious, immediately following the suspension. My body and mind felt unmoored, the bounds of my reality had shifted and I was humbled by the sheer intensity of my experience. My concept of who I was and what I was capable of had become malleable.
Five years and almost 20 suspensions later, with a practitioner apprenticeship under my belt, I found myself battling sideways, freezing rain to rig a waterfall in Eastern Iceland for a three-day suspension event that I was hosting. Cere was there alongside me, as he had become a mentor and dear friend to me after a particularly beautiful suspension campout during the summer of 2014. Our trip was already off to an auspicious start, as Iceland was having the wettest and coldest summer weather in over 100 years. Additionally, the local grocery stores and banks were closed for a holiday which none of us travelers had even heard of. I felt a healthy dose of nagging self-doubt, as I feared I'd gotten not only myself, but eight other people, into a drastically different situation from what any of us had signed up for.
I realize that there is a certain amount of hubris involved in the decision to do hook suspension in Iceland. It's a land of extreme scenery and extreme weather, so why not add an extreme activity to the mix?
Two years prior to this trip, I'd visited Iceland for the first time, and it immediately became my favorite place. I fell in love with it for many of the same reasons that I fell in love with suspension: it's a humbling place that will quickly destroy best-laid plans and demand that you show up and accept it for what it really is. My initial visit was in late spring, though, and I was assured by both friends and the Internet that our trip in August would yield much more mellow and predictable weather. Clearly, Iceland had other plans for us.
Determined to follow through with what we'd committed to, we began rigging our first suspension of the day. A man named Warren had traveled all the way from Australia to suspend with us, and damned if we wouldn't give him the satisfaction of that experience. There was a brief respite from the rain and the wind, which was our cue to get started.
Warren was undertaking a chest suspension, a particularly challenging position, and one with little margin for error as it's extremely prone to "tearing", which is exactly what you think it is. Warren went up absolutely beautifully, and everyone present was silent in awe. His face had a look of peace and transcendence one rarely sees outside the context of suspension. I felt immense gratitude for having the opportunity to bear witness.
All too soon, though, we had to bring Warren down, due to tearing. Coincidentally, the weather then took a turn for the worse. I can't remember who made the call, but the decision was made to return to our guest-house and suture Warren indoors, where there was heat and a comfortable bed. No one else wanted to suspend that day in the worsening weather, opting to wait in hope for a better second or third day. Half the party went back with Warren, while myself and the rest stayed behind to pack up our rigging.
That evening over dinner at a (mercifully open) restaurant, I felt more than a little worried that we might not have enough time or good weather to suspend everyone who wanted to do so. We only had two days left, but there were six more people (myself included) who wanted to go up. I tried to reason with myself that three suspensions per day isn't particularly unusual or hard to facilitate, but a part of me knew that we wouldn't be getting better weather, and that everyone else in my party would need to accept, and even embrace, the reality of our situation. I wasn't sure if this was me asking too much of everyone.
Day two was even colder and rainier than the first, and only Tim went up on hooks. He opted for the two-point back suspension colloquially known as a suicide, due to the position it puts the body in. While we all huddled under layers and rain-resistant outerwear, Tim was happily jumping and leaping, shirtless, from rock to rock, our rig-line providing enough bounce to give an almost bungee effect. Clearly he was having a positive experience, despite or even because of the weather. Yet, no one else decided to go up that day. Everyone was hoping against all odds that the last day would be the best.
The last day handed us the worst weather of the whole trip. It was also both Cere's and Luna's birthday, an extra bit of comedy gifted to us by the old gods. The wind was so strong that we literally could not do the prep and piercings outside, as our supplies would blow away. We were confined to the cars for prep work, which were luckily roomy enough to manage. I wasn't even sure that I wanted to suspend that day, and I typically enjoy suspending in the cold.
Joe was the brave soul who did the first suspension that day. Like Tim on the previous day, Joe opted for a two-point back suspension. He went up smoothly, and almost immediately his face broke into a wide grin. He spun, bounced, lept, and danced in the air and on the ground, playing with every sensation in his body, feeling every moment. I was so proud to watch him in his bliss. He said afterwards that he didn't even feel the cold once he was up, there was a warmth to his experience that gave him a resilience in the trying weather.
Liz was next, with a forearm suspension. She bundled technical gear and warm layers around every part of her body, with the exception of her forearms. There was something almost poetic about the juxtaposition between her insulating, protective clothing and her bare, pierced skin. I was sure she was enjoying herself, even though I could barely see her face under the layers.
Two suspensions were left: mine and Luna's. Dorothy, who hadn't suspended since our first time together in 2013, opted to wait to experience what would have been only her second ever suspension at another time under more controlled circumstances. Luna decided to wait until a little later in the day, in the case that the weather would clear that afternoon. So I went up.
A two-point resurrection is my absolute favorite position when suspending. It involves two hooks placed side-by-side on the lower part of the ribcage, just above the stomach. It requires pure acceptance, as the more you struggle, the more your breathing gets panicked, the harder the suspension becomes. It's a feedback loop, not unlike that which a panicked diver experiences, that makes this particular position very challenging. I love it precisely because I cannot fight it. My acceptance of it is not passive or submissive, I'm actively choosing to experience the enormity of the suspension as it is, not as I want to make it.
My ascent was assisted by Tim, who stood behind me and provided warmth and solidity as I was pulled into the air by Cere. My surrender to the moment was immediate. I rocked slowly side to side, sometimes swung by Cere's movement of the rope, sometimes by the wind which now felt gentle and guiding. All the stress and worry over this trip, over whether everyone was getting what they wanted out of it, all of that was inconsequential. I existed, I was present, I was oh so very alive.
Eventually, the self-regulating part of my brain started to come back online, which signaled to me that it was, unfortunately, time to come down. I had gotten what I needed, now it was time to return to Earth, a little bit better for having taken that journey with myself.
I returned to the ground and was filled with an enormous love and gratitude for everyone there. They held me, supported me, and shared this wild experience with me. That overwhelming feeling of love and connectedness stayed with me as I readied for the last suspension of the trip: Luna's.
Luna is my blood-bonded sister. We met initially back in 2014 with the goal of creating a photo series about the mythology of Lilith entitled Lilith: From Myth to Flesh. In the creation of that project, we uncovered so much about ourselves and the paths we are walking. I could write a lifetime about what I've experienced with her and only scratch the surface, but suffice it to say, our lives are now inextricably linked.
Luna's mentor, Fakir Musafar, had passed away days before our trip to Iceland. Fakir was the man who brought body suspension and piercing outside the context of specific religious ritual, taking a "body-first" approach to spirituality. Those of us in the contemporary body modification community owe Fakir a debt of gratitude.
Luna was carrying the grief of his passing with her throughout the trip, and her suspension was in dedication to him. She also chose to suspend in a two-point resurrection. As she left the ground, the clouds and rain broke and she was bathed in golden sunlight. She gently swayed in the wind and chanted in memoriam. Her words seemed to come from beyond her, with her body acting as conduit. She was beautiful and heartbreaking, wonderful and painful to be in the presence of.
I wept as I witnessed her.
"So, does it hurt?"
This slideshow requires JavaScript.
"So, does it hurt?" This is the least interesting question of all, yet it is the most asked. How do I casually distill the enormity of suspension into a simple answer for such a simple question? How do I convey how reductive the concept of "hurt" is? Suspension hurts about as much as being part of something bigger than yourself hurts. Suspension hurts about as much as community hurts. Suspension hurts about as much as personal growth hurts. Suspension hurts about as much as love hurts.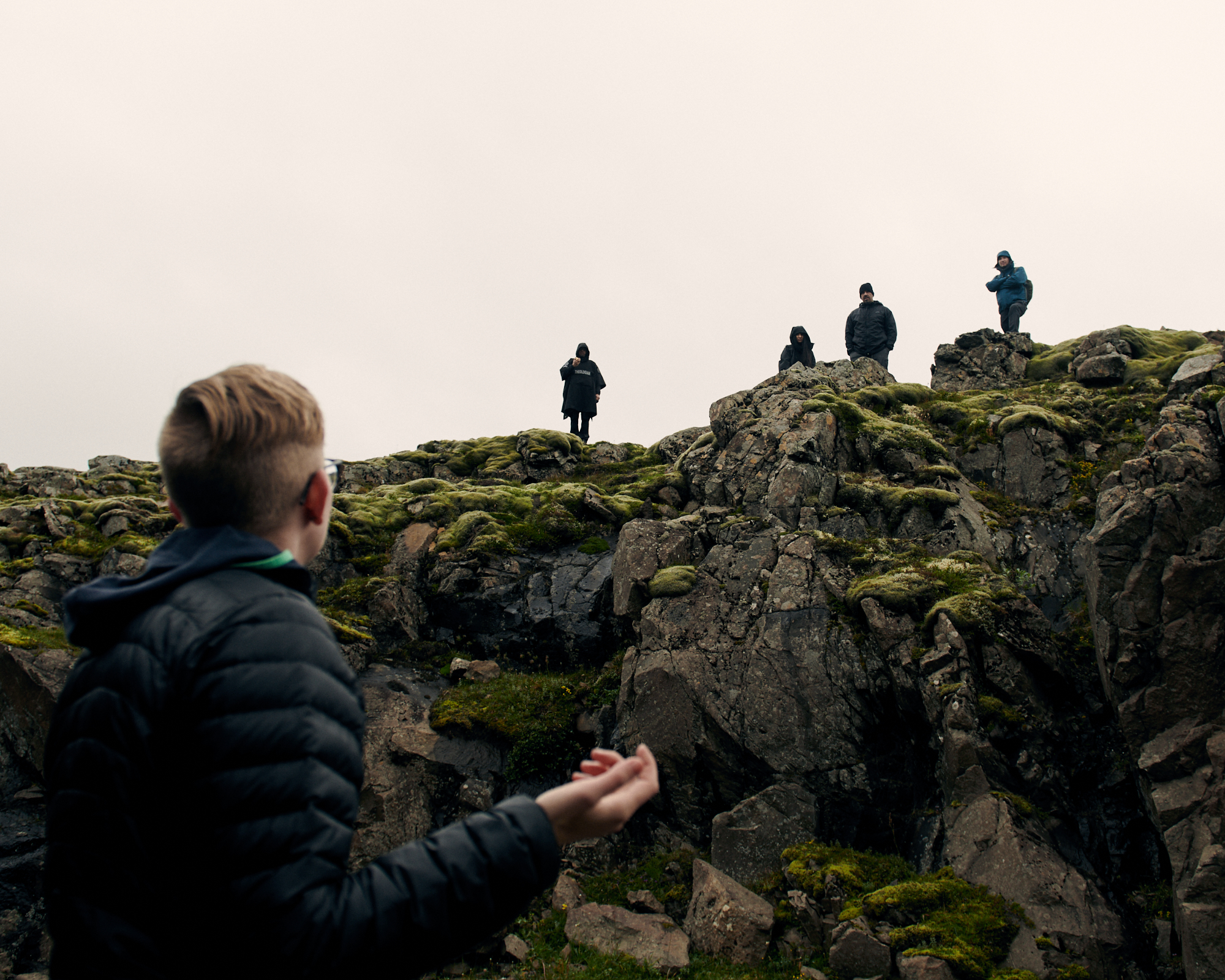 Iceland was a reminder for me not to shy away from discomfort (which, honestly, is a far more accurate one-word description of the physical sensation associated with suspension). That place outside of my comfort zone is where I find, not what I want, but what I need. Beyond that, though, it reminded me to trust in the people around me, who all showed up for an experience that, while never easy, was endlessly rewarding. I am full of love and gratitude to my hook family, and I look forward to a future sharing more absurd, awe-inspiring experiences with them.
Gretchen Heinel is a photographer, filmmaker, performance artist, and hook suspension artist based in Nyack, NY. Her body of work includes collaborations with extreme and underground musical acts such as Theologian, Batillus, Lord Mantis, and Sabbath Assembly.

Her hook suspension team, White Flag, has announced the dates for their 2019 campout as July 22-26. The event will take place in rural Pennsylvania, USA. For more information, or to reserve a spot, email: info@gretchenheinel.com or cerewf@gmail.com.
To keep up with Gretchen's adventures, follow her
@gretchenheinel on Instagram.
Check out the links to everyone's projects and social media below the gallery.
Links
White Flag website
Joe Carrotta
Cere Coichetti
Luna Duran
Luna + Tim Gerdes
Liz Dodge