On this weeks edition of Frozen In Time you will find a few teasers that I have been highly anticipating. There is a nice variety of artists announcing or releasing new albums, I have included several upcoming Cadabra Records releases which I highly recommend if you are even remotely interested in spoken word art. Previously released interviews from Terra Relicta are continuing to be re-published here on This Is Darkness by the grace of Terra Relicta's boss-man Tomaz, so another thank you to him for allowing the re-publication of these.
A correction from a review last week is in order: Svartsinn – Collected Obscurities is a joint release between Old Captain and Cyclic Law. I initially only credited Cyclic Law as the release label. You can find a link to that review and the rest of our weekly publications at the bottom of this article.
Wishing everyone a great week and I hope you will enjoy this weeks segment!
New Releases and Pre-orders
A Bleeding Star – New Single Released
Their (apparently) weekly single has just been released. Check out "It Never Ends​.​.​.​So Hence Comes Again Haegl's Resurgence With the Crone's Bonechillin' Presence". It is 'name your price' so no excuses!

Altarmang – LP Released
Altarmang, which consists of Kenneth Hansson and Pär Boström of (Kammarheit and Hymnambulae) have just released the LP version of their debut album Void, which was previously released on tape in a very limited number of copies. Void is now available on vinyl through Autarkeia here. Here is the teaser video for the LP!
Aura Negativ – New Album Revealed
Oddity Moon is the latest by Aura Negative. The space ambient album is due for release on Obscure Dungeon Records in July.

Bonini Bulga – Teaser Video Released
Bonini Bulga is the latest project unveiled by Hypnagoga Press. Sealed consist of bleak, minimalistic music made by Pär Boström (of Kammarheit and Cities Last Broadcast fame), using synthesizers, effect pedals and loops. The physical cassette is only included in The Solar Zine, issue 3. Receive a digital copy of the The Solar Zine for free on the day of the release – by signing up for their newsletter, The Lunar Letter, here.

Cadabra Records – New Album Announced
Cadabra Records is proud to introduce the ultimate audio adaption of H. P. Lovecraft's Fungi From Yuggoth. Masterfully ready by voice actor Andrew Leman are 36 sonnets of pure nightmare as only Lovecraft would write. Accompanied is a beautiful and haunting soundscape by Theologian who draws you into a dream world of horror and imagination. Fungi From Yuggoth, originally written between 1929 and 1930 and remains one of the most iconic and nightmarish collection of poems ever written.
Fungi From Yuggoth is read by Andrew Leman, a partner of the H.P. Lovecraft Historical Society, a professional actor with years of stage, screen, and audio performances, his voice capturing the proper terror, dread, suspense, and madness of Lovecraft's stories.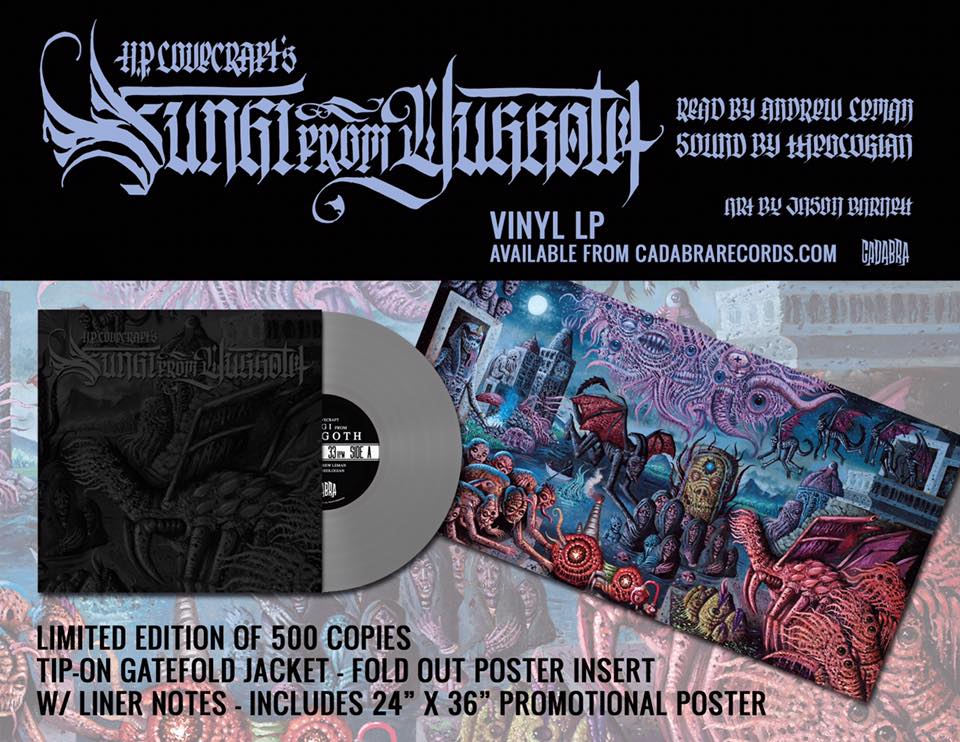 Cadabra Records – Pre-orders Available
The spoken/horror arts curators at Cadabra Records announce the label's most ambitious project yet, with the upcoming release of ROBERT W. CHAMBERS' The Yellow Sign, the cult classic which inspired the acclaimed HBO series, True Detective. The story has here been professionally recited by popular filmmaker and actor, Anthony D. P. Mann, the LP featuring extensive notes by weird fiction scholar S. T. Joshi, and a brilliant and haunting score by composer Maurizio Guarini, of Italian prog/horror ions, Goblin. Purchase here.

Cruithni – New Album Released
"Chronicle goes back to the era of the ancient and mythic landscapes of pre-Christian Scotland where the mystic Pictish tribes and Druids reigned across a primitive homeland. To feel the primal pull of ancestors and the long forgotten DNA of tribal connections. A time when man lived in tune with the Earth and her cycles. A known reverence for the land was common and a natural spirituality steeped in native animals, sacred hunts and rituals that took place year round.Throughout history, these Picts have been shadowy, enigmatic figures.From the outset, they were regarded as savage warriors but by the time the Norsemen were compiling their sagas and histories, the memory of the Picts had degenerated into a semi-mythical race of fairies.Theories abound, although these days it is generally accepted that the Picts were not, as was once believed, a new race, but were simply the descendants of the indigenous Iron Age people of northern Scotland."

Dungeon Synth Compilation – New Album Released
Artifacts From The Shadow Realm is a 'name your price' dungeon synth compilation curated and mixed by Kaptain Carbon, a big player in the dungeon synth Facebook community and beyond. This is a great place to get an idea of what dungeon synth is all about if you haven't yet delved into the genre, or maybe haven't since way back in the Mortiis CMI days. While most of these artists are up & coming in the genre, you will have a wide range of sounds and a good idea of the genre from this compilation.

Enearth – New Album Released
New experimental Dark Ambient album, The Gray Lights, from Enearth (Sycanthrope Project)

Hypnagoga Press – New Issue of The Solar Zine Announced
"The Summer Solstice issue of The Solar Zine, 2017, will be released on June 21st.
This issue marks a new phase for Hypnagoga Press. During the past months we've begun a mapping process, as a part of deepening the work done through Hypnagoga Press. A mapping of the inner worlds we wish to journey and manifest, and of the places and projects connected to them. This issue presents a first version of this map. Included in the issue is also the album Sealed by Bonini Bulga, a cassette limited to 50 copies. Bleak, minimalistic music made by Pär, using synthesizers, effect pedals and loops.
We look forward to sharing all this with you.
Receive a digital copy of the The Solar Zine for free on the day of the release – sign up to our newsletter The Lunar Letter on our website: www.hypnagogapress.com
The physical zine comes both with a cassette and a download code to a digital version of the album. *The digital zine doesn't include a download code.*"
Jarl – New Album Released
"Without taking as much as a short break, Jarl is returning with the new production Hypnosis Colour, mastered by fellow musician Peter Andersson (Raison D'être) and arts crafted by Karolina Urbaniak.
Continuing from where Amygdala Colours – Hemisphere Roation ended, Jarl takes us on a 47 minute trip further into the psyche of human mind.
Hypnotically coloured sounds that evolves into a mixture of acoustic and electronic sounds are to be expected. Disturbing and beautiful."

Kalpamantra / Malignant Records – Massive Compilation Released
Recrudescence is the latest collaboration between Kalpamantra and Malignant Records. This massive compilation features tracks from artists on the Malignant roster, some well known artists and others who have yet to release their Malignant debuts. This is a fantastic way to quickly and easily learn more about the breadth of music released by the esteemed label Malignant Records, compiled in a digital only, reasonably priced format.

Las Paccariscas – New EP Released
The Voice Of W​.​A​.​R. Part II is an EP by the Ukrainian dark ambient artist Las Paccariscas. I first was introduced to his music last year on a Kalpamantra release. He would soon after contribute an excellent track to the Terra Relicta compilation I curated and released last year, which you can find here. Definitely an interesting and underrated project to follow.

Paragraphs – New Album Released
"The Children Are Orphans Now is a follow up to I Went Outside, I could Hear The Houses Breathing, They Were Alive. This album is everything I intended the first album to be. It is heavier, gloomier, more experimental, and instead of focusing on the bittersweet and potentially poetic aspects of depression, this album focuses on the inescapable, thrashing desperation of various mental illnesses. Once again, in this album I attempt to fuse, dark ambient, shoegaze and post-rock. This time with a bigger emphasis on gloom and lo-fi production. All purchases of this album will come with a bonus package which includes artwork, diary extracts and poetry."

Vacant Stations – New Album Announced
Clones is currently in production and is due to be released at the end of summer 2017. Winter Light are very excited about this release from this relatively new artist based in London, UK. Having previously released one digital album on Bandcamp, Vacant Stations will now be gracing their roster of artists over at Winter-Light. The full album of over 60 minutes of music, spanning across 13 tracks, will put a new slant on the dark ambient genre with additional experimental touches, tinged with dark and doom laden elements. Check out the details here.
Other News
Father Dagon
This is Father Dagon S01E06 Vincent Abbott. Written by Victoria Snaith, produced by Dread Falls Theatre. Original soundtrack by Seesar. For more information, or to donate, please visit www.dreadfallstheatre.com/podcasts or www.patreon.com/dreadfallstheatre

This Is Darkness: Week In Review
New Mix – Dark Forest Reigns
Travel deep into the dark and malign forests. The birds sing, but the song is wrong. The rains fall, but the Earth they touch is distorted and perverse. Let this combination of nature and darkness enshroud you in the mysteries of the ancient woodlands, where daemons and faeries dance among the flames of ancestral fires.
Listen to the mix here.
Mortiis – The Unraveling Mind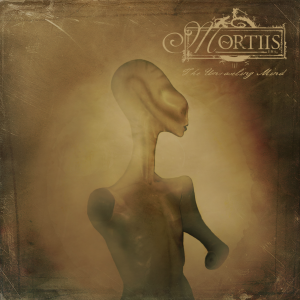 The Unraveling Mind is highly enjoyable and entertaining from beginning to end. Leaving me a bit surprised that Mortiis hasn't put more attention into this area of his sound, which seems to fit him quite naturally. This certainly is not the usual Mortiis fare. Whether you are a fan of his Era I work, his later albums or neither, The Unraveling Mind is certainly worth a listen. I thoroughly enjoyed this side-step of Mortiis and would be pleased to hear him create more music in this vein over the coming years.
Read the full review here.
Ager Sonus – Interview
Ager Sonus is a dark ambient project out of Germany. While he has had several previous self-released albums, Book of the Black Earth is his first major label release. Releasing through Cryo Chamber immediately drew a lot of attention to his music and it seemed like the perfect time to get in contact with him and find out more about Ager Sonus. Thomas talks to me about some of his inspirations, recording techniques and the history of his musical career. As always, I hope you'll enjoy the interview and definitely give his music a listen!
Read the full interview here.
Black Mara – Interview
Black Mara Records is a relative newcomer to the genres of dark, ritual, and drone ambient. They have been able to quickly solidify their position as a premier Russian label. Including albums from Ad Lucem Tenebratum and Ugasanie, as well as compilations with some of the most promising new artists around the world, Black Mara has set themselves apart. Each release has its own unique packaging, coming with magical stones, herbal-teas, and various box-set formats filled with goodies. I had plenty of reason to get in touch with Dmitriy the owner of the label. We spoke about his mission for the label, along with the subjects of the gods, and some of his personal tastes. Enjoy the following interview conducted from opposite sides of the globe.
Read the full interview here.
Please consider making a donation!
This Is Darkness has gone live with the help of friends and supporters. I have been disabled since 2015, due to a spinal injury. Any support that can be given is greatly appreciated. Donations will go toward the maintenance of this site as well as additional promotion to increase its reach and influence. You can help through the donate button below,  or follow this link to the This Is Darkness Patreon page here.