Michael's message:
What an incredibly turbulent month! I had no time to feel sorry for myself about missing the CMI 30th Anniversary show, I've been moving into a new (temporary) home over the last few weeks. I'll likely be moving again within the next month or two (hopefully to my own place finally).  In the meantime I'm going to try my hardest to keep This Is Darkness going at a reasonable pace. But the good news is that I was approved for disability a few weeks ago and have now moved out of the place that was demanding entirely too much of my time. So This Is Darkness should be my number one priority and should be updated at a much more frequent pace in the very near future.
There are a few really interesting articles in the works, some should become available over the next week, others will take a bit longer to be fully prepared. This edition of Frozen In Time is covering about 2 1/2 weeks and there were a good many interesting releases over this time. I definitely recommend that everyone watch the two music videos at the beginning of this article, they are both really awesome! I hope everyone is doing well and that everyone made it home safe from the CMI and Wroclaw Industrial festivals.
Anyone interested in helping to support my relocation fiasco, anything is appreciated. As usual, you can find several ways at the bottom of this article to support This Is Darkness. Now that my personal crap is out of the way, let's get into the music!
Music Videos
Anemone Tube – "The Three Worlds" live set Berlin 2017
1/2

2/2

Mebitek – "The End of Everything (Funeral Movement)"
"A shortfilm by mebitek cinematics (mebitek & Serena Pilloni)
A bizarre, surreal and grotesque pantomime, in which the Unconscious (based on Jung's thories) is explored, inside a mind afflicted by a personality disorder.
After the whirl and creation, we finally reached the final chapter: the funeral. Leading us to a Shakespearean reborn, but sentenced to survive in an eternal loop, until the end of time."

Qeight – "Eniloctus" feat. Polina Leonteva
Get the track on Bandcamp here.

New Releases & Preorders
A Bleeding Star – New Single Released (Digital Only)
"I May Be Drownin' Underneath Icy Current…But At Least I'm Not Homealone Reboundin' In Regret" is the latest 'name your price' single by A Bleeding Star. An interesting release which incorporates many experimental uses of electro elements along with some bold percussion comes together brilliantly for a warm thought provoking track.

Ajna – Preorder Available (Reverse Alignment – CD/Digital)
"2016 saw the release of Ajna's debut on Reverse Alignment; "Inevitable Mortality". An isolationist journey through desolate landscapes. External, but most of all internal. On "An Era of Torment", Chris F plunge deeper into the darkness of the soul. This time derived from psychological battlefields contemplating on lo-fi textures, blackened drones and abandon hopes."
Releases December 22, 2017.

Alone in the Hollow Garden – New Album Released (2xCD/Digital)
"This present material is a follow up to the former "Akashic Records" double CDr released two years ago. But most of the present channellings were actually recorded prior to the above mentioned material.
The current collection celebrates the healing & renewing power of the Total Solar Eclipse which took place on the 21st of August 2017, by symbolically releasing the past to invoke a clear space for future manifestations."

Aram 17 – New Album Released (Cephalopagus – Digital)
"'Necromancy' is the third official album of the Armenian dark ambient project Aram 17,album idea inspired by a supposed practice of magic involving communication with the deceased – either by summoning their spirit as an apparition or raising them bodily – for the purpose of divination, imparting the means to foretell future events or discover hidden knowledge, to bring someone back from the dead, or to use the deceased as a weapon, as the term may sometimes be used in a more general sense to refer to black magic or witchcraft.
The word "necromancy" is adapted from Late Latin necromantia, itself borrowed from post-Classical Greek νεκρομαντεία (nekromanteía), a compound of Ancient Greek νεκρός (nekrós), "dead body", and μαντεία (manteía), "divination by means of"."

The Cherry Blues Project – New Album Released (Petroglyph – Digital)
Note: As with all Petroglyph releases, this album is 'name your price'.
"It is a collection of tracks inspired by childhood memories and vacations spent in the city of Gualeguaychu (Entre Rios province, Argentina) during the nineties. We tried to capture the feeling of the city on those days, the noise, the train, the cars, the winter, and most of all, the memories attached to that special place for us."

Coven – New Album Released (Noctivagant – CD/Digital)
Coven deliver an album in Suicide which is filled with field recordings, crushing drones and ritual undertones. Enjoy late at night, enshrouded in incense, by the light of a single candle.

Eighth Tower Records – New Compilation (Eighth Tower – Digital)
"One of the great axioms is, "Within everything is the seed of everything," although by the simple processes of Nature it may remain latent for many centuries, or its growth may be exceedingly slow. Therefore, every grain of sand contains not only the seed of the precious metals as well as the seed of the priceless gems, but also the seeds of sun, moon, and stars. As within the nature of man is reflected the entire universe in miniature, so in each grain of sand, each drop of water, each tiny particle of cosmic dust, are concealed all the parts and elements of cosmos in the form of tiny seed germs so minute that even the most powerful microscope cannot detect them. Trillions of times smaller than the ion or electron, these seeds–unrecognizable and incomprehensible–await the time assigned them for growth and expression."

The Embers of Tara – New Album Released
(Grey Matter Productions – Cassette/Digital)
Grey Matter delivers some exquisite lo-fi dark ambient / dungeon synth music to drag you into the haze of night in the Realm of Sleep.
"As summer lays dead and the fiery hues of autumn fall to the ground to be covered by frost each morning, the Realm Of Sleep shall soon come to mourn the seasons of warmth and plenty, and usher in the frozen desolation of Winter."

Fabio Keiner – New Album Released (Petroglyph Music – Digital)
Note: as with all Petroglyph releases this one is 'name your price'! "Fabio Keiner came late to music and music making; interested in sound rather than in music. ('I hate music, but I love sound':)) – in the sound of wind and waves (and windharp and generative programs and humming:). if a decisive influence, than that of giacinto scelsi and of klaus wiese, whose music taught me a lot and is stull teaching me.)"

Fief – New Album Released (Digital Only)
Dungeon Synth masters Fief have returned with their third album, III. Expect the same levels of beauty and craftmanship seen on their first two releases, but taken yet again to a new level. For anyone unfamiliar with Fief this is certainly one of the better current dungeon synth acts, so definitely check this out!

The Inquisitor – New Album Released (Dark Age Productions – CD/Digital)
Note: This is a dungeon synth release!
"The debut album 'Rise & Fall' by THE INQUISITOR uses an epic orchestra to tell the story of an adventurer who sets out for glory only to find his path marred by dread and despair.

Lugubriousness – New Album Released (Cephalopagus – Digital)
Some harsh and deeply disturbing dark ambient music that I suppose would fall under the banner of "horror ambient". This release is sure to take your mind to the darkest of territory.

Macelleria Mobile Di Mezzanotte – New Album Released
(Signora Ward Records – CD/Vinyl/Digital)
Macelleria Mobile Di Mezzanotte bring together the genres of dark ambient, dark jazz and a bit of harsh noise to create an album that feels truly unique and atmospheric. Not your typical dark ambient, but definitely worth a listen!

Melankolia – Preorder Available (Hypnotic Dirge – Digital)
"Ambient / Neo-classical artist Melankolia presents their fourth full-length album 'Vividarium Intervigilium Viator'. Founded by musician Mike O'Brien, (Appalachian Winter, Veiled Monk, Ritual in Ash) Melankolia has been releasing introspective and thoughtful music since the project's beginnings nearly 10 years ago."
Mike O'Brien states:
"This album bridged nearly 5 years of hardship and resurrection in my life. Thematically, this album is a journey of OUROBOROS in my personal life; self-cannibalizing at one end, enigma of absolute perpetuality at the other. It wasn't the project that changed, but me. The music was always there, but I had to learn to extricate it from the ruins of a life that was no more. In this way, the album is a study of personal catharsis."

Mykja – New Album Released (Faint – CD/Digital)
"North Paths is the first album by Mykja. An immersive journey through frozen soundscapes."

Poetry of Thorns – New Album Released (Kalpamantra – Digital)
Eyes To Breath is an experimental dark ambient release with ties to glitch which brings to mind the music of acts like Access To Arasaka, Subheim and Bad Sector. A worthy listen for those that don't mind a bit of electronic percussion and other techno-leaning soundscapes.

Rafał Kołacki – New Preorder Available (Zoharum – CD/Digital)
"Rafał Kołacki's new album entitled 'Ā'zan. Hearing Ethiopia' is another set of field recordings of this artist in which he aims at an in-depth analysis of the audiosphere of a big city. This time of Addis Abeba, the capital of Ethiopia, the place with an extremely wide range of sounds. A multicultural city, both ethnically and religiously, where there are many different languages and different forms of religious activity. The voice of Muezzin praying in the distance, the Christian songs sung in the church or played through loudspeakers throughout the day. It all remind us of the openness and tolerance of the Ethiopians, their ability to function in mutual symbiosis, beyond religion and politics."

Shivrag – New Album Released (Noctivagant – CD/Digital)
An intriguing dark/ritual ambient album that includes a combination of sweeping drones, rituals which include vocals and percussions, and extended vocal samples.

Winterblood – New Album Released (Digital Only)
Winterblood gives us the entirety of the Waldeinsamkeit trilogy in this latest release. Waldeinsamkeit I-III are some of the coldest tracks yet by Winterblood and are highly recommended!

This Is Darkness Recently Published Articles
Danny Mulhern (with London Contemporary Orchestra)
Reflections on a Dead Sea – Review by: Maxwell Heilman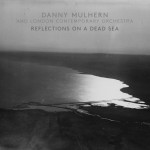 Minimalism and atmosphere are nothing new to contemporary composers like Mulhern, but Reflections on a Dead Sea bridges the gap between dark ambient and modern classical in ways not often heard on either ends of the spectrum. Rich compositional potential commingles with introspective sonic platitudes, yielding a profoundly stimulating experience.
Read the full review here.
Frigid Horizons – Dark Ambient / Dungeon Synth Mix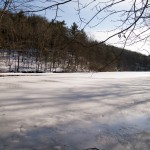 Follow the protagonist through the coldest and bleakest northern horizons. From cold windy shores to the peaks of the tallest mountains he moves through these landscapes unwaivering in his will to push forward, searching for new lands and better days. Dark ambient and dungeon synth come together for this calming yet bleak and unforgiving wintry mix.
Listen to the mix here.
Sky Burial – Chapel Image
Review by: Przemyslaw Murzyn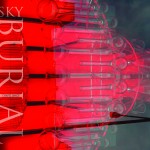 "You may think of dozens of expressions to describe Sky Burial music, but "intimate" or "austere" definitely are not one of these. Michael Page surely knows how to overwhelm the listener with his vision and this album proves it once again."
Read the full review here.
Please consider making a donation!
This Is Darkness has gone live with the help of friends and supporters. I have been disabled since 2015, due to a spinal injury. Any support that can be given is greatly appreciated. Donations will go toward the maintenance of this site as well as additional promotion to increase its reach and influence. You can help through the donate button below,  or follow this link to the This Is Darkness Patreon page here.