Another move is underway and then things will be back to normal. This post should cover all releases from mid-December through mid-January. There have, obviously, been a ton of albums released over this last month. With all the awards lists and such being published around this time of year a lot of these albums get lost in the chaos. So, take your time browsing the latest offerings from the dark ambient community!
Music Videos & Teasers
raison d'être – Alchymeia – official album teaser 2017
Artwork by Nihil. Music and video by raison d'être. Releasing soon on Cyclic Law.

Atrox Pestis – Music Video for "Hewn by the Hands of the Damned"

Ashtoreth and Tiloh – Music Video by Tim VDS

Astral & Shit – New Album Teaser

Darkleaks – The Ripper Genome
Documentation of a performance that took place during book launch at Horse Hospital on 11 April 2017.

Hadewych – "Welving" Trailer
Though the project of Dutchman Peter Johan Nÿland, contributions from members of Trepaneringsritualen, Dead Neanderthals, Turia and veteran experimental vocalist Greetje Bijma, help Hadewych to function more as a collective as it amorphously shapeshifts and navigates through a broad swath of styles. And yet, Welving is so finely honed and skillfully crafted, that it works as a singular,whole, never losing a firm grasp on what remains at the core of its unique and dynamic sound. Still, it is nearly impossible to classify or define, utilizing a broad array of instrumentation, working in the monolithic, organic and the acoustic, and filtering it through a complex network of darkened, post-industrial, post-black, ritual hallucinations, and noir-ish Bohren And Der Club Of Gore death-jazz, with a steady stream of insistent bass, percussion, and spoken narrative to propel many of the tracks forward. Hadewych defines their music as black rituals channeling the ultra-grotesque, which is about an apt description as you're going to find, and yet it's that vagueness and ambiguity that manages to sum them up perfectly. One of the most unique and exceptional releases under the Malignant banner, and highly recommended for those not unafraid to venture into realms unknown.

ia~mt~hi~ng ~ – Music Video for new track "Transcend"

New Releases & Preorders
Atrium Carceri, Cities Last Broadcast & God Body Disconnect
– New Album Released
(Cryo Chamber – LP/CD/Digital)
"Atrium Carceri, Cities Last Broadcast and God Body Disconnect collaborates on this foggy noir album.
The invitation came in a cinnamon scented envelope. It had been years since your last visit to the hotel, before the headlines of murder had shut it down. Was it re-opened after all these years?
A bottle of pills later, your car pulled up outside the old building. The lights were on, struggling to cut through the heavy fog. Distant voices and music lingered like smoke as you entered the lobby.
Miles to Midnight is a Dark Jazz Ambient album with a Lynchian Noir feel: A hotel trapped between two worlds and a detective with a traumatized past.
God Body Disconnect's live jazz drums and cinematic wall-of-sound builds the foundation of the mysterious hotel. Cities Last Broadcast brings ghostly tape loops and melodies stuck in time. Atrium Carceri dusts off his old pianos and shatters reality with low bass rumbles and brings you into the other side of the hotel. For lovers of smokey soundtracks to unwritten movies."

raison d'être – Pre-orders Available (Cyclic Law – 2LP/CD/Digital)
"It's with great honour that we present the latest album by Swedish dark ambient stalwart raison d'être. This time Peter Andersson scrutinizes the paths of Carl Gustav Jung's notions of archetypes and the individuation process. Just like Mise en Abyme, the previous raison d'être album from 2014, Alchymeia is diving deep down to the shadows of the unconsciousness, and back to a dawn of the true Self. Confronting the shadow within is the darkest time of despair. There seems no way forward, only down. All is blackening and decomposed. Suddenly, through an enantiodromia, the ever deepening descent into the unconscious transmogrifies and becomes gradually illuminated. The melancholia is being purified. Alchymeia is in a sense the "raison d'être" of raison d'être, a shadowy journey through our unconscious the individuation process and archetypes. This release also marks the first time a raison d'être album will be available on vinyl."
CD edition of 500 Copies in 6 panel Digisleeve. 4 Tracks.
Vinyl edition of 200 Copies in Gatefold Double LP. 4 Tracks.
Digital edition in 24bit – 96khz Exclusive to Bandcamp
Releases January 31, 2018.
https://cycliclaw.bandcamp.com/album/alchymeia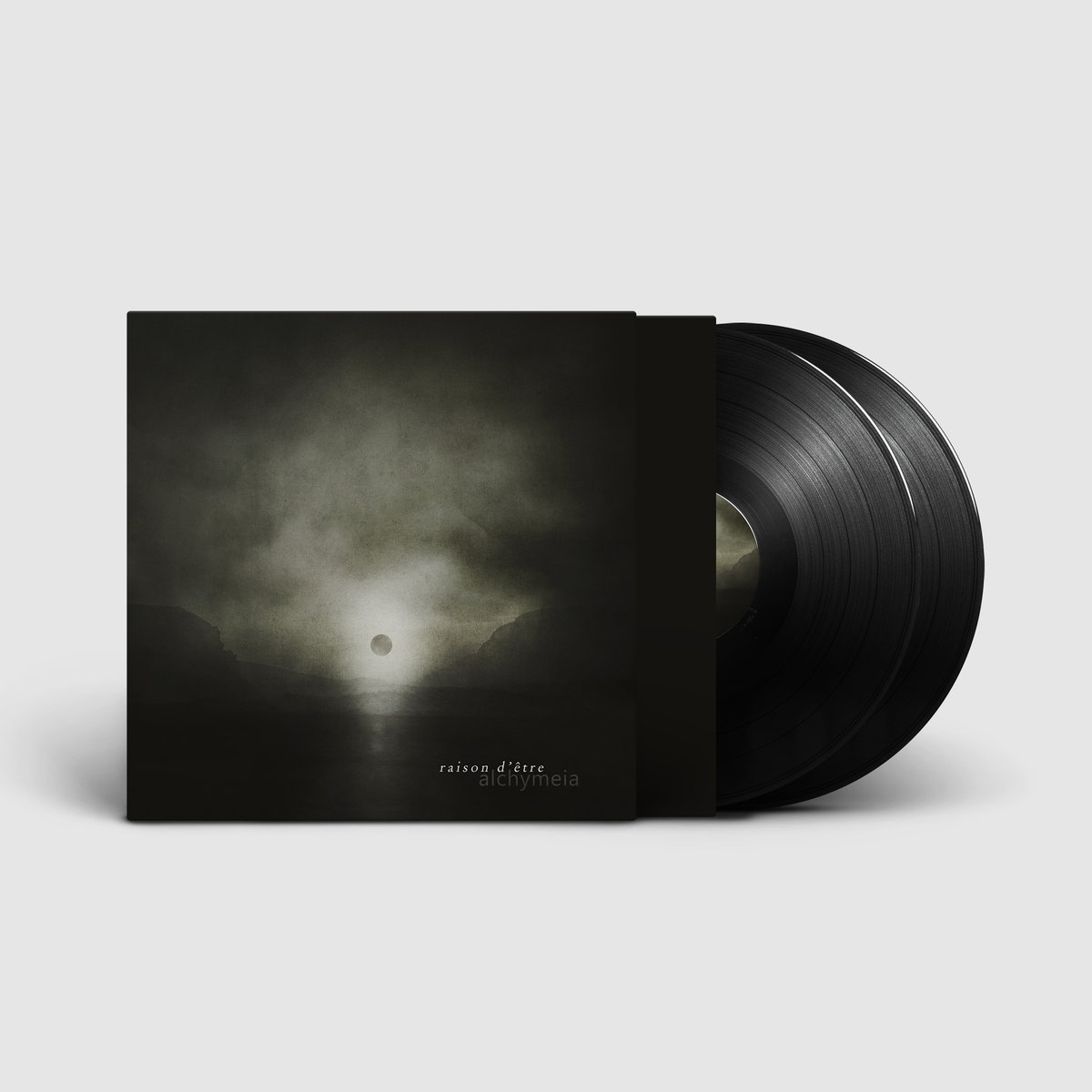 Atrox Pestis – Preorder Available (Chryptus – CD/Digital)
New dark ambient project by Grant Richardson of the death industrial act Gnawed!
Mark 9:43
And if thy hand offend thee, cut it off: it is better for thee to enter into life maimed, than having two hands to go into hell, into the fire that never shall be quenched
Genesis 1:6
And God said, Let there be a firmament in the midst of the waters, and let it divide he waters from the waters.
Who are "the damned," the living or the dead, and which of these is the cruel plague? We have riven great scars in the surface of the planet. Each human age brings with it more terrible capabilities. Do we approach godhood, or something else? The ambivalence of the great powers of the universe is frightening.
Where Gnawed is the bloody heartbeat of humans crushed by their own creation, Atrox Pestis is that same barren world self-reflecting. Pristine bass, distant scrape, the rumination of a world luxuriating in deep, geological time. Those ambivalent forces have set about reshaping our world. What will be created next?

Alone in the Hollow Garden – New Album Released (CD/Digital)
"The second physical offering released at the gateways of the MMXVII Winter Solstice, "Ain Soph Aur" gathers five rituals recorded under a two years span and collected especially for this magic time, when our souls are releasing the old structures and are opening for a new cycle of evolution."

Andrew Tasselmyer – New Album Released
(Shimmering Moods – CD/Cassette/Digital)
"Vantage Points is an album about place, meaning, and translation. It is literally a tape reel playing back my memories.
When recording this album, I heavily manipulated field recordings from several places relevant to me. Some sounds were trivial, some were remarkable, but each one came from a place that has had a very specific and powerful impact on my life; impacts that I can't necessarily describe in words.
I recommend it be played quietly, as a low-volume companion for your dreams and reflections…"

Aseptic Void – New Album Released (Eighth Tower – Digital)
"Ideazione di Contrasto is dedicated to a mental phenomenon associated with the fear of losing control and present in OCD (Obsessive Compulsive Disorder). Every track is a communicative need that reached its final form in music. A journey into the artist's unconscious, where the echo of every single step resounds in the meanders of a tormented psyche. An experimental dark ambient in which nothing is left to pure aesthetic taste, but moves from an authentic excavation into the psychic process of a mental disorder that imprisons the listener in an abysmal void."

Astral & Shit – Pre-order Available (Black Mara – CD/Digital)
"This album is something alien but familiar the Earth. That once came out of the Earth and now once again reunited. It was so long ago that we the living can't appreciate with common sense that has been revealed to us. Alarming and dangerous, but beautiful at the same time, it is Divo."

El Prêtro Maniaco – New Album Released (Required Rate of Return – CD/Digital)
"Conceived in the Haunted Chapel during the damned year ov 2015.
El Prêtro Maniaco uses & abuses ov psychothropes, EVPs, Ouija board, herbs & stones for magical purposes.
No animal were harmed during the making ov this record."

Grove of Whispers – New Album Released
"Time rarely weighed upon him, for he had many methods of passing it.
Truman Capote, In Cold Blood (1966)"
Grove of Whispers is John Tocher. John does the Sadayatana podcast and plays live several nights a week on stillstream.fm He also releases dark and experimental music at Buddhist on Fire.

ia~mt~hi~ng – New Album Released (Noctivagant – CD/Digital)
IV, the new album by the ritual dark ambient project ia~mt~hi~ng,
is a dark and blackened journey through a range of different ritual ambient styles, making for a dynamic and often hypnotic experience.

Jason Christopher Watkins – New Album Released
(Dune Altar – Cassette/Digital)
"As keyboardist for heavy prog dreamers Ancestors, Jason has become known for creating vast sonic landscapes. On this, his second release as a solo artist, he single-handedly conceived of, designed and constructed his own dark metropolis of sound. Fans of the soundtrack works of Vangelis and John Carpenter are likely to love this record!"

Jim Wylde – Preorder Available (Fuck Labels/Fuck Mastering – Cassette/Digital)
Jim Wylde's – Bedtime Stories For Lo-Fi Witches is the follow-up album to his 2016 release Songs For the Brokenhearted From The Departed released on IO Sound out of Vancouver Canada.
Here we find him continuing in his off center nostalgic and emotive compositions, dropping the previous distortion drenched keys and building a journey through dark and submerged fables carried on modulated waves.

Martyria – New Album Released (Malignant – CD/Digital)
"With its great textural depth, sepulchral atmospheres, and exotic, richly detailed ritualistic passages, the stunning, self-titled debut from the Greek male/female duo Martyria signifies the arrival of a vital new entry into the world of ritual/dark ambience and a welcome addition to the Malignant roster.
Running 41 minutes spread over five tracks, the disc opens with "Logos", a haunting piece track of gorgeous female keening, angelically drifting over a bed of primitive Byzantine rhythms and liturgical chants. It deftly sets the tone and lays the foundation for the proceeding pieces, which move from bottomless, subterranean drift and luminescent drones, to more sinister realms marked by slow, tribal percussion, resonating wood instrumentation, and elongated vocalizations. All of it flows seamlessly, rising from tendrils of wood smoke and incense, rooted in spiritual and ceremonial darkness, and bound together by atavistic and organic means.
For fans of Shibalba, Caul, Herbst9, Funerary Call, and Voice of Eye."

Melankolia – New Album Released (Hypnotic Dirge – CD/Digital)
Ambient / Neo-classical artist Melankolia presents their fourth full-length album 'Vividarium Intervigilium Viator'. Founded by musician Mike O'Brien, (Appalachian Winter, Veiled Monk, Ritual in Ash) Melankolia has been releasing introspective and thoughtful music since the project's beginnings nearly 10 years ago.
Mike O'Brien states:
"This album bridged nearly 5 years of hardship and resurrection in my life. Thematically, this album is a journey of OUROBOROS in my personal life; self-cannibalizing at one end, enigma of absolute perpetuality at the other. It wasn't the project that changed, but me. The music was always there, but I had to learn to extricate it from the ruins of a life that was no more. In this way, the album is a study of personal catharsis"
The nights are long, the air is cold, and winter's firm grasp is upon us. This is the season of contemplation and reflection. Vividarium Intervigilium Viator is the perfect soundtrack for solitary introspection and a recalibration of your mind, allowing you to feel mourning, loss, resentment, as well as hope for optimism. The physical album is presented in a 4 panel digipack with an accompanying booklet of photography from the composer Mike O'Brien and Silvana Massa.

Silent Universe – New Album Released (Cryo Chamber – CD/Digital)
"Pavel Malyshkin ( Ugasanie ) presents us with his dark space project Silent Universe.
Explore the anomalies that lurk in the infinite dark. Listen to magnetic readings of dark space as you probe the unexplored.
This albums bring dark rumbling sounds in the raw isolated style that is Pavel's expertise.
Recommended for fans of space ambient."

Sílení – New Album Released (Cephalopagus – Digital)
"Sílení is an experimental project which has started in 2015 as a way to explore very intense and dark atmospheres.
The debut album, released on the 31st of October 2016,
can be perceived as a disturbing soundtrack of a bizarre and haunting world.
The project is strongly influenced by surrealist filmmaker Jan Švankmajer's Lunacy (Šílení) and many classic horror films."

Sombre Soniks – New Compilation Released (Digital Only)
"Thee Longest Night brings forth thee sekond in thee series of Ritual kompilations from Sombre Soniks –
'Thee New Ritual Movement vol. II: An Introduktion To Kontemporary Ritual Muziks'.
This release features 24 Muzikians from a variety of kountries who were invited to take part, kreating over 5 hours of Ritual Muziks, each with their own partikular styles and tekniques. From purely akoustik rekordings to processed elektronika, this release showkases some of thee best Artists in thee field of Kontemporary Ritual Muziks.
Also inkluded is an 88 page booklet featuring info, links and artwork from each Artist, plus a gallery of artwork and writings from various Occult and Ritual influenced Artists.
As with thee first volume, I decided that I would not master this kompilation due to thee Ritual and highly personal nature of thee kompositions…Therefore thee overall levels may raise and fall a little, but I believe this is best to remain faithful to thee Intended Sound…" – SomSon109

The Null Spectre – New Album Released (Digital Only)
"Wendigo was written as the score to a fictitious film about a group of explorers who become stranded in the wilderness after a severe storm blows through their camp, leaving them helpless as they are stalked by an unseen predator; an ancient entity known as the Wendigo…"

This Is Darkness Recent Posts
Wordclock – Heralds – Review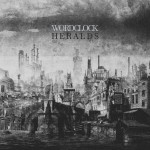 "It has been apparent since his debut, Endless, that Pimentel was a musician to keep an eye on. That sentiment has never been more apparent than now. With the release of Heralds, Pimentel shows the staggering extent of his ambition and skill as a musician and a studio technician. I simply can't overstate the magnitude to which this album has moved me, and I strongly suspect that it will have the same effect on many, if not most, readers of this review."
Read the full review here.
Guest Sessions: Post-Industrial Mix by Miljenko Rajakovic of TeHÔM
The second mix in our "Guest Sessions" series for ThisIsDarkness.com is prepared by Miljenko Rajakovic, the dark ambient and electronic veteran known for his projects TeHÔM and Principia Audiomatica. On this new mix, Rajakovic takes us on a dark and twisted journey through the many varied soundscapes of dark ambient & post-industrial. There are some well known musicians include, and some others that are up & coming in the post industrial world.
Listen to the mix here.
Matteo Brusa (Medhelan/La Tredicesima Luna) – Interview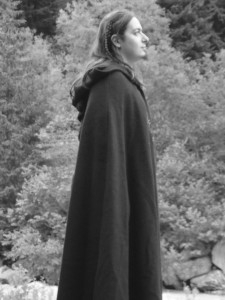 Matteo Brusa is the man behind the dungeon synth project, Medhelan, and the dark ambient project, La Tredicesima Luna. Hailing from northern Italy, Brusa's cultural and geographical histories have played a big part in his identity as a musician. I was able to pick Brusa's mind for this quite extensive interview, which will look into the background of the man, as well as the beginning and future of his musical projects.
Read the interview here.
Trepaneringsritualen – Kainskult – Review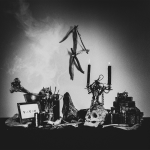 "TxRxP has broken new ground for the death industrial sound while paying proper respect to the style's inaccessible nature, something Ekelund's contemporaries often struggle to accomplish. Many projects embrace outside influences as they try to push beyond their template, but this album remains firmly rooted in brain-bashing claustrophobia. Trepaneringsritualen produces something hardcore fans of this music will adore, but also provides enough glimmers of approachability for those lost in the sonic fray — making Kainskult one of the most potent death industrial releases to drop in recent years."
Read the full review here.
Arktau Eos – Catacomb Resonator – Review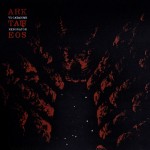 "Veteran listeners of the Aural Hypnox label will find nothing unusual with Catacomb Resonator. It is a welcome addition to an already impressive catalog of releases. For newcomers to the label, Catacomb Resonator should prove to be a perfect album to introduce to listeners. The ritual elements are strong, but the energy levels are more subdued than will be found on many Aural Hypnoxreleases. I can safely recommend this release to any fans of the ritual ambient genre. Arktau Eos are tried and true leaders of the genre, and Catacomb Resonator serves perfectly to reinforce this claim."
Read the full review here.
Flowers For Bodysnatchers – Asylum Beyond – Review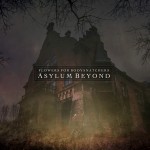 Asylum Beyond serves as a perfect template for the dark ambient community. It shows how one may focus on themes that could be considered unworthy to the more philosophically driven artists of the genre; and how these themes are still absolutely worthy of our attention. When undertaken from the right perspective, horror ambient can be as entertaining as the best of horror movies. Even more so in many ways, since "seeing the evil" ultimately brings about disbelief and sometimes even humor in horror films. Horror ambient is able to bring us face to face with these horrors without ever removing the fragile veil from the listener's imagination."
Read the full review here.
Please consider making a donation!
This Is Darkness has gone live with the help of friends and supporters. I have been disabled since 2015, due to a spinal injury. Any support that can be given is greatly appreciated. Donations will go toward the maintenance of this site as well as additional promotion to increase its reach and influence. You can help through the donate button below,  or follow this link to the This Is Darkness Patreon page here.