Artist: Ugasanie & Dronny Darko
Album: Arctic Gates
Release date: 12 February 2019
Label: Cryo Chamber
Tracklist:
01. Behind the North Wind
02. Wreck
03. An Object
04. 80T-54'08.8N 49T-51'38.3E
05. In the Polar Sea
06. Absorbed by Ice
07. Isolation Pit
"Two weeks you've been scouring the Arctic Sea. No sun since you reached the North, the dark water a constant fractured mirror that meets the universe above and pulls you into its black fold. Everything points to "it" resting beneath the ice, in a slumber of centuries.
Three weeks, now on land, you're getting close. Down here beneath the ice you feel disconnected from the world, like you are leaving the present as you spelunk into the past. You snap another glow stick and throw it down the ice shaft, the light strobes off crystalline walls as it reveals an ancient structure below. The Arctic Gates."
After Northaunt, Ugasanie (Угасание, which my Belarussian friend has told me is pronounced Ew-Gah-Shay-Nee-Yuh, and which means something like 'fading away' in English) was the second "polar ambient" artist with which I fell in love. Pavel Malyshkin of Vitebsk, Belarus has been creating music since around 2010 under this name, with a few solid early albums before he was discovered by Cryo Chamber in 2013 and released the classic White Silence. Since then, Ugasanie has become one of the most well known polar ambient artists within the greater dark ambient genre. He also runs two side-projects: Polterngeist and Silent Universe.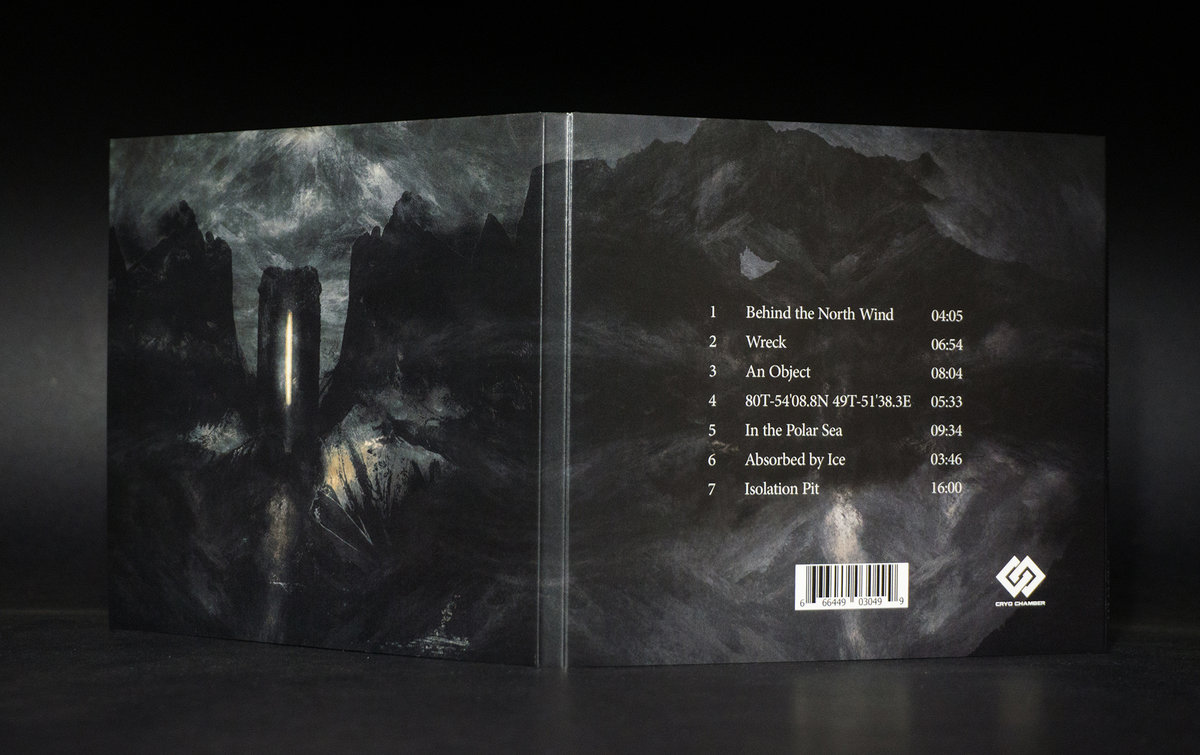 Oleg Puzan of Kiev, Ukraine also came to prominence with his first Cryo Chamber release as Dronny Darko, Outer Tehom, in 2014. Since then, he's created a vast catalog of albums covering a multitude of styles within the dark ambient genre. He also mentored his now wife and mother of his child, Sasha Puzan aka protoU, who has released a number of solo albums on Cryo Chamber as well as excellent collaborations with Dronny Darko and others. He also has a few side projects of which I particularly enjoy Cryogenic Weekend and Hivetribe.
With Dronny Darko known for his attention to detail using drones and field recordings to create exquisitely nuanced soundscapes, and Ugasanie's mastery of the far northern landscapes/soundscapes, we should expect something extra special here! If the amount of times I've played this album on repeat over the last few days is any indication, this one is a gem!
The theme takes us to the far north, into the Arctic Ocean, not far north of Svalbard (Spitsbergen), the massive archipelago which has been under Norwegian sovereignty since 1920. The album blurb tells us that there are people searching this region of the Arctic for "it", which has apparently been slumbering beneath the ice for centuries. This scenario seems to hint at something like a Cthulhu type entity for which the explorers search. It seems that they find signs of what they seek around the GPS coordinates given as the title of the fourth track, "80T-54'08.8N 49T-51'38.3E". I've shown these coordinates on the map below.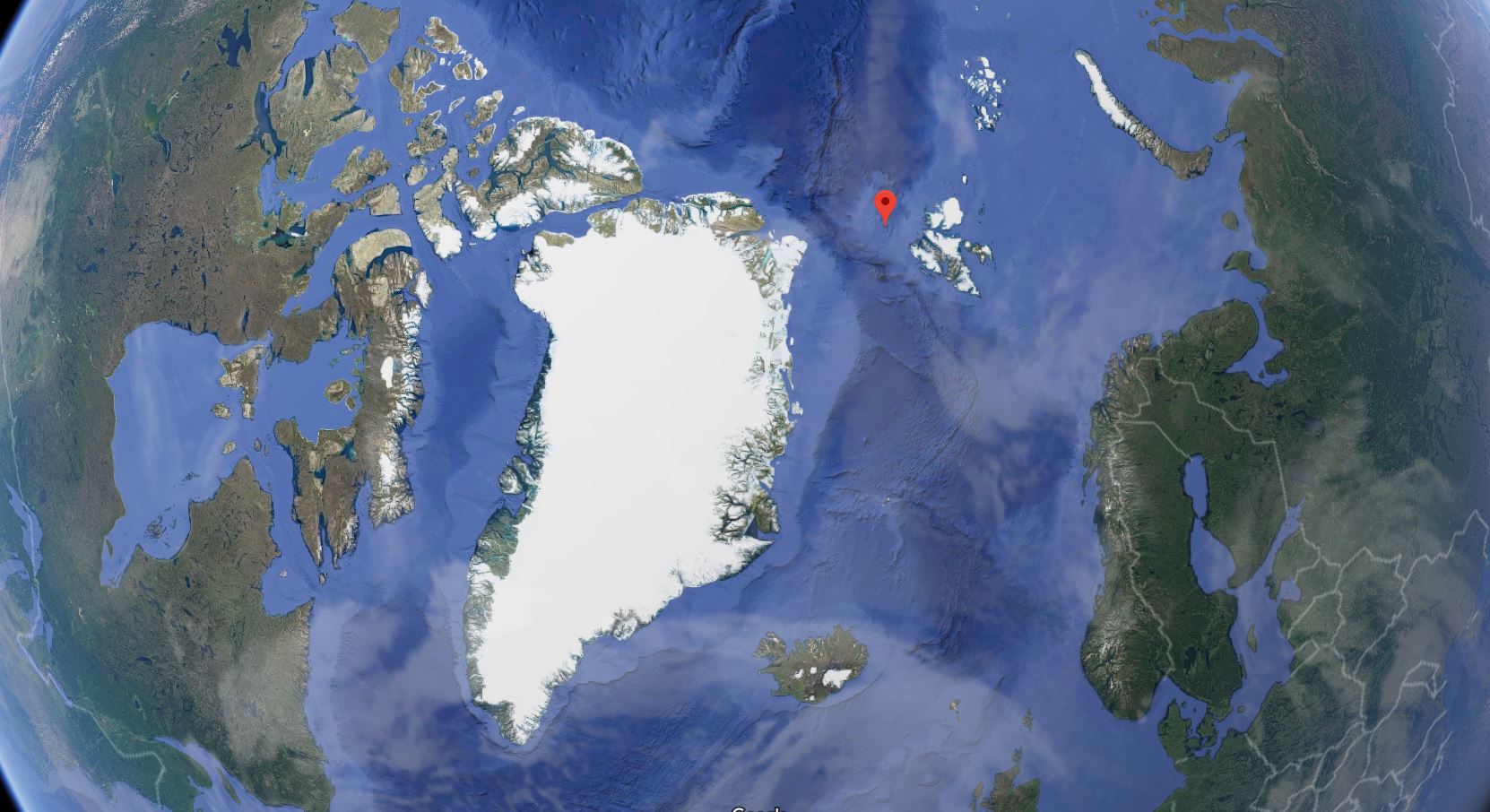 I'm having a hard time connecting the narrative in the song titles to the narrative in the album blurb. But it seems that the explorers are searching this area by boat in the middle of dark winter (that time of year in the polar regions when the sun sets and doesn't rise again for weeks/months, depending on how far to the extreme north or south you are). At some point, the explorers wreck their vessel (likely into floating glacial breakaways or the solidifying sea itself). However they move on. They find their way into a shaft, beneath the ice, possibly beneath the frozen sea itself. Until they reach land and 'The Arctic Gates'. Whatever great mysteries are revealed to them in these depths should be left to the listeners' imagination.
From a technical perspective, Ugasanie provides brilliant field recordings, which are able to bring this treacherous and frigid northern climate to our headphones. We can feel the gusts of wind, the creaking glaciers, the flexing ice. But, there is much more to this journey than an unwelcoming frozen environment, there is also dark energy, possibly dark gods. Dronny Darko takes the helm on bringing the events and encounters to life within Ugasanie's world. The results are magnificent. Both artists show a perfection of their styles here, allowing me to close my eyes and bring this cinematic experience truly to life.
I've honestly felt the cinematic elements of Arctic Gates more intensely than most other albums in the last two or so years. Aside from Eximia's Visitors album, I haven't had so much fun trying to piece together a plot since the last time I sat down with the Atrium Carceri discography for several days straight. This is cinematic dark ambient at its best, especially if you like the polar theme.
Written by: Michael Barnett