This article will cover the "proper" ways to burn incense and some alternatives methods of using these resins. The end of the article will have an exhaustive list of various resins, particularly available through Apothecary's Garden, which I'm going to talk about in great detail. While some of this would seem like an advertisement for some of the companies mentioned below, I would like to point out that all products I'm describing were purchased by me, at standard market value, and that I've had no prior communication with any of them before conceiving of this article. However, once I wrote 3/4 of this article, I decided to contact Dan Riegler of Apothecary's Garden, and I had a very pleasant and informative 40 minute interview with him, which you will find below! He also gave me permission to use large chunks of text from his Etsy page, to describe a plethora of different incense resin options. Again, this main seem like advertisment, and I suppose in a way it is, but it was literally all my idea, and I was not paid to say anything in this article!
I'd like to start with a bit of history of my personal use/discovery of incense as a whole, and then my discovery and proper use of fairly sourced incense resins. If you are here for the whole tale, read on. If you'd like to read some specific information, which I think is very useful to incense-users of all levels of expertise, then you can skip through the following individual sections:
Article Contents
(Scroll through the full article here,
or click the links below to open the sections individually!)
Michael's Discovery of Incense
Finding Better Methods/Products
35+ Minute Interview with Dan Riegler of Apothecary's Garden
How to Burn Resins
Alternatives to Burning Resins
Some Popular Varieties of Incense Resins
Michael's Discovery of Incense
Since I was a young teenager, I've always been drawn to incense. From the little old box of Shoyeido sandalwood sticks in my grandmother's cupboard, to the billowing plumes at the local head-shops and magical supply shops, I grew up priding myself on being a connoisseur of incense. I tried all sorts of sticks and cones, a million brands and flavors. I had a few favorites that were consistent for me over the years, Srinivas Sugandhalaya's Satya Sai Baba Nag Champa at the top of that list.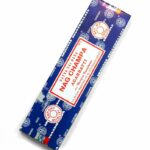 As I got older and more interested in the religious/spiritual histories of incense use, in places like Catholic cathedrals and Buddhist temples, among many others, I began to suspect that the incense we were burning was not at all what our ancestors had burnt/intended. It seems that, just like so many other things in modern times, we  most often get the mass-marketed version.
I really never thought much more on the topic for years, and especially after several more failed attempts at finding something "traditional", I was resigned to the realization that if I wanted to burn incense it was going to be, basically, synthetic garbage.
Sometime around 2013, I finally ran into incense resins. Once the concept entered my mind, it was like a lightbulb turned on, just buy and burn the raw materials, skip the manufacturing step. Brilliant.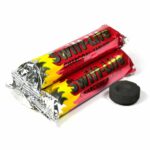 Well, I went online… found a random website that told me I needed some "frankincense resin" and "quick-lite incense charcoals". They were even kind enough to direct me to the mass-produced resins website and showed me exactly which chemical-laden charcoal briquettes to purchase. Brilliant…
So, of course, I've now bought into the unsustainable harvesting and unethical trade agreements that went along with the resins, and my house stinks to hell with the smell of lighter-fluid/sulfur…
Several more years pass, as I continue burning Nag Champa…
Finding Better Methods/Products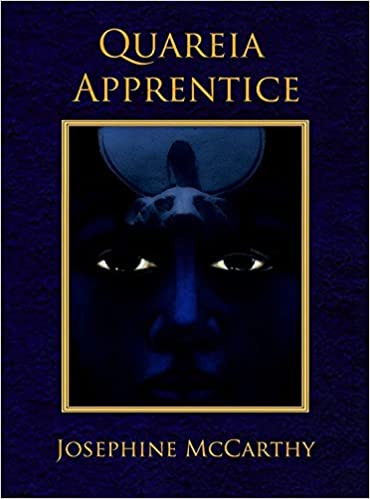 So, a few years ago, I started to follow Josephine McCarthy, the internationally renowned magician behind the free Quareia magic course. One of the things I liked about her is that she aligned with me on topics relating to fair-trade considerations, pollution (inside and outside the home), and many other things not relevant here. She recommended in a post one day, the website Apothecary's Garden for purchasing Frankincense and other ethically and sustainably traded incense resins.
Apothecary's Garden is a site run by a guy named Dan Riegler out of Hamilton, Canada. That site is a blog of his, which is generally interested in incense/apothecary related things. There, I found a bunch of interesting/useful articles like 'How to Grind Frankincense, Myrrh, and other Resins', as well as a link to his Etsy page of the same name.

ApothecarysGarden
Link to Apothecary's Garden Blog
Link to Apothecary's Garden Etsy
On Etsy, Dan sells numerous incense resins, as well as the essential oils, salves, etc. which he has crafted/distilled from their raw version, himself. In my experience, each of his resins come with a card indicating its country/region of origin along with a description of its importance in that region, uses, scent profiles, etc. It's also worth mentioning that he has a 5 star rating with 45k sales…

"A West African Frankincense found in North Eastern Nigeria where the Hausa speaking people refer to it as Hano or Harrabi. This shipment is of the highest quality I have ever come across. It is well sorted and contains a good mix of large pieces including the rarer light and dark green tears with no bark or dust. It is beautiful material that exhibits the trademark fragrance of Boswellia Dalzielii -Orange/Citrus and Mint with earthy undertones. The locals use it as chewing gum and as incense. It can be used as many of the other types of Frankincense for incense, teas, oils, salves, tinctures and cremes."                                                            -Dan Riegler
Read the rest about this resin here.
The thing that is really cool about Dan's business-model is that he actively searches out the native peoples of a given region and has direct negotiations with them in order to secure enough product for him to sell to us, while still leaving that community and tree in a position to keep doing this 10/30/100 years from now. In several articles I've read on his blog, he's detailed his ventures into these regions where he spoke with tribal elders and secured appropriate pricing, while also giving them tips on how to work with the trees in a more sustainable way, when/where necessary.
Knowing that the places/peoples these materials were being sourced from were not being mistreated really made me feel more positive about my tour-de-incense, and I happily bought a wide variety of incense resins to try out, including most notably multiple varietals and regionals of my favorite incense of all, Frankincense.
I'm sure there are other places to buy fairly traded incense resins, but I haven't needed to look any farther, myself, since I found Apothecary's Garden, so I'm just passing on the good fortune to you all!
Interview with Dan Riegler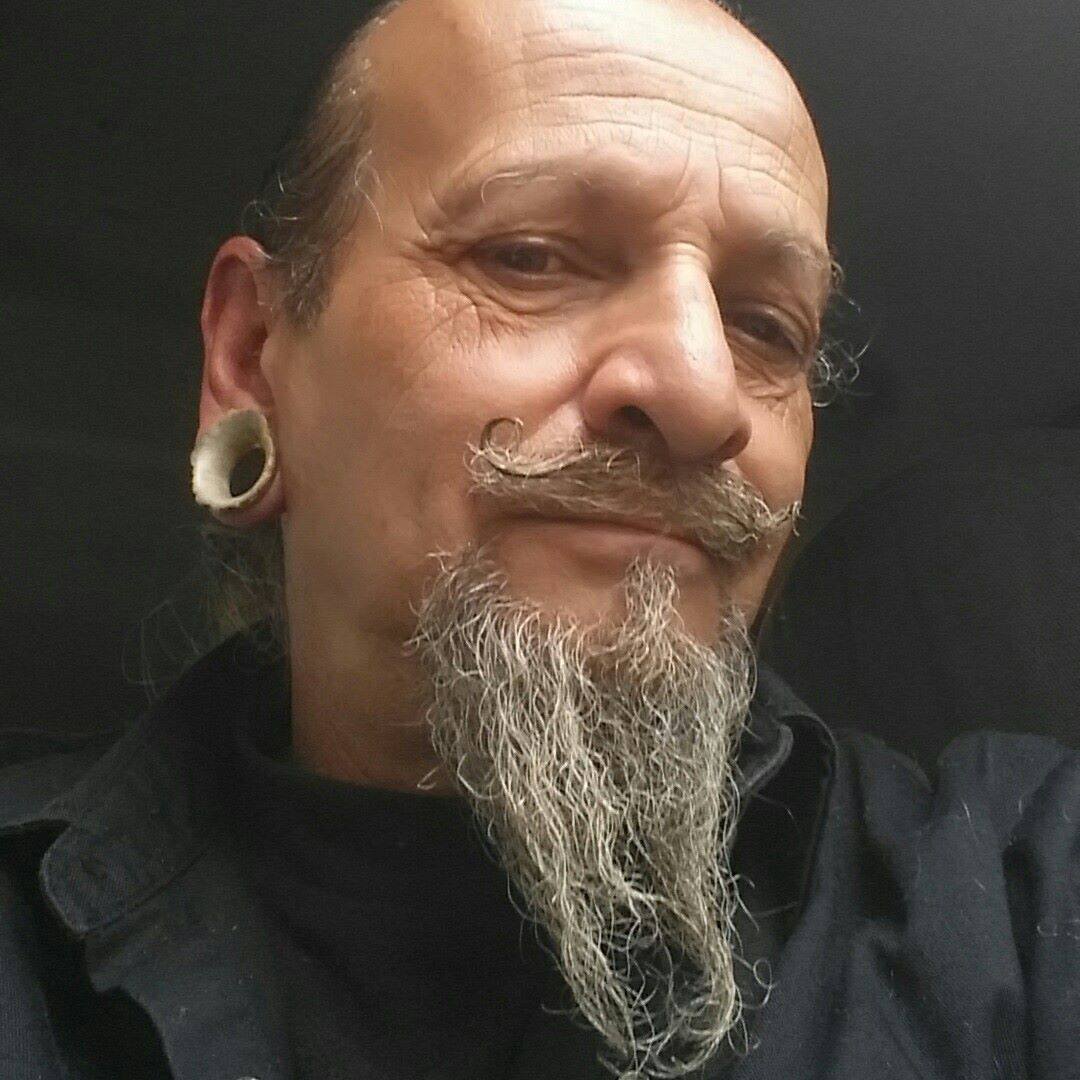 Here is a 35 minute interview between myself and Dan Riegler of Apothecary's Garden, discussing many of this article's topics in much greater detail. It was truly a pleasure to speak with Dan, and I hope you will all enjoy and learn as much from this conversation as I did!
How to Burn Resins
Now that we have an idea of what sort of company to look for to purchase the resins, we need to look at how we are going to burn those resins. Through effortless searching of online forums as well as personal trial and error, I have decided that the Shoyeido brand, from Japan, is the most reliably available option for the charcoal burning method. These briquettes are already quite small, which I consider to be a good thing. But, as I live in an apartment and a little smoke goes a long way, I usually break them in half. Just be careful not to shatter instead of split them if you do this, because that does happen to me occasionally.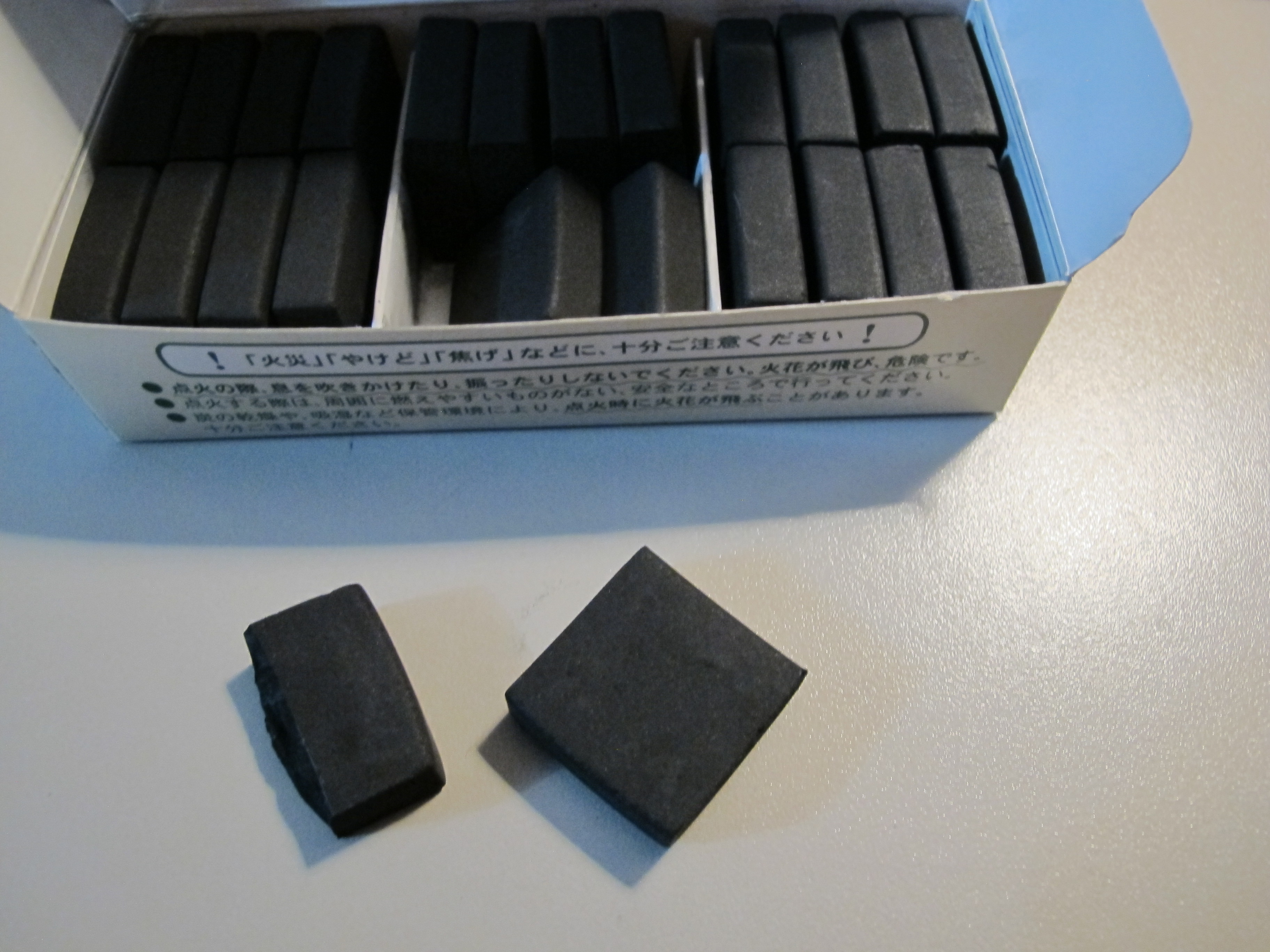 Another option, if you prefer not to hold the charcoal over a flame for 5-15 minutes, is to find a safe quick-lite saltpeter brand. Dan has 3 sizes available through his Etsy page, which he's been using for years and feels confident enough in their quality to sell them himself. If you follow the link to that particular item on his Etsy page, he has given his own instructions there on how best to ignite and use the saltpeter briquettes. Since I'm not as familiar with this method, I will leave the instructions on this part to him!
Link to saltpeter charcoal pucks on Apothecary's Garden Etsy.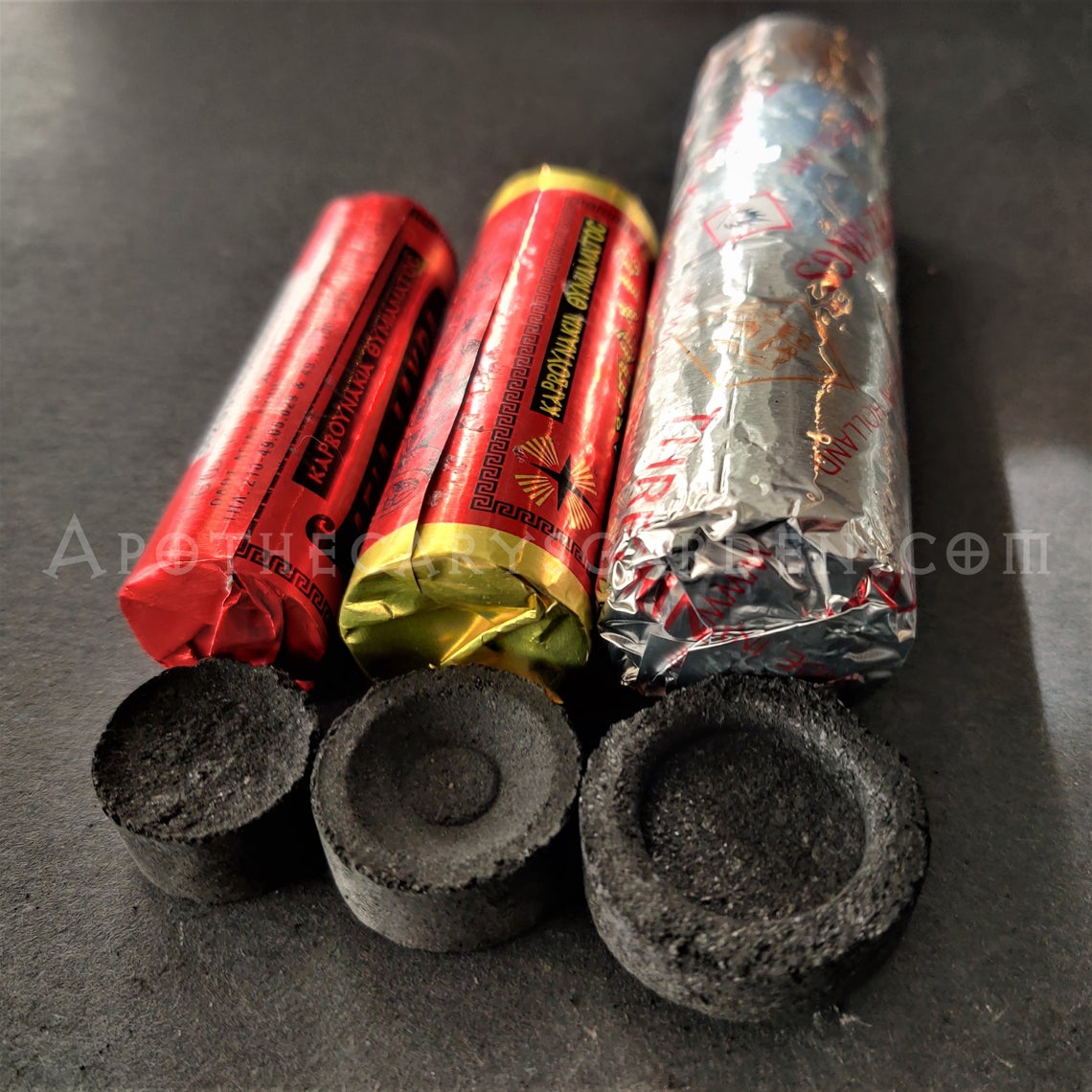 BE CAREFUL BURNING INCENSE ANYWHERE!
You can very easily burn yourself, your desk, carpet, curtains, lamp, forest, gerbil, etc. so always use the utmost care and respect when burning incense, especially in this next way!
Once I've chosen an appropriately sized briquette for my incense-burning session, I will hold it above a candle flame, using appropriately-crafted metal tongs until I have it lit well enough for my intentions. Keep in mind, the charcoals that I have recommended will take several moments of being held above the flame in order to properly light. It's not a quick process like sticks, cones, and the quick-lite charcoals, but I promise it's worth the extra time and effort!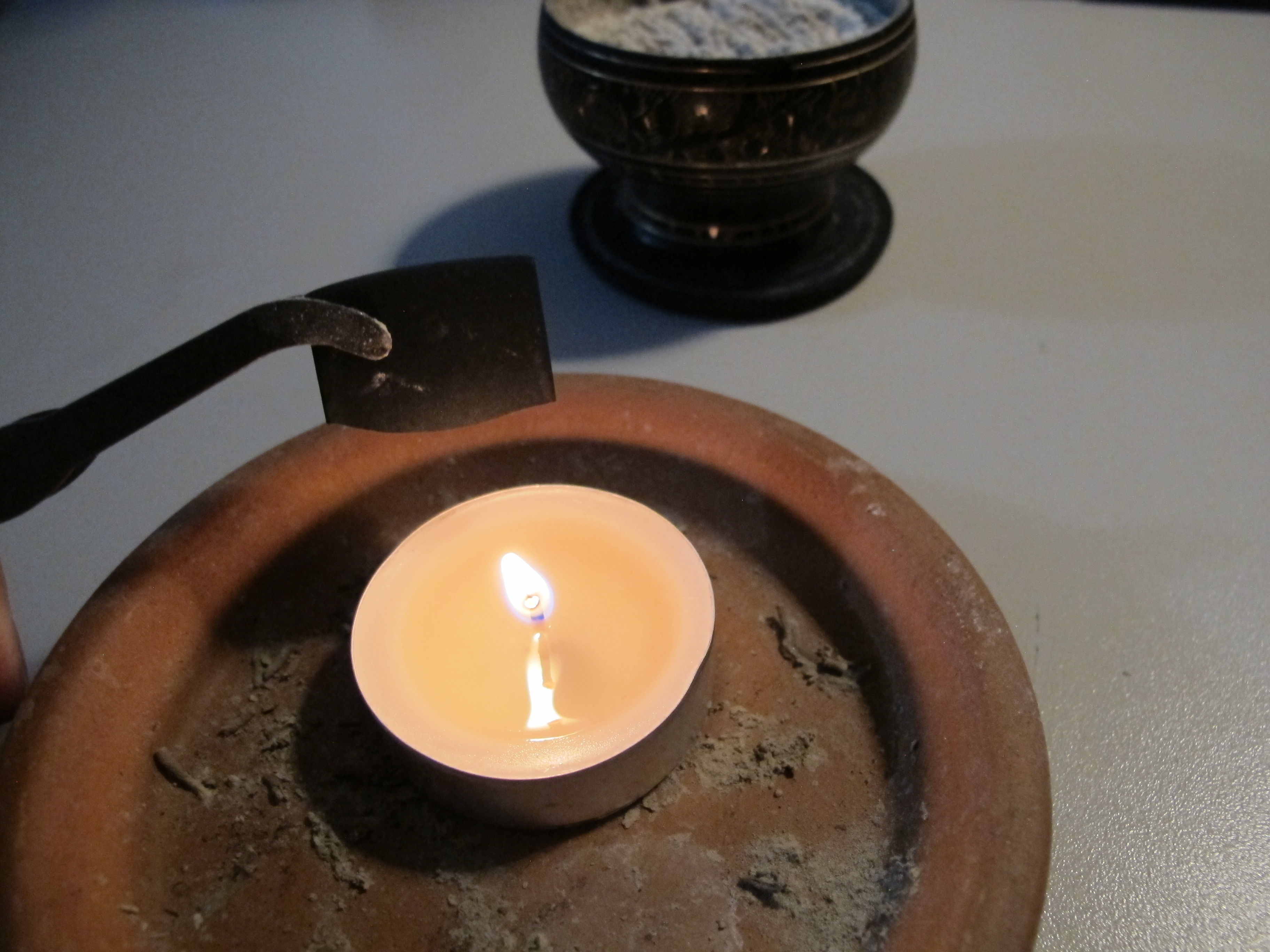 Lighting options:
1. You can light one corner for a very slow burn, which may possibly extinguish at some early point. Good for meditation or small rooms/apartments.
2. You can light the boundary of one whole side, which will then burn, more or less, evenly across the briquette at a relatively slow but reliable pace. Good for a steady smoke production for at least 20-40 minutes.
3. You can light the entire briquette, which will burn much more quickly and hotter, making for a more intense burn, best for shorter and/or outdoor sessions. Burn time at least 20 minutes. Note: if using this third option, the briquette will become more fragile as it begins to be fully ignited. So, it is preferable to light it outdoors, and place it safely into your metal bowl, before bringing it back inside. You DO NOT want the charcoal to break in the middle of your carpeted room! That is a recipe for utter disaster!
Place the lit charcoal on a bed of white ash. (literally ashes, not the white ash tree!)
This slideshow requires JavaScript.
I've found that the best/safest way to burn this charcoal is on a bed of white ash. I've read about people using rice, salt, or placing the briquettes directly on a metal surface, but none of these seemed sensible to me. Personally, I purchase my white ash from the Shoyeido brand, same as the charcoal, so you could/should get both at the same time, if you are following this recommendation.
Once the charcoal is properly lit, CAREFULLY place it on the bed of white ash. You will want to use a metal incense burner to hold this ash. You want to make sure that it's big enough to hold enough ash that it won't overheat, but not so big that you need to buy a ton of ash just to fill the bottom few inches. I consider mine (the one in these images) to be the absolute smallest that is acceptable. Mine is 2.5″ diameter and 1.5″ deep, for reference. Mine has a metal built-in pedestal, which sits atop a wooden coaster, for fire-safety.
Place the incense resin on/near the charcoal.
This slideshow requires JavaScript.
This part has a few different possibilities:

With any of these options, I recommend flipping/turning/rotating the resin as one side becomes darker, it isn't necessary, but it will help extract as much of the essential oil as possible before the scent of burning resin begins to take the forefront.

1. Place a layer of ash on top of the hot charcoal. Just enough to slightly bury it. Then place the incense resin on the white ash, directly above the hot charcoal.
2. Place the resin on the white ash, beside the burning charcoal. Depending on how close you place it, it will be more or less intense smoke/burn.
3. Place the resin directly on the hottest part of the charcoal. this will make an instant plume of smoke, which will continue to burn through the resin at a very quick rate. The resin will quickly burn off its essential oils and the remaining resins will blacken and have a much more caramelized and then burnt smell. It's not totally unpleasant, but most people will rather not do it this way.
4. My favorite option is to only light a smaller section of the charcoal. Place the resin directly on top of the half of the charcoal which is not currently burning. As the charcoal slowly heats, from one side to the other, it will burn the resin at that slow pace as well. This works great with a larger chunk of resin that you want to burn a bit more slowly for a bit longer, but still producing a significant amount of smoke. However, with this option, there is the possibility of the resin soaking into the charcoal and snuffing it out.
Allow the charcoal to fully burn itself out.
Never leave it unattended once lit!
Once the charcoal is burning, it really needs time to burn itself out. For this reason, you will want to be sure you have at least an hour before you need to leave the area. Once the charcoal burns itself out, you can usually just stir the remaining charcoal and resin ash into the white ash, unless you are going to be trying different resins and want to keep the scents individually pure.
Alternatives to Burning Resins
What if I want to use incense resins, but I'm in a place where I cannot produce large quantities of smoke, for whatever reason?
If you are concerned about sprinkler systems in your apartment and/or have strict policies/rules/laws prohibiting your use of burning charcoals, there are still a few options available for you.
Electric Incense Heater/Burner
An electric incense burner is really more of a heater. You can just set this down on a table and plug it in, turn it on, and it will heat up to your specified temperature. Once heated, you can place incense resins or powders in a metal dish on top of its hot-plate, and they will produce a vapor or smoke, depending on the chosen temperature.
Apothecary's Garden recommended a particular burner in one of their articles. I looked at many different options at the time that I decided to buy mine, but the reviews for all the others were pretty hit-or-miss and I felt the recommendation from Apothecary's Garden carried a lot of weight for me, personally, by this point. So, the one I purchased is the one I would also recommend, and the only one I've personally ever tried. Unfortunately, I see it is currently out-of-stock, but hopefully they will have more soon, I know they are custom-made, so it probably takes some time to get a re-supply, on their part. If you want to buy one NOW, I see that Apothecary's Garden now carries their own model. While I haven't tried it myself, I feel safe in recommending it as a best second-option, since the Mermade Magickal Arts 'Golden Lotus' burner is currently unavailable.
Tealight-Powered Incense Heater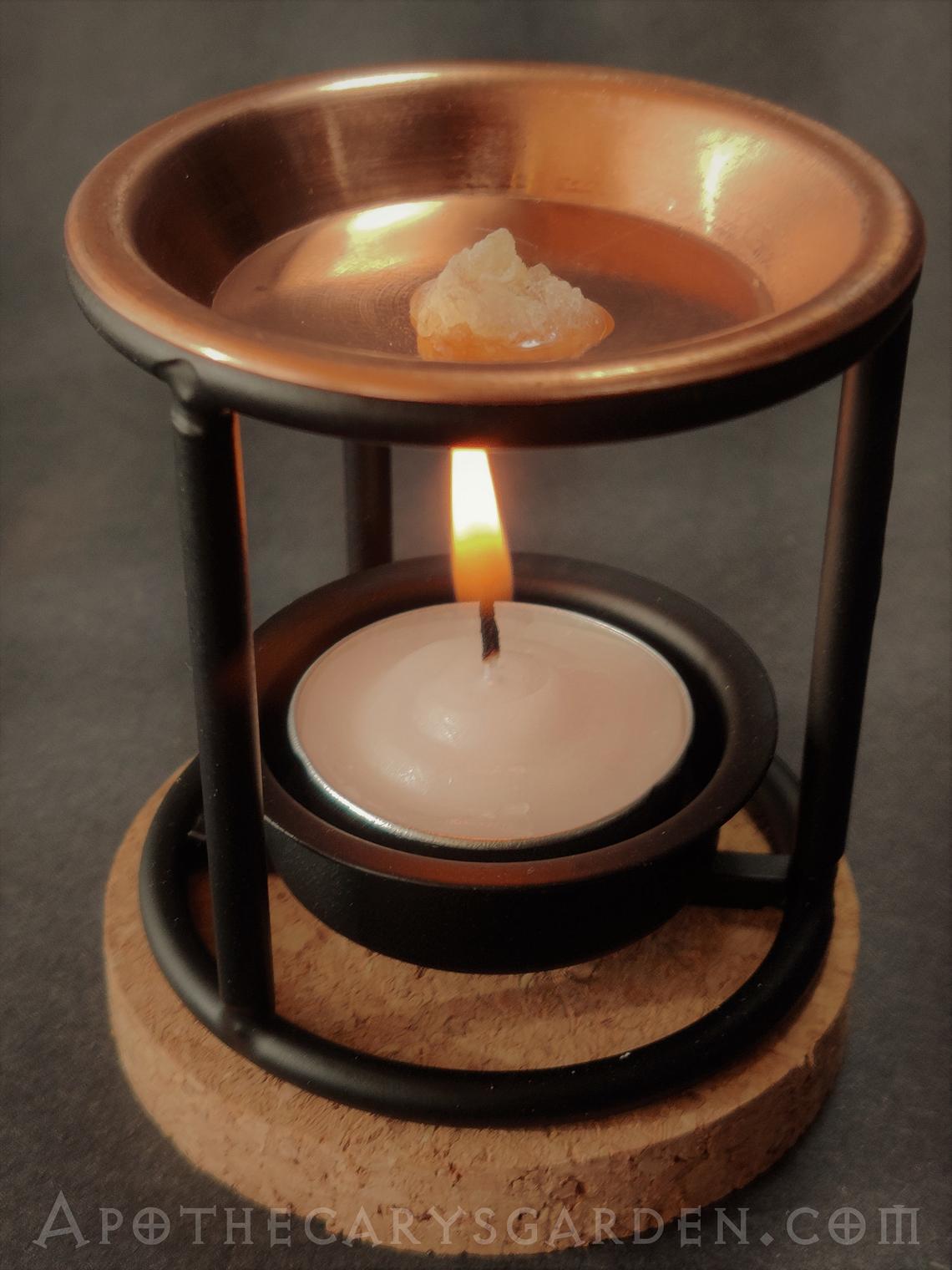 As I haven't used this method myself, I'm inserting an excerpt from Dan's Etsy page, explaining the benefits of this method. You should get a similar effect as you would with the electric burners above, but at a cheaper price, albeit with less control over temperature and burn-time.

Great for enjoying the aroma of resins and Bakhour without the heavy smoke and charred scent that comes with burning incense on coals.
These incense burners open up a whole new dimension of experience when it comes to appreciating resin incense and other aromatic materials.
Where charcoals burn hot, generate a lot of smoke and consume incense quickly, incense heaters can often deliver hours of aromatic experience that is all fragrance and not all smoke. (read more about it on Dan's Etsy)
Some Popular Varieties of Incense Resins
As I do most highly recommend picking up your resins from Apothecary's Garden, I will use some images and descriptions of these various types of resins, as described by Dan Riegler on his Etsy page. All italicized text is pulled directly from Dan's store, where I highly recommend you try as many of these as you can! You can just click on the images below and you will be sent directly to the purchase page for that particular incense! (all links open in new tab, so you can just click the ones you like now, and go look at them all in more detail after finishing the article!)
Frankincenses
Frankincense is probably the most popular type of incense resin, and also one of the most ancient in its spiritual use. Many churches as well as magical orders consider Frankincense to be one of the best ways to purify a space. Because of its popularity over the centuries and it's wide-grow-regions, there are probably more varieties of frankincense than any other incense resin. I will highlight some of the more popular and more interesting varieties here: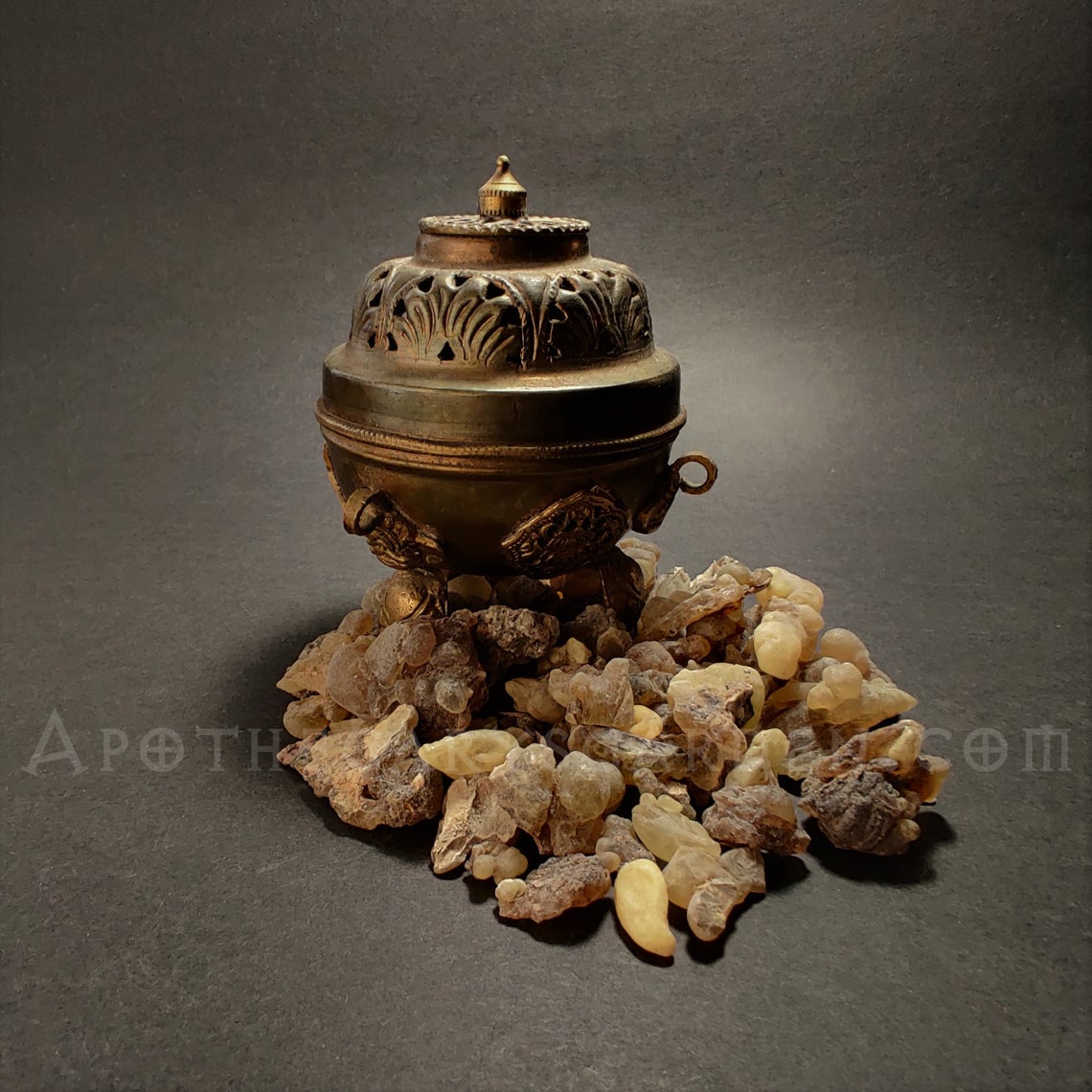 Frankincense Occulta-The hidden Frankincense
A new Frankincense! The Hidden or Occult Frankincense was officially discovered in 2019 in the Ceel Ufeyn area of northern Somalia/Somaliland.
Boswellia occulta is a very different tree than its neighbours the B. carterii trees. Historically, Boswellia Occulta resin has always been mixed in with the local Frankincense Carterii and considered by locals to be the same tree. The name "Occulta" comes from the Latin, Occultus which means "Hidden". Though this species has been present as long as any other Frankincense species and is an important commercial crop locally, it remained hidden from the view of botanists till recently. Hence the name-Occulta.
Not only do its simple leaves look different than most other Frankincense species, but Frankincense Occulta oleoresin has a chemical composition that is very different from that of all other known Frankincense species.
This difference is most evident in its aroma and flavour. Unlike most other Frankincense essential oils that contain a predominance of alpha-Pinene, (or in the case of Boswellia papyrifera octyl acetate). B. Occulta essential oil leads with a high percentage of methyl ethers, in particular, 1-methoxydecane and 1-methoxyoctane which is really unusual and unexpected from a Frankincense type. When these compounds were first noticed in Boswellia carterii essential oil samples, it was assumed that they were not of plant origin. Now the mystery is solved.
Chewed, this resin has an interesting bitterness and flavour that is nothing like B. Sacra or B. carterii. It is almost a candy/mint/gasoline flavour. It lingers on the tongue just like gasoline does after you have done everything in your power to pull that tube out of your mouth just before the gasoline came out. But it is not as intense. Or as unpleasant.
It has a very interesting aroma burned in a censer and similar to its flavour, leads with notes of mint rather than pine with an odd but not unpleasant sweetness to it. Just very odd and unexpected. After the essential oils and resins have offered themselves up on the coal, the typical charred aroma of the water-soluble gum portion is indistinguishable from that of any other type of Frankincense resin.
---
Frankincense Neglecta, Directly from the women of the Samburu Tribe! A fair-trade and sustainable harvest! Kenya
After 5 years of travelling back and forth to visit the women of the Samburu tribe in Northern Kenya, we have finally established direct trade from the collectors to us in the West!
This is the first shipment of co-op harvested resins from the Samburu women and hopefully the beginning of a long and fruitful relationship.
All we need now are customers to support this project. We have 2 very special wholesalers who have a passion for fair trade and sustainability and are ready to deliver these resins to distillers and retailers in North America and in Europe.
This resin is fresh and fragrant, full of essential oil that can easily be distilled. It is sustainably harvested and fairly traded.
As some of you know, in 2016 I set out on my African aromatics tour. (https://apothecarysgarden.com/2016/01/26/the-african-fair-trade-frankincense-and-myrrh-tour-2016/).
The motivation behind this trip was to facilitate sustainability and fair trade of medicinal/fragrant resins from the Horn of Africa. Early 2016 I spent a week and a half in remote, (hot), Samburu county sourcing native resin bearing Frankincense and Myrrh trees and initiating a fair trade platform for the semi-nomadic, pastoralist women of the Samburu tribe in North Eastern Kenya.
In the Samburu tradition, the men hold most of the wealth which is in the form of cattle, sheep, goats and camels. The women do much of the work with little to no monetary return. Many of the women collect resins and bring them to market every week or two. This gives them their own income which they use to purchase medicine and food.
Cutting out the middlemen from the supply chain ensures the women a reliable and fair return for the resins they collect.
Though Frankincense and Myrrh trees are abundant in their area, the women do not tap or injure the trees to increase yield as is often the case in other areas and with other types of resin-bearing trees.
Harming nature is frowned upon and contrary to their belief system and their reverence for their Nature Goddess N'gai. The Samburu only collect the resins that form due to incidental injuries from goats and Baboons who find the bark of Boswellia Neglecta delectable, and elephants who casually trample trees like matchsticks as elephants tend to do. In fact it is believed these trees and some other frankincense and Myrrh species cannot be tapped due to their thin bark and different physiology.
The Samburu women collect both a light and a dark B. Neglecta incense. Yes…I had to see this for myself and it is true!! Initial injury generates a clear sap that hardens translucent and light golden.
Subsequent to injury the tree creates "Traumatic Resin Ducts" as does our Northern Spruce. These ducts then generate a special therapeutic sap called "Callus Resin", that acts as a bandage and promotes the growth of protective tissue that heals the wounds, creates scar tissue and isolates healthy flesh from diseased. In Scandinavia, the Spruce callus resin is used in traditional salves for slow healing wounds, diabetic ulcers and post-surgical wounds.
Very little clear resin is available from the trees compared to the dark resin.
Like all its brothers, Frankincense Neglecta is ruled by the Sun from an astrological point of view. It is calming and strengthening to both mind and heart, aids in meditation and concentration, and helps raise one's spirits.
When burned as incense, it helps cleanse a space and create a sense of sacredness.
Sometimes called "Dakar", the aroma of Frankincense Neglecta, though unmistakably that of Frankincense, stands out with clean, crisp, sweet, earthy notes, reminiscent of our northern Balsam Fir trees.
This unusual type of Frankincense has been used locally for generations as a sacred incense and as medicine specific for respiratory complaints. The Samburu burn it when a child is sick, when a woman is in labour and during childbirth from what I could gather.
The infused oil of Frankincense Neglecta oleoresin and its essential oil are valuable ingredients in respiratory rubs, salves and oils. It yields itself readily to oleo-extraction with vegetable oils which makes a most excellent chest rub for congestions, asthma, bronchitis and colds.
This is the resin I use to make my Frankincense neglecta Oleo Extract which I refer to as "Heartsease Oil", which I find reduces feelings of anxiety, panic and tightness/heaviness of the chest. Apparently, it has the same effect for many others when massaged into the chest.
This calming oil is easy to make with a bit of resin and some warm olive oil. Here are instructions for making your own Heartsease oil-https://apothecarysgarden.com/2014/07/30/how-to-make-a-whole-extract-of-frankincense-and-other-oleoresins/?wref=tp
As all types of Frankincense, this oleoresin makes an exceptional incense for the home and ritual.
---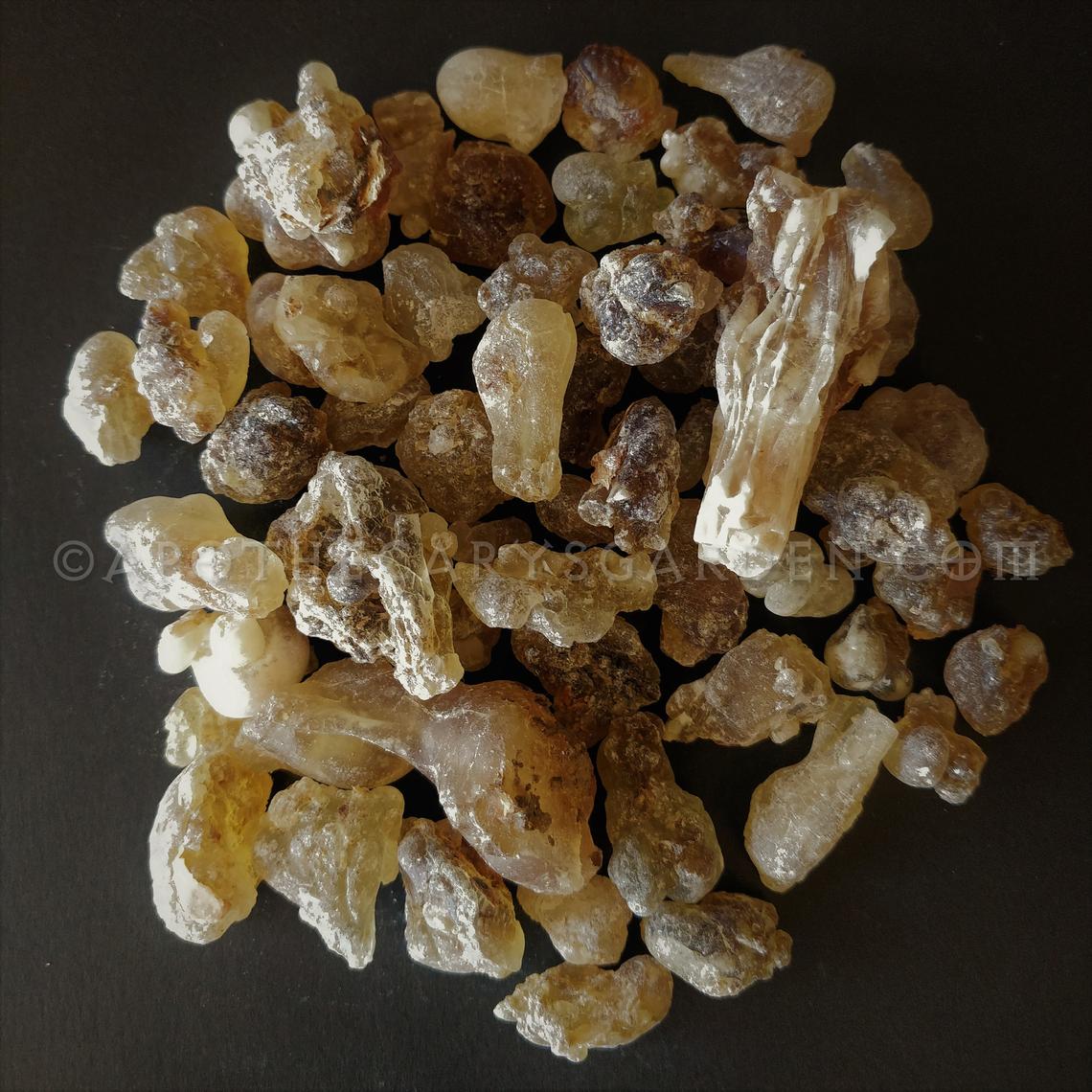 Red Hojari Frankincense. Oman. A rare Frankincense for incense, medicine & perfume-Boswellia sacra
The Hajar region of Oman supplies us with all our Hojari Frankincense types. The extensive sorting process gives us our Hojari Supreme, Royal Green Hojari, Hojari silver and a number of other variations that are valued for their distinct colour and scent.
A brother to the Royal Green Hojari, but not as well know, the Royal Red, (also called Amber Hojari), consists of large tears that all share shades of Amber to brown.
In scent, it is similar to the Royal Green Hojari but a little more balsamic and soft. It has less notes of citrus and lemon yet delivers the same sweetness as the Royal green to incense blends, oil extracts, tinctures and other products.
A staple of churches, Mosques and temples around the world, Frankincense Sacra resin is traditionally used as incense and medicine.
Frankincense Sacra from Arabia and Oman is one of the frankincense types that contain Boswellic acids which have been shown in laboratory studies to be anti-inflammatory and cause apoptosis in a variety of cancer types.
Boswellia Sacra is ideal for the preparation of incense blends, therapeutic oils, salves, cremes and tinctures. In many Arabian cultures, it is infused overnight in water, ( a teaspoon to a cup of room temperature water), and sipped throughout the following day for its therapeutic qualities. You can find the tincture and the oleo-extract of this resin in the shop.
It is easy to work with and its beautiful fragrance follows it through every product you make. For more information, recipes and instructions on making your own therapeutic or cosmetic products from Frankincense resin, please visit-https://apothecarysgarden.com/2014/07/30/how-to-make-a-whole-extract-of-frankincense-and-other-oleoresins.
---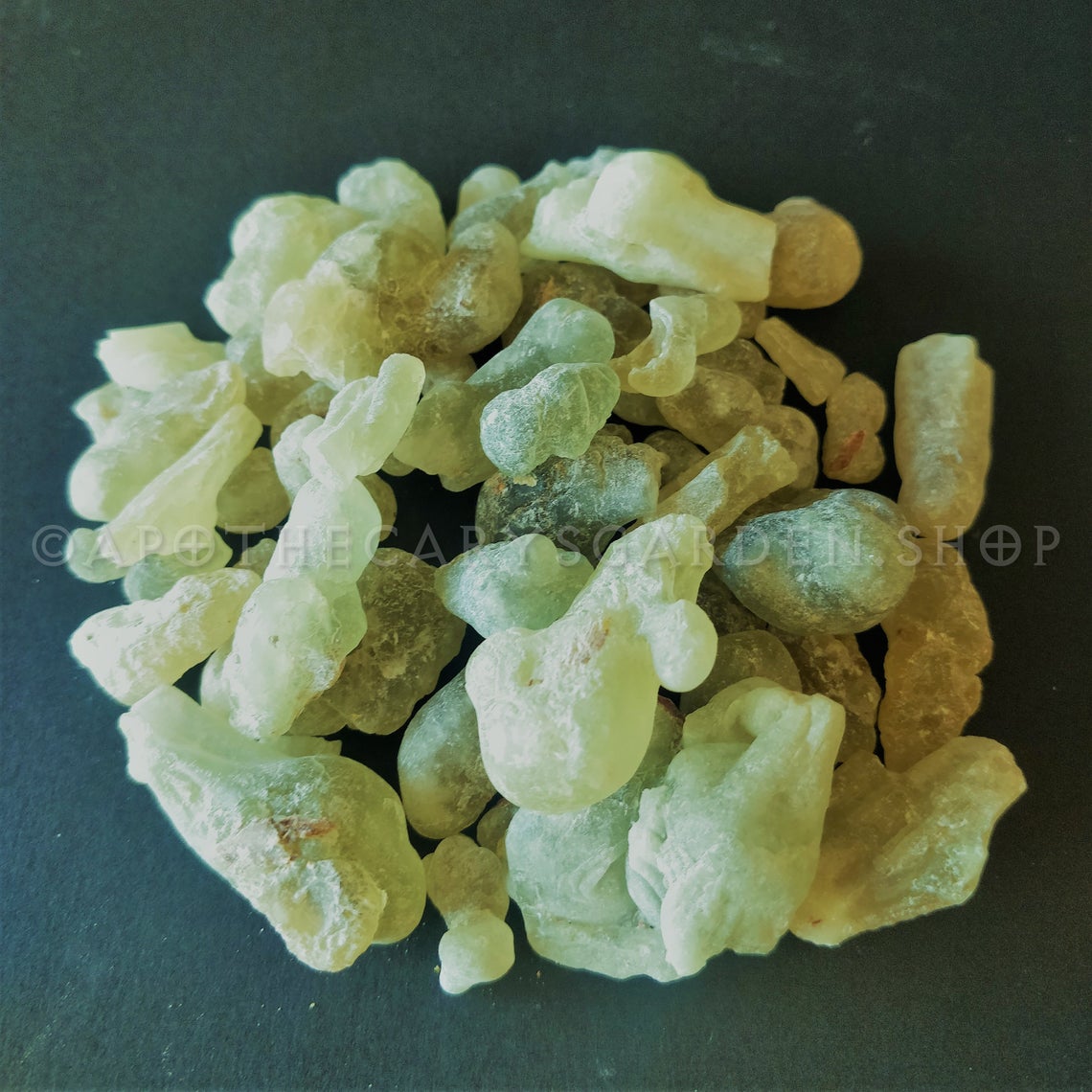 Royal Green Hojari Frankincense. Oman. A rare Frankincense for incense, medicine & perfume. Bears a beautiful green hue.
 This new shipment of Royal Green Hojari Frankincense from Oman is one of the most delightfully fragrant we have had.
Considered the premier Frankincense of Oman, this shipment of Royal Green Hojari is indeed a particularly beautiful and fragrant resin.
Traditionally reserved for medicine, high-end incense and tea, these large succulent pieces share a green cast and a delightful sweet citrus scent.
It takes many Kilograms of regular Omani Frankincense resin to collect a handful of the prized "Royal Hojari. In turn, it takes many Kilograms of Royal Hojari Frankincense to gather a handful of the coveted green Frankincense tears.
During the sorting process which involves women of the community for much of the year, each tear of Frankincense is graded by size shape and colour.
The cream of the crop are the large green-tinted tears that show up occasionally in each sorters pile and are considered the best of the best, reserved for medicine, special occasions and royalty.
With a delicately sweet, Piney, minty, citrus note, the scent of this resin suits its unique colour.
A staple of churches, Mosques and temples around the world, Frankincense Sacra resin is traditionally used as incense and medicine.
Frankincense Sacra from Arabia and Oman is one of the 5 frankincense types that contain Boswellic acids. These are therapeutically active compounds that have been in the news a lot the past decade and are thought to be behind the plethora of conditions addressed with Frankincense in traditional medicine.
Boswellia Sacra Royal Green Hojari is ideal for the preparation of incense blends, therapeutic oils, salves, cremes and tinctures. In many Arabian cultures, it is infused overnight in water, ( a teaspoon of tears to a cup of room temperature water), and sipped throughout the following day for its therapeutic qualities. You can find the tincture and the oleo-extract of this resin in the shop.
---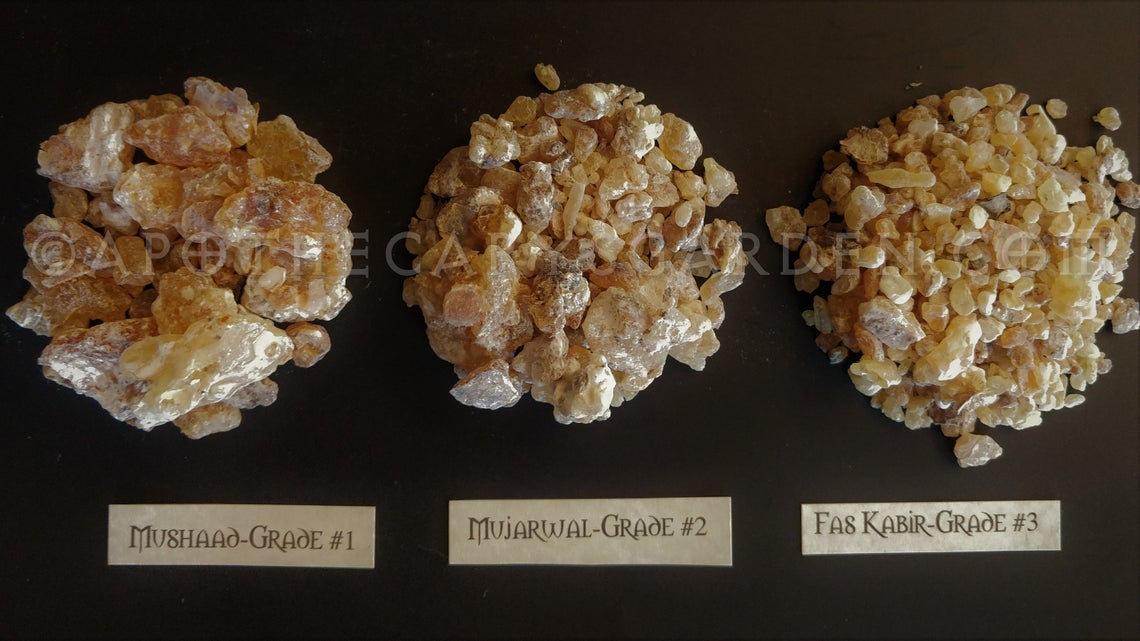 Frankincense Frereana -3 Grades-Maydi-Natural Chewing Gum & Incense-Mushaad-Mujarwaal-Fas Kabir
Perhaps the least known Frankincense type in the Western world, but one of the most prized in Arabia and Africa, Boswellia Frereana is Native to the Somali Puntland and the Somaliland highlands, it is their pride and joy. In Somalia and neighbouring countries, it is called Maydi and considered the King of Frankincenses. The fragrance of Boswellia frereana is a warm Amber highlighted by honey, spice and light musk notes.
Though Boswellia frereana has a very different chemical composition than other types of Frankincense and contains no Boswellic acids, it is used traditionally as medicine and has been shown in laboratory studies to be anti-inflammatory and able to kill the H. Pylori bacteria that causes Gastric ulcers. It is traditionally thought to help alleviate Arthritic pain and support healthy joints.
Boswellia Frereana is widely used as a high-end chewing gum for oral care, peptic ulcers, and is considered antiseptic and anti-inflammatory for both the gastrointestinal and the urinary tract. It is believed that the body benefits from these therapeutic actions through chewing the raw resin. Maydi has been used in anti-ageing and rejuvenative cosmetic preparations and is believed to reduce wrinkles and add elasticity to mature skin.
Collected by traditional harvester clans and families in the mountains of the Somali Puntland, from often precarious cliff growing trees. It is brought down to the coastal plain on the backs of donkeys to be sorted, packaged and sold. It is often bought up quickly by the Coptic church as their signature incense, and traders from across the Red Sea who sell most of their product to Saudia Arabia and other Arabian countries where it is in great demand as a high end chewing gum and incense material. Frankincense Frereana is so much in demand in these countries that the harvest is often pre-purchased a year in advance to guarantee supply.
Averaging around 95-99% oleoresin with barely any water-soluble gum content, (as compared to 20% -35% in Boswellia Carterii/Sacra and other types), means Boswellia frereana is perfect for mastication and makes a long-lasting chewing gum.
Frankincense Frereana is an easy to use and a wonderfully fragrant incense on its own or as an ingredient in Bakhoor, and compound incenses. Due to its near complete solubility in alcohol, waxes and vegetable oils, it is perfect for making, cremes, salves, tinctures and many other natural cosmetics, aromatic and therapeutic products. It is an integral ingredient in the traditional Somali Unsii incense.
To use this natural oleoresin of Frankincense Frereana as a chewing gum, take a few lentil sized tears, or one pea-sized piece, let it warm a bit in your mouth to soften, then as it is chewed it will come together to form a wonderfully fragrant and healing gum that will last for a long time. It helps freshen the breath and massage the gums. It is believed to have a calming effect on the mind and stimulate memory and brain function.
---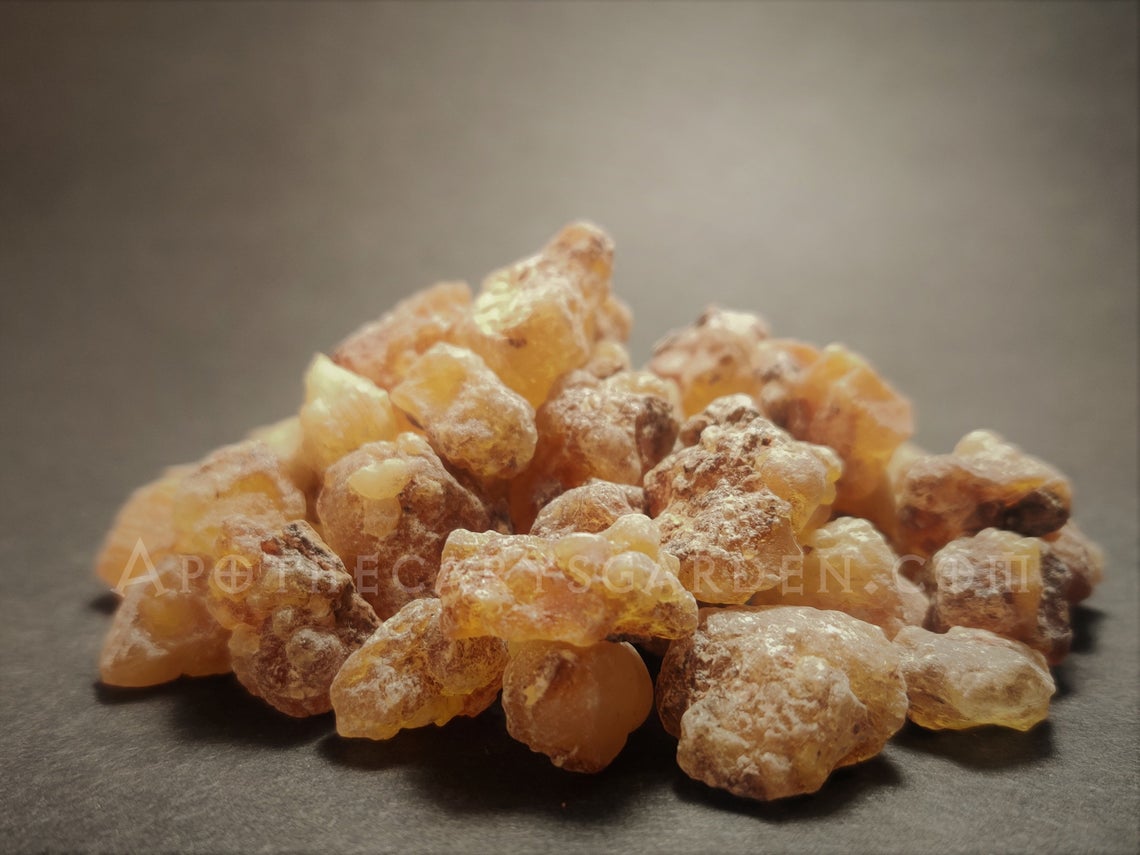 Frankincense Papyrifera – Sudan
Frankincense papyrifera grows mainly in the Tigray area of Northern Ethiopia, in Eritrea to the north and Sudan to the West.
Usually, the Frankincense Papyrifera we see here in the West is sourced from Ethiopia. Every once in a while I come across a Sudanese harvest but the quality is on par with the Ethiopian "Export Grade" which is great. However, this time the Sudanese have outdone themselves and raised the bar for Papyrifera quality. I don't know if this is a quality they can maintain in the long run, so I suggest stocking up while we have it.
Until recently, in our North American market, there was little choice as far as the type of Frankincense resin or essential oil one could buy, and it was almost impossible to acquire the rare types of frankincense such as Frankincense Papyrifera.
Boswellia, or Frankincense Papyrifera is distinguished from other types of Frankincense by the presence of Boswellic acids, Incensole and Incensole Acetate. Studies have shown that Incensole Acetate affects our central nervous system and possesses psychoactive properties. According to studies, Incensole Acetate can generate heightened feelings of well-being and spirituality, reduce feelings of anxiety and depression and improve memory function. Other research has indicated that Incensole Acetate shows neuroprotective and anti-inflammatory properties and may be of use in cases of stroke and head trauma. It is presumed that Incensole and Incensole Acetate are also absorbed by the body through the smoke released during the burning of Frankincense as an incense. One can see why this has been an ideal incense for spiritual/religious purposes in churches and temples for millennia.
The Boswellic acids that Frankincense Papyrifera contains have been researched extensively and show powerful anti-cancer activity in the lab.
Ruled astrologically by the Sun, all types of Frankincense are anti-inflammatory, calming to the mind and spirit and aid in meditation and spiritual work.
Frankincense has been a valuable commodity and a very important part of our global cultures, religions and trade for thousands of years, highly valued for its medicinal, spiritual and aromatic uses, it is only recently that the different types of Frankincense have been examined closely and their unique chemical compositions studied.
---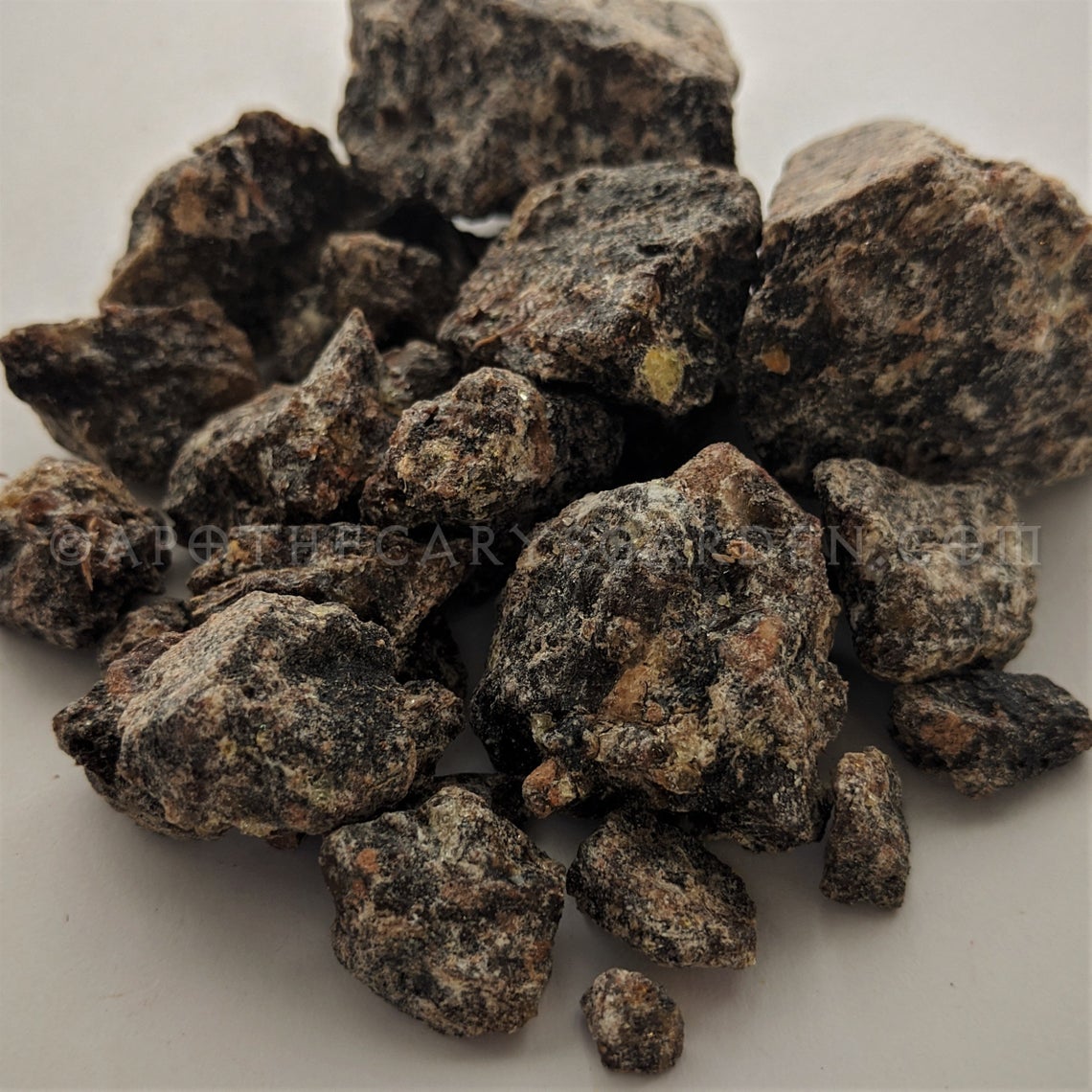 Frankincense Rivae – Somali Region-Ethiopia The sweetest of the Frankincense family
Likely my favourite Frankincense type, Boswellia Rivae never stays in the shop for long.
It has a haunting, rich fragrance with a soft candy-like sweetness reminiscent of its distant cousin Palo Santo, (Bursera Graveolens). With a deep amber heart and a light, sweet spiciness, it is my go-to Frank in many of my blends and is a beautiful resin on the coal.
Like all others in its family, Frankincense Rivae is ruled Astrologically by the Sun. Thus it is considered warming and strengthening to the heart and mind, grounding, cleansing and spiritually uplifting.
Frankincense Rivae has been used traditionally as an incense to cleanse the home, sanctify ceremonies and sacred spaces. Both the essential oil and oleoresin of Frankincense Rivae are ingredients in traditional Bakhoor incense mixes across the region.
The scent of Frankincense Rivae, though unmistakably that of Frankincense, stands out with a smooth complexity. It is one of the most vibrant Frankincense types I have come across. It lends itself beautifully to natural incense work and can be used in various cremes, salves and oils.
Traditionally it is used to speed the healing of wounds and scar tissue, and as most other types of Frankincense, it is anti-inflammatory, reduces the appearance and the signs of ageing. It is often used in anti-ageing and anti-wrinkle cosmetic products.
Boswellia, or Frankincense Rivae, is an olfactory treat, a rare and unusual Frankincense that should not be missed.
---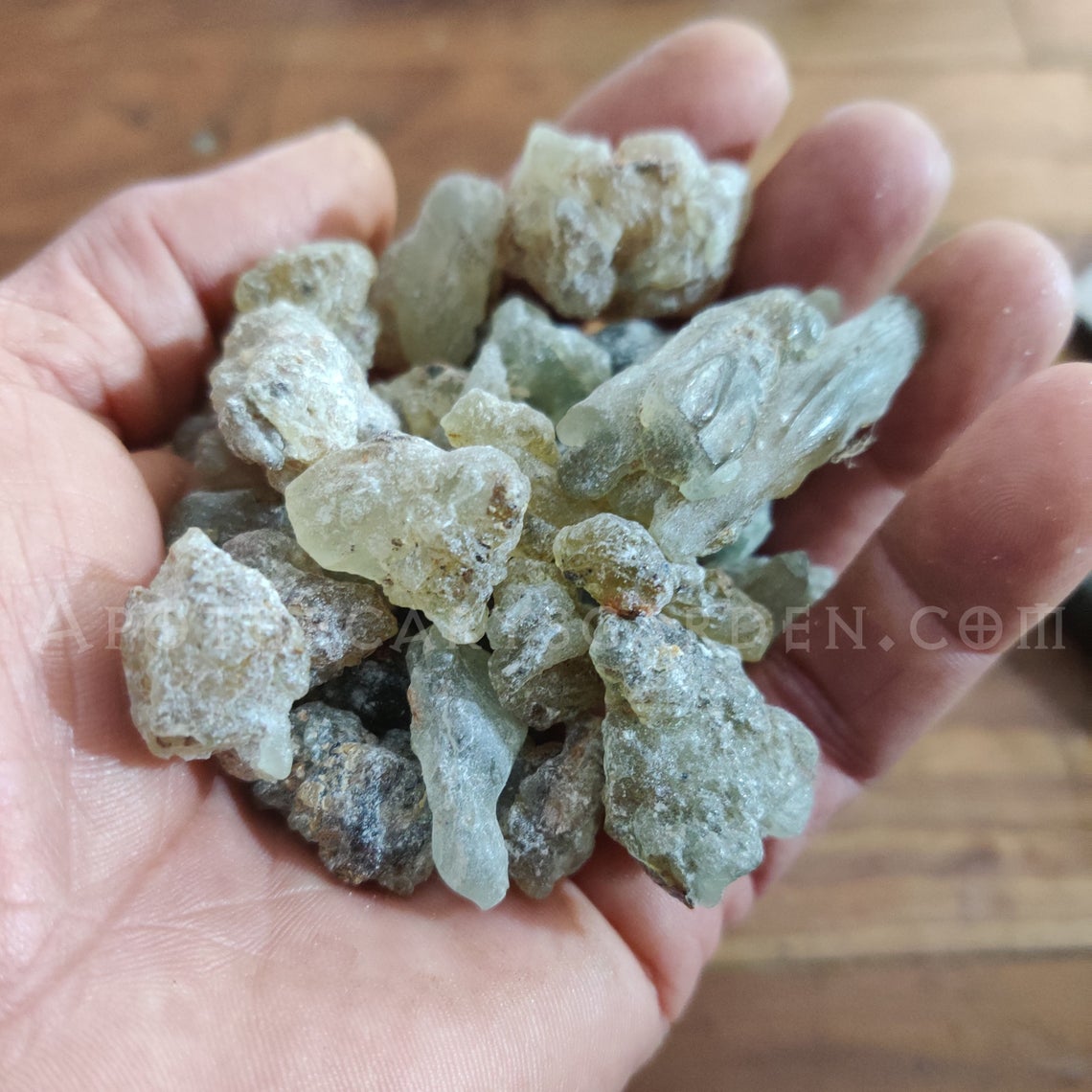 Frankincense Serrata – Boswellia Serrata – India – Ayurveda – Boswellic acids
Boswellia or Frankincense Serrata is likely one of the most well-known and most-used types of Frankincense in the world. Also called Indian Olibanum and Salai in India, its traditional medicinal uses are well recorded.
Used extensively for hundreds of years in the Indian healing tradition of Ayurveda, Boswellia Serrata is considered an NSAID (or non-steroidal anti-inflammatory drug), causing little to no side effects or irritation compared to steroidal drugs. It is used traditionally to treat arthritis, osteoarthritis, inflammation of joints, bronchial asthma and recently has shown promise treating ulcerative colitis, Crohn's disease, tumours and causing apoptosis in cancer cells. Boswellia Serrata is also used in Ayurveda to treat diseases of the mouth, chronic skin lesions and ulcers, wounds, piles, diarrhea, jaundice and other hepatic disorders.
Many of the therapeutic properties are attributed to its Boswellic acid content, compounds it shares with Frankincense Papyrifera from Ethiopia and Frankincense Sacra/Carterii from Oman and Somalia.
Growing from India up through Punjab and into Pakistan, Frankincense Serrata is used extensively as an incense and incense ingredient in local rituals and ceremonies. It's distilled essential oil has a warm amber-like spicy fragrance that acts as a heart-to-base note in perfume blends.
Frankincense Serrata is also used in traditional Chinese medicine. Extracts and capsules of B. Serrata are widely available on the market and commonly found on health food store shelves.
Like most types of Frankincense, when burned as incense, it helps cleanse a space and create a sense of sacredness. Frankincense is ruled by the Sun from an astrological point of view, is calming to mind and heart, helps raise one's spirits, and is said to generate heightened feelings of spirituality and well-being.
Excellent for preparing tea or powder and other products, it does not lend itself to chewing as pleasantly as Frankincense Sacra, Royal Green Hojari or Frankincense Carterii.
---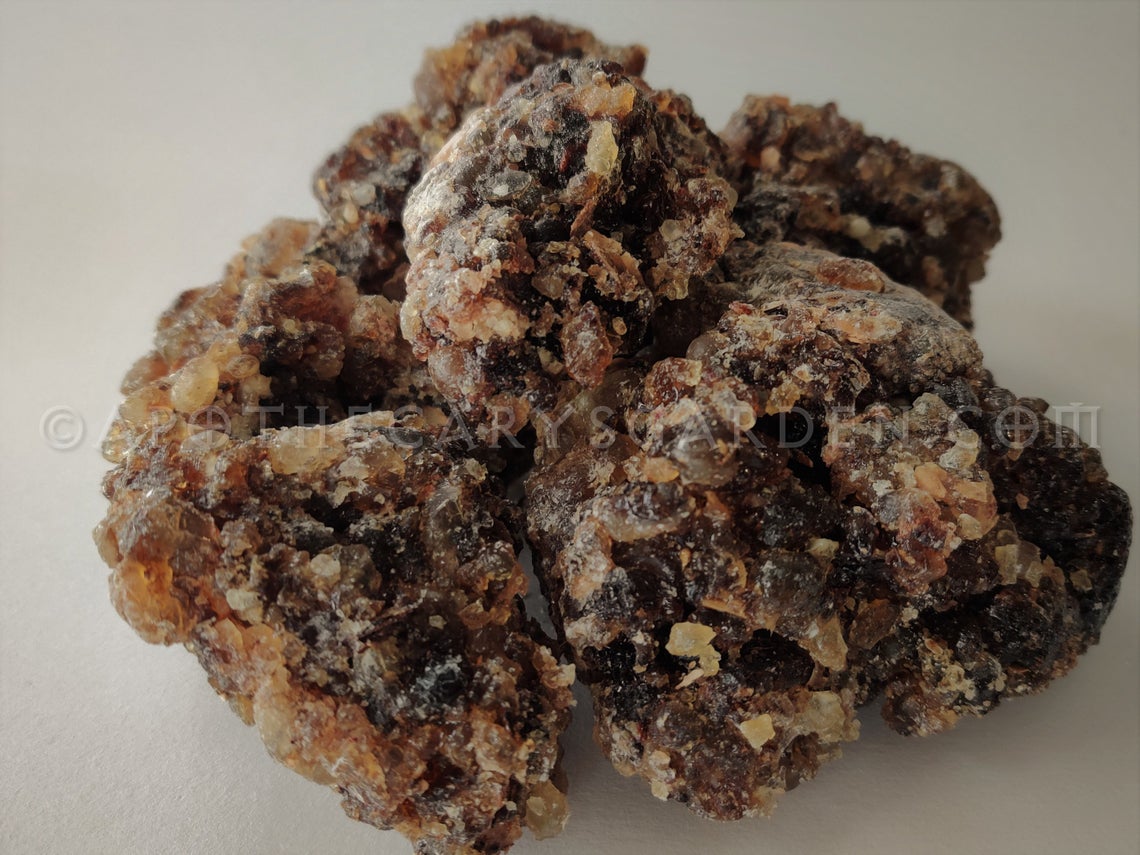 Black Frankincense Sacra – Boswellia sacra-Oman
This unusual type of Boswellia Sacra is quite different from the Oman Frankincense we are familiar with. Though it does not rate high in the traditional Omani grading system, (Likely due to the absence of well-defined tears), it is favoured by distillers, perfumers and incense makers for its unique aromatic characteristics and abundance of essential oil which lends it its stickiness and intense aroma.
It conveys these aromatic qualities readily to incense blends, teas, oils, salves, tinctures and cremes.
Sweeter than the Black Frankincense carterii from Somalia, it has deep notes of amber, wildflower honey, and delicate spices with soft green notes wafting through.
Instead of the lemon top note shared by other types of Omani Frankincense, it has sweet hints of citrus, (Like fresh Tangerines ripening somewhere nearby).
Black Frankincense sacra makes a gorgeous incense on its own or if desired, small pieces can be warmed and rolled between the fingers into balls, blended with essential oils or rolled in fragrant wood powders such as Agarwood and Sandalwood to create unique incense Pastilles.
As many other Frankincense types, it contains Boswellic acids which have been shown to exhibit anti-cancer and anti-inflammatory properties. The Boswellic acids contribute to its traditional use in cosmetic and therapeutic oils, salves cremes and liniments used for mature skin, joint pain, arthritis and Rheumatoid Arthritis.
---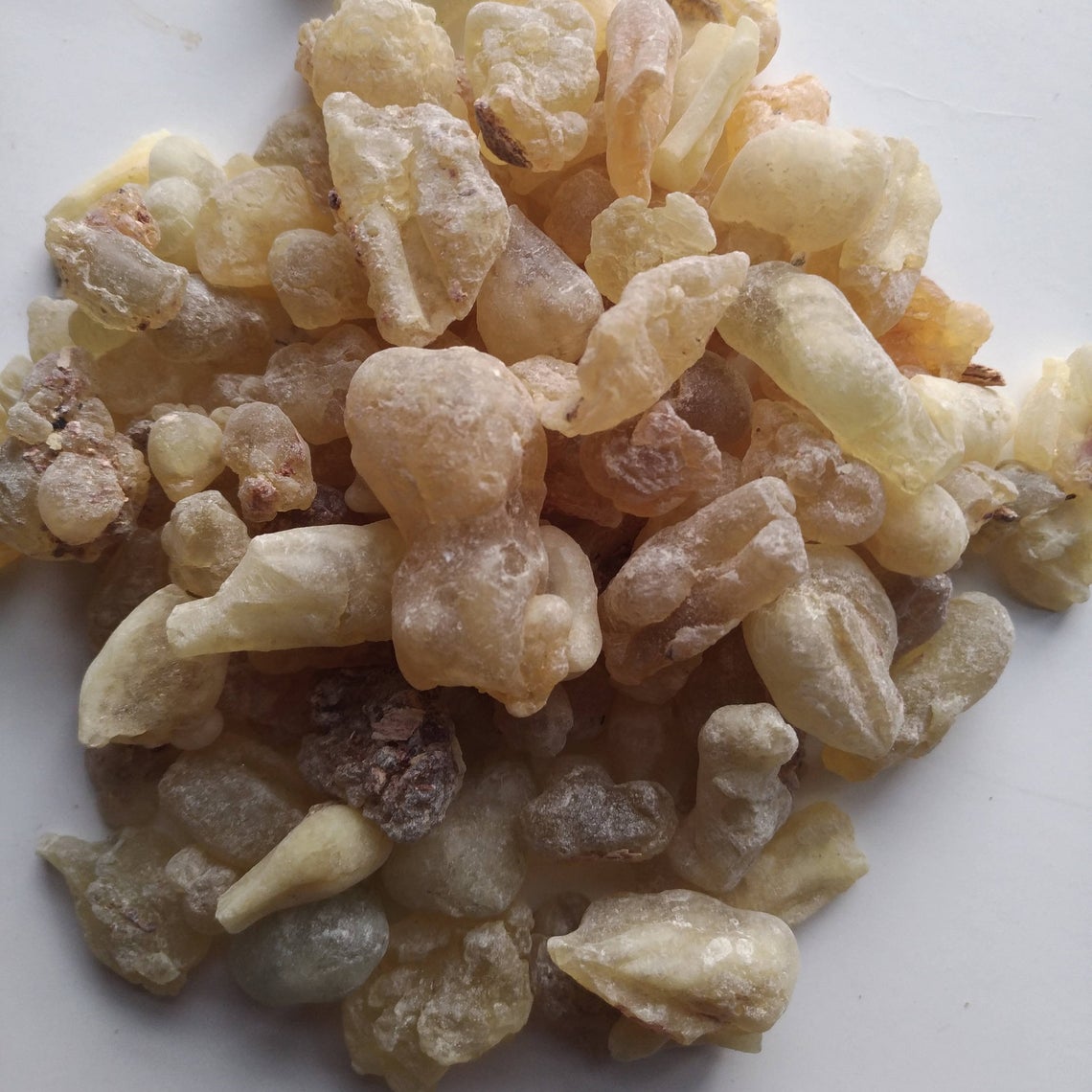 Frankincense Dalzielii, Janawhi, Cricognimu-Nigeria
A West African Frankincense found in North Eastern Nigeria where the Hausa speaking people refer to it as Hano or Harrabi. This shipment is of the highest quality I have ever come across. It is well sorted and contains a good mix of large pieces including the rarer light and dark green tears with no bark or dust. It is beautiful material that exhibits the trademark fragrance of Boswellia Dalzielii -Orange/Citrus and Mint with earthy undertones. The locals use it as chewing gum and as incense. It can be used as many of the other types of Frankincense for incense, teas, oils, salves, tinctures and cremes. This is a premium quality Frankincense at a very reasonable price.
Boswellia Dalzielii is the most western Frankincense species on what could be called the "Boswellia Belt", a latitudinal band of favourable growing conditions that runs from the Ivory Coast in the far west of Africa to the eastern Horn of Africa and continues on through Yemen and Oman all the way to India and Pakistan in the East.
There are about 18 species of Frankincense dispersed along this band. Though not all of them yield resin on a commercial scale, most have been used in traditional folk medicine in the areas they grow. This is the case with Boswellia Dalzielii who's bark is used locally for many ailments including wound healing, Rheumatoid arthritis, gastrointestinal problems, and venereal diseases. To learn more Google "Boswellia Dalzielii studies".
A staple of churches, Mosques and temples around the world, Frankincense resin is traditionally used as incense and medicine. Its essential oil is distilled for perfumery and aromatherapy.
Frankincense Dalzielii bears all the features and indications that it belongs in the group of Frankincense types that provide us with Boswellic acids. These include B. Carterii, B. Sacra, B Papyrifera and B. Serrata. Recent studies out of Germany show Nigerian Boswellia Dalzielii resin to have the highest percent of Boswellic acids among all the Frankincense types.
---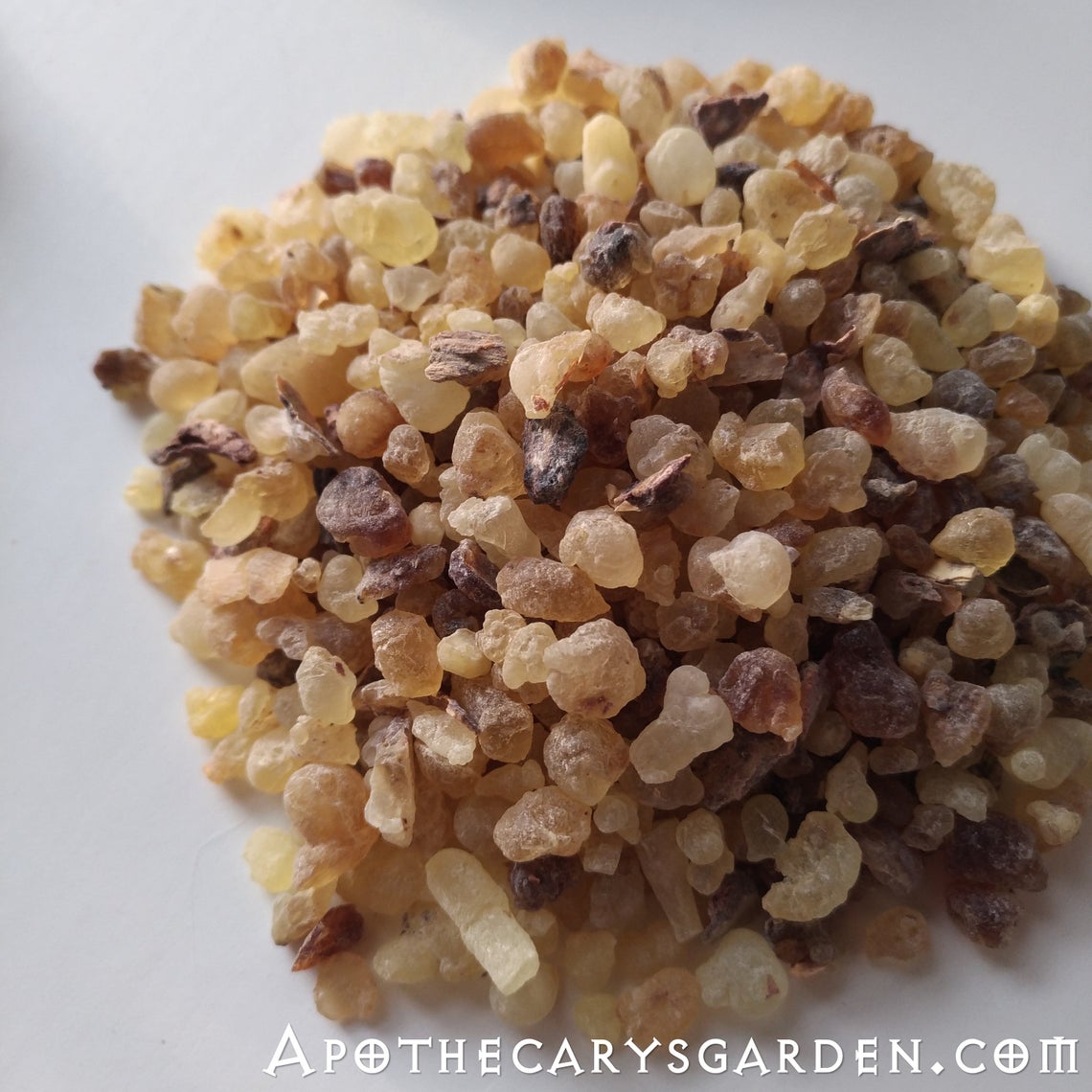 Frankincense Carterii – Somalia
Frankincense Carterii is one of a handful of Frankincense types that contain Boswellic acids. These resin acids are the compounds that have been shown in studies to be anti-inflammatory and anti-cancer. These findings support its use in traditional medicine for inflammation, respiratory, muscle and joint and gastrointestinal issues. Frankincense Carterii has also been shown to add elasticity to skin and has been used in cosmetics formulas. It is important to note that it is the resin part of Frankincense that contains the Boswellic acids, not the essential oils. Adding essential oil of Frankincense Carterii will not deliver its full therapeutic value. For this reason, it is much more advantageous to understand how to use the resin in products.
Frankincense Carterii resin can be used as a base for therapeutic and cosmetic cremes, salves, balms and medicated oils. For instructions on how to make your own Frankincense oil-extracts and other products please visit my blog at www.apothecarysgarden.com
It is lovely burned in a censer alone or ground and blended with other aromatics.
In local folk medicine traditions, Frankincense Carterii is used as a tea/infusion by steeping one teaspoon of tears in 2 cups of cold water overnight and sipping on this tea during the day. This is taken to help with coughs, colds and respiratory complaints.
---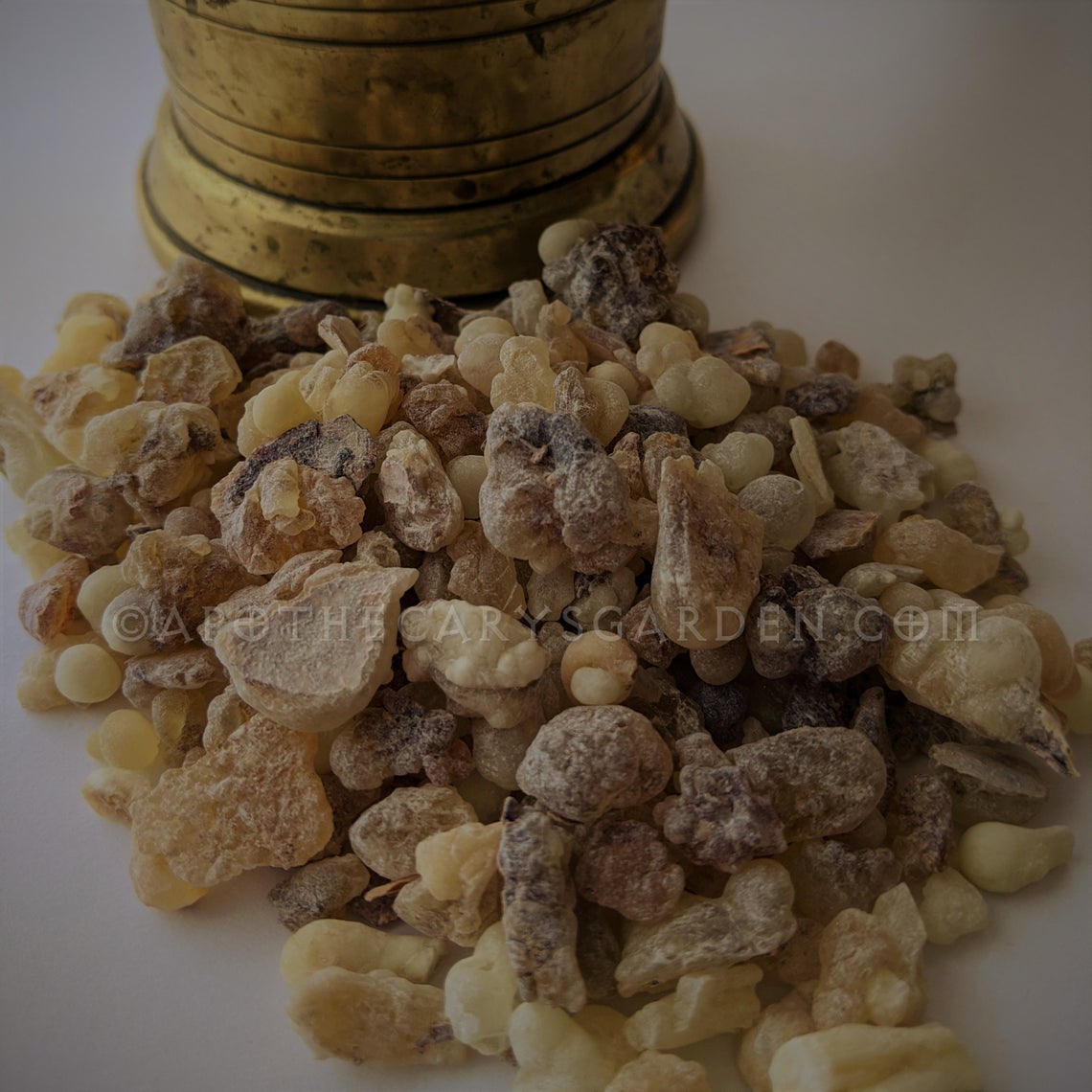 Frankincense Sacra – Oman-Boswellia Sacra
There is an ongoing debate among botanists whether Boswellia Carterii from Somalia and Boswellia Sacra which grows in Oman are the same species or different. This debate could, and likely will go on for decades.
A staple of churches and temples around the world, Frankincense resin is traditionally used as incense and medicine. Its essential oil is distilled for perfumery and aromatherapy.
It is one of 4 frankincense types that is rich in Boswellic acids.
Since Boswellia Sacra contains the Boswellic acids in its resin, (Not the essential oil!), it is ideal for the preparation of therapeutic oils, salves, cremes and tinctures. It is easy to work with and its beautiful fragrance follows it through every product you make.
It is traditionally used to make Frankincense tea and the tears are often chewed as a healthy alternative to sweetened artificial gum.
---
Assorted Resin Varieties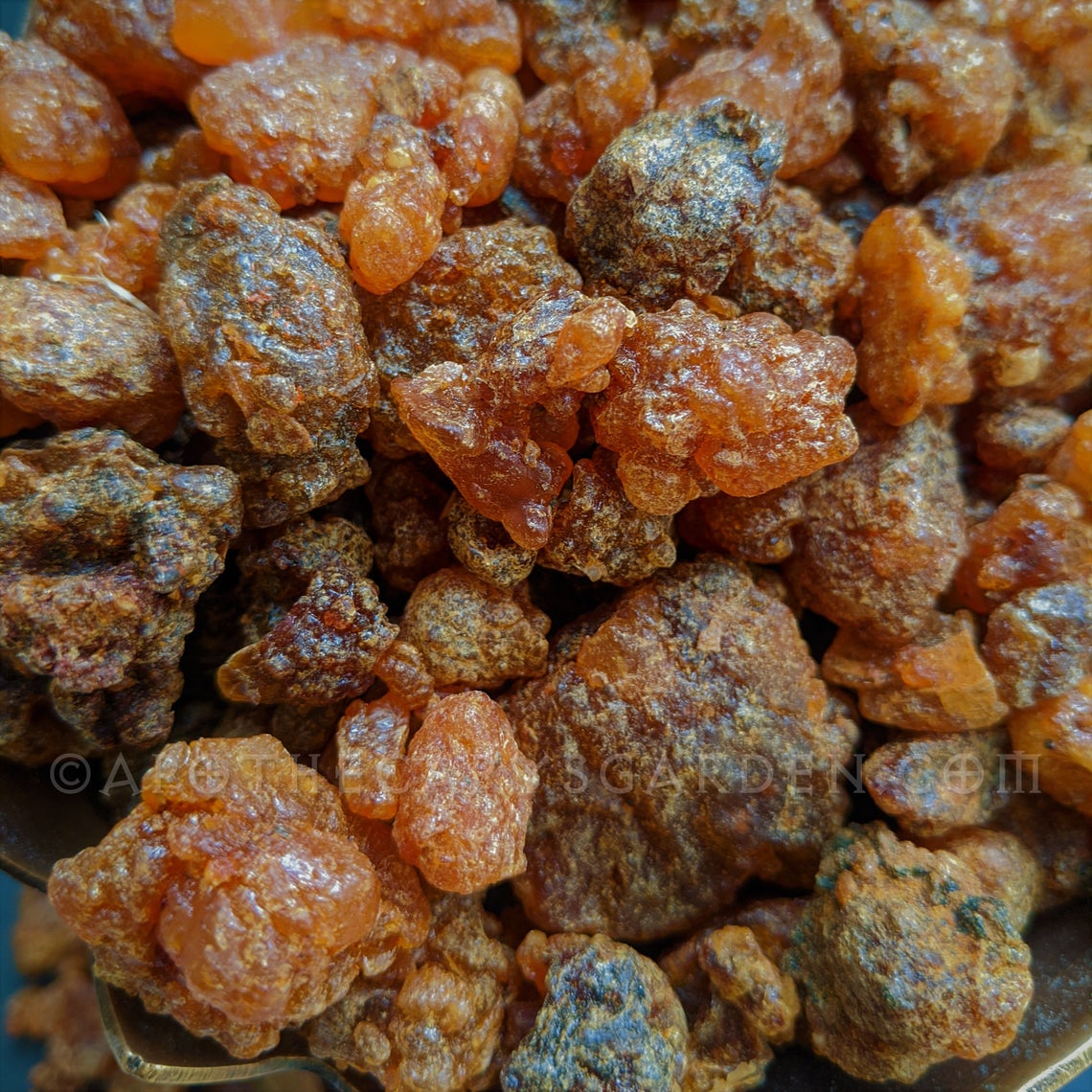 Yemeni Myrrh
Fresh Myrrh oleoresin. Commiphora Myrrha from Yemen. For perfume, Medicine and Incense.
This resin is rare in its quality and difficult to come by given the conflicts in Yemen. It is more expensive than regular Ethiopian Myrrh, but each piece is a worthy specimen, exhibiting lovely colour, translucency and aroma.
Along with Frankincense, Myrrh is probably one of the most well known natural oleoresins in the world. Famous for its use since biblical times as medicine, fragrance and incense, Myrrh has long been valued for its many medicinal applications and has been at times, worth its weight in gold. Literally.
This fresh batch of Myrrh is sourced from Yemen and is rich in essential oils lending it a lovely crisp, warm and bitter fragrance.
One of the most precious commodities in the ancient world, this aromatic oleoresin still keeps its value as a component in perfumes and incense, while medicinally, it is unsurpassed as a "heal-all" for oral care, effectively addressing issues such as inflamed sore or infected gums, post-extraction soreness or denture irritation, spongy gums, canker sores, halitosis, gingivitis, and loose teeth. A simple tincture of the raw oleoresin, or essential oil, in alcohol/water, added to a saline mouth rinse is one of the best treatments for oral issues and sore throats.
Myrrh is a powerful anti-fungal and has been used successfully to treat fungal infections of the skin and nails. Myrrh contains 2 compounds that are analgesic and can help reduce pain. One customer who suffers from allergies to painkillers, shared recently that she places a small lump between cheek and aching tooth. She claims it offers her relief in about 5 minutes.
Internally it is a natural "Bitter", stimulating digestion, appetite and the production of bile. Topically in a salve or creme, Myrrh has been used for coughs, colds and congestion, cuts and abrasions and hemorrhoids. Myrrh is traditionally used in cosmetic skin-care products for its beneficial effects on the skin.
The name Myrrh is rooted in The Aramaic word for bitter. Mar, Mor. It lives up to its name with a wonderfully rich, sweet, stimulating bitterness. Some associate this with the names Mary, Miriam, Mariam, and believe it to mean the bitter of the sea, the froth of the sea? (Sometimes associated with the Goddess Astarte, Ashtoreth). Either way, Myrrh is considered to be of a feminine nature, which is appropriate since Myrrh is ruled astrologically by the Moon and has an affinity with the fluid systems of our body. ( Frankincense is ruled by the Sun). It is interesting to note that it has also been used to regulate menstrual flow.
---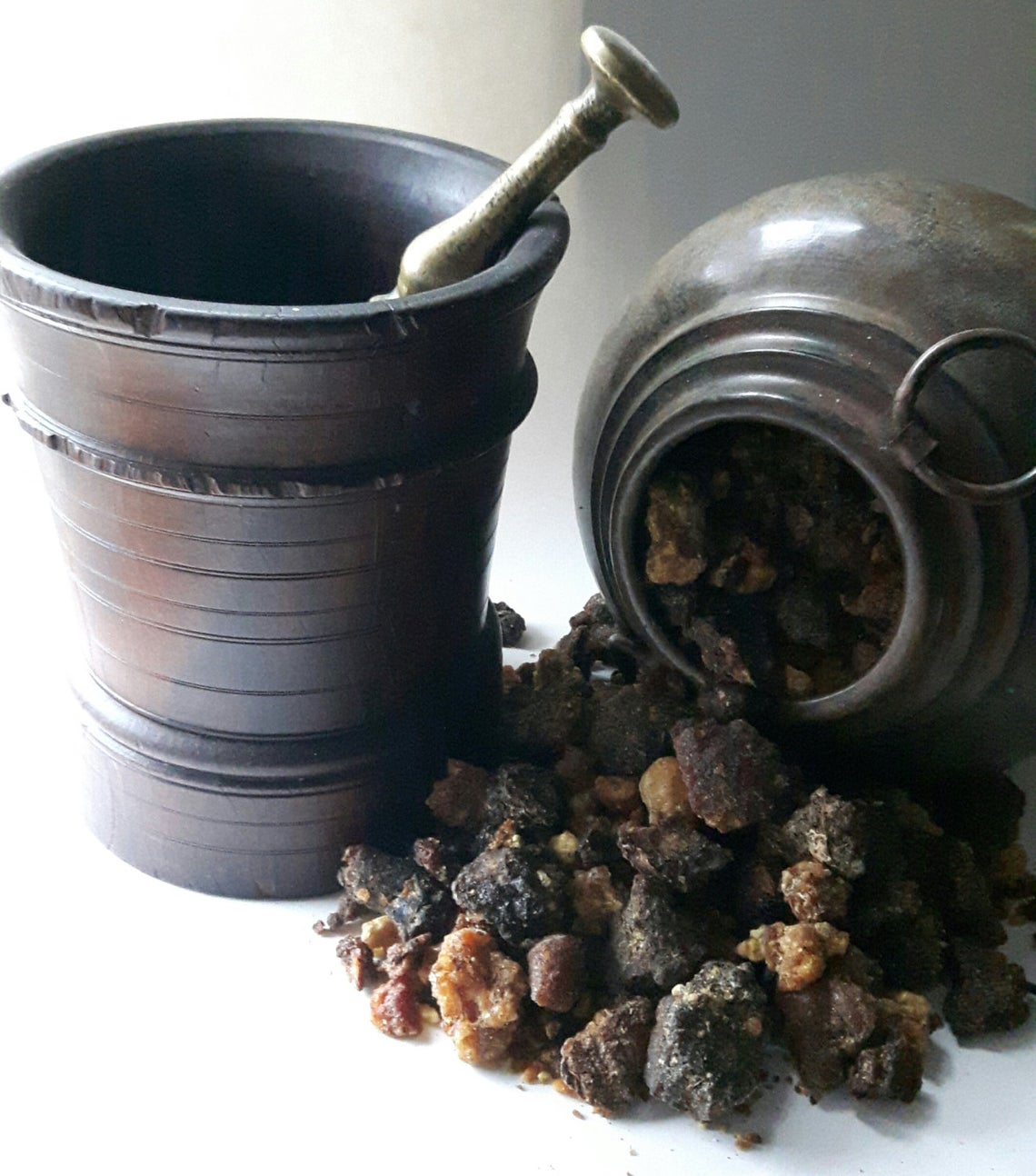 Opoponax-Commiphora Guidotti – Scented Myrrh – Somalia
Sweet, vibrant and unmistakeable , Commiphora Guidotti is the accepted Commiphora/Myrrh type used in mainstream commerce under the name Opoponax. Though there are other Commiphoras such as C. Erythrea also called Scented Myrrh and Opoponax, it is C. Guidotti that yields the Opoponax essential oil we are accustomed to.
.
After a long 6 months of setbacks, this shipment from our co-op in the Somali Puntland has finally cleared customs and is physically in the shop! Woohoo!!!
Fresh, fragrant and fair trade. What more could one ask for?
Both Commiphora Guidotti, known as "Hadi"", and Commiphora Erythrea, known in Somalia as "Hagar", are sold as Opoponax in the West. Though they are closely related trees, their scent profiles are very different and each stands out as a unique resin with a signature scent of its own.
While Commiphora Erythrea has great depth, mystique and complexity, Commiphora Guidottti is forthright and bold, lending a bright, crisp and fresh top note to perfume and incense blends with its unmistakable zest.
After 2 years of work, this is our first shipment directly from Somalia to North America, bypassing a chain of middlemen who benefit at the expense of the harvesters. There is a nursery established to plant more trees in the wild and part of the profits from these sales find their way back to the harvester's communities. This is a young venture, a novel approach to the traditional industry and I have high hopes for its growth and success.
Commiphora Guidotti is ruled Astrologically by the Moon as are its sisters C. Myrrha and C. Erythrea. In traditional Somali folk medicine, Opoponax is used to treat lower back pain and urinary tract issues. This is done by adding some resin the drinking water container and topping it up with fresh water when it gets low. The resin is not refreshed but left in the water for a period of days and untill the water no longer tastes or smells of the resin.. I do not know the dosage or the duration of the treatment and do not counsel anyone to try it.
---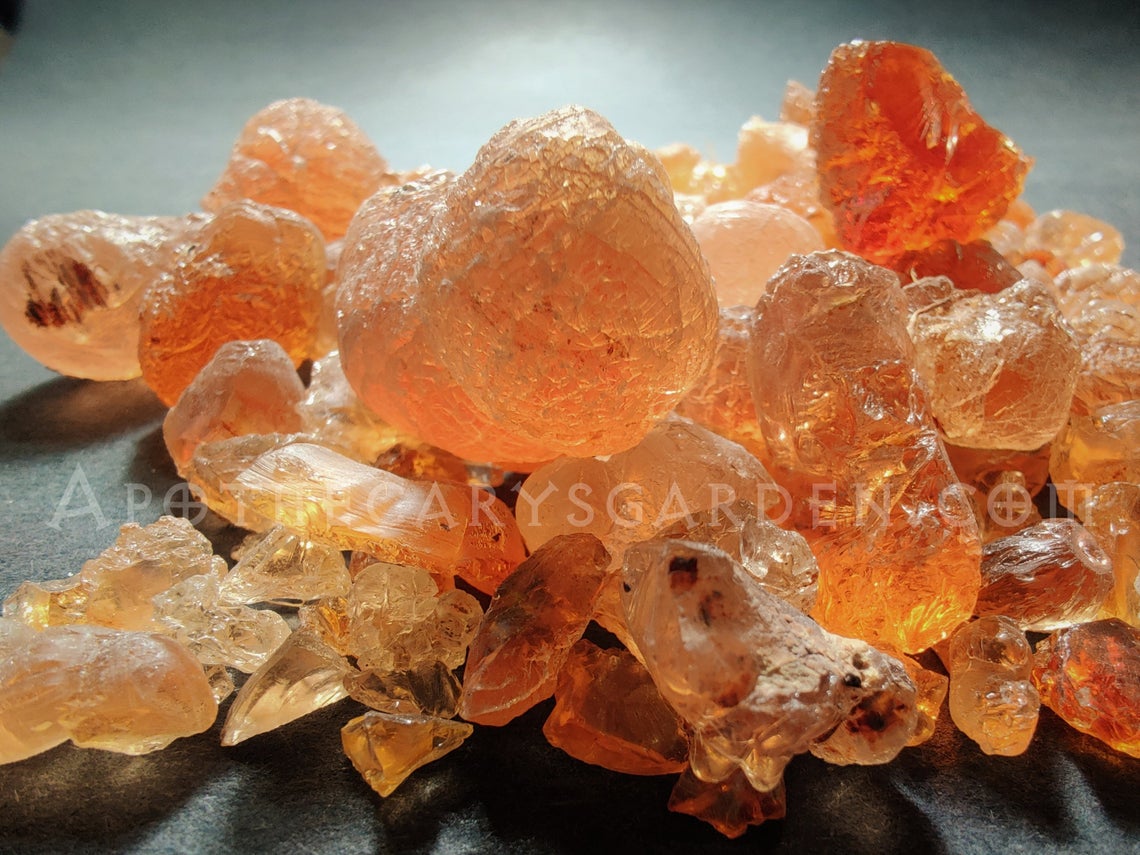 Gum Arabic – Kenya
Gum Arabic is one of two non-fragrant gums in the shop. Used as a binder in incense production, a stabilizer, emulsifier, adhesive and thickener in food, beverages and cosmetics, Gum Arabic is an extremely useful tree product.
An exudate of a number of Acacia species that are found in Africa and Arabia, Gum Arabic is used extensively in the food and confection industry to lend viscosity to beverages and stability to food products. It is used in icing and confection glazes, to suspend essential oils and create oil/water emulsions.
Dissolved Gum Arabic is a standard base for watercolours to which pigments are added.
Gum Arabic creates the gumminess of Marshmallows, Gummy bears and other soft confections and forms natural gummy balls on the trees while it is fresh.
It is a favourite food of Baboons in Africa and they are known to wait patiently while the tree produces a fresh flow of gummy yumminess for their pleasure.
Needless to say that it is also a favourite snack of children in the Savanna. Though we miss this delectable stage of Gum Arabic, it is a completely water-soluble product and is easily powdered and reconstituted with water for its many everyday applications.
It is eminently edible, odourless, flavourless and transparent when dissolved in water which adds to its popularity and broad use.
Gum arabic is a key ingredient in traditional lithography and is used in printing, paint production, glue, cosmetics, pharmaceuticals, and various industrial applications.
What will you create with it?
---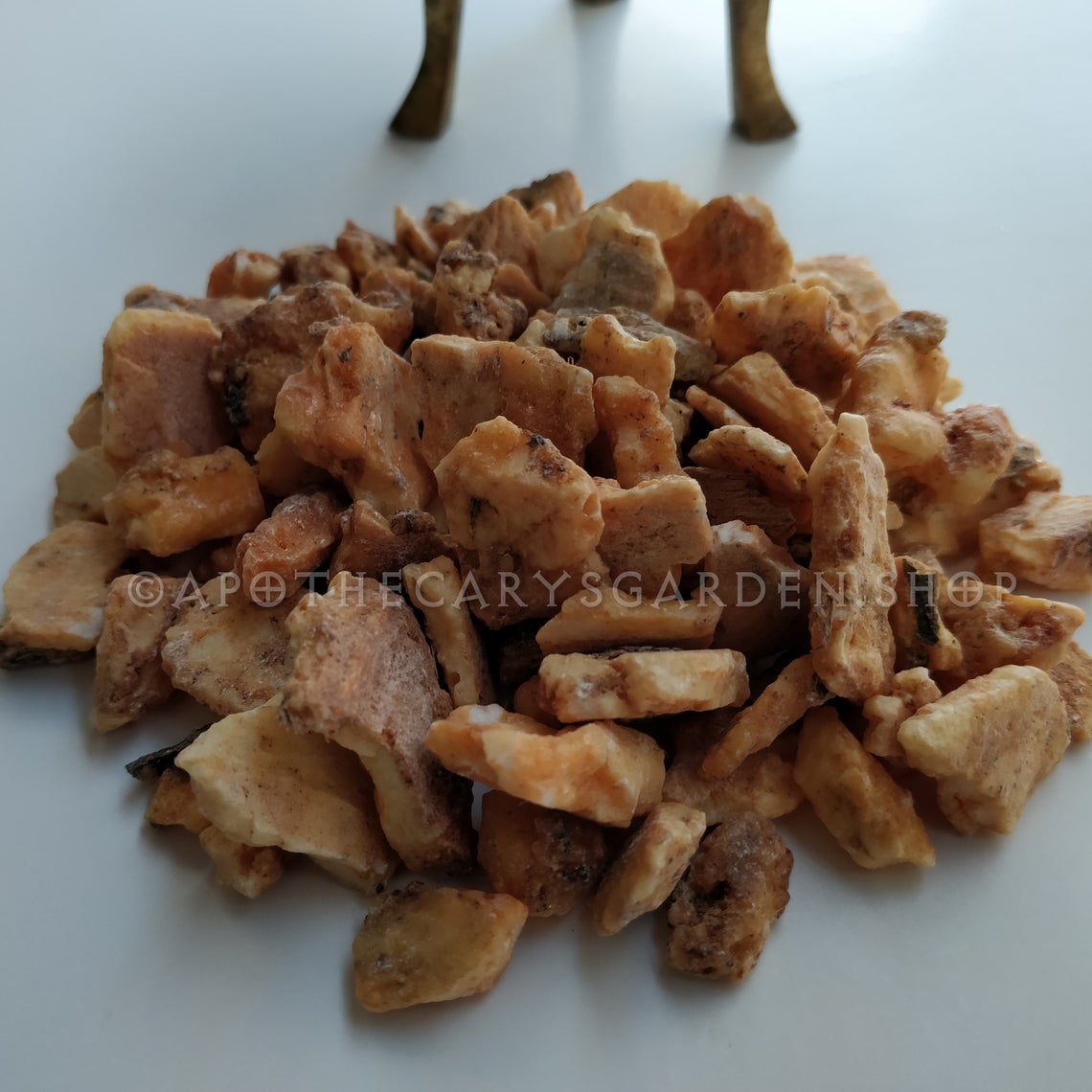 Siam Benzoin – Styrax Tonkinensis
This is the listing for the Premium Grade A+ Benzoin Siam, (Styrax tonkinensis), Almonds. The purest and highest grade of Siam Benzoin available on the market.
Over the decades I have seen many forms of Benzoin resin. Usually, bland nondescript chips, tears and powder or grey, grainy, odourless lumps that yield to no solvent. This resin is a material that is beautiful according to all senses and standards.
It has a rich, sweet, balsamic scent of Vanilla. It is distinguished from its cousin, Sumatra Benzoin by this enchanting Vanilla scent. Though Sumatra Benzoin has a vanilla-ish aroma, it is milder in comparison and uplifted by its own unique signature scent. (See Sumatra benzoin Here-
It dissolves easily in alcohol, DPG and Benzyl Benzoate when preparing tinctures, resinoids and absolutes. truly a pleasure to work with. In Amber accords, Siam Benzoin adds more depth and complexity than Sumatra Benzoin.
There are two species of trees that provide us with most of our Benzoin products.
-Styrax Benzoin from Sumatra and Indonesia (called kemanya locally),
-and Styrax Tonkinesis from Thailand and Laos which bears the name Siam Benzoin.
The name Benzoin is believed to have developed through centuries of intercultural "Broken Telephone", much like the children's game that involves whispering a word or phrase to the person next to you and comparing it with what the last person in the line claims they heard.
When Islam came to Indonesia 700 years ago, it was discovered that the native tribes tapped a tree to for its aromatic resin much like the Frankincense trees back home. This resin was not only fragrant, used for incense and medicine, but it came out of the tree white, just like the Luban or Frankincense of the Arabian cultures back home. Thus, it was awarded the Arabic name of Luban Jawi, or Frankincense of Java. (Luban is the Arabic name of Frankincense, Luban in Arabic and Levonah in Hebrew both share the same root word which means "White".)
When the French encountered this Balsamic resin its name morphed to something more pleasing to the Francophone ear, La Benjawi and later L'Benjoin or Benjoin. The English did not like the ring of it so they renamed it Gum Benjamin or just Benjamin.
In Ethiopia Benzoin is still called Lubanjah and one finds many variations on the theme when travelling such as Benjawi, Lubanji Lubanya etc..
Siam Benzoin is collected by making an incision in the tree and partially peeling back the bark underneath it. This creates a pocket that collects the liquid resin and holds it in place until it solidifies.
Benzoin is traditional medicine in many cultures. It is used as an expectorant and wound healer. Like many other tree resins, Benzoin has an affinity with the skin and is used to address issues of dry, chafed, chapped, cracked and rough skin, nipples and heels. It is one of the ingredients in Friars Balsam which is a compound tincture used internally for coughs and respiratory irritations and used externally for small wounds.
As an incense, Siam benzoin yields a dense Vanilla-sweet smoke when burned and is usually blended with other incense ingredients. It is a component in traditional incense formulas of the Orthodox Church and is often found in the "Rock" type Arabian Bakhour bricks. It is used extensively as a flavour ingredient in food, confection, beverages and tobacco products
It is used in perfumery for its vanilla-like scent and fixative properties and is considered an important ingredient in Oriental style perfumes and Amber accords.
Raw Benzoin resin dissolves completely in Ethanol but not fixed/carrier oils which can be frustrating. It does dissolve however in Benzyl Benzoate, ( a compound found in abundance in Benzoin resin), which can facilitate blending with carrier oils.
Due to its high Benzoic acid content, Benzoin Siam acts as a preservative and is a common addition to infused oils, salves and other products. The presence of Benzoic acid retards oxidization and delays rancidity in these oils, extending their shelf life.
From an aromatherapeutic perspective, Siam Benzoin is calming, grounding, uplifting and helps alleviate feelings of anxiety and depression.
In traditional Chinese medicine, the Benzoin resin family is named An Xi Xiang meaning "The peaceful rest fragrance".
Siam Benzoin trees are traditionally cultivated by families and smallholders, not in large corporate plantations which keeps this resin sustainable.
The main chemical constituents of Siam benzoin are Coniferyl Benzoate, Benzoic Acid, Vanillin, Benzyl Cinnamate, Cinnamyl Cinnamate and Cinnamic Acid.
Though used traditionally for its skin healing properties, Benzoin can cause a reaction in some individuals and can also cause sensitization. Use Benzoin products with care, well-diluted and with moderation.
---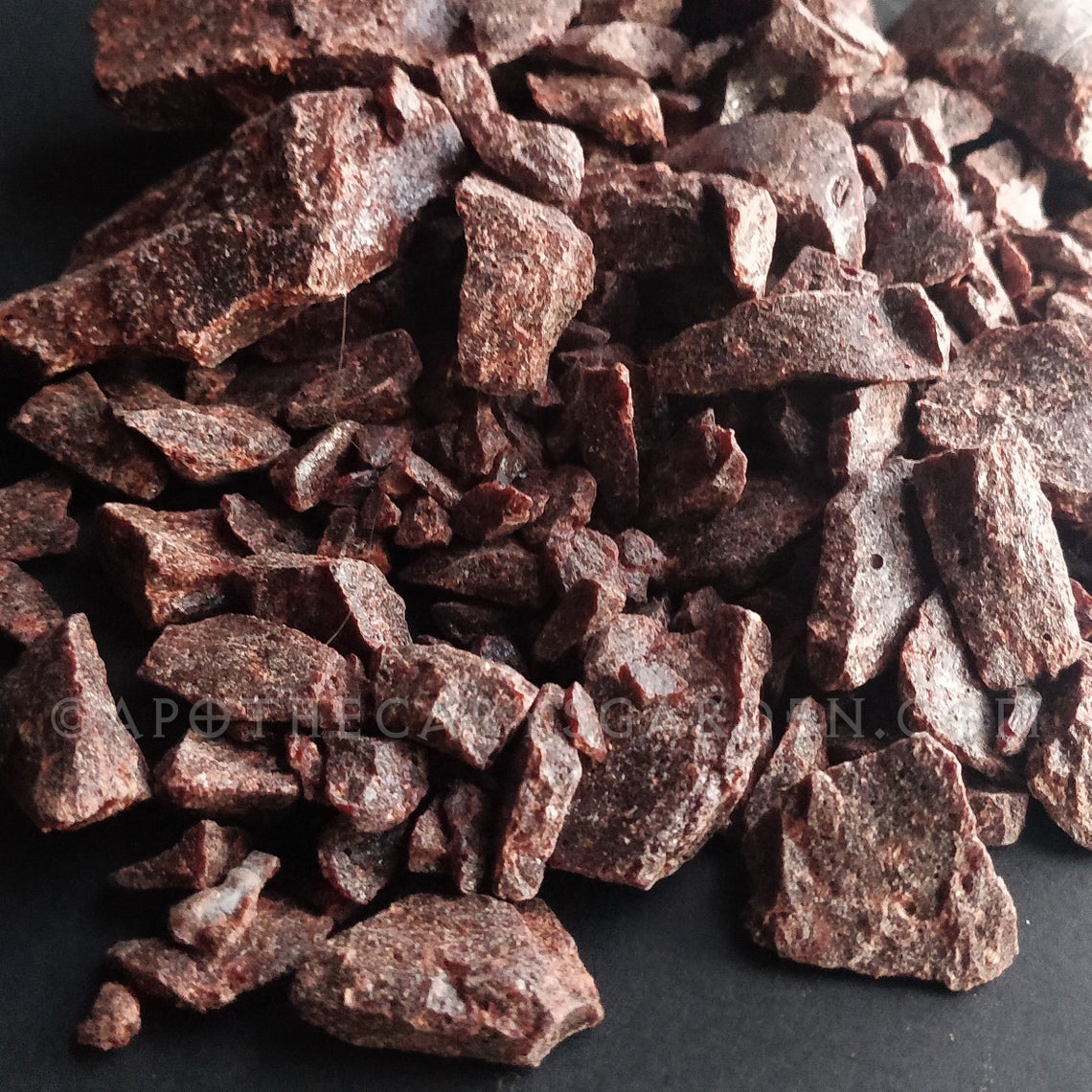 Dragons Blood-Daemonorops draco – Indonesia
There are approximately 20 different trees around the world that supply a red resin called Dragons Blood.
This is the resin collected from the Rattan palm of Indonesia. Its leaves are used in basketry and the sturdy core is used for furniture making.
The berries of Daemonorops Draco are coated with a thin layer of red resin. When the ripe berries are boiled, the lighter resin floats to the top of the water where it is scooped up and suspended in small cloth pouches to cool, dry and set.
This gives the exported, fist-sized lumps their distinctive shape, Pointed at one end, round at the other.
In some areas, the hard round seeds are used as beads.
This method of resin collection is sustainable and causes no harm to the trees or the environment.
Armed with wicked, needle-sharp spines, the Latin name of Daemonorops literally means Evil Spirit shrub. Though the name may be attributed to the nastiness of the spines, some believe that spirits and energetic beings find a haven in the safety of these spines as they do in brambles, thickets, hedgerows and other environments that keep humans at a safe distance.
The fragrance of this type of Dragons Blood resin is a bit different than the Socotra Dragons Blood. It is softer and sweeter than its counterpart and though it too creates an intense smoke on the charcoal, it is not as penetrating or sharp. In common with Socotra Dragons Blood, this resin has no scent until it is heated or burned.
A pure oleoresin, Indonesian Dragons Blood resin contains no water-soluble gum. This means it melts and pools on the hot incense charcoal and emits no charred fragrance as do most types of Frankincense and Myrrh resins.
Daemonorops Draco dissolves in alcohol like its Socotran counterpart.
---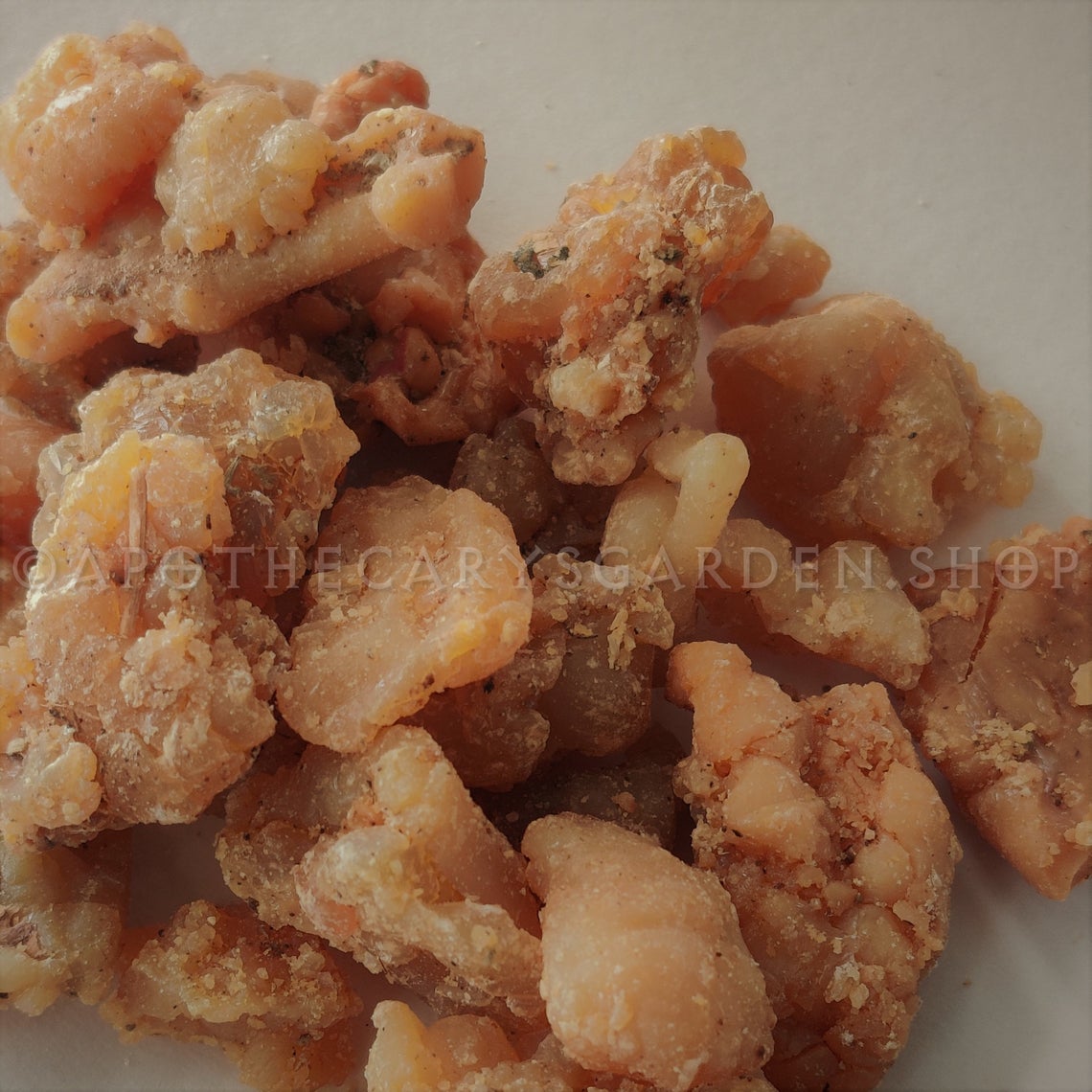 Asafoetida – Ferula Asafoetida – Afghanistan
Premium quality pure and fresh Asafoetida resin. Afghanistan. Also known as "Devil's Dung" and "Hing" This is the real deal. Fresh, pure and unadulterated. A little bit goes a long long way!
For the past few decades, I have only found processed Asafoetida on the market, usually, blended with gum Arabic or rice flour and other materials.
It is rare to find this quality of fresh, pure unadulterated Asafoetida and to have an opportunity to work with the pure material right from the plant. I don't know if I can get a consistent supply of this resin, so I suggest you get it while I have it.
The aroma of Asafoetida is extremely pungent and strong and for this reason, it is shipped in airtight tins. It is often compared in aroma to a blend of sulphur and onions, However. Asafoetida has a much more complex and rich fragrance profile. In perfume, incense, medicine and magic, only a very small amount is needed. I have to point out here that the essential oil of Asafoetida is drab and non-descript compared to the fresh resin and does not do the plant justice. I imagine a tincture of the resin could deliver much more to a perfume blend.
"Ferula asafoetida is a herbaceous plant of the Umbelliferae family. It is oleo gum resin obtained from the rhizome and root of the plant. This spice is used as a digestive aid, in food as a condiment and in pickles. It is used in modern herbalism in the treatment of hysteria, some nervous conditions, bronchitis, asthma and whooping cough. It was at one time employed in the treatment of infantile pneumonia and flatulent colic. The gum resin is antispasmodic, carminative, expectorant, laxative, and sedative. The volatile oil in the gum is eliminated through the lungs, making this an excellent treatment for asthma. The odour of asafoetida is imparted to the breath, secretions, flatus, and gastric eructations. Its properties are antispasmodic, expectorant, stimulant, emmenagogue and vermifuge. Asafoetida has also been used as a sedative. It also thins the blood and lowers blood pressure. It is widely used in India in food and as a medicine in Indian systems of medicine like Ayurveda. Asafoetida has been held in great esteem among indigenous medicines, particularly in the Unani system from the earliest times."
The preceding paragraph is an excerpt from an excellent article about Asafoetida on NCBI. Rather than repeat or rehash what is already presented so well, I suggest you read the full article here-www.ncbi.nlm.nih.gov/pmc/articles/PMC3459456/ (You may have to copy and paste the link in your browser.
In Folk Magic traditions, Asafoetida is considered a powerful protective and banishing herb often used in magical incense blends and protective amulets. It is hot in nature and I believe ruled by Mars/Pluto/Scorpio from an Astrological point of view.
It is considered an aphrodisiac in some cultures and used to boost the libido.
---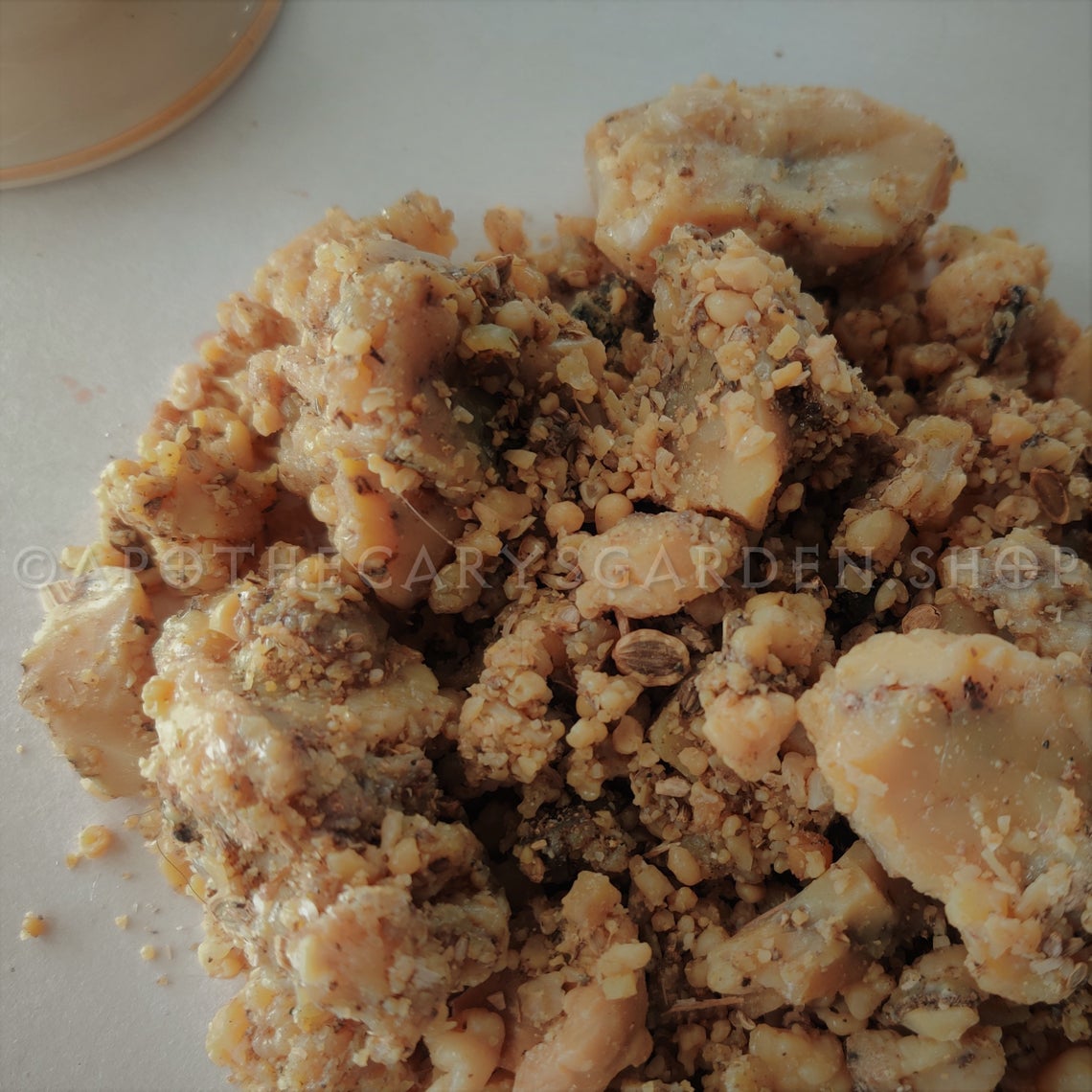 Ammoniacum – Dorema Ammoniacum – Afghanistan
Ammoniacum or Gum Ammoniacum is an aromatic resin named for its long association with the Oracle of the Temple of Ammon. Originally located in Siwa Libya, the temple was an important religious center for the Egyptians and the ancient Greeks,
Believed to be the preferred incense to petition the oracle for answers, Ammoniacum is thought to have served the same purpose at the Greek oracle at Delphi. The name has persisted even though the oracles are no longer used as they once were.
Also known as Oshek or Veshek, Ammoniacum is burned to this day in the Moroccan Jewish tradition before the holy scrolls are removed from the temple ark.
Ammoniacum has a lovely "green" fragrance, similar to, but softer and sweeter than that of its cousin Galbanum which is used in perfumery. Where Galbanum has a green and very dry scent, Ammoniacum has a fragrance that could be described as golden green, fresh, penetrating and nourishing.
It tastes bitter and pungent though this might be due to its high essential oil content.
Ammoniacum has been used since antiquity to treat respiratory issues, excess phlegm, asthma, chronic coughs and bronchitis and is said to soften hard tumours when applied as a poultice. It is considered a carminative, stimulating appetite and peristalsis which could be useful for the elderly. It may have a stimulating effect on the uterus and likely should not be taken during pregnancy. I found chewing on a small piece of the resin was pleasant and had the effect of stimulating the expectoration of phlegm, easing my breathing and soothing a stubborn cough.
Energetically, the Ferula family is ruled by the wind.
This is not only indicated by how they address flatulence, but because they all seem to be connected with the function of communication from an oracular and divinatory perspective, opening gateways in perception and traditionally used when working with or petitioning the Djinn.
One could classify them under the rule of Mercury.
Ammoniacum is still used as an incense ingredient in the East and in traditional medicine.
With its unique fragrance profile, it could provide an interesting addition to the perfumer's palette as a tincture or essential oil.
For more information on Ammoniacum, please see my post Ammoniacum, Incense of the oracle, medicine of the people. https://apothecarysgarden.com/2020/09/01/ammoniacum-incense-oracle-medicine/
---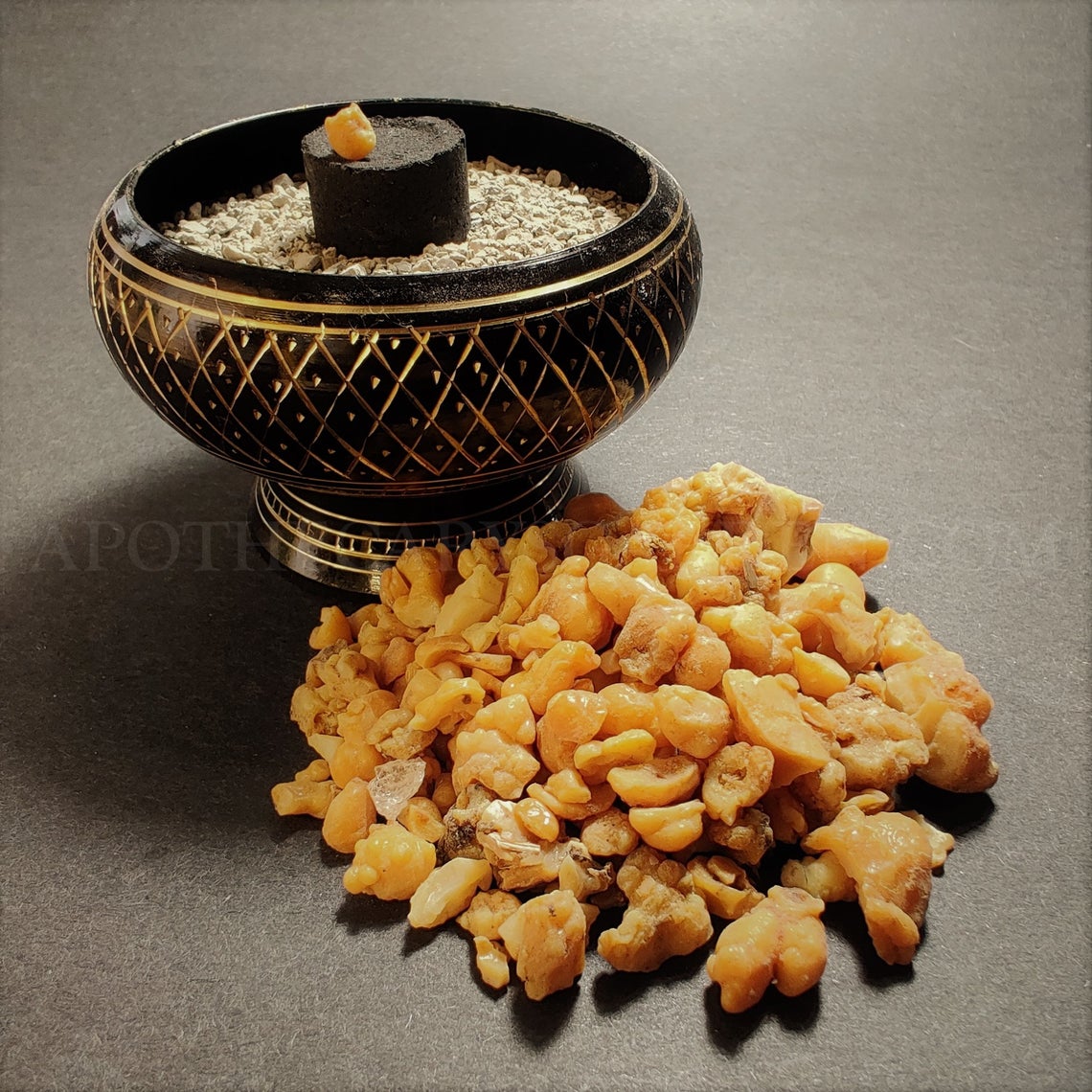 Fasoukh, which in some cultures is called Oshek or Veshek, is an ancient incense material that has been used in spiritual, magical and energetic work for hundreds if not thousands of years. Well known in North African, Southern Mediterranean, Arabic and Islamic cultures, Fasoukh is a mainstay of folk magic practices across a broad geographical area regardless of religion, culture and societal differences.
Two types of Fasoukh are most common. White Fasoukh and Black Fasouk.
White Fasoukh is reliably the resin of Ferula Communis while the composition of Black Fasoukh varies from tradition to tradition, culture to culture and geographical areas. Black Fasoukh is sometimes found as an incense blend compounded from many ingredients but also commonly found as a single aromatic or resin. I have come across Black Fasoukh from Morocco, Iran, and even Sudanese Black Fasouk in the famous Addis Ababa Mercato open-air market in Ethiopia. Each was vastly different from the other. Conversely, White Fasoukh has most often been the gum resin of Ferula Communis.
In general, it is safe to say that White Fasoukh is usually used to open communication with the energetic/spiritual world and in many cultures used to petition the Djinn for favours.
while Black Fasoukh is most often used to cleanse and protect the person and the home, counteract the evil eye and malignant forces whether of human or otherworldly nature. Black Fasoukh is also used for other beneficial purposes such as attracting money, love, good health and prosperity. Though usually burned as an incense, in some cultures a liquid or paste is prepared from Black Fasoukh and used in a floor wash, applied to the soles of one's shoes or to the door frame of one's home to attract the desired outcome or for protection.
One may notice the similarities in both plant family and function between White Fasoukh and Ammoniacum which is also used for divinatory and oracular purposes.
The fragrance of White Fasoukh when burned is similar yet different than that of Ammoniacum. White Fasoukh lacks green notes and has an earthier, warmer and dryer fragrance than Ammoniacum. (Let's call it ochre as opposed to green). It is not as sharp or penetrating as the latter, though I detect some sweet candy notes lingering in the air after burning it.
Ferula Communis, like its cousin Ferula ammoniacum, has been used since antiquity to treat respiratory issues, excess phlegm, asthma, chronic coughs and bronchitis and is said to soften hard tumours when applied as a poultice. (It can be pounded with oil and or water first).
It is considered a carminative, stimulating appetite and peristalsis which could be useful for the elderly. It may have a stimulating effect on the uterus and likely should not be taken during pregnancy.
---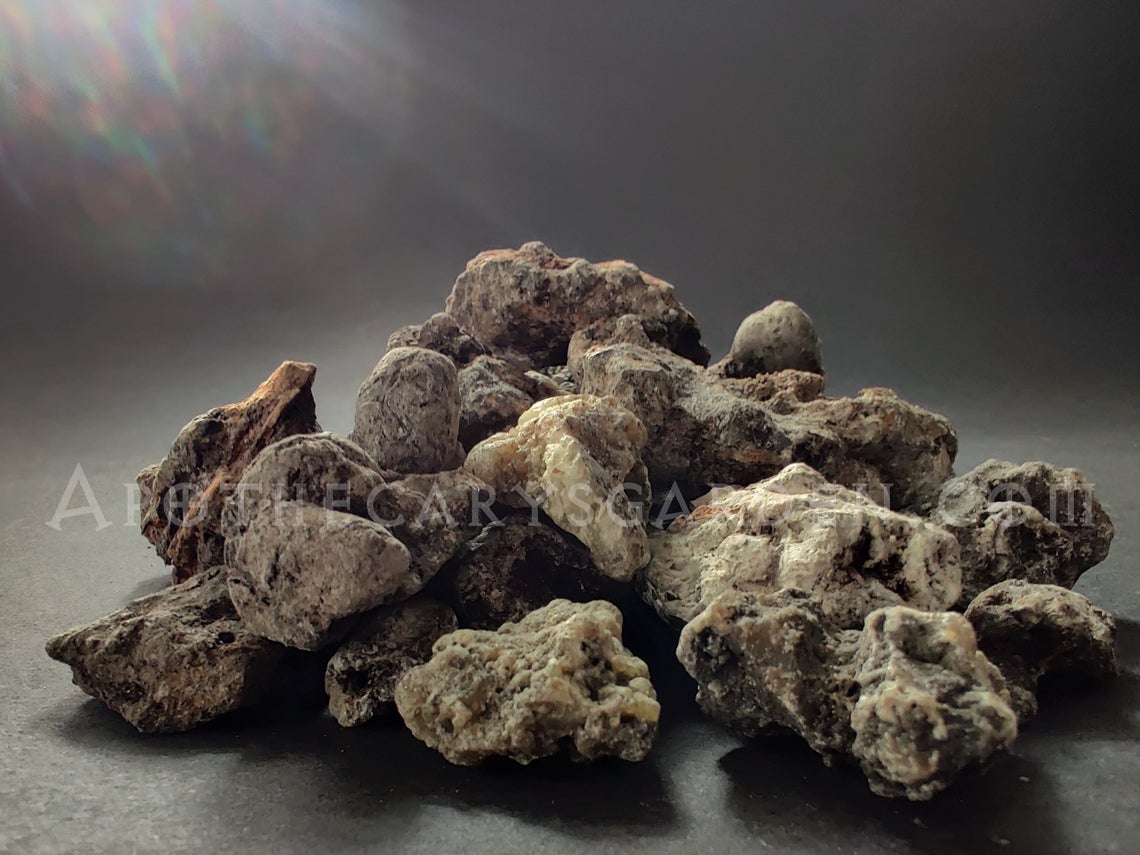 Black Copal – Copal Negro – PeruCopal Negro-Black Copal-Protium Paniculatum-Peru-Sustainable harvest.
This Black Copal is collected from the ground and the trees are harmed in no way. It has a lovely sweet, fruity green fragrance when burned on a hot coal or in an electric burner.
A hard to find aromatic resin, Copal Negro is used as a traditional incense in ceremonies/rituals and the home. It is also used in traditional medicine, dissolved in oil for a broad range of skin-related problems. Like most tree resins, Protium Paniculatum has a deep affinity with the skin.
If used in skincare, cosmetics or therapeutic products, the resin can be ground and infused in a warm carrier oil in a water-bath. Once it has given itself to the oi, the infusion can be sedimented and filtered to provide a healing aromatic base for cremes, salves, lotions, ointments and medicated oils. This oil infusion can also be used in the creation of solid perfumes.
As an incense, Protium Paniculatum resin burns with a pleasant caramel, fruity, green fragrance with light floral notes.
If you burn it on an electric incense burner, don't be surprised if you notice an accumulation of fine white needles in the lid. Looking like cotton. This is not mould, but the natural resin acids rising with the heat and reforming themselves upon cooling.
Copal Negro dissolves in alcohol and can be used to impregnate incense papers. The paper is first dipped in a solution of Salpeter and water, left to dry completely, then impregnated with a solution of resin and alcohol. When dry, the paper will burn evenly through due to the Salpeter and it will release the scent of Copal Negro as it burns. Recipes for incense papers can be found online. Many different resins and aromatic materials can be incorporated in incense papers.
I distilled a few kilograms of this unusual resin and was completely blown away by the unexpected Emerald Green colour of its essential oil!! I have distilled resins for over 20 years and have never experienced this intense colour before! The essential oil is not only visually striking, but it has an amazing aroma!
---
For EVEN MORE information on this topic of incense burning, I would recommend reading Dan's article:
How to burn Frankincense as an incense – Apothecary's Garden (apothecarysgarden.com)