Editor's note: As I continue to fight my way out of an unexpected and heavy depression, we luckily have Matteo keeping things rolling!  Here is his latest dungeon synth review! Enjoy and expect me (Michael) to be back to normal soon!
Artist: Bellkeeper
Album: The First Flame of Lordran
Release date: 6 February 2019
Label: Dungeons Deep Records
Not quite the first, but still hot
"In the Age of Ancients, the world was unformed, shrouded by fog. A land of grey crags, archtrees, and everlasting dragons. But then there was Fire and with Fire came Disparity. Heat and cold, life and death, and of course… Light and Dark. Then, from the Dark, They came and found the Souls of Lords within the flame. Nito, the first of the dead. The Witch of Izalith, and her daughters of chaos. Gwyn, the Lord of Sunlight, and his faithful knights. And the furtive pygmy, so easily forgotten. With the Strength of Lords, they challenged the dragons. Gwyn's mighty bolts peeled apart their stone scales. The witches weaved great firestorms. Nito unleashed a miasma of death and disease. And Seath the Scaleless betrayed his own, and the dragons were no more. Thus began the Age of Fire. But soon, the flames will fade, and only Dark will remain. Even now, there are only embers, and man sees not light, but only endless nights. And amongst the living are seen, carriers of the accursed Darksign."
Does anything of this sound familiar? Readers who are into role-playing videogames will instantly recognize it as the prologue of Dark Souls, one of the most acclaimed games of recent years, which constitutes the setting and premise for Bellkeeper's The First Flame of Lordran. I'm usually a bit wary in approaching RPG-based Dungeon Synth, which too often ends up coming off as a cheap soundtrack to shallow concepts, but what we have here is a far more inspired and charming affair. Within its short 28 minutes of length, Bellkeeper's debut manages to capture the spirit and feel of classic Dungeon Synth with enough variety and skill to avoid sounding like a mere imitation. While the sonic department is built upon rather usual fare, with the ubiquitous mix of synthetic and sampled orchestral sounds dominating the music (a very nice sounding pipe organ and bells being the most welcomed exceptions), the quality of compositions is top notch: through a skillful combination of repetition, layering and dynamics, each track succeeds in engaging the listener by recreating the atmosphere and moods of its source material, ranging from sinister and ominous to dark and majestic to decadently epic, evoking vivid imagery and creating a strong feeling of motion, which could connect with the protagonist's quest. There is no real standout track or well-rounded album structure; the music finishes as abruptly as it kicks in in the beginning, more like painting a picture rather than telling a story; this sort of rawness, while perfectly adequate for the genre, makes the album, as a whole, sound a bit unfinished and lacking a proper closure, a minor flaw which doesn't detract too much from the immersive listening experience, though.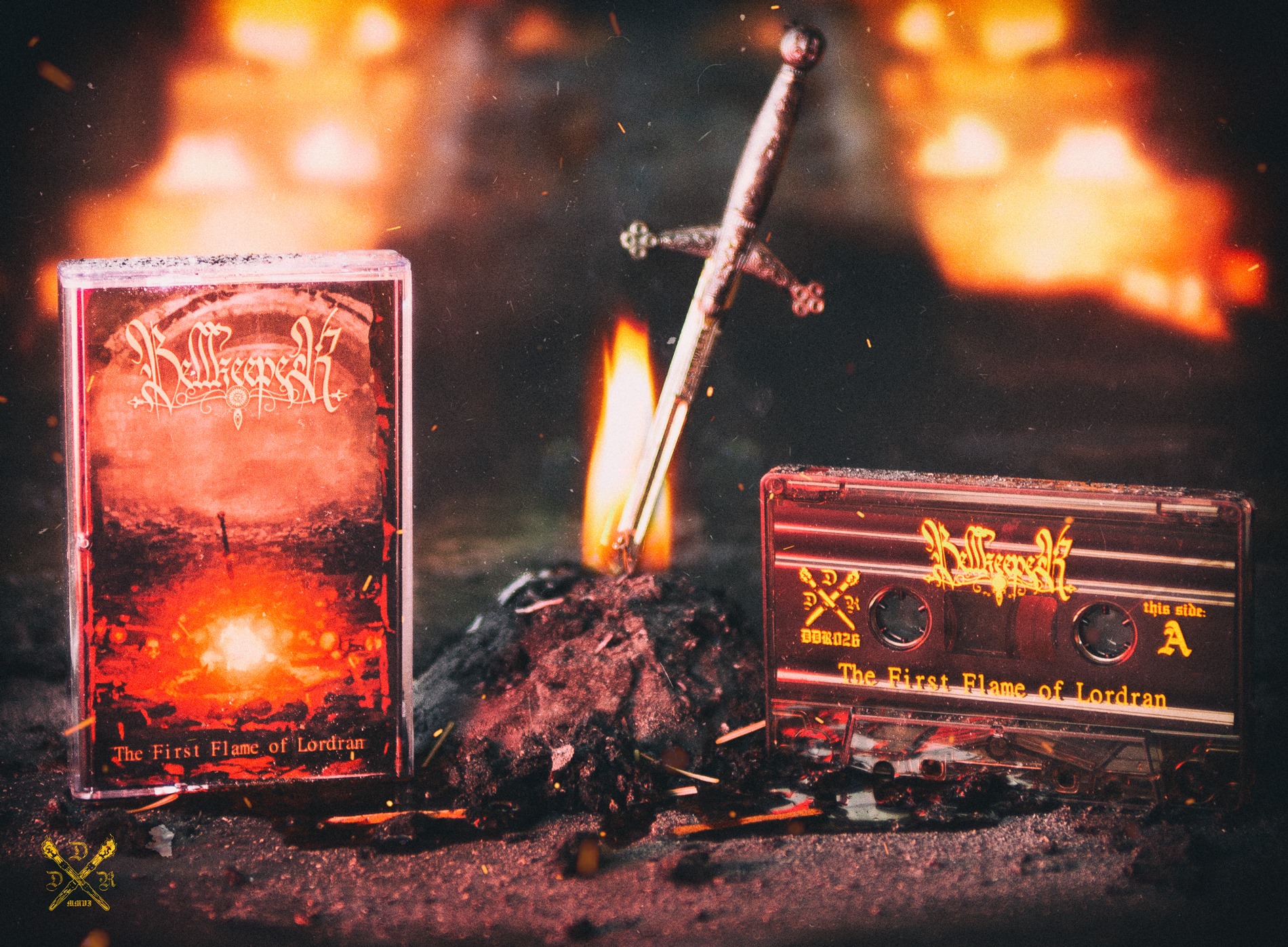 To sum it up, The First Flame of Lordran is a powerful debut which can hold its own among peers in the scene, and will surely appeal to fans of raw sounding, yet well composed and imaginative old school Dungeon Synth. There is still plenty of material in the Dark Souls saga for Bellkeeper to write about, so we can only wait in excitement until the next chapter.
Written by: Matteo Brusa