This week was seeming a bit slow until some major news started to develop on Saturday. You can have a look at what we know so far below under the Concert Coverage section. This is huuuuuuge! There is a bit of interesting news this week, some really great releases for you to preview and hopefully support these artists and purchase!
Concert Coverage and Music Videos
Cold Meat Industry 30 Year Anniversary Live!
Presented by Death Disco Productions & Cold Meat Industry, it appears that we are getting a MASSIVE reunion concert over the span of two days in Sweden. On the 3rd and 4th of November 2017 we can expect a performance at the Klubben venue in Stockholm Sweden! Artists playing this epic two-day show will include: Mortiis, Arcana, Archon Satani, Brighter Death Now, Coph Nia, Desiderii Marginis, Deutsch Nepal, In Slaughter Natives, Morthound, MZ.412, Ordo Rosarius Equilibrio, Raison D'etre, Sanctum, Sephiroth, Sophia! This Information has obviously taken the dark ambient world by storm!
This Is Darkness is attempting to take the zine's owner Michael Barnett to Sweden for full concert coverage. I'll be unveiling an Indiegogo campaign, most likely next week. This Is Darkness is looking to set up a ton of interviews, capture a mountain of photographs, and to give patrons a high-quality selection of rewards for donating toward this goal. More information for the concert and for my funding campaign will be announced to readers ASAP.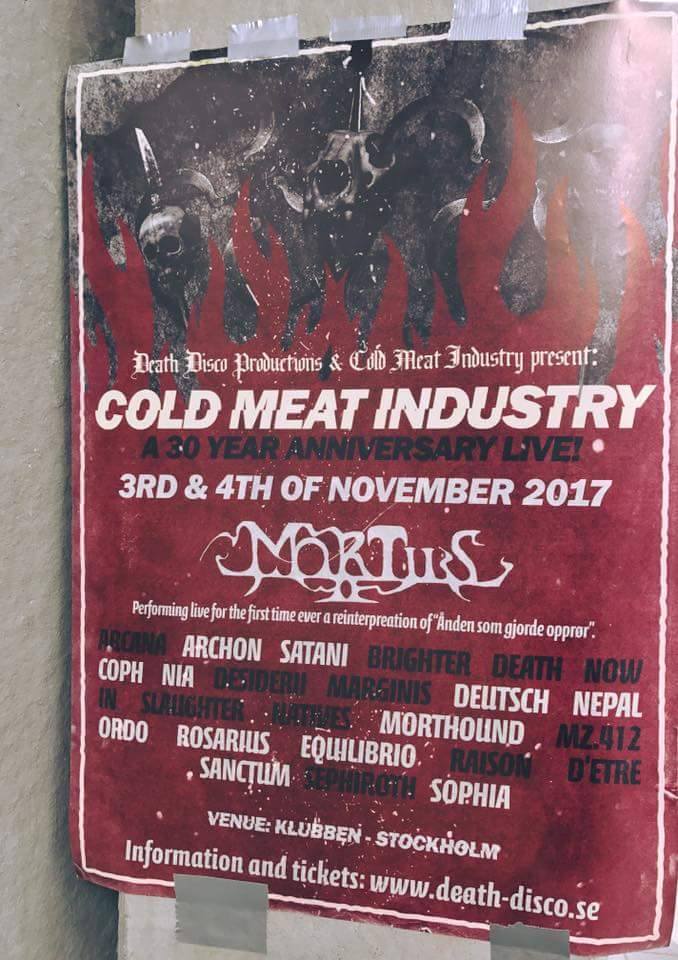 Treha Sektori & Lamia Vox
These two highly respected dark ambient artists will perform at this year's Nuit Dark Ritual in Thoix, France. You can follow the news about this concert through their event page on Facebook, which can be found here.
New Releases and Pre-orders
A Bleeding Star – New Single Released
"Nightrollin' Pianos & Raindrop'd Violins: A Delightful Voyage On Count Frost's Carriage" is the latest release by the unorthodox and always interesting dark ambient musician A Bleeding Star. As usual you can expect an entertaining and experimental track.

Dronny Darko – New Album Pre-orders Now Available
Abduction is the second Cryo Chamber album by Dronny Darko where he presents us with some spacey lowercase style dark ambient. Cryo Chamber says about the release, "Dronny Darko brings us a new album of dark dreams, recorded in the smoke filled Black Room studio (Kiev, Ukraine).
Dark entities roam the edge of our reality. An incomprehensible intellect observes our primitive patterns and behaviors. Vulnerable and naked, you become abducted and pulled into their domain. Examined by strange machines that hum, buzz and drip. You awaken, ankle deep in a purple fetid sludge that submerges the floor of the charcoal citadel. Alien symbols adorn the colossal doorways here, each leading into a new world. In the distance guttural clicks reverberate as they watch your trembling steps from within the shadows. Are they waiting for you to choose your fate?
This album merges the lowercase and minimal genre with a strong science fiction element. Throbbing bass layers croak and groan under the pressure of whirling machines that buzz and hum. Very dark and brooding."
Abduction releases on 11 March 2017.

Endless Melancholy – New Remix Released
"Dirty Ocean" sees a remix by dark ambient aficionado Gamardah Fungus.
Oceanmixes is a collection of remixes and reworks of Endless Melancholy compositions. Gamardah Fungus were invited to remix one of the tracks. That's how "Dirty Ocean" was born.

Iron Cthulhu Apocalypse – New Album Released
Dark Ambient: Crypt Light is the latest release from the prolific Iron Cthulhu Apocalypse. Crypt Light takes Iron Cthulhu Apocalypse into some minimalistic and introspective territory, perfect for reading your favorite Lovecraft tale about the elder gods.

Kazuya Ishigami – New Album Available For Pre-order
V.M Insensitive is the latest release on Kalpamantra. I am a bit unfamiliar with Kazuya Ishigami's work so we will have to  see where this release takes us.

Peter Bjärgö – New Single Released
"Duality" is a bonus track from the brilliant Animus Retinentia which released recently on Cyclic Law. You can check out my review of that album here.

Scott Lawlor and The Gateless Gate – New Album Released
Scott Lawlor says of Regret "[it] is the second collaboration between ambient musician Scott Lawlor and kosmische act The Gateless Gate. The basis of the music is a lengthy, mournful symphonic drone by Scott, with guitar, keyboards and effects added by The Gateless Gate.
The recording is intended to be listened to as a seamless whole. The theme is autumnal feelings of melancholy and regret."

VACUUM AETERNA – New Album Available For Pre-orders
You can read my fresh review of the new album here.
Cyclic Law says of Project:Darkscapes "Italy's newcomers VACUUM AETERNA present the first installment of their unfolding aural journey. A cryptic sonic representation of a voyage trough a fog and humidity drenched enclave of a forgotten ancient forest. An atmosphere of tribalism and mystery emanates from these pieces where ancient tales and myths linger. Deep atmospherics clash with tribal percussions and industrial noises providing an at times quiet and serene soundtrack to a fragile stillness before the lingering chaos emerges."
Project:Darkscapes will release on 12 May 2017.

VelgeNaturlig – New Album Available For Pre-orders
Winter-Light says of the album, "Our next release on the Winter-Light label is by the Portuguese sound sculpture VelgeNaturlig and is entitled Opalescent Pust. VelgeNaturlig is no stranger to Winter-Light, having appeared on our recent DCD compilation "…that first season", with his beautiful track 'Golden'.
Opalescent Pust has an entirely different feeling altogether, one of constant motion, one of change. Opalescent Pust; the breath opal, the colour of pearl, the purest form of breath. A cleansing process, that of a purifying experience. Purity."
Opalescent Pust releases on 10 May 2017.

The Vomit Arsonist – New Album Available For Pre-orders
Meditation on giving Up Competely is a brilliant new album, expect a review here soon. Malignant Records says about the release: "After some minor delays, The Vomit Arsonist's latest opus, Meditations On Giving Up Completely is now available for pre-order on Bandcamp! There is no reinvention of the sound and no veering off course with this one, but rather a narrowing of the sonic palette, condensed into a continual free-fall of complete despair and nihilism. As if fans of Andy's work would want it any other way, or expect anything less."

Other News
Father Dagon – New Episode
The latest episode of Father Dagon, S01E03: Anna Tilton, has been released. Written by Victoria Snaith, produced by Dread Falls Theatre. Original soundtrack by Seesar. See where their Lovecraftian story takes us this week!

Pär Boström – Guest Sessions: Dark Ambient Mix
The first mix in our "Guest Sessions" series for ThisIsDarkness.com is prepared by Pär Boström, the veteran dark ambient musician known for his projects Kammarheit, Cities Last Broadcast, Hymnambulae and Altarmang. Pär Boström has created a mix that showcases his love for the ritualistic, escapism and mysticism. All these elements come together to form a brilliant mix which is tailored for dreamers, yet it should be pleasing to just about any sort of dark ambient fan. Whether you are lying in the dark with your headphones, curled up on your sofa with a good book, or burning a thick cloud of incense meditating on the greater meaning of life, this mix should be a welcome and highly enjoyable experience.
Check out his fantastic mix here.
Twin Peaks – New Trailer Released
The latest trailer for the upcoming season showcases "The Town of Twin Peaks" with a handful of quick shots of various parts of the town and surrounding forests.

Weekly Specials
Deep-Audio
Check out the latest special on Deep-Audio, which can be purchased here.


This Is Darkness Week In Review
Paranoia Inducta – From The Depths
Paranoia Inducta covers much ground with From The Depths. It tells the closing of a story which clearly doesn't have a happy ending. The technical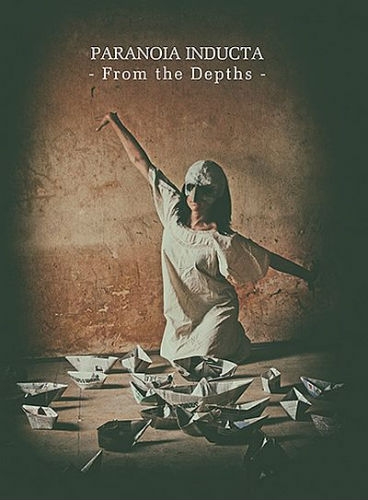 talents of the artist are at an all time high on From The Depths. Each track feels unique, yet fits perfectly into the whole. Add to this successful combination of sounds the beautiful artwork and A5 digipak of the physical edition, and we are left with a powerful all-encompassing work of art. Paranoia Inducta has proven with From The Depths that they still have plenty of energy and potential for this almost 15 year old project. In fact, some of the best work may still be yet to come. Where the next chapter in the story of Paranoia Inducta will take us, we must wait to discover.
Read the full review here.
Vacuum Aeterna –  Project:Darkscapes
Vacuum Aeterna has created an album in Project:Darkscapes which is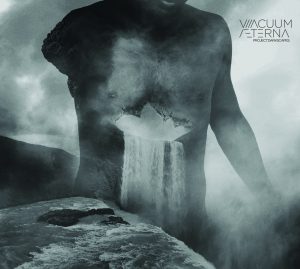 uniquely relevant to our times. It asks the hard questions of humanity and refuses to allow the listener to ignore the warning signs. I could absolutely recommend this to fans of the more primal forms of dark ambient, while there is also much here to entertain fans that prefer a more industrial infused sound. It will be interesting to see where they take their sound next, if they will continue delving into these topics and this format, or if they will veer off into a totally different direction. The level of skill seems to be there to make either a worthy endeavor.
Read the full review here.
Please consider making a donation!
This Is Darkness has gone live with the help of friends and supporters. I have been disabled since 2015, due to a spinal injury. Any support that can be given is greatly appreciated. Donations will go toward the maintenance of this site as well as additional promotion to increase its reach and influence.