Artist: Infinexhuma
Album: Frontier
Release date: 1 January 2021
Label: Alchemy Labor Unit
Tracklist:
Disc I
01. Converter
02. Orbital ft. Blood Box
03. Sword
04. Sweeper
05. Heaven March ft. Nerraterrae
06. Position in Flames
Disc II
01. Catharsis of Goodbye
02. Deep Runnel ft. Common Eider, King Eider
03. In the End
04. Forged
05. Every Door
06. Stormless
Much time has passed during severance. Alone now at this gate.
Prepared for a second entry into chaos, but now as one, no longer two.
No longer without a purpose, now with aim, now with death hands, life heart
Now solidified, now for genocide of evil, to send ashes back up
To crush all flesh of those who fell from the sky to experiment.
Flames grow as I scream, flames resolder the soul
Beware this force, forever thankful to the spiritual loss
For the gain is unblurring the mission, cleaning begins now
SOUL DIVERGENCE AFTER PASSING
THE SEARCH CAUSED MANY LOSSES
SECOND ENTRY INTO FALLEN LAND
NOW AS ONE ONLY WITH AIM
DEATH HANDS, LIFE HEART
SOLIDIFIED, GENOCIDE OF EVIL
THOSE WHO FELL WITH TARGETS BEWARE
FLAMES RESOLDER THE SOUL
FLAMES GROW BLUE AS I SCREAM
YOU ARE WARNED, I AM COMING FOR YOU
YOU TOOK FROM ME
SO YOUR EXPIRATION IS NOW
WE BEGIN
I have been aware of the works of Infinexhuma for quite some time now. I have given a few of his albums a passing listen over the last few years. While I always enjoyed the sounds, I didn't find something that immediately drew me to the music, or made it stand out especially well from everything else I was hearing at the time. However, the unexpected arrival of this latest release, Frontier, in the mail a few months ago, led me to finally give Infinexhuma the proper listen that I'd denied them for so long, up to this point.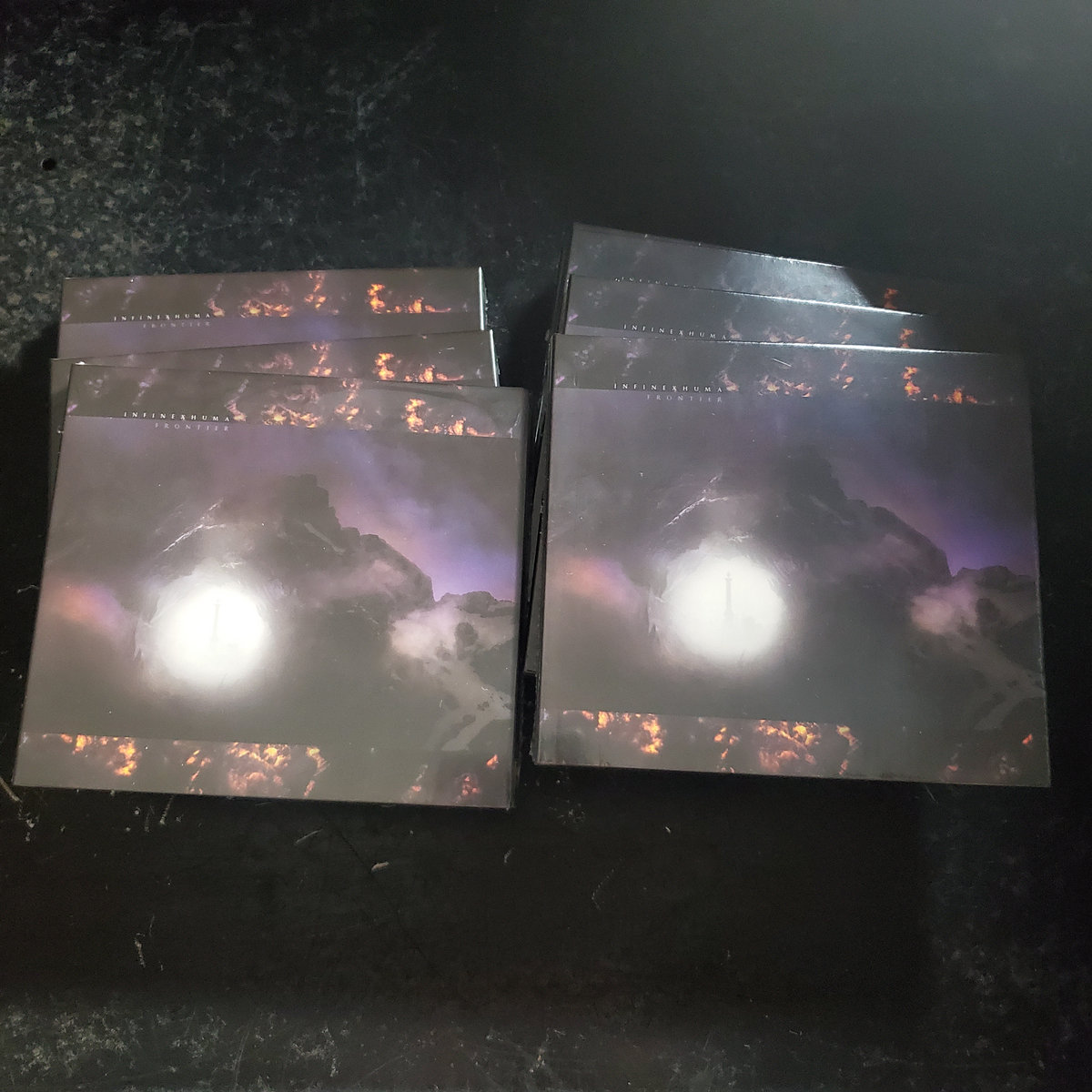 The first thing with this release that stood out for me, upon inspection, was that it was mastered by Grant Richardson of the brilliant death-industrial project Gnawed. Furthermore, I noticed that there were collaborations with Blood Box, Common Eider, King Eider, and Nerraterrae, so this piqued my interests even further.
A double-disc length album might seem like a bit of an overwhelming place to start discovering a new musician. But, I discovered from the very first moments through the end of the second disc, that Infinexhuma has really hit the mark with this one! The album starts with the track "Converter", which sounds like a cross between Atrium Carceri and Theologian. Crisp field recordings combine with harsh industrial sounds, (never coming near wall-of-noise status though). Later in the track, children can be heard playing in the background while something that sounds like an alien invasion or some apocalyptic storm unnaturally shifts through the air around them. Needless to say, this all easily pulled me into the mix. The wealth of elements all come together to create a really well-rounded piece of dark ambient composition, with a hint of death-industrial vibes.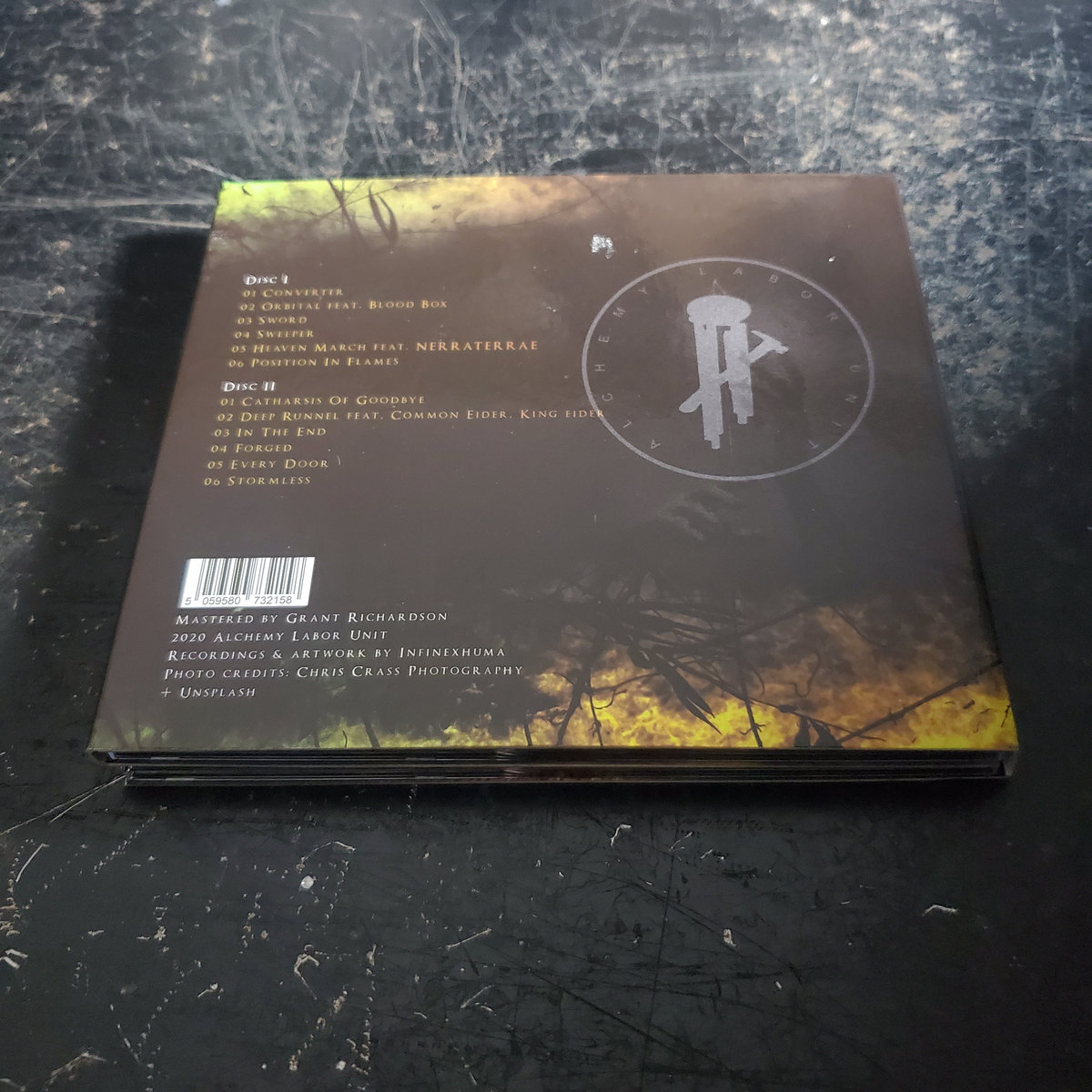 As the album progresses, we are able to hear equal parts of the dark ambient and that subdued death-industrial vibe, similar to the more dark ambient leaning albums of Gnawed. The second track, "Orbital" starts with an airy almost spacey, relaxed ambiance that slowly evolves into something much more energized and cacophonous. Again, comparisons to something like Theologian are present on this one, but there is also a tinge of more traditional, yet still harsh dark ambient sounds, like those made prominent by AUN. As the track slows, it feels like we've just witnessed the explosion of a planet or something equally devastating. Now we watch from an ever-increasing distance as the carnage recedes.
While I'm not one for track-by-track analyses, to some degree they are necessary. So, I'll share a few more highlights with you all. The third track, "Sword" applies what appear to be choir samples, presented as almost a dronework with a constant barrage of torturous screams. An Atrium Carceri-esque sound, which almost feels like an explosion recurs throughout the track, filling the role of 'percussion'. Something like the inquisition comes to mind with this track, on account of the juxtaposition between the light of the choir and the darkness of the screams. As if all this suffering is for the greater good of… something.
While there are some quite intense sections of the album, it is not all aggressive. As we wind down from the heat of the first three tracks, "Sweeper" appears, giving us a needed break. This track starts with more of a ritualistic vibe, using instrumentation like bells and singing bowls, along with a gentle rain. In the distance we can hear what is likely chiming from a church's bell-tower.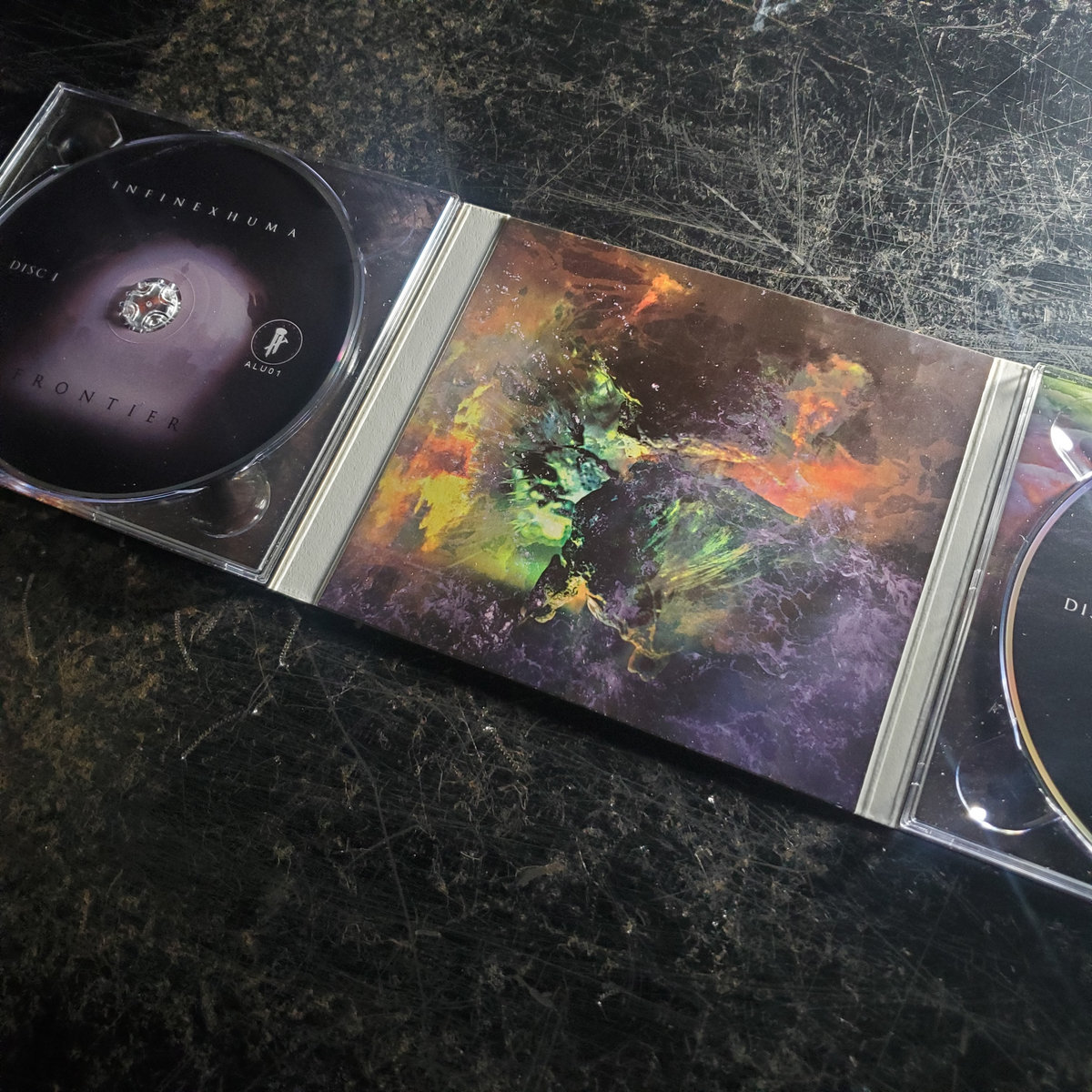 "In the End" is definitely one of the more unusual tracks on Frontier. We are presented with a slowly building techno-esque repetitive combination of percussion and synths. Overlaying this beat is a deeply embedded and reverberated screaming. Unlike on previous tracks of the album, the screaming here follows something more akin to Theologian. It is by no means front and center, but it is 'lead vocals' in a more traditional sense than you will find in most dark ambient, aside from the likes of the aforementioned Theologian and other similar acts like Gnawed, Phragments or The Vomit Arsonist. It is certainly worth mentioning here, that this album and these vocals were likely able to reach that pinnacle of dark ambient / death industrial cross-over territory at least in part because of the mastering duties being helmed here by none other than Grant Richardson of Gnawed.
The last track I'd like to mention is "Every Door". We are again presented with these death-industrial style vocals, but this time the track is much more subdued, more dark ambient. The voice gives a menacing presence, as if we are hooded and caged in some serial killer's basement, listening to their maddened rants through a thick layer of fog and confusion. This track and the way I've interpreted its theme also draw me to a quote from Charles Manson which he often said, "The way out of the room is not through the door." Here, meaning to me, this 'prisoner' is looking for an escape from this dungeon/hell, however 'Every Door' he checks is the same and leads him right back to the same dungeon/hell.
Frontier is presented in a well-crafted 6 panel digi-pak. It's the first release on Alchemy Labor Unit, which is run by the man behind Infinexhuma and is primarily a place for release of his own music, but also will be home to other friends' and collaborators' projects in the future.
I would highly recommend Frontier, as one of the more interesting dark ambient / death industrial releases so far in 2021. It's also a great place to first discover the sounds of Infinexhuma if you, like me, had not previously given their music much of a chance. I will now be planning to slowly move backward through their other releases, as I assume there will be some more overlooked gems for me/you to discover!
Written by: Michael Barnett