Artist: Mebitek
Album: Art Has No Diplomacy
Release date: 9 March 2017
Label: Mebitek / Nootempo.net
Tracklist:
01. Machina
02. Desolation
03. Cinekinetik
04. Chi No Torrat
05. Iscuritat
06. The Cinematic Experience
07. Pray (feat. Larissa & Gangalistics)
08. MebiStep
09. March of Borderliners (feat. 10jonct)
10. All My Love (feat Daniele Porta)
11. Stepper in the Dark (feat. Quilo Sa Razza)
12. What I Have Lost
13. Cudda Domu RMX (feat. Pandro)
Mebitek is a budding electronic artists hailing from Sardinia an island off the coast of Italy in the great Mediterranean Sea. Long known for their innovations, Italy has over the years spawned more than a few unique sound technician. The likes of Bad Sector, Winterblood and Sonologyst are but a few familiar to the dark ambient genre, all pushing their musical endeavors to the very limit of genre classifications. Mebitek is no different in this manner. His music is certainly dark and electronic, but going much further than that into applying labels will be pointless.
After almost a decade of singles and EPs, Mebitek has finally delivered a proper full length album. On this debut Mebitek stays true to his form, in creating music that transcends genre boundaries and provides the listener with a wholly new experience. Each of the 13 tracks is well produced and honed down to the finest of details. It may have taken Mebitek a while to bring a full-length album together, but Art Has No Diplomacy is a worthy milestone.
In order to provide some context to these sounds, there are a few artists who could be loosely compared to Mebitek, The Haxan Cloak comes to mind, along with the afore mentioned Bad Sector. There are beats laying the ground work of this album. These beats take on the forms of glitch and dubstep among other forms of electronic music which go beyond the standards of traditional electronica. "Chi No Torrat" is a great example of this amalgamation of genres. "Chi No Torrat" starts off with futuristic and industrial samples along with even a bit of ambient elements, in the form of a distant thunderstorm. It slowly progresses into a melancholic and introspective downtempo ebm piece in which comparisons to The Haxan Cloak fit most closely. Yet, by the second half of the track, the use of orchestral sounds gives the track a unique feel, again going well beyond any specific genre classifications.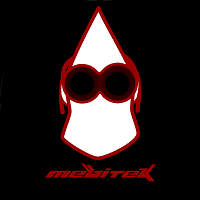 Mebitek brings along with him on this album a few other Italian artists of various forms. Larissa provides a beautiful voice on the track "Pray". While Quilo Sa Razza applies a hip-hop verse over "Stepper in the Dark". Each of these and several other guest artist always provide a brand new element to the sounds of Art Has No Diplomacy.
Futuristic and post-apocalyptic tropes abound throughout the works of Mebitek. At the very base of his project, we see in his logo a face equipped with a gas-mask. The high-quality music video for the track "MebiStep", created by Mebitek and Serena Pilloni, provides the greatest visual cue to this post-apocalyptica. A gas-masked figure drags a few leather gimp suit laden victims through the streets of some old city. We then follow him into a dungeon where he turns a ragged doll into his living queen of darkness.
In such a simultaneously advanced yet bleak period of human history, Mebitek is an artist that fully embraces the contradiction. Art Has No Diplomacy is certainly not your average dark ambient album, often leaving that genre classification entirely. Yet, thematically and cinematically the sounds should be welcome to the ears of many dark ambient fans. Mebitek provides us with an original take on the fringe elements of ambient and electronic genres, paving his own path. Art Has No Diplomacy could easily be recommended to fans of the afore mentioned artists The Haxan Cloak and Bad Sector along with other heavily beat-oriented sound-sculptors Access To Arasaka. But, while these projects could be an example for fans to compare some similarities in style, Mebitek clearly is not following in the footsteps of these musicians, rather he is making his own way, in his own style. Enjoy Art Has No Diplomacy in those moments of despair or cynicism when the mind needs something more than gentle field recordings and drones. Let yourself fall under the spell of Mebitek, a truly interesting artist to say the very least.
Written by: Michael Barnett