This week we have a ton of new releases to share with you. Some lesser known as well as other better known projects are releasing albums. We also have a few reviews and a mix to share from the previous week, you can find these at the bottom of the article, as usual. We are getting close to finalizing a new project here at This Is Darkness and within the next few weeks will have a huge announcement (edit: actually two announcements). So stay tuned for that! I hope everyone's summer is going well. Thanks as always for following This is Darkness! If you are interested in supporting our cause, you can find information about how to do that at the bottom of the article. Peace!
New Releases & Preorders
Alphaxone & Dronny Darko – New Album Released (Cryo Chamber – CD/Digital)
Alphaxone (Iran) and Dronny Darko (Ukraine) join forces on this mysterious album.
"The fog hangs heavy over the emptied town as you make your way down the crest overlooking the ocean. The streets lie silent but for the subtle click of a stoplight juggling colors. Your hand disappears into the thick fog here and the smell of sulfur from the nearby factory feeds your head. Something about this place feels wrong.
Damp thuds spins you around towards the misty outskirts of the beach town. A white horse disappears into the hills and behind it a trail of other animals flee after it. And then it booms, the sound of the fog horn rolls in from the black ocean and echoes off the buildings, the stoplight sways. Silence afterwards, ear shattering.
The old man was right, they're coming for us!"
Alphaxone's smooth pads and deep bass meets Dronny Darko's long form drone and ethereal reverbs in this trip into the fog. For lovers of evolving drone soundscapes.

Andrew R. Grant – New EP Released (Digital Only)
Grant is best known for his death industrial project The Vomit Arsonist. This latest release is in the genre of dark ambient. Amended is three shortened versions of a much longer piece of music. The sounds were recorded in the Fall of 2014. Grant will be planning to release the unedited versions in a physical format at a later date.

A Bleeding Star – Weekly Single Released (Digital Only)
"Wildcavenight: Organically Erotic Ambient for those Cryptic Souls Passionately Grave Inclined" is the latest track by the dark ambient artist A Bleeding Star. Deep and slowly morphing drones meet subtle, quite distant drumming for a track that is highly minimal and yet steeped in character.

Bad Sector – New Collection Released (Digital Only)
Selected is a compiliation of previously released Bad Sector tracks. While many of these are not his most well known tracks, there are a lot of gems here and its a brilliant way to enjoy a the sound of Bad Sector from 1995-2016.

Biophon Records – Memorial/Benefit Compilation for Christian H (Biophon – Vinyl/CD/Digital)
"For Christian H" is a compilation album from the Arctic Norwegian city of Tromsø, dedicated to the memory of Christian Hollingsæter – the director of the Insomnia festival – who died unexpectedly in May this year, only 35 years old.
All 18 tracks have been gifted exclusively for the album, which is available as a digital download, a CD, and as a limited edition numbered LP with hand printed artwork by Knut Fjørtoft. It goes on sale on September 13th., with all proceeds going to Christian´s son Julian.

Birth (Defects) – Album Teaser (Anathemata Editions – 7″ Lathe LP/Cassette)

Bzaurie – New Album Released (ΠΑΝΘΕΟΝ – Digital Only)
Hidden Landscape Voice isn't classified as dark ambient and yet for the dark ambient listener share should be everything here that one would seek in a dark ambient album. ASMR field recordings, gentle drones and presumably tape loops set the foundations for this track which adds many more various sounds to the mix for an highly engaging album that is best experienced on headphones. "name your price" and highly recommended.

Empty Chalice – New Album Released (Cardinium – Cassette/Digital)
This latest release by Empty Chalice is an interesting take on dark ambient. The artist behind the project has provided a poem by David Lynch which encompasses the ideas and direction of the album:
"Ideas are like fish.
If you want to catch little fish,
you can stay in the shallow water.
But if you want to catch the big fish,
you've got to go deeper.
Down deep, the fish are more powerful
and more pure.
They're huge
and abstract.
And they're very beautiful."
(David Lynch)
The physical release can be purchased here.

Grid Resistor – New Album Released (Digital Only)
This latest release by Grid Resistor, the new project by the man behind Mystified, is on the more experimental side of the dark ambient spectrum. Using only machine sounds as his source material, Grid Resistor takes a bold step into the deepest depths of the post-industrial world. "name your price" so it is worth a try for those whom enjoy highly experimental works.

Haunted Me – New Single (Digital Only)
"Hey folks, a new, long, deep piece is here for you, waiting to be downloaded. "Gretchen Feast On Slow Things" is a 21 minutes drone, now out for Petroglyph Music. This is the longest track I made so far and it was quite a challenge, so please take a listen and tell me what you think. Download is obviously free (click here). "
Kashya – New Album Released (Digital Only)
Kashya is an artist that I've been following for several years. Though I don't think he's made a release backed by a proper label yet, his discography is quite enjoyable and impressive. His music is best suited for times when relaxation is the ultimate goal. The "darkness" in his releases usually comes in the form of subtle drones and synth pads. If this album is to your liking, I would recommend searching deeper into the discography of this artist, you will find many hidden gems here.

Marcus Fischer – Preorders Available (12k – Vinyl/Digital)
Loss is the long-awaited and anticipated follow-up to Marcus Fischer's acclaimed Monocoastal (12k1063, 2010). Fischer created Loss over several years, finding inspiration to complete it during his time at the Robert Rauschenberg Residency in Captiva, Florida, in early 2017. The album is a particularly emotional work as Fischer explored what loss means to him and how to cope with the permanence of absence. The result is decisively somber and perhaps one of the darkest, most emotional albums in the 12k catalog.
Fischer manifested the concepts of loss in his compositions through the use of generation loss from reel-to-reel tape, re-recording sounds through various speakers in physical spaces, layering, and the use of sounds that have been physically displaced from their source. Conceptually, he listened inside the degradation of sound, pulling out chance moments of beauty and hope amid the rubble.
While Loss has a bleak and lonely tone, the music is characteristic of Marcus Fischer with fragile tape loops on the edge of falling apart, distant haunting melodies and a physicality that grounds the album's human spirit.
Releases 1 September

Metadronos & Scott Lawlor – New Album Released (Digital Only)
This is quite a disturbing release. Those whom enjoy the experimental side of dark ambient should find a lot to like on this release. It is surprisingly haunting considering the way it was crafted. Scott Lawlor says of the release,
"'to suffering there is a limit, to being in fear there is none"'
(Pliny the Younger)
MetaDronos and I felt that this quotation was an accurate description of the subject matter used to create this very dark ambient concept album about a friend of mine
who has been in all manner of institutions and clinical settings from medical hospitals to insane asylums and the tales of horror therein.
No hardware or software synths of any kind were utilized in creating this album.
All of the tracks were created from various voicemails sent to us, granting both of us permission to manipulate them into the horror that will unfold before
your ears."

Michael Meara – New Album Released (Aural Films – Digital Only)
"The inspiration for this record is the aging process. As we age, the following usually occurs: Focusing on close objects becomes harder. The lens becomes denser, making seeing in dim light harder. The lens also yellows, changing the way we perceive colours. The number of cells in the spinal cord begins to decrease. The amount of active bone marrow, where blood cells are produced, decreases. Our skin tends to become thinner, less elastic & drier. Nerve cells may lose some of their receptors for messages. Blood flow to the brain decreases, thus the brain may function slightly less well. We may react and do tasks more slowly. The ability to taste and smell starts to gradually diminish. Hearing high-pitched sounds becomes more difficult (known as presbycusis) making some words become harder to understand."

Rauppwar / These Gaping Jaws – New Split Album Released (Throne of Bael Records – Digital Only)
Wire Lambs / 78's is a brutal yet worthwhile journey into dark and disturbing cacophonous noises. This is a release for those listeners that prefer an album packing a punch. Not for the faint of heart, but a nuanced and interesting experience for those willing to take the plunge. "name your price" so you can decide if it is for you without making any real commitments.

Thangorodrim – New Album Released (Deivlforst Records – CD/Digital)
The dungeon synth artist Thangorodrim has just released his second full length on Deivlforst Records. He is considered by many to be one of the foremost artists in the dungeon synth scene. You can check out the review on This Is Darkness here.
Veiled Monk – New Album Released (Cephalopagus Records – Digital)
To truly understand the path of self-knowledge, one must be present for all steps along this path. This ritual reflects the pain and ecstasy of the seeker when they cross the fields both physical and mental.
Correlation between the physical impulse and mental obscurity is tightly wound around the middle Identifier; The very creation of a center that will be completely absorbed and destroyed in the process of lighting. "I'm The Veiled Monk, I started my journey much later than others, determined to pamper myself in a world of insanity for the season.
Travel is a necessity for me, if not for someone else. After the transition from the monastery of Silence, the main purpose of this journey is the opening of the Night Gate. This is my burden, my mission, my goal. Follow me …

Weress – New EP Released (Digital Only)
Weress is an experimental one-man project from Bordeaux, France. His music covers a variety of genres, though almost all of them fall within the realms covered by This Is Darkness. This particular release his a demo in the niche of electro space ambient.

Winterblood – New Album Released (Digital Only)
The latest release by the Italian dark ambient / dungeon synth project Winterblood takes us on another plunge into the fridged cold and isolated darkness of the most remote mountainous regions of northern Italy. For this release Winterblood only uses analog synths to achieve his lo-fi eerie atmospheres. Yet, the music still seems to have a character that stands out from most analog synth albums. A particular treat is the first track "Waldeinsamkeit II" a thirty minute follow-up to his previous release, Waldeinsamkeit. A highly recommended release.

Specials & Sales!
Cryo Chamber – Atrium Carceri Sale #2
In this weeks sale we are focusing on Atrium Carceri
Save 50% on these digital downloads:
This week I'm going to give you a glimpse into the Atrium Carceri mythos, these texts are taken from the CD Booklets and are also available on atriumcarceri.com.

Atrium Carceri – Souyuan
I continue ever inward through the home of the 12 Angels, the home of no gates. Each voice in my head a different soul – ground, cut and re-injected into my quivering flesh, 6000 steps below. Disillusioned yet somehow more in touch than ever before with my own divinity. In the bunkers of long forgotten wars, victims of drought, disease and war lining the corners like jewels – one of the few permanent links to our former home, resplendent yet decaying, as are we all.

Atrium Carceri – Phrenitis
Dead tired with gloves made of mud I cower in the sulphurous smattering rain. The stench of spilled blood fills my nostrils, together with a sickly sweet odor that defies dexcription. I glance up from the trenches towards the ruined city and the opposing soldiers, caught up in their insanities. War is painted on their faces, grinning, bloody, obscene – their pupils dilated, black and vibrating. The air itself feels charged with something, the essence of which cannot be comprehended, much less explained. In their midst he stands – The Warlord, The General. Calm and in control, yet his face twisted… Shifting from human to utterly obese, with milky skin and veins that move frantically as sea snakes. His bulbous black tongue moves from left to right in his drooling maw like a lizards tail while he watches over the slaves that do his bidding. Engorged, he shudders with barely contained fiendish glee.

Atrium Carceri – Reliquiae
I had reworked the formula again. This time factoring in the element of chaos. It was all dependent on the same intertwined variables and the ugly, faceless will of the masses. Would they stand their ground when the veil was torn screaming from their eyes or would they cower in fear, mentally maimed by the devices their controllers had thrust upon them? A few years past I would have thought it impossible to manipulate – No, de-manipulate them. Yet reclaiming my godhood, facing the myriad horrors from beyond the illusion. The enlightenment had shaken me to the central core of my being. We are not to be scared of them, because they are scared of us. They. Our former slaves have rebelled against us. As we shall rebel against them.

Atrium Carceri – Void
The Cowled Seers from beyond the frigid void incessantly observe us moving through our daily lives. Manipulating the orders of chance and whimsy they collect our thoughts and steer us through the illusion. Their goal to collect the few for an expedition deep down into the abyss where The Lost God once sought refuge. The weave of "reality" grows thin as they explore what lies beyond even the manifold spires of the ancient city as well as the fractured memories of every swayed traveler.

Malignant Records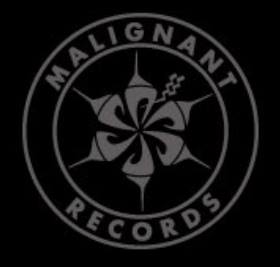 To escape the heat and suffocating humidity, might I suggest you stay indoors and take advantage of the newly applied 30% discount on digital downloads over at the Malignant bandcamp page? Just use the code dogdays30 at checkout and curse the sun as you drift into darkness.
https://malignantrecs.bandcamp.com/

This Is Darkness – Week In Review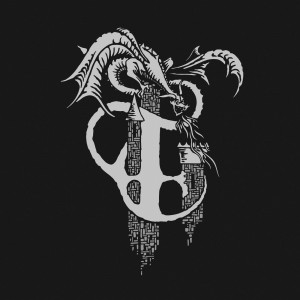 Thangorodrim – Gil-Estel
The mastering by Grimrik and the high quality physical release formats of this album provide a great reason to delve into Gil-Estel, as opposed to so many other dungeon synth albums that have been released recently. Adding to this the talents of the man behind Thangorodrim (who is still quite the mystery, only showing his painted face and devoid of social media profiles) this is really a great place to make a first delve into the dungeon synth genre. The only draw-back for me is that I do prefer my dungeon synth to have a consistently dark atmosphere, if one is in agreement with me, I would recommend starting with his previous album, Taur-nu-Fuin. For those already aware of this genre, I imagine you will also find as much to love about Gil-Estel as I have. Whenever I'm in the mood for some dungeon synth, I really can't go wrong with Deivlforst releases and this one is no exception.
Read the full review here.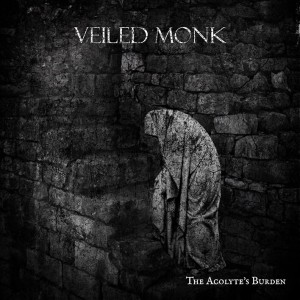 Veiled Monk – The Acolyte's Burden
This is a well executed debut for the Veiled Monk project and a high point for the Cephalopagus label, run by the man behind Araphel. The album is released in the "name your price" format on Bandcamp, so there is really no excuse for not giving it a chance. I, for one, have listened to this album many, many times in the weeks preceding this review and haven't even gotten close to being tired of it yet. While I've used the names of several other artists to convey the in words the sounds presented, I don't feel that the music has really attempted to mimic, any of these other artists. It seems that Veiled Monk is onto something good here, and we can hope that they continue to stick to this path, of course, with the added refinement that comes in working in a similar format for an extended period of time.
Read the full review here.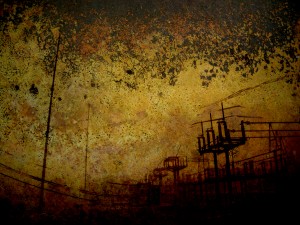 The Final Struggle: Darkness & Death Mix
A mix of dark ambient and death industrial music. The theme of this mix is a story of a dying planet, a protagonist at their wits end, the final struggle between life and death and ultimately defeat. The afterlife is enshrouded in turmoil and the final resting place of the soul is conjectured. This mix is at times serene with strong religiosity, and yet the mood and atmosphere is chaotic and constantly shifting, reflecting the final struggle in the before and after.
Listen to the mix here.
Please consider making a donation!
This Is Darkness has gone live with the help of friends and supporters. I have been disabled since 2015, due to a spinal injury. Any support that can be given is greatly appreciated. Donations will go toward the maintenance of this site as well as additional promotion to increase its reach and influence. You can help through the donate button below,  or follow this link to the This Is Darkness Patreon page here.